Copy these 5 must-haves from the best music blogs to start your own
Everyone loves music — whether rock, pop, jazz, rap, oldies, folk or alternative. Some people love all music, while others are picky about what they consider "good." In either case, music is part of most people's daily lives in some way. If you're exceptionally passionate about a style or sound, starting a music blog is a great way to share your interests with the world (and even potentially make some money). But having a successful music blog requires more than simply posting your opinions online. To find out just what it takes to rise above the crowd, I reviewed some of the best music blogs on the web.
While enthusiasm is important when starting a blog, there are other characteristics that factor into growing a loyal audience. First off, before you can establish a following, you have to get people to your website. Then, you need to provide a reason for those people to come back. How do you do that? The keys to accomplishing both feats can be found by referencing some of the best music blogs on the internet.
5 ways to make your music blog sing
Know your stuff.

Stake out your territory.

Strike the right tone.

Plug in to the music community.

Create fresh, shareable posts.
Before we dive into our best practices, let's take a quick look at a few of the best music blogs.
All Songs Considered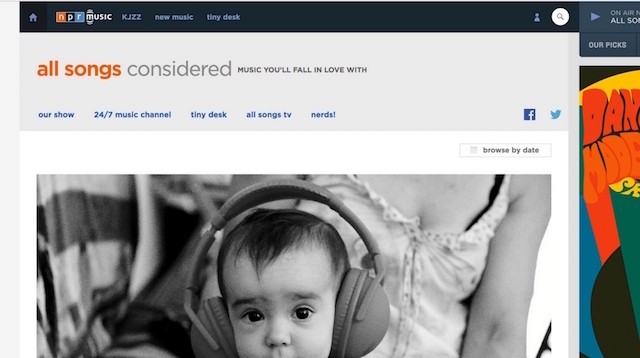 The music blog from NPR (National Public Radio), All Songs Considered, is updated multiple times a day to provide the latest in music news and song debuts. It includes photos of the artists, videos of intimate performances (filmed at host Bob Boilen's desk) and debuts of music videos.
All Songs Considered posts videos of bands performing at host Bob Boilen's tiny desk.
Articles are generally short and sweet, offering up background information on the artists and songs, as well as a description of the sound or concept for the video. The posts are all original and timely, providing visitors access to exclusive content and sharable entertainment (particularly in the Nerds! section).
Stereogum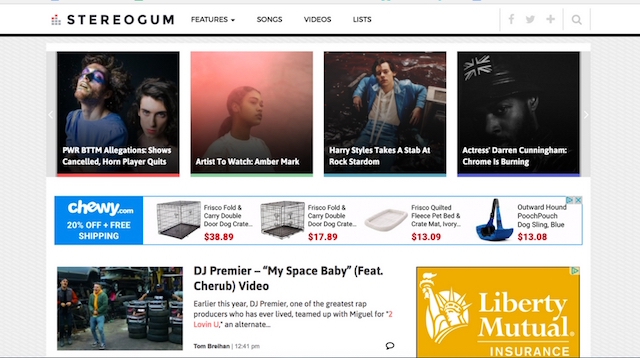 This may be one of the best music blogs because of its personality. The categories of featured sections have cheeky names and the bulk of the articles offer flippant commentary. Visitors to Stereogum can enjoy a collection of interviews, the latest music news, new album reviews, rankings, music video premieres and song tracks to listen to.
To keep fans coming back, Stereogum posts multiple times every hour.
Article headlines are straightforward and the layout of the website is clean and very visual, with small sections of text. The editorial team at Stereogum adds content multiple times an hour, which means followers can almost always find something new to enjoy. Visitors also seem to be engaged, as the blog's Twitter following is at 309,000 and its Facebook page has 305,641 likes (at the time of this writing).
Fluxblog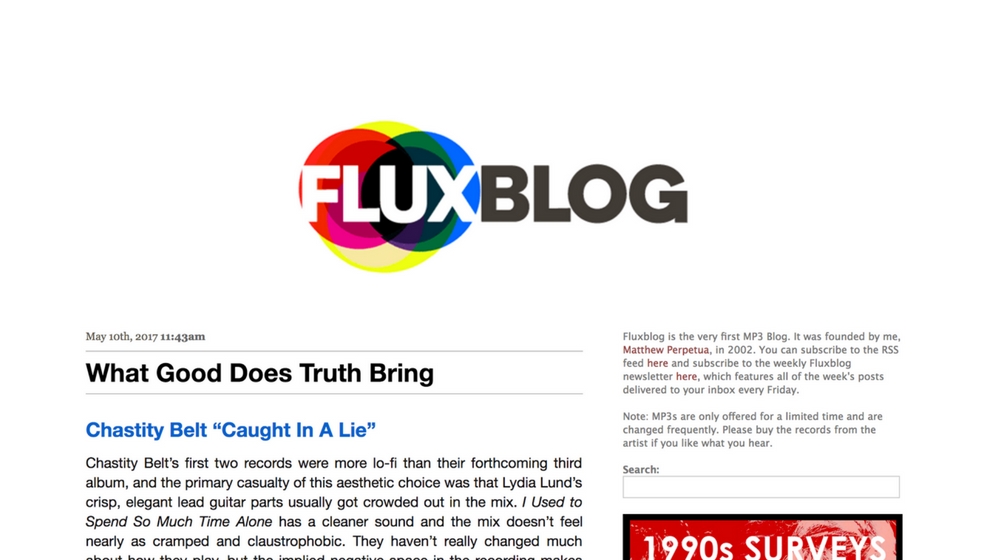 Although the design of Fluxblog isn't anything fancy, it's historical significance is enough to bring visitors in. As the first MP3 blog on the internet, this new music blog has been going strong since 2002.
Founded in 2002, Fluxblog was the first MP3 blog on the web.
Creator Matthew Perpetua (former BuzzFeed music critic), usually posts every weekday, and his content includes song and album reviews, free downloads of new tracks (usually two a day), plus artist descriptions and helpful links to where a visitor can purchase an album.
What do the best music blogs have in common?
With so many music bloggers across the internet, these standouts must be doing something special to hold their places at the top of the pack. There are a few similarities across these highly trafficked websites that may be contributing to their success. If you're interested in starting your own music blog and want to develop a strong following, consider the recommendations below.
1. Know your stuff
While you may have an interesting viewpoint, if you aren't knowledgeable in the space, no one will take you seriously. Before you start commenting on music, explore all of it. Go to a bunch of shows, listen to a variety of genres, learn about the artists and their styles, and take time to appreciate even music you don't like. When choosing a blog focus, try to pick something you know very well.
Try to get live interviews — even if it's just a 30-second video on your phone.
In addition to doing background research, here are a couple of other things you should try:
Meet artists and get interviews with them — even if it's just a 30-second video on your phone or a few lines of text to quote in an article. Not only does this give you credibility as a blogger, but gives you unique content and factual information to share.
Join label distribution lists. These are often services that represent artists and deliver the latest news and releases to media members as a way of promotion. By making contact with the labels, you might get the latest news before others, showing your audience you're always in the know.
2. Stake out your territory
While some large blogs cover everything music, this can be difficult for an individual blogger. With so much competition in the music space, trying to comment on everything means you're not a good authority on anything.
Pick a focus for your music blog and become an expert at it.
Look around the blogosphere and see what's missing or isn't being done well. Create a publication that fills a gap and caters to a specific audience. That's what Fluxblog did when it brought MP3 downloads to music blogging.
3. Strike the right tone
Once you decide who you're talking to, pick a voice that speaks directly to this group in a way that engages and intrigues it. Your goal should be to provide something new and unique for readers to remember. This is not only accomplished through what you post, but how you say it. Much like Stereogum has done, create a personality for your posts so visitors get a feel for the person behind them.
Learn how to craft your very own, one-of-a-kind brand here.
4. Plug into the music community
One reason All Songs Considered makes the best music blogs list is because the NPR brand name is behind it. If you're just starting out and haven't made a name for yourself in the music blogging world, it helps to find other bloggers to partner with. You could also see if they will share any resources with you for connecting with artists, labels or venues.
Ask other music bloggers to link to your blog. This gets you more viewers.
Stay active on social media as well to keep your name visible, and share other bloggers' articles on your own accounts to try to establish some goodwill. Most of the most popular music blogs post multiple times a day on their social channels, often sharing news or other articles from the web.
5. Create fresh, shareable posts
When someone new visits your site, they are likely stopping by to see what's new. As you create your content, mix it up. Do interviews, build lists, write personal stories, premiere videos and offer audio. It's important to also make your site visual and scannable, like Stereogum.
Readers rarely take the time to read every word on a page. Make sure your imagery and headlines stand out and quickly tell them what information they can access.
Whatever content formats you post, try to add something new regularly. When just starting out, you may not need to post multiple times a day, but make sure something new is waiting for a return visitor as often as possible so they don't bounce and never return. Well run dry? Read "Blog post ideas for artists and musicians"
Many of the best music blogs — including Stereogum and Fluxblog — were built with WordPress. It's the most popular blog builder for a reason: There are thousands of themes you can use to personalize your blog (both free and paid). Plus there are kazillions of plugins that help you tailor your blog to do everything you want it to.
If you're not a developer, it makes sense to let someone else take care of the patching and security updates for your WordPress blog — you don't want to open yourself (and your visitors) up to malware.
[advertisement id="17440″]
It's your turn to fly
If you're a music lover who hopes to have a successful blog about your passion, use these five takeaways to make your plans. The market for music blogs is highly saturated, and you need to be smart to get yours to stand out. As you start building your blog, take a note from some of the best music blogs out there — be original, stay focused and make the most of existing resources in your community.