3 tips for creating delicious Instagram food photos
It's essential for your restaurant to have an engaging Instagram presence to get new customers and stay ahead of your competition, but it can be difficult to take great Instagram photos of your food.
With these three tips, you can snap a photo, edit on your phone or right in the Instagram app, and — voila! — your post is served!
Once your followers feast their eyes on your content, they'll be more likely to swing by your restaurant to feast on your delicious menu.
Related: How to encourage repeat restaurant customers
How to create great Instagram food photos
Here are three tips for posting the best food photos on Instagram:
Focus on framing and cropping.
Capture the best lighting.
Use filters thoughtfully.
Ready to make your potential customers crave your dishes? Let's get started!
1. Focus on framing and cropping
The first step to creating a crave-worthy food photo is to choose the right composition. You'll want to frame your picture so that it guides the viewer to the best part of the shot. Find a simple surface or backdrop that will complement, rather than overpower, the delicious food you're photographing. Light-colored surfaces can help your food really stand out.
When taking photos of your signature dishes, don't be afraid of trial and error.
Because many smartphones have wide-angle lenses, it might take a few tries to get the framing, zoom and placement just right. So be sure to explore different angles.
Try an overhead shot — be careful if you're standing on a chair — to really capture all the elements of your dish. Add details like napkins, silverware, hands and cocktails within the frame to make it more interesting to the eyes and help the viewer envision themselves at your restaurant.
You also can try shooting straight on (in line with the table), and zooming in close to the dish for detail shots. You can always take the photo, then crop it right on your phone by hitting "Edit," then tapping the icon that looks like a square.
If you have an phone with Portrait Mode, where the background is blurred and the focus is on the subject in the foreground, try using it for your shots.
The same function can be found in Instagram. Open the app, tap the camera icon in the top left corner, then scroll on the bottom to the "Focus" option. These options help make your photo look more professional in a snap.
Don't forget to follow the rule of thirds when taking food photos.
Imagine there's a grid on your camera, dividing the image into nine equal parts. The most important elements of your image should be placed along the intersections of the imaginary grid lines.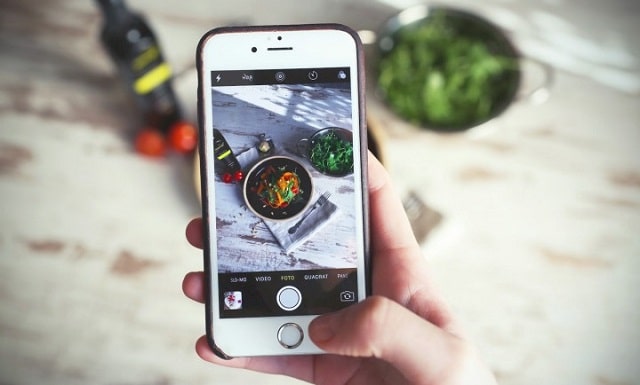 2. Capture the best lighting
Lighting is a key element of any photo, especially when it comes to food photography. Try to stage your photo with only one light source, as opposed to several conflicting ones.
It's best to use natural light and avoid using flash at all costs. Flash tends to make food look unnatural.
If you can take your food photo outside or near a window, natural lighting will complement your dish without being too harsh. If you are relying on a lamp or other bulb, make sure the light source is not directly overhead. Simply move your dish over to allow for side lighting or backlighting.
Seeing too much shadow in your shot? Tap the brightest part of your screen before taking the photo, and your phone will meter the light for you. Similarly, tap the darkest part of the screen to get a bit more light in your shot when you need it.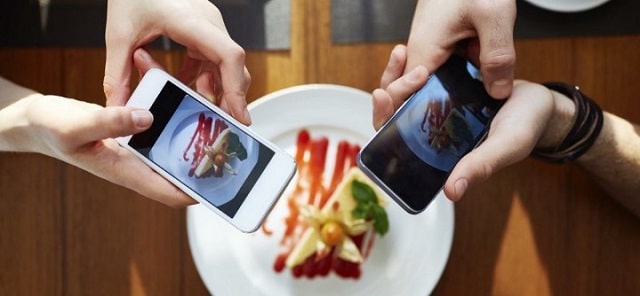 3. Use filters thoughtfully
Once you've taken a balanced, well-lit photo, you're ready to make it live. While Instagram has a wide variety of impressive filters, these might not be best for food photos. If you overly adjust the colors and tones, the photo will appear fake.
Trust your food and your photography to stand on their own.
If your photo still needs that certain element to make it pop, try increasing the contrast and/or saturation slightly. That might be all you need to amplify your food photo.
Time your posts perfectly
Now that you have all the tools to become an expert food photographer, you're ready to post your delicious Instagram food photos.
It's best to post no more than once a day to avoid overwhelming your followers' feeds.
Two to three Instagram posts per week will keep you top of mind with your existing customers and get your brand in front of new eyes.
Don't forget, time of day matters, too  —  posting a beautiful shot of an espresso and croissant in the morning, a delicious cheeseburger at lunchtime, or a frosty beer and tasty appetizer during happy hour on Instagram could be just the thing to get a new customer to swing by your business or a regular customer to return.
And, don't forget a great caption. Using your unique voice — especially if your business's voice is playful and humorous — can make a beautiful food shot into something relatable and engaging.
Yummy examples from Instagram
Now, for some stellar examples from some stellar small businesses!
Here's a good example of a food photo on Instagram with interesting elements like hands in the foreground and a beer in the background, paired with a compelling caption from Abuelo's Restaurant in Texas:
Gavino's Restaurant in Knoxville, Tennessee, has a nice photo of a signature dish with eye-catching elements — the tablecloth and wine glass — paired up with a great caption:
Thai Basil Kitchen in Cumming, Georgia, used a beautiful food photo to let customers know that they can skip cooking tonight and come into their place:
Take a note from these small businesses and step up your food photography game!