Tired of watching your one and only marketing video? Did you know that there is an amazing world of video content out there for you to choose from?
Video content is great to plan, map and nurture a marketing strategy. In fact, in 2018, 81 percent of businesses used video as a marketing tool — up from 63 percent in 2017. On top of that, 76 percent of marketers say it helped them increase sales.
Nowadays, video is the king of content.
This is an already established fact but not every video is the same; each one has a specific identity on the marketing map. They nurture different stages of the sales funnel and also accomplish specific marketing goals.
In this article, we are going to break down and analyze the most important types of video content, and explain what marketing objective each one of them serves the most.
Related: Here's why your small business needs to embrace video content now
9 types of video content to help you move customers through the sales funnel
These are the most used types of video in marketing today:
Educational videos.

Product videos.

Company videos (or culture videos).

Explainer videos.

FAQ videos.

Customer testimonial videos.

How-to videos.

Social media videos.

Commercials.
Start your engines and let's get started!
1. Educational videos
If you're looking to increase your brand discoverability, educational videos are the best type of video content to help you to achieve your goal.
They provide clear information about a general topic that is related to your company's business. Given that this information is relevant for your target audience, this video will get easily discovered on YouTube and Google. As a result, you'll increase your watch time and drive traffic to your site.
This is a great example to know how to do it with fully-customized professional animation:
Educational videos like this add real value by positioning your brand as an expert in its field. At the same time, your target audience will appreciate that you give out valuable information selflessly. This type of video works great in the awareness stage because you can provide information about your prospects' problem and help them understand their situation and the solution.
2. Product videos
Your product will be the star of this type of video content. However, that's not enough.
You shouldn't focus on its features but on how they will improve your prospect's life.
Check out how they've done it in this video:
If you gear your video toward showing your product's benefits, it will resonate with your audience. Don't explain a list of features, rather exhibit how they solve your viewer's pain point like in the previous example.
Product videos work great for the consideration stage of the buyer's journey, when the prospect is assessing all the available options in the market.
Related: How to take product photos that will help sell your goods
3. Company videos (or culture videos)
When it comes to closing sales, trust means everything. Your prospect needs to feel confident not only about your product, but also about what's behind it.
By introducing the real people on your team, you'll humanize your brand and boost trust. That's why they work great for the decision stage of the buyer's journey when they need that final push to make the actual purchase.
Try to show the big picture about your everyday job — why you do what you do and how you help people with their lives are two of the things you need to tackle in this video.
Everybody wants to feel like they are a part of a great inspirational story. Tell yours.
4. Explainer videos
You might think of explainer videos as a type of product or service video. With a short and entertaining story, these videos explain how a product or service works and how it fits your target audience's life.
You'll need to create some characters that will drive this story forward. One of them needs to represent your target audience's age, gender and general look so that they feel connected with the story.
Explainer videos will erase any quibbles your target audience might have about how your product solves their pain point.
5. FAQ videos (Frequently asked questions videos)
These videos should answer the most common doubts among clients. They usually support other video content about your product or service, providing more detailed information.
To prevent your audience from getting bored, keep in mind that FAQ videos need to be concise and short. A smart way to do that is by creating one video with four or five questions about each topic.
With a clear FAQ video, your prospect's doubts will disappear and they'll be ready to make a purchase.
Check out how you can include your audience's questions in your video:
6. Customer testimonial videos
Did you know that 85 percent of consumers trust online reviews as much as personal recommendations? A testimonial video can help you to build up your brand trust by showing your clients talking in front of the camera about their initial pain points and how your product/service helped them sort that issue out.
Related: How to develop customer testimonials for your eCommerce site
Consider distributing this content in budget emails, emails prior to a sales meeting, contact form page, landing page or social media profiles. Taking into account these various possibilities, you'll probably need more than one testimonial video.
7. How-to videos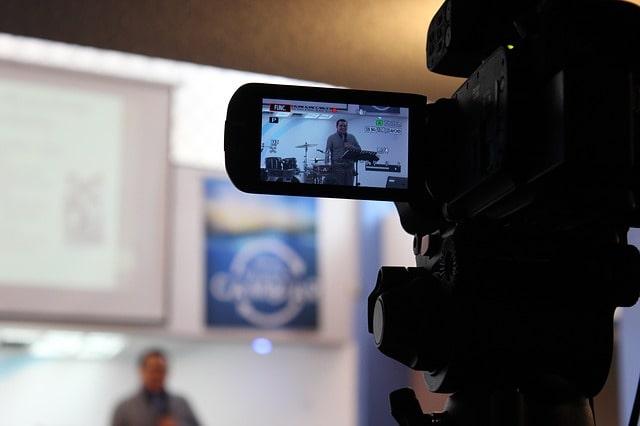 This is a special type of educational video that is focused on a process and how to do said process. They work great in the consideration stage because your prospects will be looking to solve a particular problem and you can help them with a how-to video.
They're very popular so you'd better do some research first to identify a topic that hasn't been covered yet or provide a new approach to an issue.
Bear in mind that your goal is to leverage many types of shots to make an easy-to-understand video.
Before shooting, plan very carefully when you'll need close-up shots to show a difficult step in detail.
Check out how they've done it in this short video:
8. Social media videos
Social media allows you to engage and involve your audience. There are many types of videos that you can create but you always need to keep in mind the user's experience.
Your video will be shown on social feeds so it needs to have a huge impact within the first few seconds. You can achieve that with bright colors or an unusual image — anything counts to keep people watching!
Keep in mind that your video should be able to stand on its own without sound.
Plus, you also need to adapt it to the different specs of each platform. Check out how Starbucks has done it with overlay text:
You can also use elements of viral videos to ensure your video stands out from the crowd.
Editor's note: If you don't have enough time to focus on social media, let alone video, GoDaddy can help! The experts at GoDaddy Social not only manage your presence on your social networks, but also can help turn an online interaction into a lifelong customer.
9. Commercials
If you've watched TV once in your life, then you know what a commercial is. They are the most "aggressive" kinds of video content used in marketing because they don't hide the fact that they want to sell you something.
Given this fact, they can't hold your audience's attention for more than 30 seconds so it's very important that you convey just one clear message.
Commercials work great for the first stage of the buyer's journey. You can leverage them to generate views through paid ads and raise brand awareness. In this way, you'll increase your brand website traffic and get new leads.
Check out this example to know how to create a short video all around just one concept:
Key takeaways
There is no doubt that video content is one of the most engaging types of content nowadays. There are several types of videos but now you know how to leverage each of them.
Bear in mind that each stage of the buyer's journey needs a different approach. For the first stage, you can increase brand awareness with educational videos and commercials. How-to and explainer videos work for the first and also the second stage.
For the consideration stage, you can leverage product videos. FAQ, company story and testimonial videos are the best choice for the third and last stage, when you need to build up brand trust.
Last but not least, you can use social media videos to engage and involve your audience. With all these tools, you'll create a smart video campaign that fits your brand like a glove!