Tips for creating holiday marketing campaign content
In my previous article, we talked about all the things you can do to prepare in advance for the upcoming holiday eCommerce season. Today we're going to drill down and cover holiday marketing campaign content, including blog posts and image creation.
Guide to creating holiday marketing campaign content
Here's an overview of what we'll be covering:
Ready? Let's dive in.
Determine your promotional offers
First, you'll want to get your promotions mapped out and solidified. Once that is set, you can then determine what type of content and imagery will work best for each.
Select promotional offers that work best for your business personality and products.
Not sure where to start? Here are some proven ideas:
Promotional codes like $10 off, 10% off, or free shipping, are popular with customers, but you'll need to determine what your offer(s) will be and how long they'll last.
BOGO (buy one, get one) sales, encourage customers to buy that discounted second product that they may not have considered.
Bundling two or three products that have synergy at a discounted price is a great way to get customers to buy more than they may have planned. Who can resist a good deal?
Contests are a great way to encourage participation and gain more visibility for your offerings. You can then have posts that include photo submissions with a holiday theme (throwback Thursday, childhood, favorite tree, a favorite recipe, favorite memory, etc.).
Giveaways are an excellent way to gain subscribers to your lists for all your promotional activities. For example, "Sign up today to receive X" or "All orders placed on December 2 will also receive X."
Charity donations offer a percentage of specific sales to your charity of choice, which can be popular among holiday shoppers in a charitable mood.
Once you have all your promotions and sales outlined, you can begin to create the content that you'll include in these promos.
Start this process by establishing a framework for the content you are going to post and when. Then, note the associated promos and images that go along with each post.
With that information, you can begin to formulate your campaigns and their accompanying schedule.
Related: Your holiday eCommerce website checklist
Establish a calendar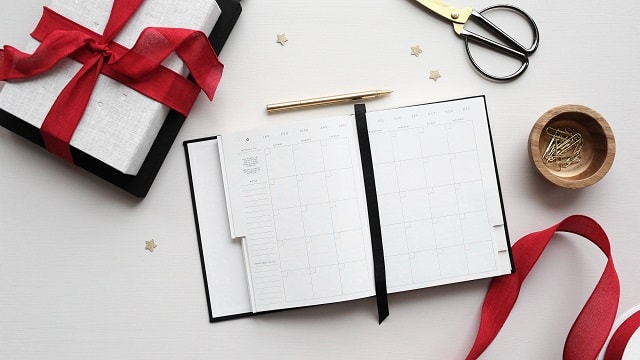 An editorial calendar allows you to list the topics (and their corresponding promotions) by date.
Google Calendar is a free tool that many use. You can color-code your promos and topics and when to post them so you know what to do at a glance.
If you are on WordPress, there is a nifty plugin called Editorial Calendar that puts the ability to plan your content right into your WordPress dashboard.
Either of the options above will allow you to plan out your entire holiday eCommerce content campaign well ahead of schedule, which means less stress and hassle for you during the busy holiday season.
While you're brainstorming your editorial calendar, though, there are a couple of factors that you'll want to keep in mind.
Timing and your content
The holiday season kicks in before Halloween, with the peak being between December 14 and 24.
By starting early and posting consistently, you begin to draw your customers in with your content and promotions.
Your content can be more general at the beginning of the season, then become more specific and ramp up as there is less shopping time and a more urgent need.
When it comes to campaign content, we all know that sales hype is not as effective as content that serves the reader.
Tips, how-to's and storytelling will always convert more sales.
Craft content that talks to, not at, your target customers at this specific time of year.
Topic considerations
You may already know the perfect content to entice your audience. Just in case, though, here are a few ideas if you're need help getting started:
Run a "Caption This" photo contest.
Offer product guides/tutorials.
Provide product safety tips.
Create gift guides for various audiences (men, women, children, techies, foodies, etc.).
Interview satisfied customers.
Create a printable helpful PDF checklist.
Run a "12 Days of Christmas" promotion.
Create lists and "Top 10s" about your product or niche.
Have a photo contest that includes your products.
Present shopping challenges that you can solve.
Keep in mind that your customers want solutions that make their life easier with a little entertainment along the way. During the holidays, we are all inundated with "buy this" and "you need that" hard sells everywhere.
Put on your customer hat and think about how you can address their concerns, such as stress, time constraints, budget or gift ideas.
Help customers by focusing on their challenges within your content.
Another rule of thumb when brainstorming topics is to develop a theme for your holiday campaign that will be woven into everything you do. A character, mascot, slogan, color scheme or style, for example.
Consistency in your visuals and style gets you noticed quickly by fans and followers. This approach will allow you to build a solid, recognizable company brand as well.
Use video as part of your holiday marketing campaign content
When creating your posts, including short videos allows an extra interactive and visual element with innumerable benefits.
Did you know that viewers are more likely to share and like videos than static graphical elements? Use that to your advantage.
Creating a series of videos that customers can follow on your site, subscribe to on YouTube, or view on your social channels is a great way to build excitement and keep customers engaged.
You can create short videos with daily themes (Customer of the Day, Product of the Day, Deal of the Day) or announcements that create anticipation build-up to a big announcement or sale.
When coming up with video ideas, jot down your thoughts, what your goals are, and how you are going to tackle each.
Once you have some ideas and goals, create an outline for each topic or series, so that you can remain on point. Then with your outline in hand, develop a script that you can practice within your targeted timeframe so that you don't ramble on.
Showing your personality humanizes your content and helps customers get to know you.
People gravitate to those they like, can relate to, and feel that they can trust. Build that important trust factor and you can nurture that relationship.
Types of videos
Do you need some ideas on what types of videos will be effective?
Telling a story in a video is always a popular route and allows you to tell your visitors about your business, your passions and why you do what you do — and lets you ask them to share the same with you.
If you want to shake things up a bit, though, some other types of videos to consider include:
Endorsements/testimonials
Product how-to's
Promotion-specific videos
Tips and tricks
Live Q&As
Whiteboard-centric videos
Thank-you messages
Facility or process tours
What if you don't have expensive video equipment? Don't stress it. Your videos can be as simple as using your smartphone. There are an array of apps these days to enhance your videos and reflect your creativity.
The key here is to be genuine and to have a consistent look and feel, as this helps to solidify your brand.
Related: 9 types of video content to help you move customers through the sales funnel
Create effective visuals to support your marketing campaign
During the holidays, you'll want to be sure that you're choosing high-quality images and visuals that will catch your customers' eye.
Investing in quality images in the right format will lend credibility to your campaigns.
There are some crucial factors involved with choosing and creating the perfect visuals, however.
7 essential qualities for effective marketing graphics
When creating your holiday promotional graphics, here's what you'll want to consider:
1. File format
The file type that you choose will depend on the contents of the image. You'll want to use .jpg format for photographic images and .png format for images with text or that require a transparent background.
2. Simplicity
Your goal here for images should include a single focus, minimal text and be easy to read. If your customers can't easily view your image or read text that you've added, then the purpose of that particular image is lost.
Also, avoid background images that compete with your marketing text, which makes it harder for your customers to read.
3. Fonts
Use no more than two fonts at a time so your text is not too busy. Legibility is key. Make sure it is large enough to be read/scanned at a glance, and test on both desktops and mobiles. Fancy fonts may look cool but are not always easy to read.
4. Colors
If you've decided to use holiday color schemes, consider integrating your logo in black and white or grayscale to avoid clashing. Alternatively, you can match your logo to the holiday color theme you've chosen for a fun, seasonal twist.
5. Call-to-action
The call-to-action (CTA) for your business is one of the most important parts of your message. Images can be a very effective medium for your call to action, so don't skip it.
6. Prominence
Make sure your CTA, promo codes and hashtags are prominently displayed.
7. Image dimensions
In most cases, images larger than 2,000 pixels are not required and are unnecessarily more expensive. Images can display at a smaller size than the original size and look OK. However, displaying an image larger than its original size can make it appear blurry and distorted.
This is why you want to create your images in the proper sizes and have them ready to go.
Knowing what sizes display best on various platforms, areas on your website, and in blog posts is crucial.
If they're too small, the details get lost or stretched; if they're larger than necessary, they'll use resources unnecessarily and cause performance issues. And, the last thing you want to do is slow down your website during the holidays.
Related: 11 places to find more diverse stock photos of people
Social media coordination
Social media is a critical aspect of your holiday marketing campaigns that you won't want to skimp on. Let's review some recommendations on how to put your best foot forward on social media.
Social media image sizes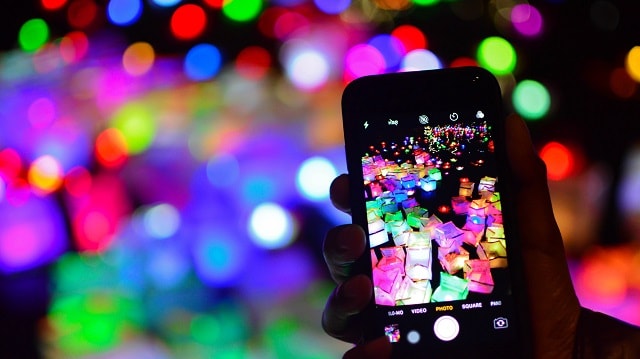 For each promotion that you implement, it's important that you create image sets that cater to each specific platform. To accomplish that, all promotional graphics should be in all the recommended sizes for the best results.
Facebook
Recommended post image: 1,200 x 630 pixels
Cover image: 820 x 312 pixels
Profile: 180 x 180 pixels
Instagram
Recommended story resolution: 1080 x 1920 pixels (or an aspect ratio of 9:16)
Square photos are sized to 1080 x 1080 pixels
Rectangular images should use a 4:5 aspect ratio
Image thumbnails display square at 161 x 161 pixels
Profile images: 110 x 110 pixels
LinkedIn
Recommended post image: 1200 x 630 pixels
Business cover background image: 1536 x 768 pixels
Company logo: 300 x 300 pixels
Pinterest
Pin preview images display at 236 pixels wide (once expanded your images should be a minimum of 600 pixels)
Pinterest scales the height of images to scale proportionality; recommended aspect ratio: 2:3
Profile images display at 165 x 165 pixels
Twitter
Posted images attached to your Tweets appear at a maximum of 1024 x 512 pixels (minimum size is 440 x 220 pixels)
Your account header image should be 1500 x 500 pixels. Be sure to test so that text and/or CTA display properly and are not covered by your profile image.
Profile image size has a recommended size of 400 x 400 pixels and will display as a circle
YouTube
Custom thumbnails: 1280 x 720 pixels
Cover image for your channel: 2560 x 1440 pixels
Your profile image: 800 x 800 pixels
Don't forget to add a bit of the holidays to your profile and cover photos as well! This can be as simple as adding bows, antlers, holiday lights or small accents such as a holiday icon, holly or a snow effect. Have fun with it!
Related: How to decorate your eCommerce shop for the winter holidays
Social media scheduling
Need some ideas on good times to schedule your social media campaigns for the greatest impact? Here are a few tips:
Schedule multiple postings. Review your analytics to discover the best times to post (time, days and dates).
Hashtags: Investigate the most used, effective and trending hashtags.
Create your own hashtags for your promotions and for customers and followers to use when posting about your products.
Schedule time to engage with those who comment and respond to your posts. There are also a slew of social listening tools you can use to help in that effort.
Related: A beginner's guide to social media for small business
Putting a bow on it

Using these tips to create your holiday marketing campaign content within a solid and consistent theme will help your brand be easily recognizable at a glance. Since your customers will be inundated with promotions, being organized and prepared in advance helps ensure you're offering the discounts and deals they want when they want them most!
Image by: Jakob Owens on Unsplash