Danica Patrick on STEM, women in technology, and road rage
Danica Patrick had a moment, while getting ready for her photo shoot today, when she doubted herself. "Am I pretty enough?" she thought. Yes, THAT Danica Patrick. She's just like the rest of us.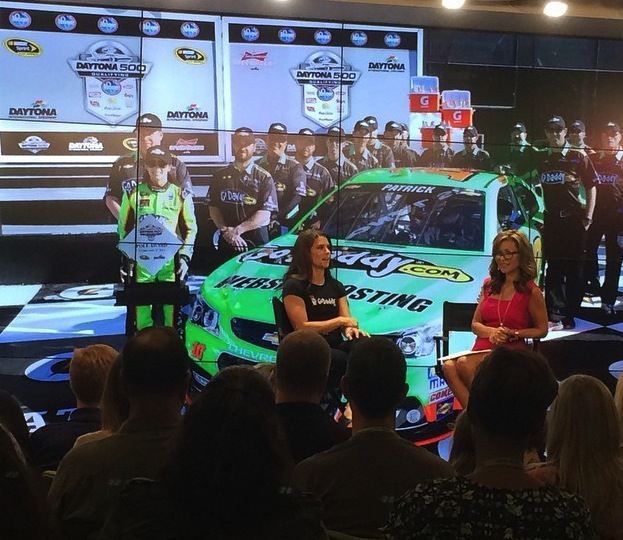 Emmy award-winning journalist and marathon runner Catherine Anaya interviewed Danica today for a GoDaddy Women in Technology event. It was a frank conversation about her experience as an accomplished female in the male-dominated world of NASCAR. (How does that success feel? Danica's face lights up: "Fun.") And while she certainly stands out among her gender with her accomplishments on the track, I realized as I listened to Danica speak that she's got a lot in common with many women today. And men, too, for that matter. Like us, she has moments of self-doubt, of judging herself through other people's eyes instead of her own.
And that's not the fastest way to reach the checkered flag.
"I always wanted to be the first Danica Patrick and nothing else. I knew deep inside that I was different. I wanted to be me. I had bigger dreams. You shouldn't want to be like me — you should want to be better than me." ~ Danica
The only people standing between us and our goals are ourselves, Danica said. "If you want a happy life, be happy. You may have to fake it to believe it — imagine kittens and rainbows. Who feels bad picturing kittens and rainbows?" But we truly can accomplish whatever we set out to do when we believe in our unique strengths and act on them with confidence.
On supporting STEM
In addition to her efforts on the racetrack, Danica is an avid supporter of STEM. She cited her own world as an example of how each aspect – science, technology, engineering, mathematics — are critical in the realm of racing cars. No matter what you do, you can't escape the impact of these fundamental disciplines. They affect the quality of our lives and shape our future. "It's something that is never going to go away in our world," Danica said. "You're always going to need those things."
It's especially important for women, who are seriously under-represented in the STEM fields, to contribute their talents to further the cause. We've got so much to offer.  Diverse perspectives influence outcomes for the better. "We [women] think about things in a different way and accomplish things in a different way," Danica said.
On representing GoDaddy
Danica has worn the GoDaddy orange and green for the past eight years, representing our company both on the track and off. It's always been a great partnership, she said. "I was honored to be part of GoDaddy. We kind of grew up together." Like GoDaddy, Danica believes in showing women as successful, strong, authentic and real. And, as a small business owner — yes, a business owner with three employees — she understands their specific needs and loves that she's part of an organization that offers tools and services to help small businesses become more successful.
On road rage
Near the end of her talk, Danica again demonstrated that she's not so different from you and me. Does she get miffed when boys bump her on the road? "I get mad even when GIRLS bump me on the road. I don't like it, but I handle it maturely," she said. "If they do it once, I let it go. But if they do it more than once, I may have to bump them back."
Yep, just like the rest of us.