February 2019: What's new in GoCentral
A strong online presence is more than a website. With GoCentral Website Builder, it's easy to make a great impression on key platforms like Google and Facebook. Check out the new features we released in February.
Website Builder
Reviews widget
Reviews from actual customers can be incredibly valuable. In essence, they provide social proof that your business is high quality. When people who've purchased your products, tasted your food or enjoyed your services tell others, that means more business for you. GoCentral just made it easier to broadcast the good news on your website.
With the reviews widget, you can include a feed of your reviews from Google My Business, Facebook or Yelp as a section on your website. (Or include more than one section to show reviews from multiple social platforms.)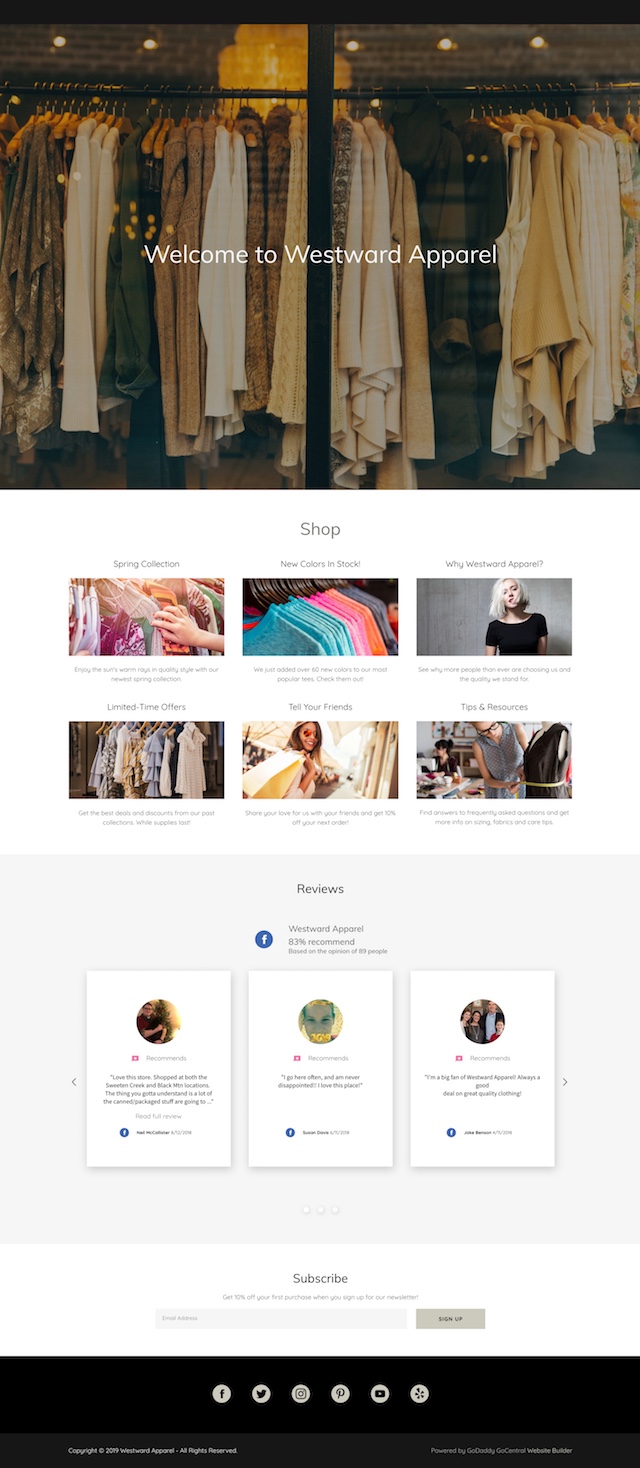 Here's how:
From your GoCentral Editor, navigate to the Page where you'd like to include reviews.
Click the plus sign icon (+) to add a new section and select Reviews from the list of section types.
Click Add. You'll be able to choose Google My Business, Facebook or Yelp. (If you haven't yet connected your GoCentral account to these, you'll be guided to do so.)
If you don't have many (or any) reviews yet, ask existing customers to write a review!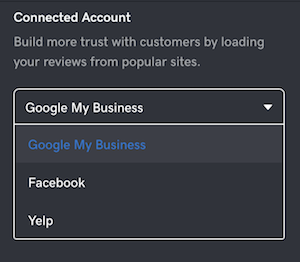 To learn more about Google My Business and GoCentral, read "Standout tools: GoCentral Google My Business Listing feature."
Business hours sync
From time to time, you update your business hours. When your online presence includes multiple social networks and review sites, it can be tricky to ensure those details get updated in all the right places. GoCentral can help. Here's how.
If you connect your GoCentral website to Yelp, Facebook and/or Google My Business, then you can update your business hours on your site and any of those platforms in a matter of seconds via your Dashboard.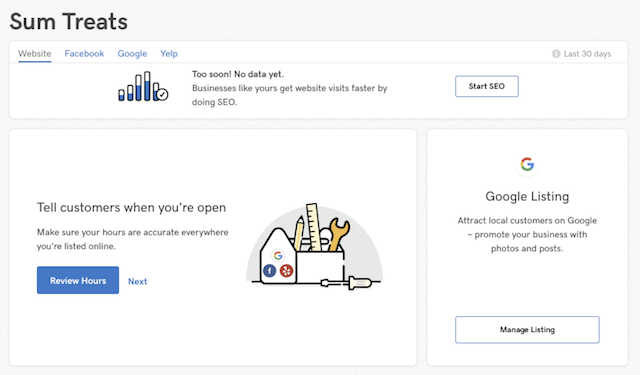 You may be prompted on your GoCentral Dashboard to review your hours, as shown with the blue "Review Hours" button in the image above. Or, you can go directly to your Google My Business, Facebook or Yelp page on your Dashboard and click Edit Hours.
When you update your hours via this Dashboard experience, any business hours you've included in a Contact Us section of your website will also be updated. (You will be prompted to re-publish your site to make these changes live).
Online Appointments improvements
GoCentral's Online Appointments tool makes it easy for website visitors to sign up for classes and book appointments. With our February updates, business owners can now:
Easily discover how to set up a new service as a one-time event or a repeating class.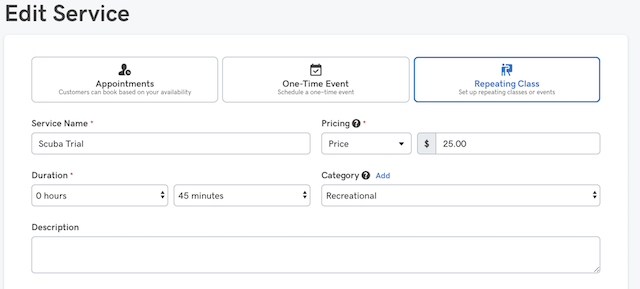 Customize the "Book" button on their website. In the example below, the user changed the button to say "Sign Up."

Ask for additional information from customers at booking.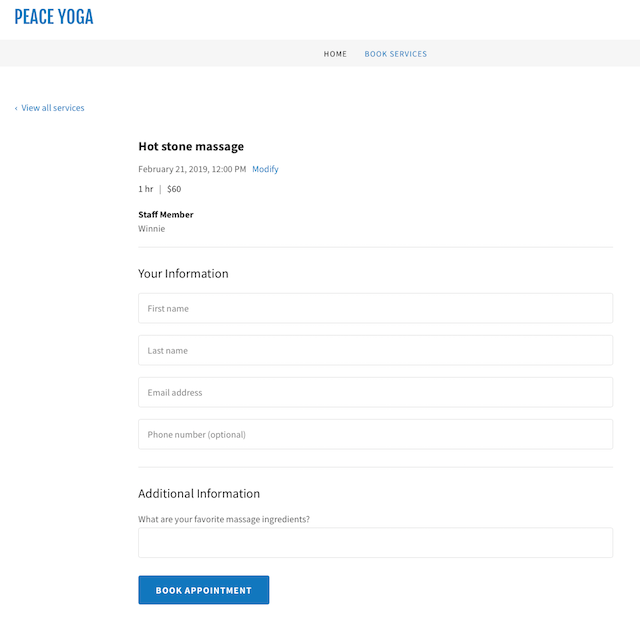 Require a phone number in the booking form.
For more information about getting started with Online Appointments, please see this GoDaddy Help article: "Add Online Appointments section."
GoCentral Help Resources
If you have questions, check out these GoCentral resources. And remember — we offer 24/7 phone support. Call us!
Note: If you don't already have a GoCentral account, you can start a free trial today.
Need help with social media? The GoDaddy Social team can help with that.