Fictional pop culture characters illustrate 5 customer archetypes
One of my favorite TV shows is "Supernatural." I can't get enough of Dean Winchester and his rugged charm. From his unbuttoned, collared shirts to his worn-in jeans and work boots, he's a picture of the working man (or monster slayer). At risk of going on a long-winded tangent about all the amazingness y'all probably don't want to hear, I'll pause here. Because why, exactly, am I raving about Dean Winchester? I'll give you a hint — it has a lot to do with customer archetypes.
Companies worldwide use customer archetypes, aka customer/buyer personas, to define their target market and accurately engage with their consumers.
While it's exponentially beneficial for businesses to take the time to define their own buyer personas through careful consideration and market research, there are a few customer archetypes that stand out from the crowd. And you've probably seen them all before, in one way or another, delivered to us with all the humor, suspense, romance and more that comes with television.
5 customer archetypes seen in pop culture
Defining your customers for your marketing purposes can be a little daunting. It's easy to fall into the trap of "casting a wide net" rather than segmenting prospects to better understand how to engage with them. Fortunately, we're going to have a little fun with the process by relating some common customer archetypes to figures in pop culture.
Dean Winchester.

Claire Dunphy.

Mr. Burns.

Rory Gilmore.

Arya Stark.
Want to target the Dean Winchesters of the world? Or how about Claire, a mom of three with a rambunctious husband and not enough time on her hands? Keep reading to see how you can connect with these iconic customer archetypes.
1. Dean Winchester
After the intro, you knew he'd be making an appearance. Dean. Winchester. Blue-collar, working man whose job puts a constant strain on his body. He's in his thirties and has no intention of calling it quits anytime soon (despite his many, many arguments with his brother). He's not married. He loves beer, whiskey and food, and he's got a penchant for classic rock. And while he's not rich (let's not address the credit card scams), he gets by on functionality.
When I think of Dean Winchester, my mind immediately goes to Duluth Trading Company. Their brand messaging screams Dean. I mean, just watch their commercial with a man fending off a horde of angry beavers. For working-class, monster-fighter Dean, pants that stand the test of time are well worth their weight in gold. (And I bet he'd see the value of Daniel Goldman's The Best Shirt Ever.)
Key takeaway: If you've narrowed down your ideal buyer to fall in line with the Dean Winchesters of the world — functionality over fashion, hard worker, middle-aged, etc. — then appeal to their sense of work ethic in your marketing materials. Consider targeted email campaigns highlighting how your product, whatever that might be, keeps them moving and working.
Product solution: If you don't already have an email marketing solution in place, then check out GoDaddy Email Marketing. Create beautiful campaigns, monitor results, and connect with your target market with ease.
2. Claire Dunphy
As the seasons of "Modern Family" progress, Claire does start working for her father, but for the sake of this profile, let's look at her customer archetype pre season five. As a stay-at-home mom, Claire is constantly on-the-go taking care of her three children and husband. She's middle-aged, a bit on the bossy side — but with Phil as a husband, she kinda has to be, right? — and is highly competitive. She's also extremely involved in her children's lives, participating in school functions, organizing events, and helping with projects.
There are a number of brands that speak to stay-at-home moms who often — if not always — put their children's needs before their own. The Honest Company is a prime example of a business that understands their target audience:
"Modern families are busy and everything matters. That's why we craft products that will perform to the highest standards of effectiveness. Products that take care. Products that exceed expectations."
The Honest Company highlights more important "honest" factors, which all speak to their ideal consumers, in the company's principles section. Another company that started with family in mind? CAULIPOWER. And while Gail Becker launched her healthy food brand because of her children, we can all assume that Claire Dunphy would appreciate her entrepreneurship, especially as she ventures out into the working world later in the series.
Key takeaway: Parents need the facts — fast. Appeal to this segment of customers with straightforward blog articles and how-to pieces that get them the transparent information they need. Once they trust your insight and see you as a thought leader, they'll be that much more likely to engage with your brand (and perhaps purchase your products).
Product solution: Need a blog to share your knowledge? Try out GoDaddy's Managed WordPress. Set up is easy with our Quick Start Wizard, and you can create trustworthy, transparent articles in no time.
3. Mr. Burns
It's nearly impossible not to mention at least one "Simpsons" character in this list (and realistically, we probably could have created customer archetypes strictly using the Simpsons universe — that's what happens when you're the longest-running TV show around).
Charles Montgomery Burns, aka Mr. Burns, is a wealthy older man and chairman of the nuclear power plant in Springfield. While he's often described as "evil," we won't dive into that too much (how do you market to an evil person?) and instead will focus on his ambition, money-centric mentality, and his role as an entrepreneur (and yes, corporate mogul).
Age, wealth and business-savvy being the key components here, there are a number of brands who target this customer segment well, including the business-centric JPMorgan Chase and Sentry, which focuses on elderly patient care (because let's face it — his age, which is a recurring joke on the show, could be the same as his four-digit pin).
Key takeaway: Business-savvy individuals with ambition and money don't want to invest in something they don't deem worthy. If this is your target market, make sure you're exceedingly clear in your intentions. Create an easy-to-digest website that lays out the facts, and lean on customer testimonials to demonstrate your product's worth.
Product solution: Set the stage with a beautiful website using GoDaddy's GoCentral Website Builder. Just don't forget to include a review section to provide that all-important social proof your customers are looking for!
4. Rory Gilmore
Hardworking, driven, young, intelligent — Rory Gilmore from "Gilmore Girls" is an exemplary customer archetype that aligns well with today's millennials. A talented writer, she has dreams of attending Harvard (though she later decides on Yale) and embraces her book smarts to define who she is. Her fierce ambitions result in the journalistic career she always wanted and a life full of possibilities.
For today's tech-driven millennials, a social media presence is key to connecting and engaging with driven consumers. Take Zoella, for example. A British vlogger, she started making a name for herself on YouTube in 2009 — and her passion translated to millions of subscribers and recognition as one of the top millennial influencers. Another brand killin' it with millennials? Nicole Rousseau, Queen of the Millennials.
Key takeaway: Millennials' penchant for technology means you'll have to engage with them where they're most active — on social media. Instagram marketing. Facebook groups. Pinterest boards. Specialized hashtags. Make sure you create a consistent, branded experience for your business across multiple platforms.
Product solution: Don't have time to manage all your various social profiles? Hire a pro with GoDaddy's Social Media Management. Expand your reach, advertise where your consumers are browsing, and engage with your people!
5. Arya Stark
Perhaps one of the most independent and adventurous children on television, Arya Stark is a great example of a customer archetype geared toward kids (well, before she became an assassin). While everything that happens to Arya in "Game of Thrones" arguably "ages" her in mindset, if you focus more on her antics during season one — highly active, engages in sports (sword fighting), prefers breeches to dresses, etc. — you've got the customer archetype of adventurous child.
If you're looking to target kids with your brand, demonstrating the fun and adventure behind your products is key. Take a look at Fat Brain Toys. Bright colors, videos, kids having fun — they even have a section dedicated to outdoor activities I'm sure Arya would approve of. Discovery Kids takes a similar approach, making education a fun and exciting experience to keep children engaged. And for the kids who aren't afraid of getting their hands dirty, Karina Garcia of Craft City brings fun (and safe) slime to the masses.
Key takeaway: Marketing to children means highlighting how your products will bring fun and excitement into their lives (while showcasing safety and care to their parents). There are a number of things you can do to make your kids' store a success, but you can start by creating product videos or utilizing an interactive website to keep kids entertained.
Product solution: Create an online store with GoDaddy GoCentral Online Store that highlights the uniqueness of your products. Then, to increase foot traffic to your physical location, consider GoDaddy Local Business Listings. You'll show up on directories like Google, Yelp, Bing and more, creating a streamlined brand that's easy for parents to find — and trust.
Customer archetypes for every business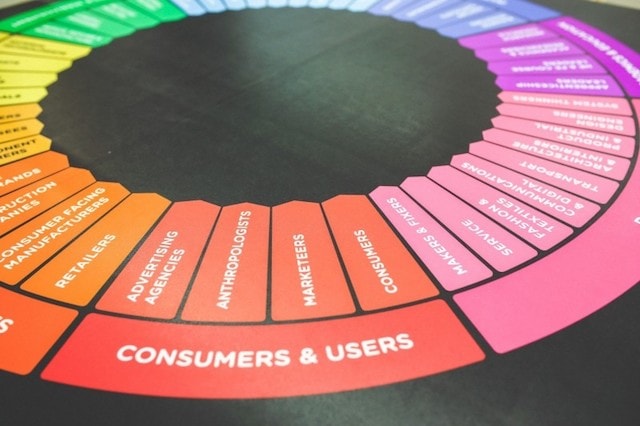 Here's the thing about customer archetypes — there are way, way more than the five listed here. Your target customer could be any combination of these with a dash of something specific to your industry. Run a gaming lounge? Then your target customer might fit the alcohol enthusiasm of Dean, the age requirements of college-grad Rory, but need a sprinkle of video-game zeal found somewhere else entirely.
The point is, make sure you're asking all the right questions. You can use these profiles as a generic starting point, but do your due diligence and hone in on the customer archetypes appropriate for your business.
Image by: Allef Vinicius on Unsplash