Get more acting jobs with a portfolio that shines
Whether you are a working actor or currently aspiring to be one, exposure is your best friend. Competition is fierce out there, and the more you manage to stand out and be seen, the better it will be for your career. More exposure translates into more acting jobs.
In fact, an online portfolio is one of the most powerful tools for any performing artist looking to get work. Here are two of the main benefits it provides:
It's always available. A digital portfolio tells your story — complete with photos, credits, awards and demo reels. And casting agents can access it day or night, from anywhere in the world.
It helps you get press. If a press representative wants to do a story about you or learn more about who you are as an actor, you can send your digital portfolio and offer them information right away.
However, your digital portfolio is only as effective as the planning you put behind it. A well put-together portfolio can get you work, so it pays to invest a little bit more time and energy into this.
3 things your acting portfolio needs
In this article, we'll list the top three essential elements that any digital portfolio should include, along with a few best practices regarding each one of them.
A 2400 x 3000 pixel color headshot.

An up-to-date resume.

Demo reels that showcase your talent.
Ready to make your case for why they should hire you? Let's get straight to it, then!
1. A 2400 x 3000 pixel color headshot
Your headshot is often the first thing casting agents and directors are going to notice and pay attention to when screening your portfolio for a possible job. It can often make the difference between acquiring acting jobs or not. So this is an excellent opportunity for you to stand out.
Here are a few things you should be mindful of as you work with a professional photographer to take headshots:
Your type
Consider the types of roles you want to play and make sure your headshot reflects that. Your photograph should make it easy for agents to picture you playing a particular role. Don't be afraid to experiment with makeup, clothes and hairstyles until you get it just right.
Accuracy
Your headshot should be an honest representation of your best self and how you look in real life. Casting directors look for authenticity and might be turned off by over-styled, heavily retouched images. When you walk into that audition room, they should easily be able to recognize you from your picture. So it's best to go for natural makeup and lighting.
Self-confidence
If you want to increase your chances of getting more acting jobs, your headshot should project a strong sense of self. Check out this article for some helpful tips on how to appear more confident and engaged in photos.
2. An up-to-date resume
In addition to your name, your resume should list your most recent contact information, including a working phone number and your current email address.
Note any professional affiliations
Some casting directors might want to know if the actors they are considering are union-affiliated or not. Be sure to mention if you are a part of an acting guild (such as SAG-AFTRA or Actors' Equity).
Spotlight your experience
If you have experience as an actor, let it be the star of your resume, as it will help get more acting jobs! Be sure to mention special skills such as languages, dialects, singing, dance, techniques, etc.
To make it easy for casting agents to find the information they need, divide your acting credits into categories:
Commercials
Film and TV
Live theatre
Don't forget to write down the name of the production, your role and the director for each of them. Also, if you have a YouTube channel, website or Instagram account you think will improve your chances of getting more acting jobs, link to them.
3. Demo reels that showcase your talent
Take advantage of the fact that this is a digital portfolio! Include video examples of your experience on-screen, even if you've only had small acting jobs.
For those who have footage — Reels are meant to showcase your acting chops, and they should be less than three minutes long. So, only pick scenes or cuts of scenes that are relevant to your skills and your range of work. Here's an example.
For those who are just starting — If you do not have any experience as an actor (yet), feature self-taped footage of you acting out a scene or performing a monologue on camera. This will allow casting directors and members of the press to see how you look on film and get a better sense of your potential.
Pro tip: Make sure your demo reels are highlighted as a link in your digital portfolio and not an attachment. This means you'll have to upload them to your website, YouTube or another video-sharing platform first.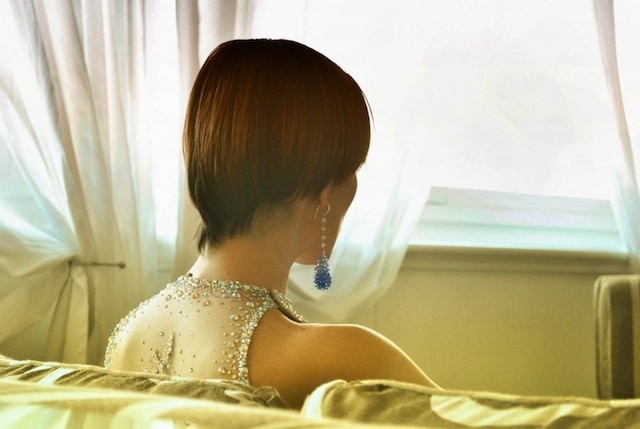 So since we have mentioned the press, it's a good idea to feature a media gallery filled with pictures they can use when writing about you. If you're an actor who's just starting to gain traction in the industry, it will come in handy.
What to leave out of your portfolio
As any casting veteran will tell you, there's also information that you should leave out of your portfolio. For example:
Your age. Many actors are chosen to play characters that are way younger than they are in real life. Let the casting directors decide how young or old you look.
Graduation dates. Again, this is related to your age, so don't include the date you graduated from high school or college. It doesn't take a genius to figure how old you are if you provide this information.
Your home address. Don't include personal details like your home address. Your digital portfolio will end up being seen by many people, so it is better to be safe than sorry.
Editor's note: Rather not give out your personal phone number? Add a separate phone line to your existing mobile and screen your calls for just pennies a day.
Finding acting jobs just got easier
Finding new acting opportunities is something that takes patience and requires continuous work. As an actor, you have to be able to push through the difficult times and constantly remind yourself that building a good reputation is just as important as building a successful career.
As you saw from this article, a digital portfolio can help you seize opportunities when they arise and advance in your career. We hope this information will help you get more casting calls and hopefully more acting jobs.
Editor's note: Ready to build a portfolio that'll turn heads? Use GoDaddy's Managed WordPress — it gives you all the brilliance of WordPress without the upkeep!