Email marketing helps you build trust and drive repeat traffic — and sales — to your website. But sometimes it can feel like a real challenge. Read on to learn how the GoDaddy GoCentral email marketing tool is making fans out of marketing newbies and pros alike.
GoDaddy GoCentral email marketing tool
With a cornucopia of standout features and templates especially designed to help meet your goals, the GoDaddy GoCentral email marketing tool takes the mystery out of marketing — even if you're brand new at it.
What's the difference?
Just what sets this email marketing approach apart from some of the other products out there?
It provides a stunning and cohesive brand experience.
No worries about emails not matching your site. The GoDaddy GoCentral email marketing tool can create a custom email style that complements your website, so you can be sure colors, fonts and styles all look great.
Email marketing is tightly integrated in GoDaddy GoCentral.
You can even feature the images in GoCentral's image gallery in your email campaigns.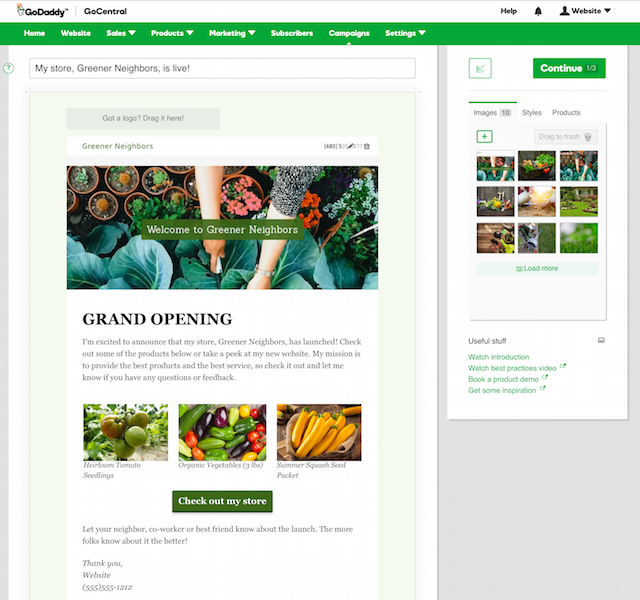 It's a truly guided educational experience.
GoCentral's email marketing tool introduces you to the types of emails you should be sending. The template options include marketing scenarios that help you choose the right template for the occasion — like newsletters, events, impromptu notifications and more. And the content guidance in the template ensures you're sending what customers want to read, so you keep current subscribers and earn new ones.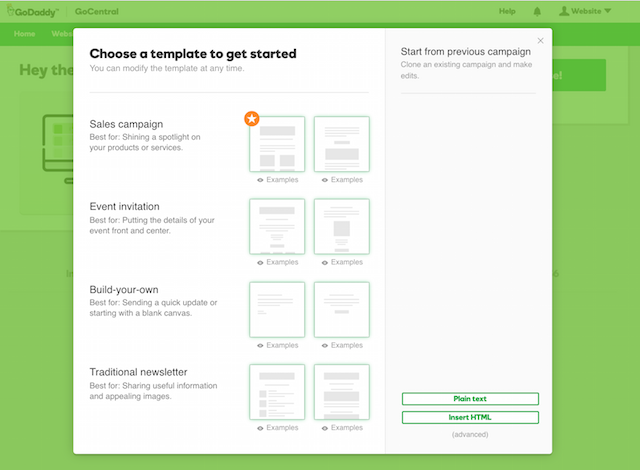 It's designed especially for enhanced readability.
Your average Microsoft Word newsletter is old-fashioned and difficult to read because of the multi-column design. GoCentral's email marketing templates create more readable and scannable emails for better click-through rates. Your customers will read emails they like. And click on emails they love.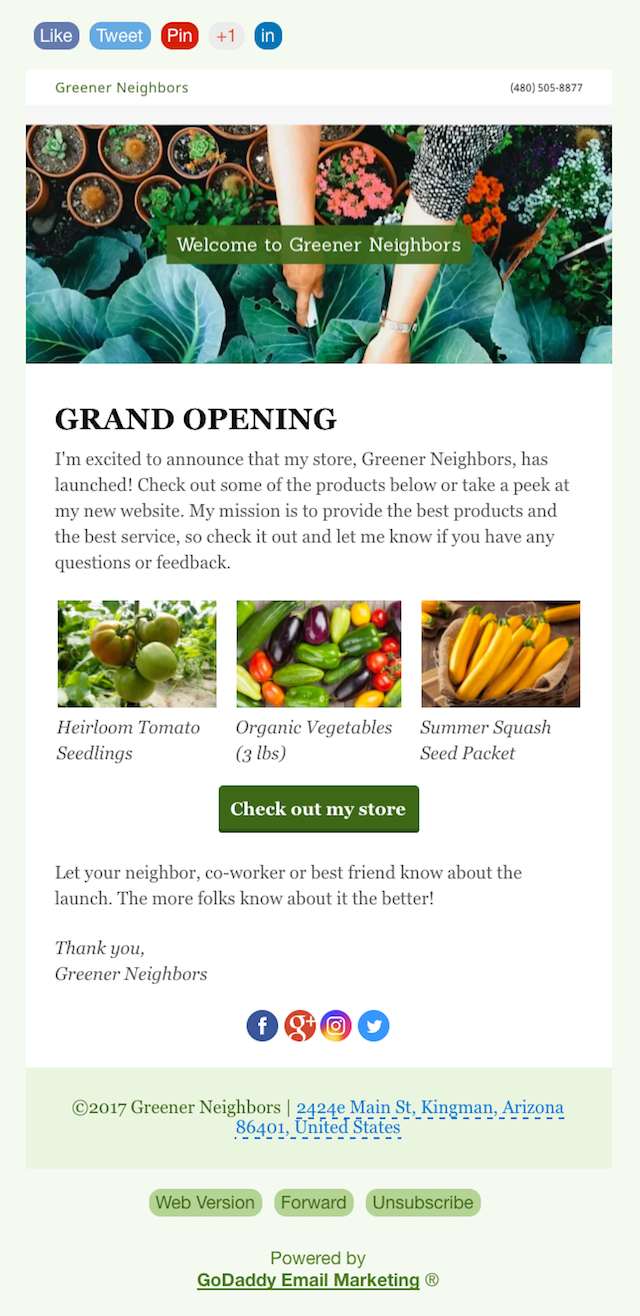 It features simple and effective email address collection and management.
GoCentral's site building tools include a signup form you can add to your site and/or store for quick, easy subscribing. Want to increase your reach? Simply add signup forms on your Facebook page or blog. Every email you send includes an unsubscribe link, which keeps you from landing on spam blocklists. And your duplicate, bounced and unsubscribed addresses are automatically managed so your emails always go to a clean, current subscriber list.
It keeps all your email statistics in one place.
The GoDaddy GoCentral email marketing tool features at-a-glance campaign stats. See how many people opened, clicked or marked your emails as spam. Even compare emails side by side and see which one got the best response. Get to know your customers and what they like. Then keep polishing your emails and watch your results get better and better.
Gorgeous emails that are equally readable across devices.
Every email is designed "responsively," which means it will look just as impressive on any mobile device as it does on a desktop.
Who's it for?
The content guidance in the GoDaddy GoCentral email marketing tool makes it ideal for the green marketer (but we're pretty confident the seasoned marketer will love it, too).
Corinne Milner, artist and owner of Art by Corinne, calls GoCentral "a one-stop shop for all of my website needs." She used GoCentral to build her website and add content.
"Even more important to my business, I can now schedule classes, accept reservations, and take payment through my website," Corinne says. "This automation greatly reduces the administrative burden on a one-woman business."
Market, grow, repeat
The right tool can make or break any task. With the GoDaddy GoCentral email marketing tool in your arsenal, you'll quickly see the benefits of a great marketing campaign. The more campaigns you create, the better you'll be at it. And that means great things for you and your bottom line.