What is Microsoft 365? If you're a small business owner, Microsoft 365 could be the integrated business suite you didn't realize you needed. Many businesses already use Microsoft Office's flagship applications like Word, Excel and PowerPoint every day.
Whether you're tracking financial records in Excel, writing a blog article in Word, or building a sales deck in PowerPoint, these tools help you perform your job better.
Microsoft 365 combines a number of different cloud applications and services into one subscription-based model. From email and data management to communication and file-sharing, there are several ways that Microsoft 365 can help your small business grow.
If you're considering investing in Microsoft 365 for your small business, you probably have a lot of questions.
Related: 13 hacks to get the most out of your Microsoft 365 subscription
Microsoft 365 small business FAQ
We're going to cover a lot of ground about Microsoft 365 in this article, including:
Let's discuss the questions above, as well as other topics related to Microsoft 365. Equipped with more specific details about this robust productivity suite and how it can help small businesses, you will be able to make an educated decision for your company.
What is Microsoft 365?
What is Microsoft 365? Simple. It's a monthly, subscription-based productivity suite for business, education and government organizations. An Microsoft 365 subscription provides its users with access to different business tools and services — Software as a Service (SaaS).
Microsoft 365 is provided by Microsoft and uses cloud-based technology to offer access and updates to Office applications like Word, Excel, PowerPoint and Outlook. Users can download the Microsoft Office software suite to their PC or Mac and receive updates online when new features are released.
Microsoft 365 small business plans give you the latest version of Office, additional OneDrive storage, and access to your Office applications across any device.
You can, for instance, start creating a document on your computer, upload it to OneDrive, and then finish editing it on the mobile application via tablet or smartphone.
The versatility and collaborative features of Microsoft 365 are two of the reasons small businesses are flocking to sign-up for it.
When you dig into what is Microsoft 365, you see one of the most important characteristics for small businesses is the variety of plans that are available to you. We'll discuss the different Microsoft 365 small business plans below, but to get the most out of the service, you need to find the one that fits your specific needs the best.
Related: A primer on Microsoft 365 cloud services
What features and services are available with Microsoft 365?

The available applications and services will depend on the Microsoft 365 small business plan you select. Below are some of the current applications and services available with Microsoft 365.
Microsoft Word
Microsoft Word is a word-processing application that allows users to create various documents. Microsoft Word is also known as MS Word or, simply, Word. Small businesses can use Word for anything from copywriting to creating restaurant menus — it's truly the most versatile and renown word processors available.
Microsoft Excel
Microsoft Excel (or just Excel) is a dynamic and powerful spreadsheet program. Excel lets users store, track and manage large and small datasets. Small businesses can use Excel to manage their bookkeeping or to track monthly sales numbers.
Related: 7 ways to use Excel to keep track of your KPIs
Microsoft Outlook
Microsoft Outlook is an email and contact management application. Outlook users can send and receive emails from their Microsoft account within the application, and small businesses can also use the calendar application within Outlook to schedule meetings or share calendars with other team members.
Related: What is Microsoft Outlook in Microsoft 365 and how do I use it?
Microsoft PowerPoint
PowerPoint is a presentation program that lets users create and share dynamic presentations and slideshows. Small businesses can use PowerPoint to create marketing materials or engaging presentations for public speaking events or sales meetings.
Microsoft Publisher
Microsoft Publisher is an easy-to-use graphic design application. Publisher users can create layouts and customize designs for print or digital media. While not the most powerful graphic design application on the market, small businesses can use Publisher to create logos, business cards, newsletters, or coupons, among other things.
Related: How to use Microsoft 365 Publisher to create an event poster
OneDrive
OneDrive is Microsoft's user-facing cloud-storage platform. Microsoft users have free access to a limited amount of storage space on OneDrive — however, if you purchase Microsoft 365, it comes with additional storage space. Small businesses can upload, access and share a number of different files with OneDrive.
Related: How to use Microsoft OneDrive for business
Microsoft SharePoint
SharePoint is a collaborative, document-sharing platform. SharePoint is mainly used to share documents and reports within an organization. Small businesses can use SharePoint as an intranet for storing and communicating important information.
Microsoft Teams
Microsoft Teams is a digital workspace designed to streamline communication and project management. With dynamic tools like individual and team chats, voice and video calls, and real-time file collaboration, Microsoft Teams aims to solve some of the communication gaps that exist within organizations.
Related: Using Microsoft 365 to connect a dispersed team
Microsoft Invoicing
Microsoft Invoicing is an application that lets users easily create and manage invoices. Small businesses can create itemized invoices, send them to customers, and track them as paid through the web-based or mobile application. Microsoft Invoicing can also sync with QuickBooks to streamline your financial recordkeeping.
Related: 5 reasons Microsoft Invoicing is a smart choice for your business
Microsoft Bookings
Microsoft Bookings is a professional-looking web-based scheduling software. Rather than dealing with the back-and-forth of phone scheduling or emails, Bookings lets users set appointments through a completely customizable web page.
When a schedule is made, it notifies all parties, gets added to your calendar, and sends reminders before the meeting. Small businesses can use Bookings to simplify appointment management and provide an added sense of professionalism.
Related: How can Microsoft Bookings take the hassle out of scheduling appointments?
Outlook Customer Manager
Outlook Customer Manager is a CRM add-in for Outlook. Rather than using an external CRM solution, small businesses can keep their communication and customer data centralized in one place.
Outlook Customer Manager enables small businesses to organize customer notes, calls, emails, deals and deadlines within the Outlook interface. Users can also share consumer information with other team members.
Related: How to use Outlook Customer Manager to better manage customer relationships
How much is Microsoft 365?
The cost of Microsoft 365 small business plans will depend on which one you choose, where you purchase the plan and how many users you want to have access.
For example, GoDaddy offers three different Microsoft 365 plans starting at less than $10 bucks per month per user.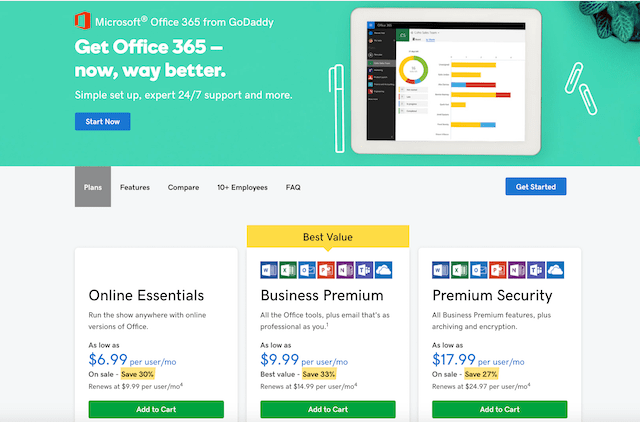 What are the benefits of Microsoft 365 for small businesses?
There are many benefits of using Microsoft 365 for your small business. While it might take some time for you and your employees to get familiar with the different applications and services, you can save substantial time and money in the long-run.
Here are five of the main reasons your small business should consider using Microsoft 365.
1. It's controlled by Microsoft
One of the main value propositions to Microsoft 365 is that all the applications are controlled by one entity — Microsoft, a staple in the technology space. They are constantly adding features and launching new applications for businesses.
Moreover, because all the applications exist within the same suite, they interact incredibly well with each other. You don't have to use additional tools or services like Zapier to connect your different applications.
Also, unlike other business management startups, Microsoft will not suddenly disappear. If you build processes and workflows on Microsoft 365, you can rest assured that they will continue to be there as long as you need them.
2. It enhances flexible work environments
Flexibility is a common theme in the modern workplace— for large and small businesses. The traditional 9-to-5 in a cubicle is losing ground to the more agile and flexible work structure.
Microsoft 365 allows small businesses to create a flexible culture that allows team members to dictate when and where they work.
Because Microsoft 365 is cloud-based, users can work simultaneously on the same document across the world. As long as your employees have internet access, Microsoft 365 can connect your office from anywhere.
3. It improves collaboration and internal communication
As you can tell, collaboration is one of the major selling points to Microsoft 365. The ability to easily share and co-author documents in real time offers a seamless solution to team projects.
Avoid the hassle of sending static files or documents via email and take advantage of the collaborative tools within Microsoft 365.
Team communication is also improved thanks to applications like SharePoint and Teams.
Microsoft Teams is designed specifically to make internal communication easier.
For instance, team members can create topic-or-client-specific chats that help organize all internal communication and files related to that topic or client in one place.
Related: Enrich brainstorming with Microsoft 365 collaboration tools
4. It elevates your client relationship management (CRM)
If you're still wondering about the benefits of Microsoft 365 for small businesses, remember lead management and client relations are vital to success — and Microsoft 365 has tools designed to elevate your CRM.
Effective CRM starts with data-management.
Small businesses need to track and measure the profitability of their client base.
Excel, in particular, can help small businesses analyze critical data related to their consumers.
External communication is also a critical piece of the CRM puzzle. There are several features within Microsoft 365 that help small businesses communicate with leads and customers. For instance, the Customer Manager add-on for Outlook centralizes your contact information in one place to make it easy for you and your employees to see critical notes and previous conversations.
5. It adds professionalism to your small business
Small businesses have plenty of things to worry about— looking professional shouldn't be one of them. Microsoft 365 can help your small business appear bigger thanks to the professional-looking features with which its equipped.
Microsoft 365 from GoDaddy comes with a free business email using your domain name.
This helps you avoid the dreaded @gmail.com or @hotmail.com email address.
You can also create beautiful web-based schedulers with Microsoft Bookings that sync directly to your contacts. This is a subtle but powerful way to add an extra layer of professionalism and efficiency.
Finally, you can use Microsoft Invoicing to create and track branded invoices with ease. These simple features go a long way in improving the appearance of your small business.
What are the differences between the different Microsoft 365 small business plans?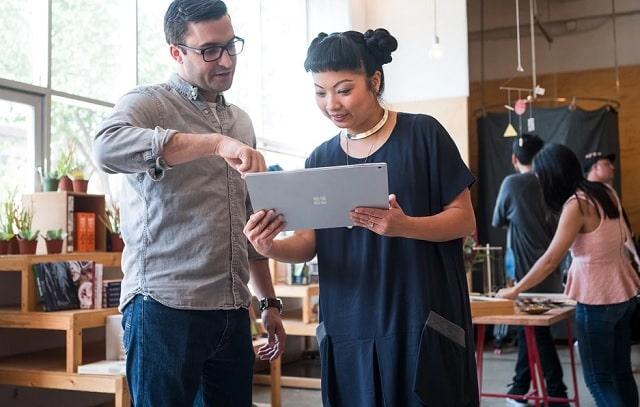 As you can tell, Microsoft 365 is a powerful and versatile productivity solution for small businesses. The question you need to address now is:
"What Microsoft 365 plan makes the most sense for my business?"
The answer to that question will depend on several variables, such as your industry and workflow, the size of your company, and the resources you already have in place. To help decide which Microsoft 365 plan is right for your small business, consider the three different plans below that GoDaddy offers.
Online Essentials
Online Essentials is the most cost-effective version of Microsoft 365 available, which includes Word, Excel, PowerPoint and OneNote online only. Businesses also get 1 TB of secure online storage via OneDrive and 50 GB of storage for emails, contacts and calendars.
Because Microsoft 365 is cloud-based, any emails or calendar changes update in real time and files created online and uploaded to OneDrive can be accessed and edited on any device — including smartphones, tablets and computers.
GoDaddy's Online Essentials also provides users with unlimited online meetings and HD video calls, spam filtering, data security and a professional email using your business domain name.
If your business wants to get started with Microsoft 365 and doesn't need to access Office offline, the Online Essentials plan might be the perfect plan for you.
Business Premium
A step above Online Essentials is Business Premium Microsoft 365 plan, offering the best value for small businesses. The Business Premium plan includes everything in the Online Essentials plus:
Users can download the Office suite on up to five PCs or Macs for offline use.
Access to additional productivity apps like Microsoft Teams, Microsoft Invoicing, Bookings, Outlook Customer
Office applications update automatically when new features are launched.
Users can download the mobile Office application and create, change and share files and documents from their smartphone.
The ability to send up to 10 documents at a time to be signed using DocuSign — there are no limits to signed documents, just outstanding signatures.
HIPPA-compliant email eligibility.
If you're looking for an integrated solution that can increase productivity across your small business, the features and management tools available in the Business Premium plan could be the right choice.
Related: What is DocuSign?
Premium Security
Above the Business Premium plan is the Premium Security Microsoft 365 plan, which includes everything in the Online Essentials and Business Premium plans plus:
Advanced email security with compliance and encryption for all your mailboxes in your organization.
Additional security and compliance with email archiving features on your mailboxes.
If you're worried about phishing or sophisticated malware, the Premium Security plan could provide the added level of protection that you need.
Related: What is email encryption and why is it important?
Additional features for every plan
In addition to the applications and features mentioned in the plans above, GoDaddy's plans also come with shared online calendars, 99.9-percent uptime and reliability guarantee, support 24/7 from GoDaddy, and collaborative tools like Microsoft Teams.
Frequently asked questions about Microsoft 365
This guide gives you a handle on what is Microsoft 365, what's included in the suite, why small businesses need to consider it, and what the different plans look like.
However, you might still have some questions about Microsoft 365 and whether it's a good fit for your small business. To help mitigate some of those lingering questions, here are a few of the frequently asked questions as it relates to Microsoft 365.
Is internet required for Microsoft 365?
If you select the Online Essentials plan from GoDaddy, you will need internet access to use the features like Word, Excel, PowerPoint and Outlook — which are only available online.
For the Business Premium and Premium Security plans, you will need internet access to install the Office suite onto your PC or Mac you're using, at which time it would be functional offline.
You will need to be online to receive any automatic updates to your desktop applications. With every plan, you will need internet access to upload and access files on OneDrive.
Are all the desktop applications compatible on Mac and PC?
No, there are certain Microsoft 365 applications that are only functional on specific devices. PCs will be able to download Word, Excel, PowerPoint, Access, OneNote, Publisher, Outlook and Skype for Business. Mac users will only have access to Word, Excel, PowerPoint, Outlook and Lync.
What's the difference between Microsoft 365 and Office 2019?
Purchasing Office 2019 gives users static versions of the Office suite like Word, Excel and PowerPoint. These versions can be installed on one device and are not updated automatically.
Office 2019 does not include OneDrive, Outlook with a business email, or the other business applications like Booking, Invoicing, etc. that are available with the Business Premium and Premium Security plans from GoDaddy.
Who should purchase a Microsoft 365 plan?
Microsoft 365 was created with small- to medium-sized businesses in mind.
The solutions available on Microsoft 365 are meant to bridge the communication and management gap across various departments within an organization.
Because most small businesses are strapped for internal resources, having a productivity suite like Microsoft 365 makes a lot of sense. If your small business wants to move your data and technology into the cloud while offering more protection, professionalism and flexibility, then Microsoft 365 is for you.
Next steps for small businesses
You should have a good baseline for whether Microsoft 365 can help your small business. The next steps are to:
1. Continue researching
If you're still not ready to try Microsoft 365 small business plans, take some additional time and research the service and the various options.
Conduct an internal analysis of your business and see what inefficiencies you find. If you're noticing issues with communication, client management, or any of the departments Microsoft 365 addresses, then it might indicate a pressing need.
2. Purchase a Microsoft 365 small business plan
If you are ready to move forward with Microsoft365's integrated solution, then sign up for the plan that fits your needs. By purchasing Microsoft 365 from GoDaddy, you'll get fast setup and 24/7 support.
From there, you'll be able to get familiar with the different interfaces and start training your team.
Small businesses need to utilize every resource they can to compete in an increasingly competitive landscape.
While the internet has added more competition for small, local businesses, resources like Microsoft 365 are taking that power and enabling those same small businesses to grow more efficiently.
Microsoft 365 is just one of the many digital tools that are transforming the way small businesses operate.
From collaborative tools to manage team projects to integrating CRM and email communication, small businesses can leverage this affordable suite of productivity applications to take their business to the next level in 2019 and beyond.