One of the most common things I hear from small business owners is that they have to wear many hats and there's never enough time to get everything done. Building a brand, marketing, and taking care of logistics are just the tip of the iceberg. Then there's the task of taking care of your customers. Whether you're new and handling customer relationships on your own or have a few employees on your roster, maintaining a consistent and positive customer experience takes time — and the right tools. That's where Outlook Customer Manager comes in.
Investing in a Customer Relationship Management (CRM) system becomes more and more necessary as you grow your business, expand your customer base, and possibly hire more employees.
There are many options out there. Maybe you've heard of CRM options such as SalesForce, Pipedrive or Microsoft Dynamics. They're all very powerful and robust, but will require you to learn advanced new software and can have a significant cost per month per employee. Not to mention you might not use all the capabilities you're paying for that are meant for larger businesses.
At this point, you might be asking yourself, is there something out there meant for small businesses? Something that won't break the bank (in fact, you might already have access to it now) or require such a massive learning curve? Great news: Outlook Customer Manager might be a great fit for you!
Outlook Customer Manager to the rescue
With Outlook Customer Manager, you're able to add your customers into Outlook as a business contact — and have access to an easy-to-use CRM that will help you manage customer interactions. No more forgetting about what was discussed on the last call with one of your customers, or trying to remember what custom deal you created for another. All meetings and phone calls can easily be logged with software you are already familiar with.
Let's start from the beginning.
If you have Microsoft 365 Business Premium or Premium Security from GoDaddy, you don't have to worry about a thing — you can start using Outlook Customer Manager right away at no additional cost (we'll come back to that later). All you have to do is find an email from your customer, and click the Customer Manager button in the upper right-hand corner of Outlook.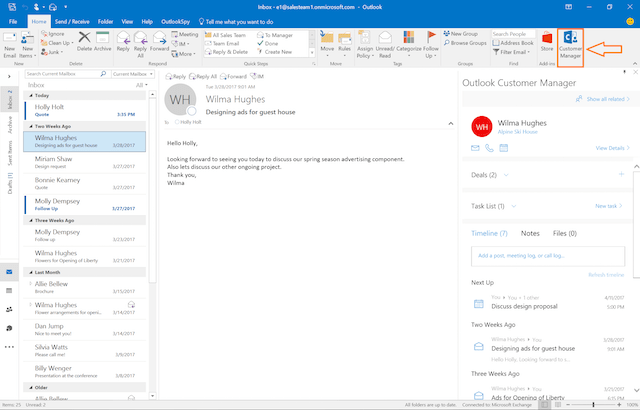 That's right, you're able to use the most recognizable office software, Microsoft Outlook, as a CRM with just one click of a button.
If you haven't received an email from them, just add them as a contact in Outlook, and they'll be added to the Customer Manager section automatically. Its design is simple with only the features you need to keep you and your team on the same page with each customer.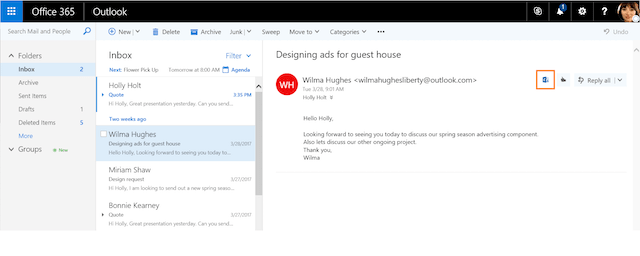 How can Outlook Customer Manager benefit my business?
So what can Outlook Customer Manager do? In short, it will save you time and help you provide a better experience for you customers because it automatically organizes information, including:
Emails
Meetings
Calls
Notes
Tasks
Deals
Deadlines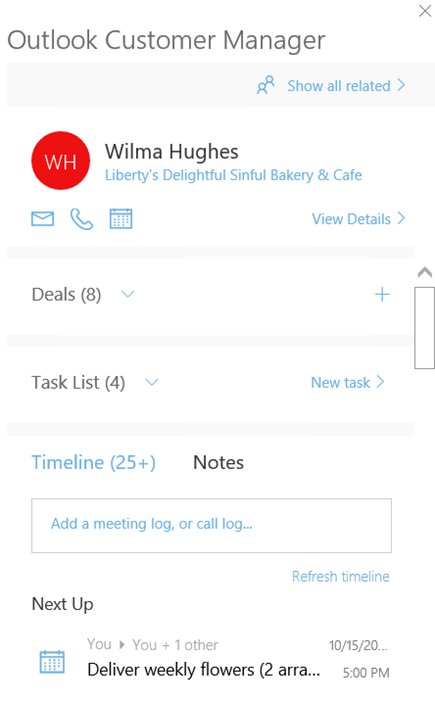 There's nothing more frustrating than when you're not on the same page as your customer.
Maybe you created a custom package or deal, and they don't get back to you for a few weeks. If you jotted down the details somewhere — or lost it in a saved note on your computer — good luck finding it. And with so many hats as an SMB owner, relying on your memory probably won't end well.
But you're in luck. The first part of Outlook Customer Manager is the deals section (as seen in the image to the right). You can view any deals you've offered or created for your customer in their profile
How frustrating is it to track down an email from six months ago? How much time does that waste? In Outlook Customer Manager, you can see any email correspondence you've had in a customer's profile, as well as any tasks and deadlines you've set.
With this functionality, you can give your customers the personal touch they expect from a small business with the efficiency of a giant corporation.
Most importantly, you aren't pulling your hair out trying to find old emails when your deadline is due.
Outlook Customer Manager also helps with collaboration, which is great for SMBs with multiple employees. It's important your customers get a consistent experience, especially if they are dealing with multiple people at your company. Fear not, you're able to share all of this information with your employees with a click of a button.
Giving your customers a personal experience isn't just about emails, deals, timelines, and deadlines.
Sometimes, you learn something about your customer you'd like to remember in the future. With Outlook Customer Manager, you have the ability to enter notes into individual customer profiles as you see fit. You and your employees can add reminders for how you can better relate to your customer, or provide more context about an interaction. Your customers will be impressed with your memory, and don't worry — your secret for retrieving said information is safe with us.
One more final, kickass feature? Outlook Customer Manager is available on iTunes App Store. Perfect for businesses on the go, you and your employees can access information from your mobile devices, add new details, update profiles, and more — all without being tied to your computer. While this app isn't available for Android yet, you can vote for it here.
In conclusion
So you're convinced. Outlook Customer Manager is the right tool for you, but at what cost? Let's face it, budgets are tight. Thankfully, you don't have to pay a separate fee to get access to this amazing tool. Outlook Customer Manager is included with Microsoft 365 Business Premium and Security Premium through GoDaddy at no extra cost. What are you waiting for? Start saving time, save your sanity, and amplify your customers' experience!