Gone are the days when startups would wait for programmers and coders to build and test products before launch. No-code tools for entrepreneurs have made it easy for freelancers and small business owners to build apps and ship products fast.
The 2020 pandemic accelerated the shift to remote work, ecommerce, and automation — so much so that Gartner predicts that by 2023, 50% of medium to large enterprises will have adopted no-code platforms to keep up with the technology demand.
That's why if you want to expedite operations and scale your business, you should catch up with the no-code movement as soon as possible.
In this article, we share 14 top-notch no-code tools you can use to grow your business.
GoDaddy Website Builder.
GoDaddy Online Store.
Zapier.
Airtable.
Gumroad.
Bubble.
GoDaddy Email Marketing.
Typeform.
Loom.
Notion.
GoDaddy Studio.
Calendly.
MeetEdgar.
Fireflies.ai.
Read on to learn more.
What are no-code tools?
No-code tools allow you to build software, apps, or websites quickly and easily without coding skills. Through a graphical user interface (GUI), no-code development platforms let you see what you're building in real-time using drag-and-drop and what you see is what you get (WYSIWYG) features.
Because they don't use code, no-code tools connect data sources and web applications using APIs and integrations to create apps that work across multiple platforms.
There are no limits to what you can build using no-code tools. There are no-code apps for:
App and website building
Project management
Design
Automation
Analytics
Marketing
You may be familiar with some of them — or have already used them.
These no-code tools are low-cost and are often offered as software-as-a-service (SaaS) apps. They allow you to automate your freelance business quickly and scale small and medium business operations.
14 no-code tools for entrepreneurs
Let's take a closer look at each of the no-code tools available for entrepreneurs today.
1. GoDaddy Website Builder

Every business needs a website.
If you don't know how to make one from scratch, GoDaddy's Website Builder simplifies it.
It offers everything you need to build a website, including:
Web hosting
Pre-made website templates
WYSIWYG editor
SEO features
Marketing and web analytics features
Best for: Building a business website.
Price: 30-day trial available. Paid plans start at $6.99/month.
2. GoDaddy Online Store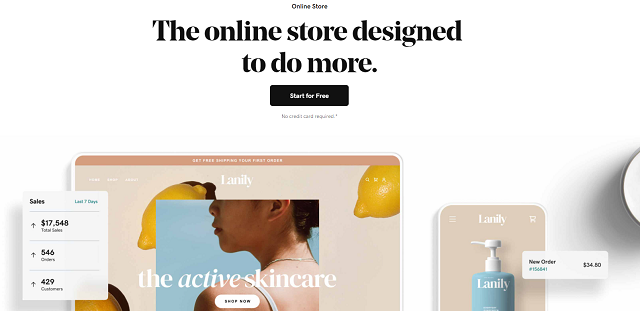 The GoDaddy Online Store is the perfect no-code tool for entrepreneurs that want to start an ecommerce shop.
The online store builder has everything you need to create an ecommerce shop, empowering you to build one in minutes.
It includes features like:
An online product catalog (that supports digital products)
Support for multiple payment methods
Online booking
Customizable templates
It also comes with the standard features that accompany every GoDaddy hosting plan, like domain registration and SSL certificates.
Best for: Building an online store.
Price: Plans start at $14.99/month.
3. Zapier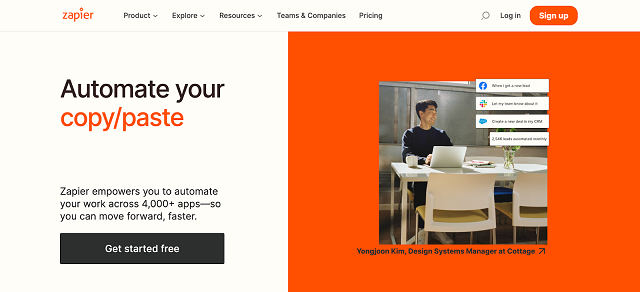 As freelancers and entrepreneurs, your time is money.
Zapier is a workflow automation tool that eliminates repetitive and low-value tasks so that you can focus on tasks that truly matter.
Zapier is especially helpful if you work across multiple tools, as it connects and integrates with over 4,000+ apps (like Google Workspace, Slack, and email) to perform tasks seamlessly.
Best for: Workflow automation.
Price: Limited free plan available. Paid plans start at $19.99/month.
4. Airtable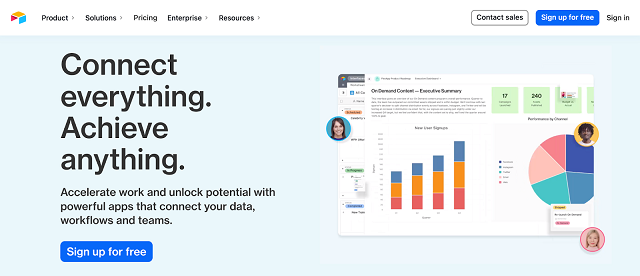 Used by small businesses and companies like Shopify and Netflix, Airtable is a favorite no-code tool for entrepreneurs of all sizes.
Don't be fooled. It may look like a spreadsheet, but it's a powerful database-driven project management tool that offers customizable building block solutions for various use cases. You can use Airtable for different functions, like CRM, storing information, and project management.
Best for: Project management.
Price: Limited free plan available. Paid plans start at $10/month/user.
5. Gumroad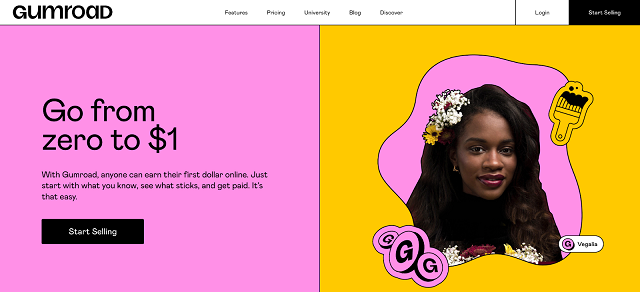 Gumroad is a no-code tool for entrepreneurs looking to sell digital products like ebooks, courses, and memberships. You can create memberships, set up subscriptions, accept different currencies, and add discount codes on this simple ecommerce platform.
Best for: Selling digital products.
Price: Free. Gumroad takes a percentage for each successful transaction, decreasing as you sell more. For lifetime transactions under $1,000, Gumroad charges 9%. If you make $10,000, it takes 7%.
6. Bubble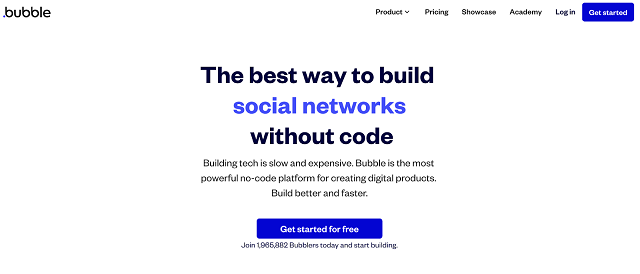 Bubble allows you to create web app prototypes for desktop and mobile and launch them within hours without coding knowledge.
Build out logic and scale your app with powerful internal tools, collaborate with team members, and navigate design using templates and a drag-and-drop interface. Multiple functional and design customization options make Bubble a gamechanger in the software development world.
Best for: App building.
Price: Limited free plan available. Plans start at $25/month.
7. GoDaddy Email Marketing

Businesses should prioritize email marketing as part of their promotional strategy.
Starting an email newsletter is easy with GoDaddy's Digital Marketing suite. Besides website building and social media features, it also includes functionality for email marketing.
You don't need graphic design skills to craft beautiful emails. GoDaddy offers tons of pre-made templates you can customize to achieve your desired design. Schedule and send out campaigns to email lists to stay connected with your customers when you're ready.
Best for: Building your email list.
Price: Email marketing is included when you sign up for a GoDaddy Websites + Marketing plan. Plans start at $6.99/month.
8. Typeform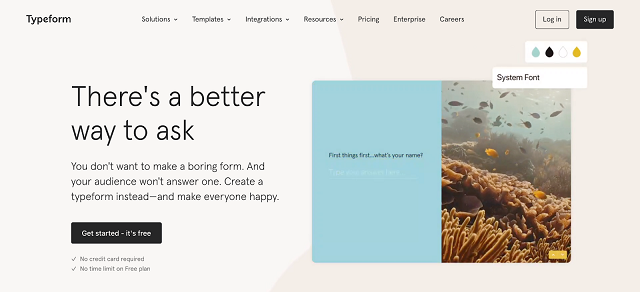 There are myriad form-makers in the market, but Typeform stands out from the rest.
From its conversational approach to collecting information to its intuitive user interface, Typeform lets you create professional forms effortlessly. It also integrates with 500+ applications, allowing you to send information to different endpoints.
Best for: Creating forms.
Price: Limited free plan available. Plans start at $25/month.
9. Loom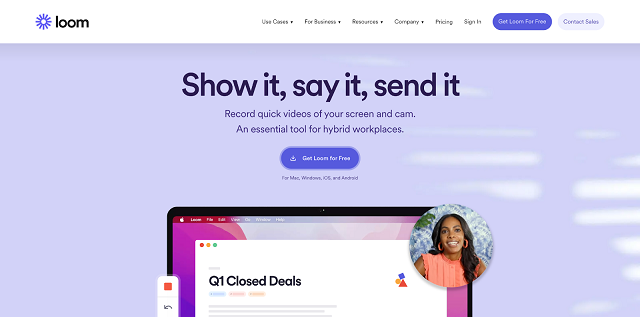 Loom is a gamechanger for remote teams spread across different time zones.
It lets you record screen and camera videos using the desktop, mobile, or Chrome extension. Use Loom to create tutorials, leave instructions, and share these videos with your clients or team.
Best for: Asynchronous communications.
Price: Limited free plan available. Plans start at $8/month/user.
10. Notion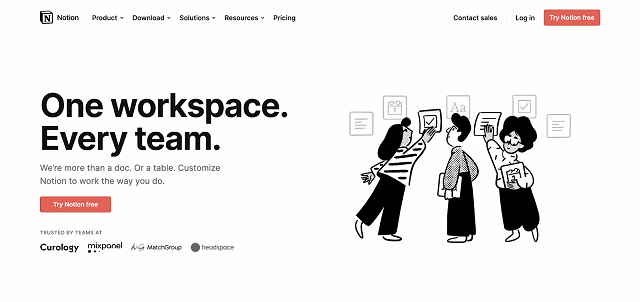 Notion is a flexible, all-in-one app that gives freelancers and entrepreneurs a space to dump and organize their ideas.
With pre-made templates, teams can use Notion to:
Create to-do lists, calendars, and business process documentation
Take notes and make swipe files
Manage projects
Notion supports different file formats and collaboration between teams and has a clean interface, making it perfect for organizing ideas.
Best for: Project management or knowledgebase creation.
Price: Free plan available for individual use. Plans start at $4/month/user when billed annually.
11. GoDaddy Studio
GoDaddy Studio lets you create and design branded content for your website, social media, and advertising.
Its Logo Maker and Social site features come with thousands of pre-made templates and a drag-and-drop image editor to help you create beautiful designs, even without graphic design skills.
Best for: Designing brand collaterals.
Price: Limited free plan available. The premium content features become available when you sign up for a GoDaddy Websites + Marketing plan, starting at $6.99/month.
12. Calendly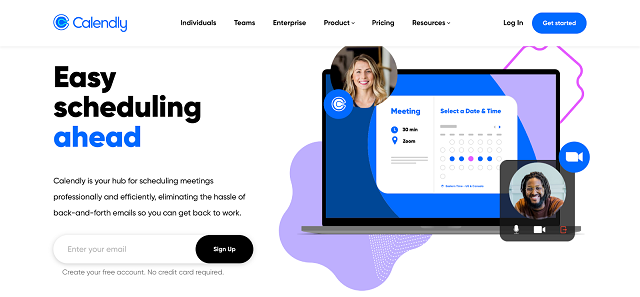 Calendly is a no-code tool that makes scheduling meetings easier.
Prevent unnecessary back-and-forth email exchanges by inputting your available times and sharing a link with meeting guests via website or email so they can join quickly. Guests can choose times you're both available, and Calendly will send an email notification to inform both parties about upcoming meetings or cancellations.
Best for: Scheduling meetings.
Price: Limited free plan available. Plans start at $8/month/user when billed annually.
13. MeetEdgar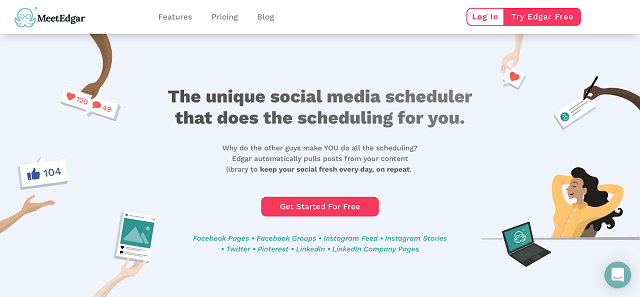 MeetEdgar is a social media scheduling tool that allows you to automatically share content to Facebook, Twitter, LinkedIn, Instagram, and Pinterest.
What makes MeetEdgar different from other social media schedulers is that it builds a bottomless library of evergreen content. So even if you don't have new posts scheduled for the day, it will get old posts to ensure content is posted on your social sites, day in and day out.
MeetEdgar also knows that coming up with content is hard, so it offers an auto-suggest feature that scans for quote-worthy text from a link.
Best for: Scheduling social media posts.
Price: 7-day free trial available. Plans start at $29.99/month when billed annually.
14. Fireflies.ai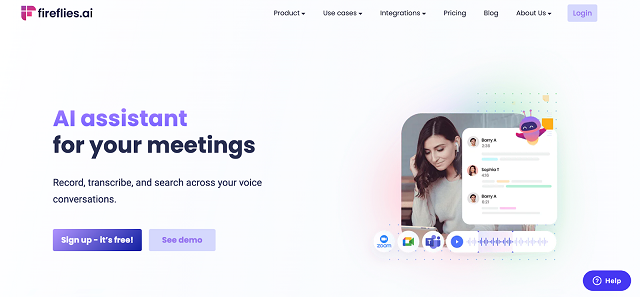 With the onslaught of online meetings, freelancers and entrepreneurs will find meeting assistant tools like Fireflies.ai handy.
Using artificial intelligence (AI), Fireflies records and transcribes meetings on popular video conferencing software such as Zoom, Microsoft Teams, and Google Meet — you don't have to take notes.
It lets you download your meeting files in your preferred audio format and automatically uploads these files to your Dropbox or OneDrive accounts so you can playback recordings to see if there's anything you missed.
Best for: Meeting transcriptions.
Price: Limited free plan available. Plans start at $10/month when billed annually.
Wrapping up
No-code tools help freelancers and small business owners build apps and websites without knowing a single line of code.
Tools like GoDaddy Online Store and Website Builder help budding entrepreneurs start and run their businesses with limited resources.
Start building your ecommerce store today with GoDaddy Online Store.