"Personal branding" is a concept that sounds like a buzzword. Everyone says that you should develop one, but what does it really mean to build a personal brand?
To be sure, there are a lot of different elements to consider when it comes to building a successful personal brand. In the modern age, one of the most important of these foundational elements is a personal website.
What you need to build a personal brand and website
We're going to cover a lot of personal branding territory in this article, including:
Let's get started!
Who needs a personal website?
Although anyone can launch a personal website, it benefits some professionals more than others. But in this day and age of easy internet accessibility, the harsh fact remains: If you don't manage your online image, it will manage you.
When you're young, embarrassing photos and drunk tweets don't seem like a big deal until you're on the hunt for a job or decide to start a business. It's only when you realize that recruiters, future employers, and potential clients review social media accounts that you begin to realize the importance of controlling your online image.
Anyone who wants to make an impression online — whether it's to land a new job or big client, show off their portfolio, promote a project, or just connect with like-minded netizens — can do so with a personal website.
Should I just stick with social media profiles?
When you're initially planning how to build a personal brand, you might ask yourself, "Why bother with a personal website when there are social sites like LinkedIn where potential clients and recruiters are already active?"
The answer comes down to addressing the limitations of a platform like LinkedIn.
For example, you can attach documents, photos, videos and slides in LinkedIn, but in limited quantities and at a maximum file size of 300MB. A personal website can help immensely if you have a lot of original work to showcase. After all, if you claim to be an expert at something, people will want proof.
LinkedIn also provides an area for testimonials and endorsements, which are valuable. However, if you're working for yourself, a personal website offers more control in terms of how you show off this social proof. Consider LinkedIn as an online business card that directs to your personal website.
At the end of the day, investing time on any social network should be secondary to the channels that you have more direct control over — like a personal website and email marketing efforts.
Social media marketing involves building a plot on rented land: You'll find yourself in a bad place if the social network ever shuts down or bans you.
You'll likely benefit more from not putting all of your marketing eggs in one basket.
Related: Using LinkedIn to build your personal brand
4 reasons to launch a personal website
In addition to the reasons mentioned above, here are some additional considerations to help you decide whether it's worth the effort to launch a personal website:
1. A personal website gives you control when it comes to positioning your business personality
Because of the customizable nature of building a website, the majority of hiring managers prefer personal websites over any other branding tool for making decisions about a candidate. Unlike your professional efforts on social networks like LinkedIn, which require you to fill out specific content sections (with non-editable headings), your audience will expect you to use your personal website to showcase more of your personality and expertise.
2. A personal website makes you more accessible
Just by putting yourself out there on the web, you're giving potential clients, customers and recruiters a chance to find you.
3. You own the content on a personal website
You don't have to worry about content disappearing or having to deal with any social feed algorithm changes because you control everything on your personal website.
4. A personal website will help build your personal brand
Having a personal website allows freelancers and business owners to build an audience, position themselves as experts, and start attracting clients. A 2017 study by Upwork revealed that the freelance workforce is growing three times faster than the overall workforce in the United States. By 2027, freelancers are expected to make up the majority of the U.S. workforce.
At the rate the gig economy is growing, individual participants will face more competition, and a personal website with a distinctive personal brand is one way to differentiate from others.
Related: 25 ways freelancers can generate an abundance of qualified leads
5 steps to build a personal brand with a personal website
By now, you've hopefully decided that a personal website is worth your time and effort. The next step? Creating an action plan for how to move forward.
We'll break down everything you need to know to find success in your personal branding endeavor in five simple steps:
Get a personal domain name.
Get a professional email address that includes your domain.
Choose a website builder.
Create website content.
Optimize your content and publish.
Related: 5 ways to build an online presence on a shoestring budget
1. Get a personal domain name
Generally speaking, it's easy to start a website on any platform you feel comfortable with (there are plenty of beginner-friendly options). But first thing's first: If you don't have a personalized domain name, you can't have a proper personal website.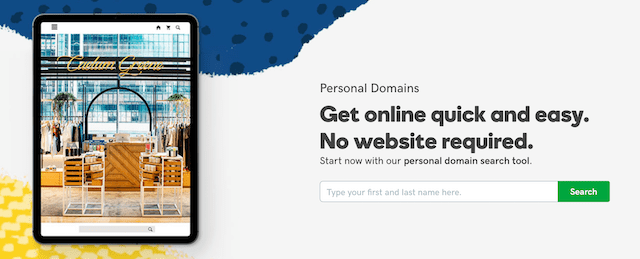 If you're just getting started, you don't need to have a website design in place to register a domain name. In fact, it might be easier to knock out this step initially so that you'll have something to plug in later.
If you want to get some usage out of your domain name while you're still building your personal website, you can always redirect that domain name to your Facebook Business or LinkedIn page. Verisign reports a steady increase in the number of .net and .com domains redirecting to a social profile.
If you're new to the process of choosing a domain name for a website, here are some basics to keep in mind:
Why you need a great domain name for your website address
Put simply, a domain name is the URL users can type into their web browsers to access your website. Computers use IP addresses to access websites, but it can be difficult to remember strings of numbers, which is why domain names were developed.
A full 75% of small businesses believe that domain names are important for their business, but this author would argue that you'd be 100% silly to try to build a personal website without one!
For a personal domain you'd think the choice was pretty easy, it's your name after all, but it can be a harder choice than it looks. To help you be a bit more creative check out our domain generator, it's an easy way to get some domain ideas quickly.
Related: What is a domain name? Everything you need to know about domain names.
Choosing your personal domain name
There are essentially six steps to claiming your domain name:
List your business information.
Consider these domain name tips.
Look into different extensions.
Pull it all together.
Determine value.
Register your personal domain.
When you're building a personal brand, the most natural thing to go for is FirstNameLastName.com. Most people and businesses opt for the .com extension because it sounds the most trustworthy and authoritative, and is easiest to remember.
However, if this idyllic domain name isn't available for the combination of your first and last name, you can try another variant of your name (yournameblogs.com) or opt for a different domain extension entirely.
If you choose to go after a completely different domain name, we've previously shared 10 tips for choosing the perfect domain name.
Besides .com, some additional domain extensions worth trying include:
.net: Seen as a generally trustworthy extension.
.co: It's a location-specific, top-level domain which stands for Colombia, but many adopt it because it's a letter away from .com and tends to be cheaper than the .com variation of the same name.
.me: A .me domain name can do so much more than just spell out your company name — it can speak to what you stand for, as an individual and as a business.
.org: Ideal if you're running a website for an organization (perhaps not ideal for a personal website).
Besides these more typical domain extension ideas, here are some less common domain extensions worth trying:
.io: Also a top-level domain (TLD) assigned to a geographic location, namely the British Indian Ocean territory, but it has been adopted by the tech community and quickly became a favorite domain extension for startups. Because it's associated with businesses, it can get pretty expensive.
Clearly, there are a lot of options available, so don't get discouraged if your first choice is taken — just get a little creative!
Related: Domain extensions guide: What you need to know before you pick a domain name
Registering your personal domain
Once you've decided on a domain for your personal website and have made sure it's available, it's time to register it.
As a general rule, choose a domain registrar that offers 24/7 support and ICANN registration.
ICANN stands for Internet Corporation for Assigned Names and Numbers, and it is the body that oversees domain names on the internet. It matches domain names with the appropriate IP address numbers, manages IP addresses (in addition to other protocol numbers), and operates part of the DNS.
GoDaddy is a popular choice with a trusted reputation.
While you're going through the process of registering your preferred domain name, you'll want to consider the following:
Register variations of your domain name. Don't let someone else piggyback off of your hard work by allowing them to use your name with a different domain extension ending. Besides creating various domain aliases that each allow people to access your website, you might also consider using various domain variations to point to different parts of your site. For instance, you can use the .bio domain extension to link to your About page.
Add domain privacy. This is especially important if you're going to use personal information during registration. WHOIS documents all sorts of personal information (including addresses and phone numbers) that anyone can browse through.
Keep your domain registration up-to-date. There's nothing worse than finding out your domain has been purchased by someone else after it expired — remember what happened to Google? Most domain registrars allow you to auto-renew and you absolutely should to prevent a potential future issue.
Determine domain name value. Domain names with history and brand authority are valuable. In these situations, people can buy and sell them for more than the normal price. Whether you want to make an offer on someone else's domain that matches your ideal naming mechanism or have built a brand around a domain you already have, check out GoDaddy's Domain Appraisals tool for approximate valuation information.
Now that you've made progress in terms of your ideal personalized domain, you'll want to setup a professional email to match.
Related: How to buy a domain name
2. Get a professional email address that incorporates your personal domain name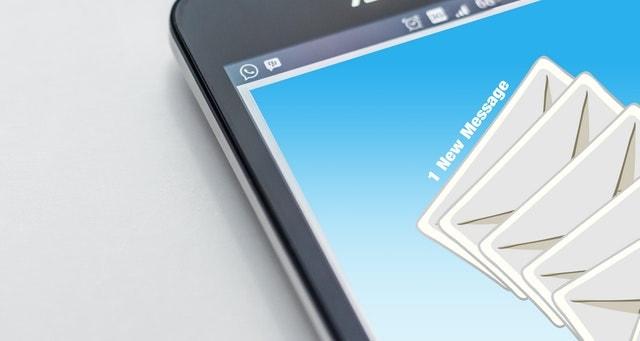 Although a Gmail address is infinitely more professional than an AOL or Hotmail address, the gold standard is a branded email that matches the domain of your personal website.
Why you need a professional email address
Aside from having a personal domain, one way to appear more professional to prospective clients is to have a domain-based business email address. According to a GoDaddy survey, 75% of respondents said that a business email address is an important website factor that inspires trust online.
Besides appearing more professional, some benefits of having a business email address include easy recall, legitimizing business transactions (including email marketing), and not advertising other businesses with each message you send (because when you use @gmail.com or @yahoo.com, you're sharing your brand with them).
How to use your personal domain to set up a professional email account
The good news is that once you've purchased a personal domain, the process to set up your professional email address isn't terribly involved or technical.
You can create an account with GoDaddy's Professional Email for a small monthly fee, or you can use Google's G Suite to set you up with all the cloud-based tools you'll need for basic business management, including a professional email. You can also opt to create a free email using your domain and connect it with Gmail for easy access.
What to do after setting up your email account
Once you have your professional email set up, make sure you're following these steps for overall personal branding success:
Create a professional email signature that follows best practices.
Send a couple of test emails to ensure there are no issues with sending or receiving messages (and to review how your email signature appears).
Update your business cards and other collateral with your new email address.
Related: Beginner's email marketing guide for small businesses
3. Choose a website builder
At this point, you've built a solid foundation for your personal website. The real work begins when it comes to building your personal website into the final product that adequately reflects the competitive advantage of working with you.
The good news?
Gone are the days that involved hard-coding websites from scratch.
There are so many free and affordable tools you can use to create a professional final product — no web development experience necessary. What this ultimately means is that you have no excuses getting in your way — the time to get started is now!
Build a designer-made, industry-specific website without any design or coding skills using one of the best user-friendly website builders. It comes equipped with built-in marketing tools to improve your SEO and increase online visibility. Upgrade to an ecommerce plan to start selling online and manage everything from site updates, email and social campaigns, to orders in one convenient place.
But before you start hacking away at your website's look and feel, let's first consider must-have elements for a great user experience, and direction for choosing the right website builder for your project.
Website must-haves
Your website design should incorporate the following:
Mobile-responsive. More than half of the world's population accesses the internet via their mobile phones. If you want to capture this majority share of the market, you have to ensure that your site design is responsive in both desktop computer and mobile viewing situations.
Fast page load speed. It is important to optimize for page speed because users leave a website if it does not load within 3 seconds. Because page speed also contributes to a good user experience, it is also one of Google's official search ranking factors.
Intuitive navigation. In general, people would rather rely on navigation than search when looking for something on a website because it is easier and faster. With that said, making your website easy to use and content easy to find positively affects the website traffic you'll get from search engines. The three-click rule proclaims that it shouldn't take more than three clicks to complete a desired task.
Put in the simplest terms, when evaluating design options, put yourself in the user's shoes.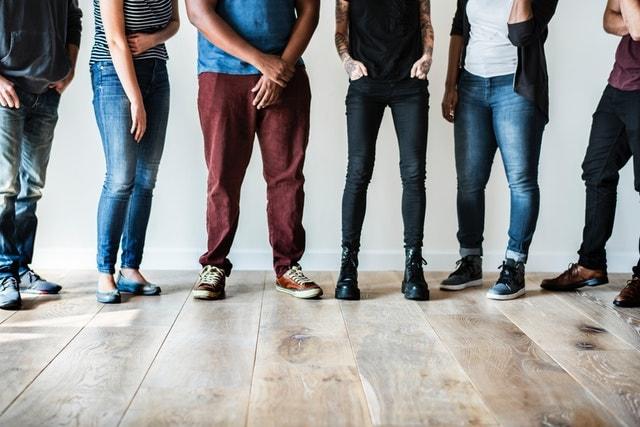 Is there something about a particular design that would frustrate you? Can you fix it? If not, move on to other options — there are plenty of free and premium website design templates to choose from!
How to choose a website builder
There are many different website builder tools available, but choosing the right one for you can involve multiple factors, from how comfortable you are with technology, your specific needs (what you're using the website for) and the size of your website (enterprise businesses have different needs than individuals) to the ongoing resources you have available to make further updates.
Start with a checklist of questions to ask yourself when choosing a website builder, then consider this list of the most popular tools on the market and who they work best for:
WordPress
Powering over 32% of the internet, WordPress is the most popular website builder today. It is known for its ease of use, scalability and customizability, making it a top choice for all kinds of websites: eCommerce, portfolio, news and even personal websites.
WordPress is free to use but you'll have to pay for web hosting in order to bring your website online.
Managed WordPress hosting is optimized specifically for people who want to use WordPress but don't want the hassle of managing backend tasks like self-installation on a hosting plan, daily backups, and core software and security updates.
GoDaddy's Managed WordPress hosting solution features a Quick Start Wizard to get your new personal website up and running fast on WordPress. Managed WordPress includes a drag-and-drop page editor, a premium WordPress hosting platform, 24/7 support, a free domain included, a Microsoft 365 email address (with the annual plan), automatic software updates, and free backups.
As your website grows and you need more storage, it's easy to add on to this plan without having to switch to something else entirely.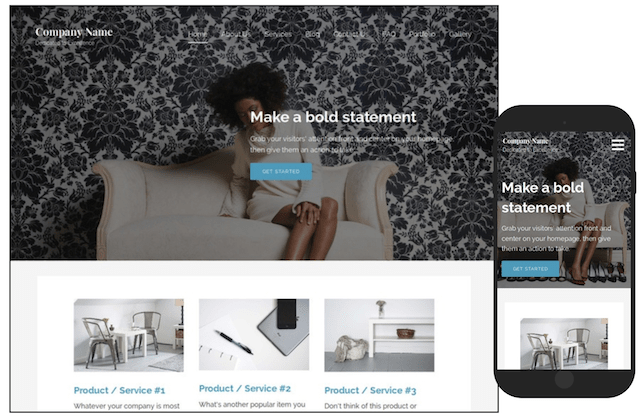 GoDaddy Website Builder
GoDaddy Website Builder is yet another website builder solution. It allows you to create a website that fits your needs, whether it's for business or personal use. With this easy DIY website builder, you don't have to choose whether you want to make a website or build an online store because you can have both.
For a small monthly fee, you can get website hosting, 24/7 support, a mobile friendly site, SSL security, and on-the-go editing (with a swipe-to-style editor) with the Personal plan. Add additional features like Search Engine Optimization, a PayPal button, email marketing, social media integration, and online appointments with the Business plan.
Additional features include site backups, customizable themes, calls-to-action, contact forms, free stock photos, and promo banners. Check out all of the features offered by various GoDaddy Website Builder plans.
Website Builder offers premade website templates that are perfect for many different kinds of personal websites.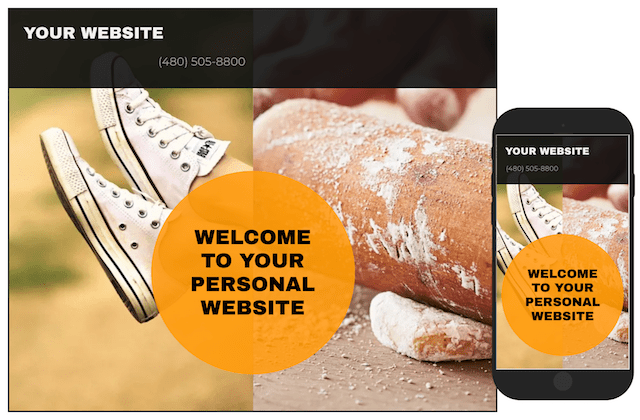 However, the focus of Website Builder isn't necessarily site design — its prime purpose is to help people get activity updates and feedback regarding how users can improve website goal achievement, thanks to this website builder's smart algorithms and machine learning, which prime users for optimization.
Hire a Pro
Even with plenty of user-friendly tools available on the market, you still might not want to deal with website setup and design on your own — and that's OK! If you have the budget, another option is to hire a professional web designer to take care of this for you.
Since outsourcing the process of web design invites an entirely new set of questions and considerations, make sure to ask potential web designers for portfolio examples and testimonials from happy clients.
4. Create website content
After getting the website structure (its backbone) set up, it's now time to add some meat to your website by populating it with content.
Some of the top basic pages and pieces to add to your website include:
Elevator pitch
An elevator pitch is a brief, succinct statement of an idea. In this case, it's a brief statement of what you do. Whether you're selling goods or services, or just telling the world who you are, a succinct, carefully crafted elevator pitch should be front and center on your home page.
It can be as simple as filling in the blanks on this formula: I'm a ___. I help ___ do ___ so they can _____.
Related: Here's how to curst an elevator pitch for your small business
Tagline
A tagline isn't a must, but including one on your website can increase recall and can make you memorable. If you keep it front and center in your website's header, it helps people understand what your website is about regardless of what page they land on.
Bio/about page
An About page is typically the second most-viewed page on a website. New visitors who find your content useful often turn to the About page to learn more about you.
Done right, a good About page can open doors for you.
It's also a chance for you to tell your story, showcase what you do best, as well as what makes you different to help you stand out from the crowd. However, writing a good bio page can be tough, especially when you write your own.
Don't use your About page as an excuse to write a lengthy account of what's happened in your life. Rather, opt to highlight the following:
Who you are
What you're passionate about
What you do
Your skills and experience
Your service and how you can help the people visiting your website
Related: 7 tips for writing the perfect About Me page for your freelancing site
Portfolio/links to your work
Whether you're a writer, photographer, graphic designer, web designer, web developer, artist, or even an actor, your personal website is a chance to show off the work that you do best. Don't forget to include examples of projects you've completed, client work you've been a part of, or articles you've published.
There are tons of portfolio plugin options to choose from when it comes to using WordPress, as well as specialized themes made for showing off portfolios. If you don't want to spend a lot of time learning how to use WordPress, check out our guide to creating a portfolio website using GoDaddy Website Builder.
Client testimonials
If you have good existing client relationships, it would also be helpful to include client testimonials to add credibility and serve as testament to what you can do.
If you haven't already made it a part of your post-project process, make sure that you're regularly asking happy clients to share their accounts of what they got out of working with you.
Related: How to ask for testimonials and reviews from your clients
Contact information
As your personal brand grows, more people (including site visitors, potential clients and subscribers) will want to get in touch with you. Make it easy for them to do so by providing contact information that includes your business email address, as well as links to your social media handles (at least those most relevant to your professional brand/most actively updated).
Blog
Adding a blog section to your website is optional, but it can help immensely with your SEO efforts and with building thought leadership.
If you're going to spend time on blogging, it's important to optimize for search so that your website can be found by more members of your target audience.
Blogging contributes to that because when you consistently create high quality content for your site, Google picks up on that and feels more comfortable recommending you in relevant search results.
Frequently populating your blog with quality content keeps visitors on your site longer, showing Google that these results are helpful. It also provides you with opportunities for internal and external linking, which redirects users to relevant content within your site and shows that your website is trustworthy because other reliable sites of the same niche also link to it.
To get your creative juices flowing, here are some tips and tricks for writing a great blog post.
When it comes to creating content, it's fine to get opinionated at times but avoid disclosing your views on divisive topics like politics or religion. Try to stay objective in your overall approach.
Finally, before you start publishing consistently, aim to have a few blog posts ready to go, so that if you unexpectedly get busy, you still have content to publish. Don't forget that if you can't write the blog posts yourself, you can hire a freelance content writer to do this for you.
Related: How to increase blog traffic with 13 proven tactics
5. Optimize your content and hit publish
Now that you have started planning out your website content, it is important to learn how to optimize it for search engines before you hit publish.
As mentioned in the previous section, optimizing for search engines allows users to find your website and great content keeps them hanging around. It also contributes to increasing organic traffic. Done well, this can mean that you don't have to pay for traffic from ads.
A focus on creating search-optimized content also allows you to build your brand through establishing credibility and authority, helping you to stay ahead of the competition.
Take note of this useful statistic: The first three search engine results usually get about half of the total web traffic.
The top result gets 20.5% of the total clicks, and the rest of the pages have to fight for the remaining 50%.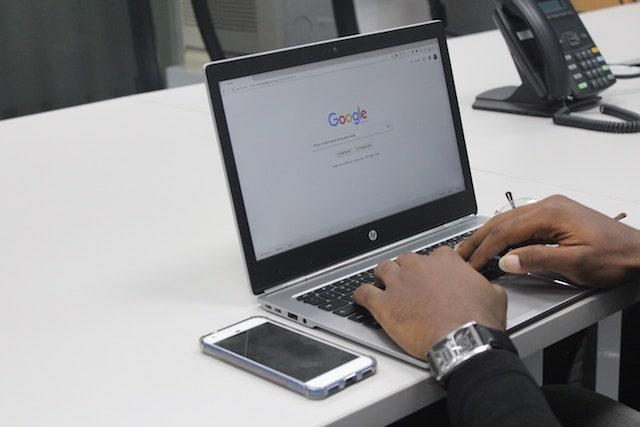 Why optimize for on-page SEO
There are many types of SEO but they can all mostly be classified in terms of three major categories: technical, on-page SEO, and off-page SEO.
On-page SEO refers to the process of optimizing each and every page on your website. It deals with both technical SEO (in terms of optimizing page titles, URLs, and meta descriptions) and website content.
Put simply, the ultimate goal of on-page SEO is to ensure that search engine crawlers understand the meaning and context of your pages.
Basic on-page SEO tips
Most people think you need to hire an expert to do your website's SEO but there are many simple SEO steps you can complete yourself, such as installing an SSL certificate and gleaning insights from Google Analytics.
Some additional techniques you can use to optimize for SEO include:
Optimize page titles and meta descriptions. When search engines look through your website, they check for the page title, page description, headings, and content (including copy, images, and videos) so that they can understand what the page is about.
Here are a few tips to optimize page titles:
Make it unique. A unique title will give search engines an idea of what the page content is about. It should include your target keyword to help search engines quickly understand the nature of your content.
Keep it short. The recommended length is 60 characters, since this is the average number of characters displayed by Google on search engine results pages.
Add interest. Include modifiers and descriptors (adjectives or adverbs) such as "amazing", "ultimate", "actionable" to make titles more interesting, increase click through rates, and help you rank for long-tail keywords.
Remember that the H1 tag is the headline tag. Ensure that your title is wrapped in an H1 tag if your theme overrides this setting (but don't use more than one h1 tag on any given page).
Meta descriptions refer to the preview text under the title that searchers see in the search engine results. These help search engines determine what the page is about. Meta descriptions must be unique for each page and should be 160 characters or less. Don't forget that meta descriptions also help a human user decide whether or not to click through!
Note that Google does not always show the meta descriptions the page owner provides, and might use their own if they feel it helps the searcher more.
Related: What is a meta description?
Optimize URLs. There are two parts to creating SEO-friendly URLs: URL optimization and URL structure.
URL optimization basically involves creating URLs that include your keyword. Be sure to use hyphens to separate individual words in a keyword phrase.
URL structure should mimic the structure of a website. For example, you might opt to make use of categories to help users find content more easily (such as yourwebsite.com/blog/article-URL).
When it comes to SEO, the shorter your URL, the better (because Google has to process less information to make a decision).
For example, if your blog post is titled "15 best social media content examples online right now" and the keyword set is "social media content examples," then the URL should be: yourwebsite.com/blog/social-media-content-examples.
Content SEO. Content SEO involves optimizing your content for specific target keywords. With this in mind, the first step involves doing keyword research.
You can do basic keyword research using free features already provided by Google: Google Suggest, "People also ask for" and related searches.
Google Suggest shows related terms users are searching for as soon as you start typing a search term within the search bar. Once you key in a search query and press enter, Google also shows a set of related questions, filed under "People also ask." You can use these to help guide the creation of subheadings. Then, at the bottom of these search results, you'll find related searches, which you can also use to get an idea regarding which keywords to include in your content.
The above process describes several ways to determine latent semantic indexing (LSI) keywords. LSI is a method that search engines use to study and compare relationships between different terms and concepts, and the keywords are words and phrases with a high degree of correlation to your content topic.
In general, to find success with SEO, you'll want to create long-form engaging content.
In addition to SEO benefits, the more completely an article addresses a given topic, the longer the reader will stay on the site.Just don't forget the importance of original content. Google penalizes duplicate content — especially content that is obviously plagiarized.
Related: Beginner's SEO guide — Search engine optimization for small business websites
Headings and formatting. When writing content, wrap your subheadings in H2 tags, and don't forget to include your target keyword in at least one subheading. For best results, include your target keyword in the first 100 words of your content.
Link to other websites with relevant topics to help Google figure out what your content is about. On that note, link to other examples of your own internal content so that Google knows how your different content pieces relate to each other.
Images. Large image files can make a site load slowly, so make sure you're optimizing them with a plugin or before uploading them with a service like Google's Squoosh.
Use original images when possible. For when you can't, use license-free stock images. If you get an image from another source, reference or link to the source within your content.
When it comes to proper SEO, use an ALT tag to describe the image. This helps search engines know what the image is about, so make sure to incorporate your keyword but don't forget about the importance of accessibility. The original purpose of the ALT tag is to help screen readers describe them to people with vision problems. Don't forget to incorporate the keyword into the image's file name, as well.
Share your content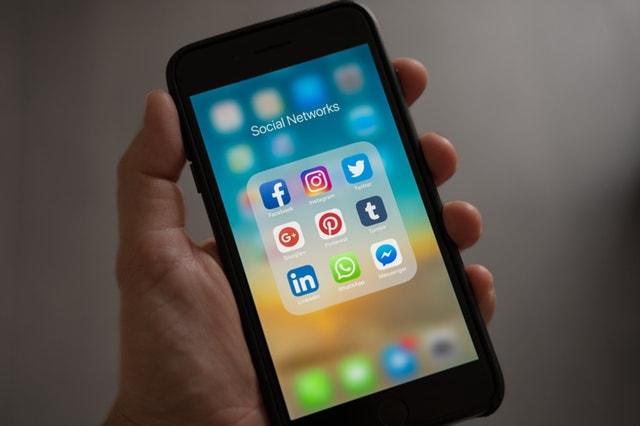 Get more views to your website by sharing content on social media. It can become a lot of work, but these guidelines will help you focus on the most important aspects:
Share helpful content not just from your website but other websites, as well.
Add social sharing buttons to make it easier for those who find your content relevant to share it.
Create branded visuals. It gives you an identity. When people look at a social media post, they will immediately think of you. Also, when your content goes viral, it traces back to you.
Repurpose blog posts into content for social media.
To help with off-page SEO (building backlinks), engage in guest blogging for other websites in the same niche. SEO aside, these efforts can help you boost industry authority and when these partnerships go well, they can spark a mutually beneficial long-term business relationship.
Related: How to use Canva to create branded images in less than an hour
A primer on structured data
Search engines are machines: They rely on algorithms to crawl websites. The process involves reading a set of binary data, very much unlike the way humans operate. This creates the need for structured data (or schema).
In a nutshell, structured data helps search engines better understand the contents of a website by providing a set of enhanced data.
With this, search engines are now able to process content more like humans and less like robots. When your website uses structured data, it can display a more accurate summary of your page on search engine results pages. For example, this might include business addresses, product information, or ratings and reviews.
Even if you're not a web developer, there are easy ways to incorporate structured data into your personal website. If you're using WordPress, you can start by using the Genesis Framework, the Yoast plugin, or even the Schema WordPress plugin.
Final thoughts on building a personal brand with a personal website
You've done all the hard work to build your personal website — now it's time to share it with the world.
We've already covered basic foundational elements that include:
Registering a personal domain name.
Setting up a professional email address.
Choosing the right website builder for your needs.
Creating website content to communicate your expertise.
Optimizing content to help you show up in relevant search.
There are still a few more things to consider after you launch your personal website, including:
From here, it's all up to you regarding how to best use your personal website to advance your career goals and build your personal brand. Best of luck!
This article includes content originally published on the GoDaddy blog by the following authors: Nellie Akalp, Cate Barker, Nancy King, Maxym Martineau, Desiree Martinez, Sally McGraw, Raubi Perilli, Andrea Rowland and Deborah Sweeney.