Wondering how you start to build a strong online presence for your business if you've only got a shoestring budget? We're here to help.
When it comes to business, the term "brand" is used quite often — off-brand, brand guidelines, the leading brand, personal brand … you get the idea.
Building your brand is crucial for your business's long-term success.
Your brand is the foundation that gives your work a voice, an identity, value and awareness among users. Most businesses and individuals begin their journey on a small budget — and often the margins of that budget stay small for a long while.
Knowing how to build a strong online presence on a shoestring budget is a key skill that will determine your overall success. And, thanks to the plentiful resources available today, achieving this feat isn't as costly as you might imagine.

5 ways to build an online presence without a big budget
In addition to the 10 activities highlighted in the infographic above, these five suggestions will get you well on your way to building an impressive online presence:
Build a stellar website.
Actively engage in internet marketing and social media promotions.
Make content marketing a priority.
Build your email list.
Participate in online communities.
Now, let's take a closer look at each suggestion.
1. Build a stellar website
Despite being one of the most obvious steps, building a website is daunting for a lot of people. There are too many factors involved and not knowing how to code makes a lot of newbies uncomfortable.
To ease this process, begin with these two steps:
Get the right domain name.
Use an easy DIY tool to build your first website.
Getting the right domain name is half the battle for building a strong online presence.
Your domain name can tell the user your (or your business')s name, the industry you belong to, and what you are offering. While this might seem like a lot to expect from a mere web address, the way to do this is to get the right domain extension.
Related: What is a domain name?
Take Jay's example:
He is into real estate and he is working on building his personal brand. A relevant and brandable domain name for Jay could be jaysells.space (because he's into the business of spaces).
Industry-specific domain extensions such as .site, .online, .tech, .press, etc., allow you to have a domain name that does the basic communication for you.
Even before visiting your website, the user has an idea of what to expect just by looking at your domain name.
Find your perfect domain name
Attach your domain to a website
When it comes to building your website there are a number of affordable, easy-to-use tools, including GoDaddy Website Builder.
These platforms make it easier for anyone to build their very own website using pre-specified design elements into ready-to-use templates.
Key takeaways
Spend some time researching on how to choose a good domain name for your unique venture.
Get your domain name on an industry-specific domain extension for maximum branding.
Use GoDaddy Website Builder to get started on building your website.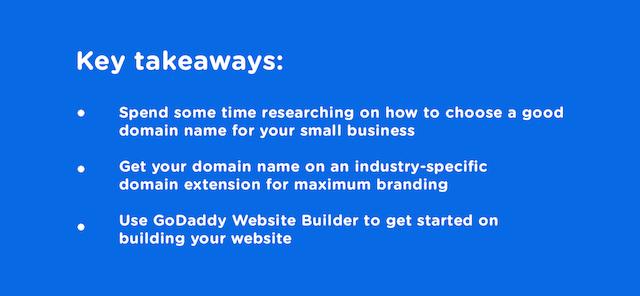 2. Actively engage in internet marketing and social media promotions
No, they're not the same thing.
Internet marketing broadly refers to promoting yourself or your business online through business listings where you share basic information such as your product photos, product descriptions, location, contact details, working hours, etc. Check out Google My Business, to begin with.
Editor's note: GoDaddy Website Builder makes it a snap to create and manage your Google My Business listing at no extra charge and without complicated add-ons.
Another way to affordably market your business online is through Google Ads. This is an online advertising platform that enables you to set up ads that show when a user conducts a search that contains your keywords.
Getting the right set of keywords to ensure you're reaching the right audience at the right time is a constant trial-and-error process. To build a strong online presence, it requires continuous research, analysis and tweaks to your keywords to ensure maximum return.
Related: What's the difference between Amazon advertising and paid ads on Google and Facebook?
On the other hand, social media marketing involves engaging with your target audience in their daily social conversations.
It is one of the best marketing tools to highlight your brand personality.
You don't have to spend a dime to post about your business on the social media sites where your target customers spend their time, but setting up a small budget for paid social media advertising will improve your marketing results.
Platforms such as Facebook, Twitter, Instagram and LinkedIn allow you to create and target ads to a niche group of people. Knowing your target audience here is crucial so that you don't end up wasting precious dollars.
Related: Beginner's guide to social media marketing for small business
Key takeaways
Create a business listing on Google My Business to make your business more visible in local searches.
Use Google Ads to reach the right consumer at the right time.
Keep trying, analyzing and tweaking your keywords to ensure maximum ROI.
Highlight your personality through actively conversing on social media.
Target your ads to specific niches to spread awareness.

3. Make content marketing a priority
Content is what draws people to your website and ultimately helps you build a strong online presence. If users see value in what you have to say, they will check you out.
Content marketing is all about creating valuable content that is easy to consume.
Experiment with a few content formats such as blog posts, videos and podcasts and then analyze them to see what's performing the best. Use that top performing content format to share information about your industry, your product, your personal story, and more.
Creating and sharing original content is also a terrific way to nurture your search rankings. Creating value-driven content that is keyword-rich can help you get readership, backlinks and higher search engine ranking over a period of time.
And you can always repurpose the content to get more out of it.
Key takeaways
Create keyword-rich, long-form content to engage users and get more SEO juice.
Analyze your content to see what is working and what isn't.
Share industry news, product updates, personal story and more.
Use multiple content formats.
Repurpose your content to get the most out of it.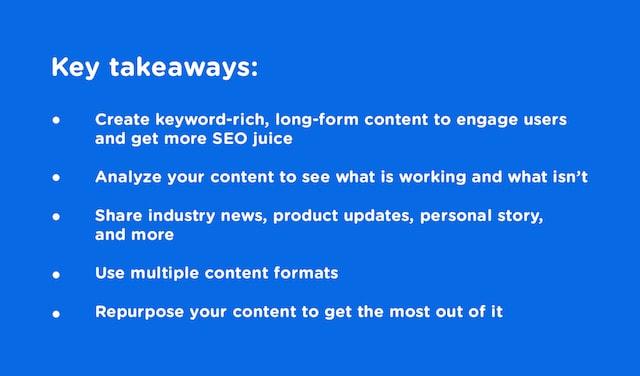 Related: 9 types of video content to help you move customers through the sales funnel
4. Build your email list
Often users will land on your website only to never come back again. That's a potential lead lost. If you don't persuade them to give you their email address, you will have no way to communicate with them in the future.
This is why it is crucial for you to start building an email list. Not to mention, it is also one of the most cost-effective methods to build long-term customer value.
Have relevant pop-ups on your website that prompt users to sign-up for your newsletter. Moreover, you can give incentives to users who recommend your newsletter to their friends.
Key takeaways
Add a link to your email subscription page in your email signature.
Create and share a free eBook to get email addresses.
Do a giveaway on Facebook that requires an email address to enter.
Encourage existing subscribers to engage with your brand by including an exciting call-to-action.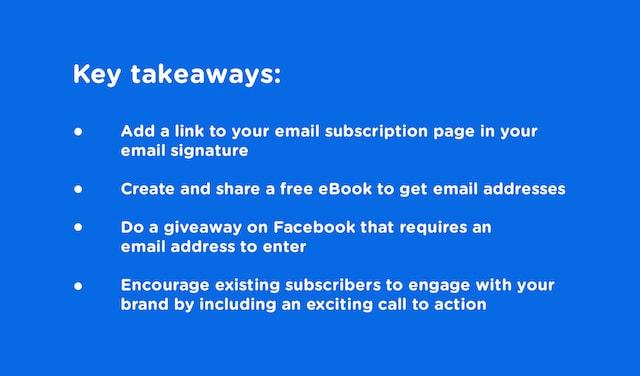 Related: Beginner's guide to starting an email list
5. Participate in online communities
Communities that include forums and question-answer websites, such as Reddit and Quora, are great avenues to help with building an online presence for your business. These are places where people go to find answers, post questions, explore, and socialize.
These communities can connect you with people who are relevant to your industry.
Getting active in online communities will help you build contacts and score potential leads. Most of these websites are free to join, and they are a fantastic way to go out there and build authority.
However, consistency is the key to succeeding with this tactic.
Only with regular engagement and genuine answers will you build long-standing credibility for your business as well as yourself, the human behind the business.
Key takeaways
Actively ask and answer questions on websites such as Reddit and Quora.
Be enthusiastic about engaging and fostering potential partnerships.
Give genuine answers and opinions so as to not come across as a hard sell.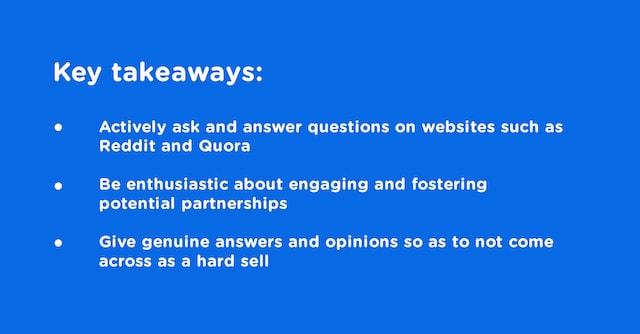 Related: Types of communities for support, guidance and growth
Start to build a strong online presence
Executing these suggestions to help you build a strong online presence requires a lot more time and energy than money. But the benefit is you can spend little and still get the word out to the right audience.
Above everything else, it is absolutely essential to know what your unique selling proposition is.
Knowing that piece of information inside out will help you stand out and better answer the ubiquitous question, "So, what do you do?" How you answer this will depend on your passion and excitement and it will be contagious.