Standout tools: Website Builder Google My Business listing feature
If you're running a brick-and-mortar or service area business, you know the importance of local search. After all, consumers usually search the web for products or services near them when they're close to making a purchase. A high-quality online business listing can help you reach customers in your area, but setting one up can be daunting.
The Google My Business listing feature in GoDaddy Website Builder
We know you're busy running your business, so we have all you need in one neat package with the Google My Business (GMB) listings service.
The GMB listings service offers a way to boost visibility for your business by displaying your hours, phone number and location in Google Search and Maps results.
This website builder tool allows users to create and manage their GMB listings at no extra charge and without complicated add-ons.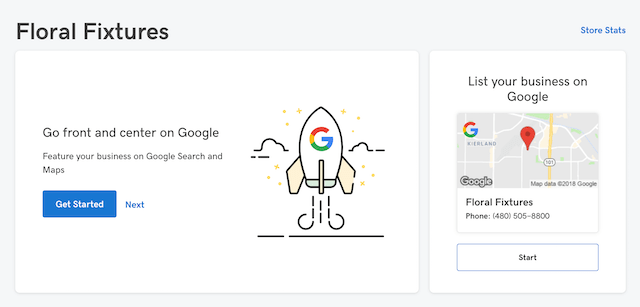 The Google My Business listing feature makes it easier for local consumers to find your business via Google Web Search and Google Maps, and even improves your website's search engine optimization (SEO) ranking.
Related: 10 local marketing ideas for connecting with customers in your city
Who's it for?
If you're looking to attract local customers without spending a lot of time or expense, our Google My Business listing service feature is for you. It's available in the Business Plus and Online Store plans for customers within the United States, United Kingdom, Australia and Canada (English).
What problem does it solve?
While most entrepreneurs recognize the importance of local search, many may not be aware that they can set up a Google My Business listing for their business.
Setting up the listing can be tricky and keeping the information accurate can be time-consuming.
Most business owners' lives are complex enough without having to learn another online tool and remember yet another password.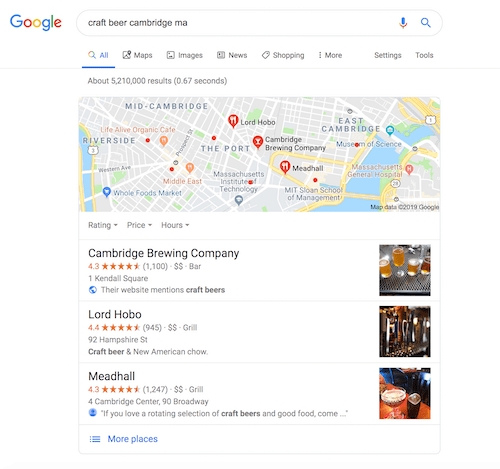 How does GoDaddy's Google My Business Listing feature help?
First, Website Builder will guide you through the setup process and create your Google My Business listing using the information from your website. In some markets, like the U.S., we'll review your listing for errors or problems before submitting to Google so that it gets published faster.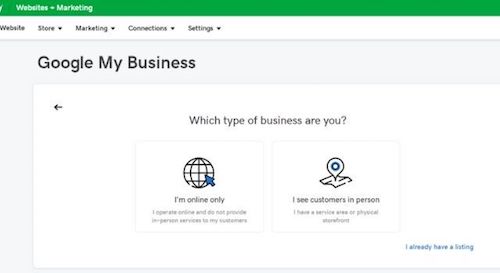 Once your listing is published, you'll be able to see how many potential customers you're reaching, monitor your rating and even reply to reviews — all from your Website Builder dashboard.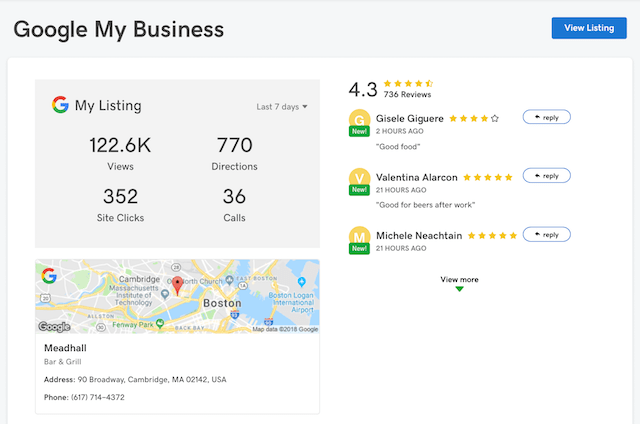 Save time and reach more customers
Meet Scott Cooper, owner of Meadhall, a gastropub featuring craft beers and meads in the heart of Cambridge, Massachusetts — home to world-class universities and a thriving tech scene. Scott and his team built the Meadhall website using Website Builder. After that, they created their GMB listing in Website Builder, quickly earning a stellar 4.3-star rating.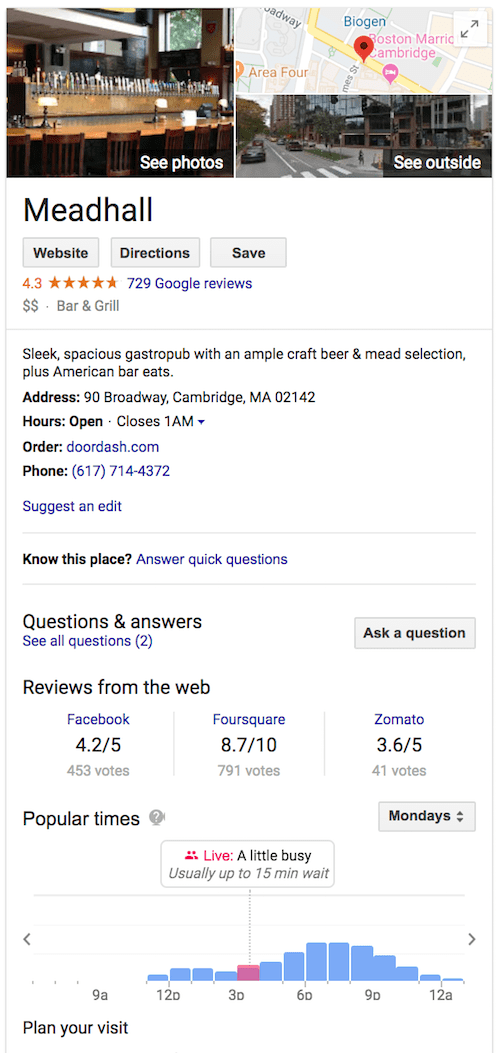 The Google My Business feature is so easy to set up, you might not even realize it's there. Scott's employee, Stephanie, set it up without even realizing it while building the website. She says:
"It was very easy. It was all step-by-step and easy to follow."
Now when local diners search Google for great beer in Cambridge, they're sure to see Meadhall's favorable reviews, as well as up-to-date information such as hours, location and website address. And chances are, many will pop over to the site to check out the menu. And hopefully, pop in for a meal. "I don't really care if we have any visitors to our website," says Scott. "I want visitors to our restaurant."
Ready to attract customers in your neck of the woods?
Head over to Website Builder and create your Google My Business listing today to be discovered in Google Web Search and Google Maps search results. Local customers are just a few clicks away!