GoDaddy introduces marketplace selling to its Online Store and welcomes Sellbrite
Editor's note: GoDaddy GoCentral Online Store is now Websites + Marketing Ecommerce — an all-in-one solution that integrates websites, marketing and eCommerce tools with the guidance needed to achieve success.
Launching a new product is hard, and one of the biggest challenges can be learning how to sell your product online. Competition is stiff, and breaking through in a crowded market to find new customers can be challenging.
About half of all shoppers now start their search for new products on Amazon or other large marketplaces. Showing up on these marketplaces can mean the difference between landing a new customer and, perhaps, failing to get your idea off the ground.
New marketplace selling features in GoDaddy Online Store let small businesses easily sell products on marketplaces like Amazon, eBay and Etsy and manage their orders and inventory all from one place.
This is a game-changer for eCommerce entrepreneurs everywhere.
GoDaddy Online Store + marketplace selling
With the launch of marketplace selling, GoDaddy is making it easier than ever for Online Store customers to sell their products on top marketplaces — Amazon, eBay, Etsy, Walmart, Jet and more!
And with this launch, GoDaddy now offers the broadest set of marketplace connections of any online store builder (beyond Wix, Weebly, Squarespace and Shopify) to help customers sell everywhere.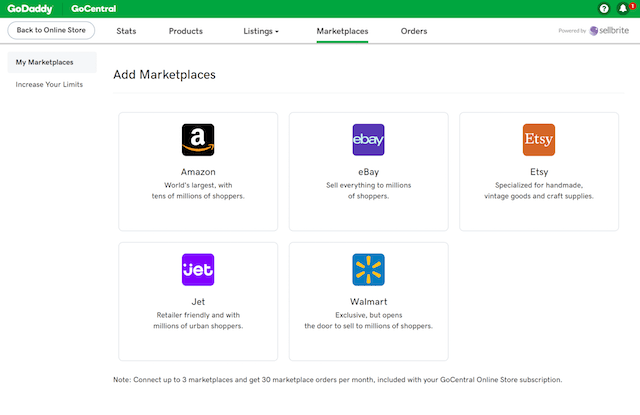 Sell wherever your customers shop
With marketplace selling in GoDaddy's Online Store, it now takes just minutes for a small business owner to start selling their products on the world's largest marketplaces.
With a few clicks, customers can easily publish products right from their online store directly to marketplaces.
Need to update a price or an image? Make the change once in Online Store, and it automatically updates across all of your marketplace listings, too.
With GoDaddy's marketplace selling feature, you can be sure that potential customers always see the most up-to-date information and product selection, no matter where they shop.
And if you are already selling on a marketplace, it takes just a couple clicks to sync your orders and inventory back to your GoDaddy Online Store so you can sell directly to customers, too.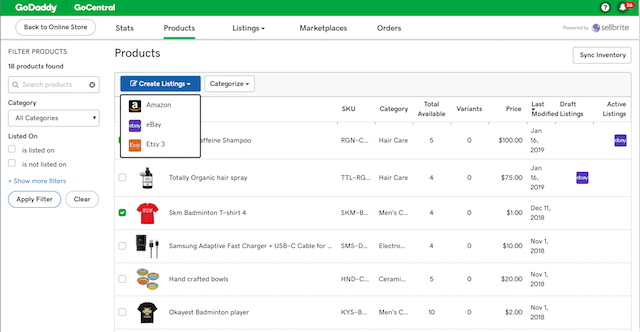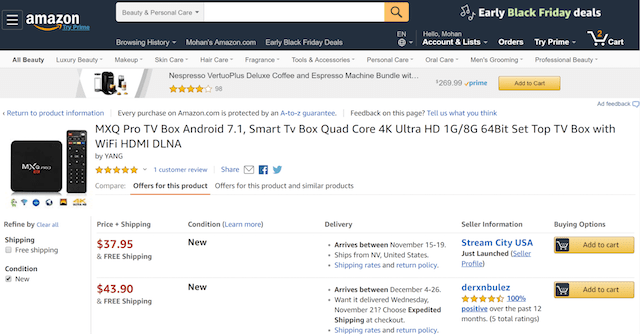 Simplify inventory management
Of course, selling your product in more channels can create other time-consuming challenges.
With orders coming in from many different places, it can be hard to stay on top of your inventory, knowing how much you have in stock or when you need to build or order more product.
Without accurate inventory tracking, you run the risk of overselling a product, leaving your customers frustrated by backordered items or shipping delays.
Marketplace selling with Online Store lets you quickly see all of your orders in one place.
Your inventory automatically syncs across all of your channels, so you always know how much is in stock whether you sell through a marketplace, your own online store, or in-person through a point-of-sale system.
Plus, once you ship an order, just update the tracking information and Online Store will take care of submitting it to the right marketplace.
This saves valuable time and delivers exceptional service to your customers, so you can focus on growing the business or building your next big idea.
Related: Inventory management 101 for small business owners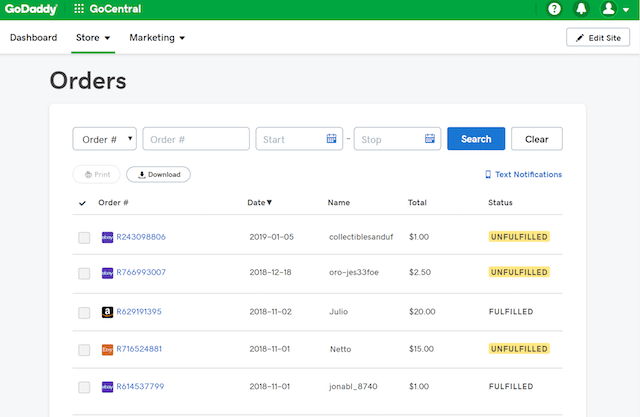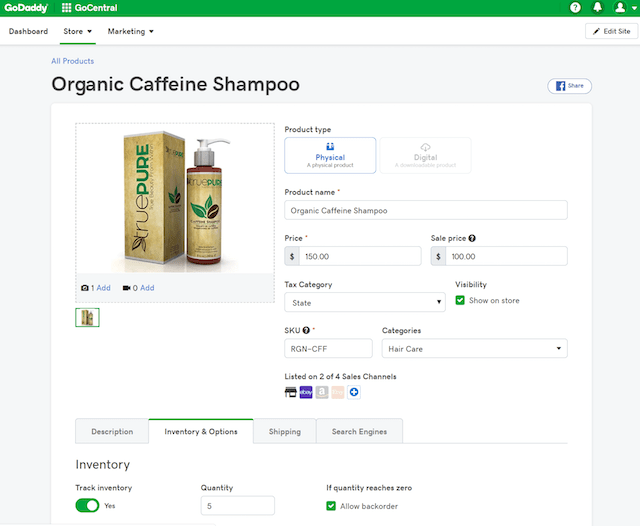 GoDaddy acquires Sellbrite, category leaders in helping marketplace sellers succeed
In bringing these powerful new eCommerce capabilities to GoDaddy customers, we're also announcing the acquisition of Sellbrite.
Sellbrite is a multi-channel selling service that helps customers list products on leading marketplaces and shopping carts.
We've been working with Sellbrite as a partner for the past year and have been impressed by their team and capabilities. Sellbrite has been the top-rated marketplace application on both the Shopify and BigCommerce platforms for several years and has enabled tens of millions of orders and billions of dollars in sales on Amazon, eBay, Etsy, Walmart and others.
In addition to integrating marketplaces into GoDaddy's Online Store, Sellbrite will continue to support their current product line and integrations with WooCommerce, Shopify and BigCommerce.
Our two teams share the same goal — to help everyday entrepreneurs sell everywhere.
By joining forces, GoDaddy and Sellbrite have created the leading online store and marketplaces product in the category.
Going forward, we will have the ability to bring innovative multi-channel selling capabilities to GoDaddy customers at a speed and scale that delivers "Wow!" customer experiences and builds market leadership.
Sellbrite is based in Pasadena, California, and led by CEO and Co-founder Brian Nolan and Co-founder Mike Ugino. Brian, Mike and their team of approximately 15 eCommerce gurus across product, engineering, marketing and customer success will be joining GoDaddy's Presence & Commerce organization.
Welcome to the GoDaddy team — we're excited you're here!