Tips on hosting an email course to grow your email list
Whether your business is big or small, acquiring new customers can be a challenge. Considering that email marketing has a 4,300 percent return on investment, building a highly targeted email list is always a good place to start. When you're starting from scratch, finding those first few subscribers can be tough. Some of the most common methods to grow your email list include giving away ebooks, free tools, or early access to blog posts. One technique that is often underutilized is to offer an email course to your website's visitors.
A good email course will not only help grow your subscriber list, but it can also be really effective at converting those subscribers into customers.
While it's not as common as giving away a free ebook, many companies are already using this strategy successfully.
To show you how you can use an email course to grow your business, we're going to take a look at five email courses from five companies that have found success with this strategy. In addition, the creators of each course will weigh in on how and why this strategy has worked so well for them.
You Need a Budget (YNAB)
One of my favorite email courses is from You Need a Budget, or YNAB for short. YNAB offers personal budget software to help people gain control of their finances. In addition to great resources on money management, they also have an email course which, according to them, will "transform the way you think about money."
YNAB has an email course that consists of one email every day for nine days and is sent from their founder, Jesse Mecham.
While the content of their course is relatively long compared to other email courses I've seen, it's packed with valuable information. At the end of each email Jesse suggests an action step that's a great takeaway to help people get the most out of the course. He also ends each email with a call to action in the form of a P.S.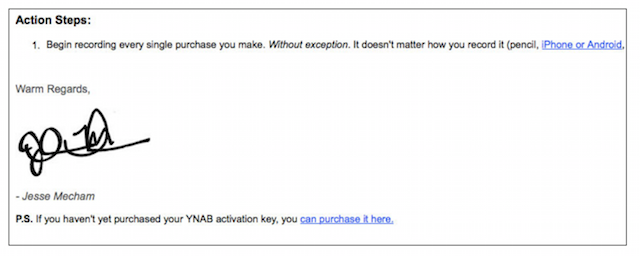 Amazingly, Jesse has been running the email course for nearly eight years (likely before many other people understood the value of email courses), and according to him, the positive impact on his business could be seen immediately. He says:
"I've been running an email course like that since the summer of 2006. Once I launched it, our orders doubled. It's proven to be an extremely effective sales tool. Considering the fact that our product is somewhat unique, the potential customer needs to learn how to look at their money in a very different way. The email course we provide helps them do just that, and the 'sell' is not much of a sell at all."
Takeaway: Try adding a post script at the bottom of the email with a call to action and see how it affects your conversions. After all, the P.S. is the second-most read part of a sales letter.
VideoFruit
Bryan Harris runs a great blog over at VideoFruit where he teaches his readers how to create explainer videos and use them effectively to grow their business.
Of all of the content that he shares on his blog, some of the most valuable content can be found in his "step by step formulas to grow your business." Each email in the course is short and to the point, with a summary of that week's lesson along with a link to a video. He even includes a link to previous lessons to encourage engagement.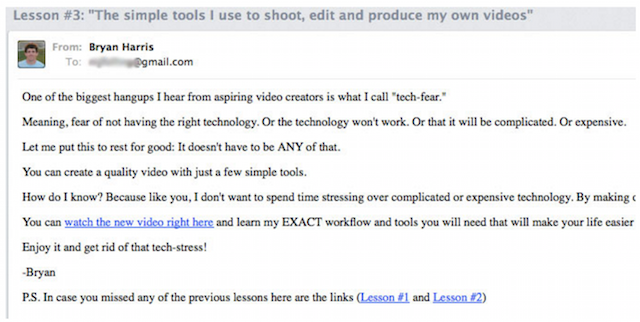 So how has it worked for him? Pretty well it seems.
Bryan gets an average of 315 people to sign up for his course each month. Of those, a little more than 1 percent go on to buy his paid course for $397. According to Bryan, the free email course is a significant reason for the growth of his email list:
"I've managed to grow my email list from 0 to 2,300 subscribers in under 6 months (and I don't know what I'm doing). Of my 2,300 emails, close to half have been attributed to the course."
Pretty impressive for someone who admits to not know what he's doing!
Takeaway: Include links to past courses in your email signature to encourage engagement and to make sure your subscribers don't miss previous course emails.
Friendbuy
If you're looking for a product that allows you to easily create your own customer referral program, Friendbuy makes it really simple to reward your customers for referring their friends.
When you visit Friendbuy's website, you'll notice that they have a simple Hello Bar all throughout their website inviting you to join their free "Referral Marketing Crash Course."

The course consists of six emails over the course of about a week and includes tons of great advice on how to generate referrals from your existing customers. After you've signed up for the course, you'll receive each email directly from Tony Mariotti, Friendbuy's Vice President.
While the course is still relatively new, Tony has noticed that it has resulted in significantly higher quality leads. He also said he felt it was important that the emails come directly from a personal email address as opposed to a group address. Here are his thoughts on the importance of this:
"You should make the course emails come from your personal email address, it's just something I noticed and intentionally included (tony@ versus marketing@ or some other alias) and this has paid off big time. I think it's important that:

The emails come from a real email address.

The content is first person, i.e., 'these are my observations, opinions' rather than a 'white paper' type, impersonal, old school tone. The type of thing you'd expect from Cisco or Intel."
Takeaway: Consider using a personal "from" address for your email course.
Bidsketch
Another founder (and overall nice guy) who sends out a value-packed email course is Ruben Gamez from Bidsketch. Bidsketch helps people create professional-looking client proposals with ease.
When you visit Bidsketch, you'll notice it doesn't look like a traditional SaaS (software as a service) page with plans and pricing.
Ruben found that by switching to a home page that doesn't give visitors many options except to sign up for a free proposal sample, he saw paid conversions increase by 18 percent!
So what was the secret to the success of the new home page? Each person who receives a proposal sample is opted into a month-long email course that provides tons of useful information for Bidsketch's target customers, freelancers and agencies.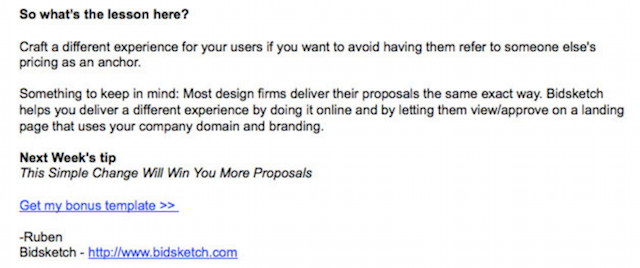 While the home page that encouraged signing up for a free proposal sample reduced a lot of friction compared to the original page, Ruben thinks the increase in paid conversions can primarily be attributed to the email course. He says:
"Making them get a sample without following up with an email course wouldn't have resulted in the same increase. Probably would've had less paying customers than the original."
Takeaway: Test a longer email course (like a month) and see if it works better than a shorter course.
GatherContent
GatherContent is a solution to help agencies easily plan, organize, and collaborate on website content with their clients. Their product reduces back and forth correspondence and helps people finish projects on time. To add value for their customers, they also offer a free email course called "Content Production Planning for Agencies."
The course, which consists of five emails over about seven days, includes PDF downloads and is basically a blueprint that any agency can use to streamline the content gathering process with their clients.
Like the email course from Friendbuy, the GatherContent email course comes directly from a personal email address. In this case, it's James Deer, the founder of GatherContent.
Though their email course is still relatively new, they've already seen amazing results from their efforts. In the first month since launching the course, they've gotten over 300 email signups and received over 150 emails from people saying how pleased they are with the course. That's at least a 50-percent satisfaction rating!
In addition, the course has resulted in roughly a 25-percent conversion rate for free trial signups.
Most importantly though, James and the team at GatherContent have noticed a definite improvement in the quality of the leads since the addition of the email course. He explains:
"If you aren't running a course — you need to. … It has to be valuable. Don't create one in an afternoon. Really think it through so you are providing real value."
At the end of the course, James also follows up with an email to gather feedback from subscribers. This is a great way to find out how he can provide more value in future iterations of the course.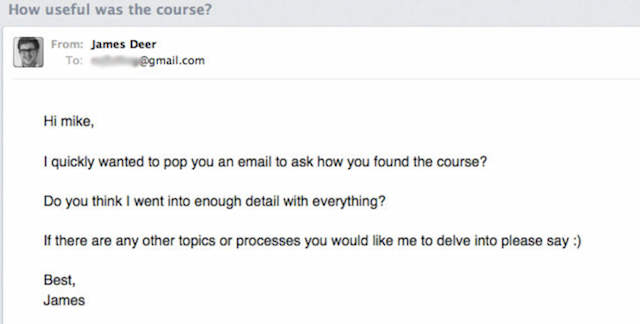 Takeaway: Include a follow-up email at the end of the course asking for ways to make it better. You might find that one suggestion can lead to big increases in conversions.
An email courses can produce big results
While this is just a small sample of some of the email courses out there, they've had big results for the course creators and their businesses.
If you want to create an email course for your business, you might see similar results, though you'll never know unless you give it a try! Fortunately, creating your own email course is easy. All you need is an interesting topic, some time spent writing content, and an email service provider that offers drip campaigns.
Do you think an email course is a good addition to a content marketing strategy? Have you seen other businesses that have used email courses successfully? I'd love to hear your thoughts!
Put your content to work with
GoDaddy Email Marketing
. Create a stunning newsletter for your drip campaigns today.