How to add eCommerce to WordPress
Making money from your WordPress website is (in theory) easy, especially with regards to eCommerce. While the platform offers more flexibility than its rivals (and can adapt to just about any niche), learning how to add eCommerce to WordPress effectively can seem like a challenge.
In reality, however, learning how to add eCommerce to WordPress can be a hassle-free process. If you take the time to do your research and find a solution that suits your needs and is easy to use, you'll be up and running in a matter of hours.
In this post, we'll discuss why WordPress is an ideal platform for your eCommerce website and then look at a few options for setting up your store. Finally, we'll take our recommended tool for a step-by-step walkthrough for getting started.
Why WordPress is tailor-made for eCommerce
You're probably already aware of WordPress's many benefits when it comes to creating a website, but you might be less knowledgeable about how well it fares with eCommerce. In fact, plenty of people turn to it as their solution of choice.
There are three key reasons for WordPress's eCommerce popularity:
WordPress is a familiar platform, so it makes sense for those already running it to use a compatible solution for their storefronts.
The eCommerce solutions available are usually extendable, meaning you can retain the flexibility and scalability you've come to expect from WordPress.
Finally, WordPress is arguably the most powerful platform for setting up a store on your own terms.
Once you've decided to go with WordPress, there are a number of eCommerce solutions available for the platform. That means you have a choice to make, so let's take a look at your options for how to add eCommerce to WordPress.
Great options for adding eCommerce to WordPress
You'll find that eCommerce options for WordPress are plentiful, although they're not all created equal. With that in mind, here are our four recommendations and what makes each one unique:
WooCommerce — This Automattic-owned plugin is one of the most popular WordPress plugins. It offers supreme ease of use, powerful default functionality and a plethora of extensions to further enhance its feature set.
Ecwid — Selling via mobile devices and social media helps you tap into a ready-made audience, and Ecwid lets you do this out of the box. What's more, it's just as scalable as other solutions, meaning it's a genuine, long-term prospect for your store.
eCommerce WD — This plugin is more of an alternative to the previous choices, as it offers similar functionality, but in a different package. It's worth comparing this to both WooCommerce and Ecwid to see which will suit your needs better.
Easy Digital Downloads — It's best to think of this as WooCommerce, but for digital downloads. It's rock-solid under the hood, and much like WooCommerce, it has a dedicated selection of reasonably priced EDD extensions to help expand its functionality.
If possible, as you explore how to add eCommerce to WordPress, you should try each option out on a test site to ascertain how well it meets your needs and how easy it is to use. However, if you're looking for a recommendation, we'd suggest starting with WooCommerce. It's a top choice for practically any storefront. With that in mind, we'll now show you how to add eCommerce to WordPress using this tool.
How to install WooCommerce and add eCommerce to WordPress
While the ins and outs of using WooCommerce could take several articles to describe, the absolute basics can be mastered in no time at all. Let's take a look at the two steps you'll need to follow.
Step 1: Install WooCommerce and activate
First, you'll need to actually install and activate the WooCommerce plugin on your WordPress website. Fortunately, the process is similar to every other plugin within the WordPress.org Plugin Directory. For the uninitiated, let's go through the steps required.
To begin, log into your WordPress dashboard, and then from Plugins, select Add New.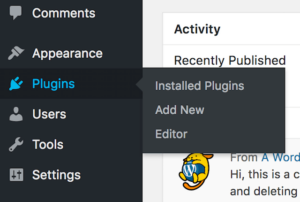 In the Search plugins… field, enter WooCommerce, and then you'll see the plugin appear near the top of the list. From here, click Install Now, and then let WordPress do its thing.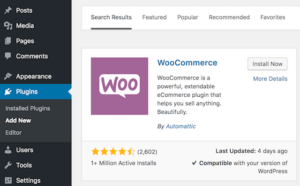 When it's finished, you'll need to click Activate, which will bring you immediately to the next step — the Onboarding Wizard.
Step 2: Run through WooCommerce's Onboarding Wizard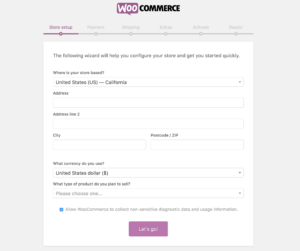 If you've followed along, you'll now be at the WooCommerce Onboarding Wizard. This is a useful tool that helps you figure out how to add eCommerce to WordPress in minutes. While you could skip this, we'd recommend at least getting the basics set up before you start exploring the plugin on your own. In any case, you can always run the wizard again from WooCommerce's settings.
You'll be taken through six different screens, the most important of which are:
Your business's details — These are simple: your business address, currency and what kind of products you sell.
Payment options — Here you can select your default payment gateways, including Stripe, PayPal and offline transactions.
Shipping details — This is the most complex screen, and it enables you to set up your initial shipping zones and rates, along with the units you'll use for weights and dimensions. Our recommendation is to stick with the defaults until you're more comfortable with the tool's intricacies.
The last three screens involve WooCommerce-compatible themes, whether you want taxes to be automatically calculated, and an option to connect your store to Jetpack and take advantage of some additional functionality. Our advice is again to leave the defaults in place for now,
By the time you've reached the Ready! screen, you'll be in a position to create your first WooCommerce product. You can also start to customize your store's design and implement any extra functionality you'll need within the plugin's settings.
Conclusion
While WordPress can seem a little overwhelming at first, that's because it's flexible enough to adapt to nearly any niche or type of site. To achieve this, you'll want to take advantage of the many easy-to-use solutions offered by WordPress, including the standout choice for eCommerce — WooCommerce.
Now that we've walked you through the two simple steps for how to add eCommerce to WordPress using WooCommerce, it's time to start testing on your own. If you're not sure where to start, check out this post for 15 of our favorite WooCommerce extensions and plugins.
Image by: Clark Young on Unsplash