One of the most popular plugins for a WordPress website set up for ecommerce is WooCommerce. You need the WooCommerce plugin to turn your standard WordPress website into an ecommerce site that can transact online.
WooCommerce gives you a fully functional ecommerce website, but you can add even more functionality with its extensions. So, let's dive into WooCommerce extensions that will help you take your online store from good to great!
Jump straight to the recommended plugins and install:
Disclaimer: All trademark rights belong to their respective owners. Third party trademarks are used here for demonstrative and educational purposes only, use does not represent affiliation.
What are WooCommerce plugins and extensions?
Plugins are additional features and functionality that you can add to your website. Extensions increase the functionality or features of plugins; think of extensions as an add-on to a particular plugin.
So, relating to WooCommerce, it's the plugin that changes the WordPress website environment, turning a standard blog into a transactional ecommerce store. Extensions for WooCommerce increase or enhance WooCommerce's existing features.
The WordPress CMS operates using a modular approach, so you can choose plugins and extensions based on your desired functionality.
Generally, plugins and extensions are built by WordPress experts who have created a solution to a challenge they had on their own site. The developer turned their solution into a plugin or extension so you can use it, too.
WooCommerce extensions offer unique payment gateways so you can accept online payments, advanced product search capabilities, and so much more.
All you need to get started with WooCommerce and WordPress is ecommerce hosting.
How to install WooCommerce plugins
You can install WooCommerce plugins in four simple steps. All you need to get started is a WordPress website.
Step 1: Log into WordPress.
Log in to your WordPress website. After login, you will be redirected to the dashboard.
Step 2: Navigate to Plugins and add a new plugin.
From the dashboard, you can find the plugins menu item. If you hover over the menu item, you can see an option for 'add new plugin.' Click this.

Alternatively, click the plugin menu item and then add new.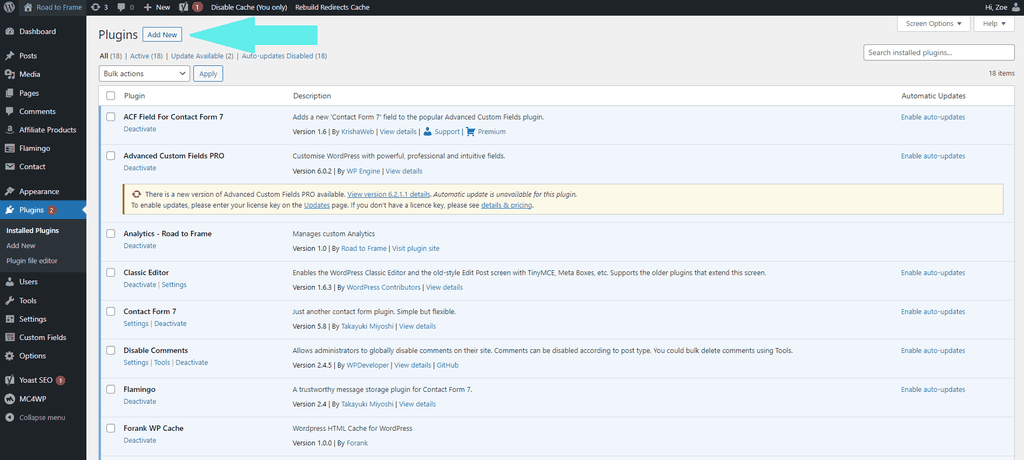 Step 3: Select your plugin
Once you click 'add new,' you'll be able to navigate to your desired plugins. You can explore plugins by category or search for specific ones by name or keyword.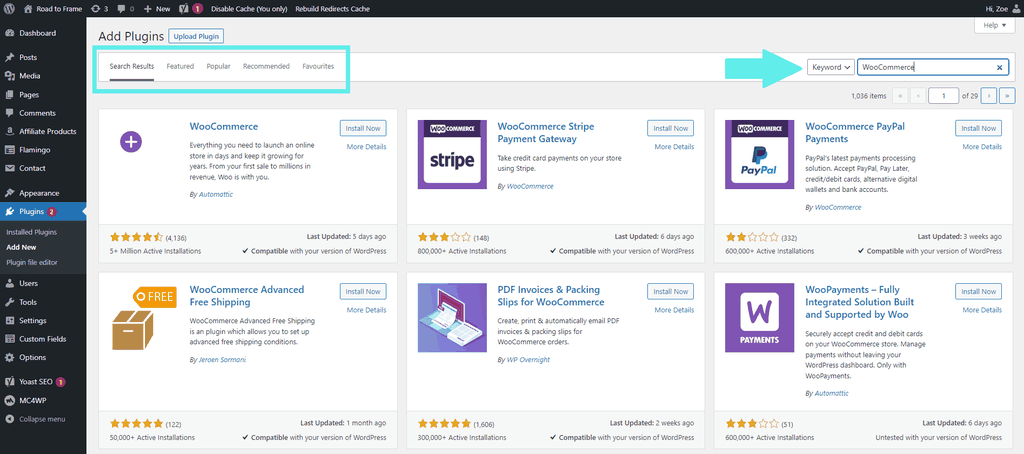 Step 4: Install now (and configure)
Hit the 'Install Now' button to install the plugin. For many plugins, the install option is enough, but for others, you might need to spend a little time configuring the plugin to your liking.
How you configure your plugin or extension depends on the plugin, but the image below shows where to look. Some plugins, such as WooCommerce, can be found in the left-hand navigation menu.
Other plugins and extensions will live within the 'installed plugins' menu item. Click your plugin, and you should navigate easily to settings or customizations.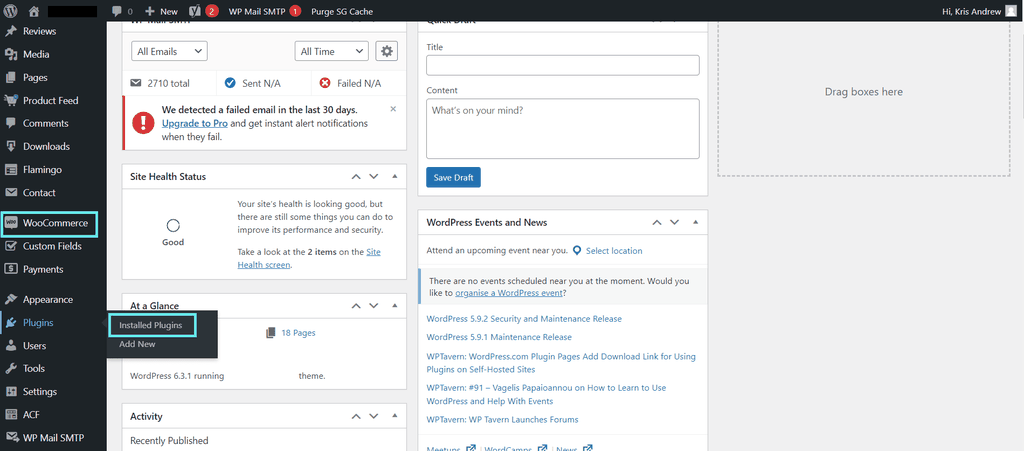 How to install WooCommerce extensions
Keep in mind, WooCommerce extensions are not the same things as your typical WordPress plugins found in the plugin repository. The first step involves downloading your desired WooCommerce extension.
If you decide to get it from WooCommerce's official store, you must first log in to WooCommerce using a WordPress.com account. Without an account, you won't have access to download from the Extensions Store or browse extensions under WooCommerce > Extensions.
Once you have chosen your desired extension, simply click on either Download Now or Buy Now (if it happens to be a premium extension).
Next, proceed to log in to your WordPress backend and navigate to WooCommerce > Extensions > WooCommerce.com Subscriptions. By connecting your WordPress.com/WooCommerce account, you will be able to effectively manage your extension subscriptions.
How to choose the right plugins or extensions for your online store
You should start by asking yourself what features and functionality you want from your plugin and extension. Once you know what you want, you can search using keywords. Then, match your store's requirements with the features a plugin or extension offers.
You'll likely find a few options so here are a few criteria you should consider:
Compatibility: Make sure the plugin or extension is compatible with your version of WooCommerce. Check for any known conflicts with other plugins you use.
Support & update history: Look for plugins or extensions that have regular updates and active support. This indicates ongoing development and responsiveness to user concerns.
User reviews: Browse user reviews and ratings and look for positive feedback as an indicator of user satisfaction.
Performance impact: Avoid plugins that slow down your site. Opt for lightweight and optimized solutions. Your first indicator of performance issues might reveal itself in the reviews from others.
Developer reputation: Consider plugins from reputable developers or companies, which often ensure higher quality and support standards.
Last update: A recently updated plugin is a sign of an active developer. Updated plugins will generally work with the latest version of WordPress.
Best 15 plugins & extensions for WooCommerce
Now you know all about plugins, extensions, the reasons why you should use them and how to install them, let's look at the top plugins and extensions for WooCommerce — and take your ecommerce site to that next level.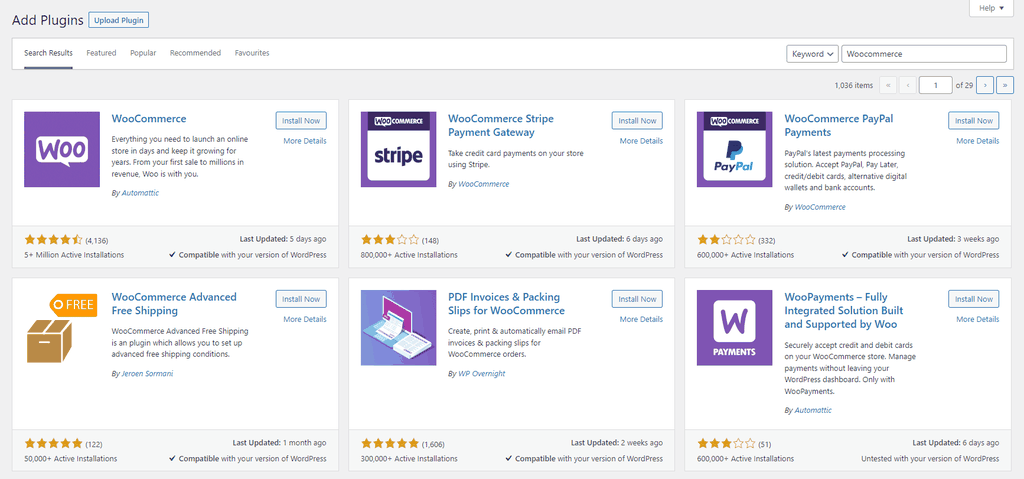 Disclaimer: The pricing of the following plugins is accurate as of the publish date of this article. Please fully review the terms and conditions for each plugin before installing.
Best plugins for WooCommerce
These plugins can add supercharged functionality to your WooCommerce website. You can easily download from your WordPress admin area. Here are the best plugins we found for:
Shipments
WooCommerce Weight-Based Shipping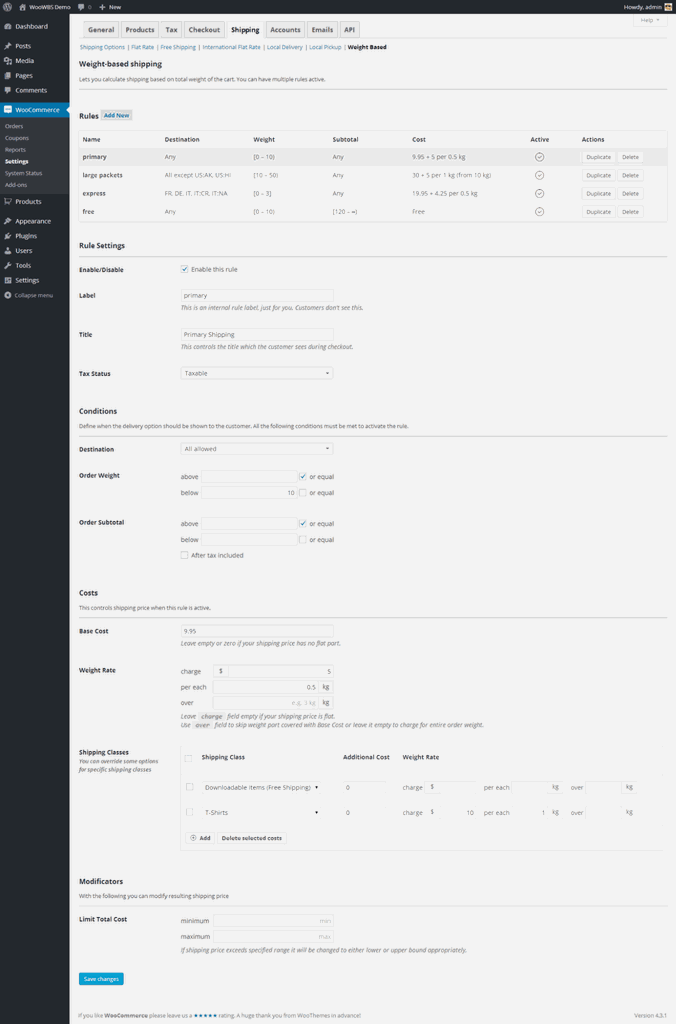 Calculating shipping is always a challenge for ecommerce businesses. One option is using the weight-based shipping method, where you calculate the total shipping cost based on the weight of the item.
WooCommerce Weight-Based Shipping makes shipping calculations easy for users and webshop owners.
Quick links:
Features
Create shipping rules that factor in different weights and destinations.
Choose from flat-rate shipping or progressive pricing that changes based on your criteria.
Free shipping is an option.
Pricing
You can install the WooCommerce Weight-Based Shipping extension for free via the plugin section of your WordPress website. There's also a paid version if you want premium features like shipping classes.
Used for
Analytics
WooCommerce Google Analytics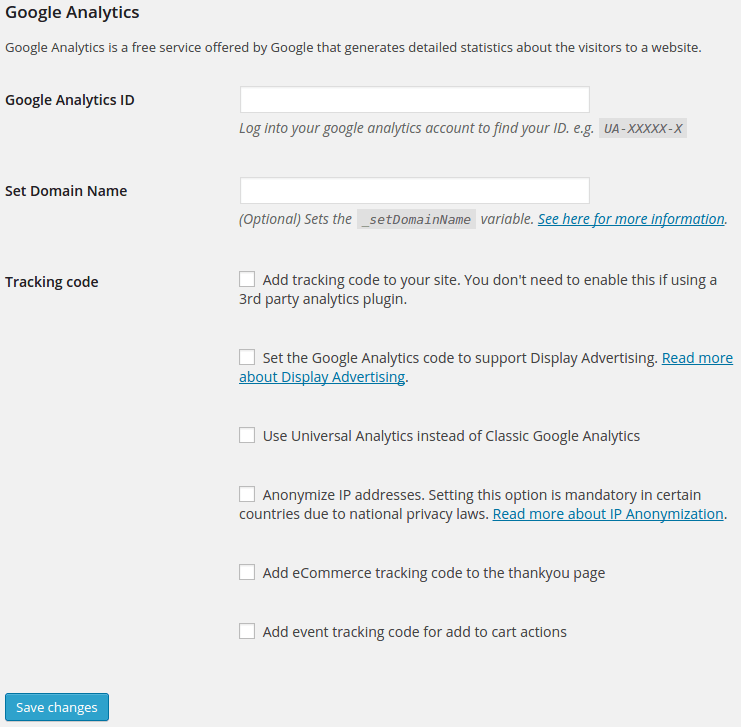 Quick links:
All good ecommerce owners should check analytical data using Google Analytics. This plugin by Woo integrates with WooCommerce and Google Analytics. In a few steps, you can link data and view transaction data within GA4. You need a GA4 account to get started, but that's free to set up.
Features
Simple WooCommerce and G4 integration
Analyze ecommerce data within G4.
Pricing: free!
Used for
Analyzing ecommerce and transaction data within G4.
International sales
WooCommerce Multilingual

The WooCommerce Multilingual plugin comes will all the necessary features for taking your store international. It's easy to set up and lets you offer products for purchase in multiple currencies. The paid version also can translate your store into a wide range of languages.
Quick links:
Features:
Display multiple currencies based on customer location
Set your own exchange rates or connect with an automatic exchange rate service
Translate all products, URLs, product reviews, categories and attributes using DeepL, Google Translate, and Microsoft
Pricing:
To get all multilingual features, you will need a WPML Multilingual CMS or Multilingual Agency account type.
Used for:
Displaying international currencies
Translating store content
Store management
WooCommerce Subscriptions Plugin

For those with subscription-based business models, the WooCommerce Subscriptions plugin is a must. Of all the plugins listed in this round-up, this is the one that came most recommended.
It makes the subscription business model so simple it's worth considering if you're selling something where your customers might value an easy repeat order.
You'll likely appreciate consistent revenue, which can make cash flow more predictable. Other standout features include easy billing setup, free trial offers, and simplified subscription management.
Quick links:
Features
Recurring payments help you secure recurring revenue. You can set up daily, weekly, monthly, or yearly payment cycles.
Offer different subscription tiers or bundled product subscriptions.
Automatic renewal notifications to keep customers coming back.
Pricing
The Subscription plugin is one of the more expensive plugins at $19.92/month or $239/year, but it is highly recommended.
Used for
Subscription businesses
Creating recurring revenue
WooCommerce Multi-Currency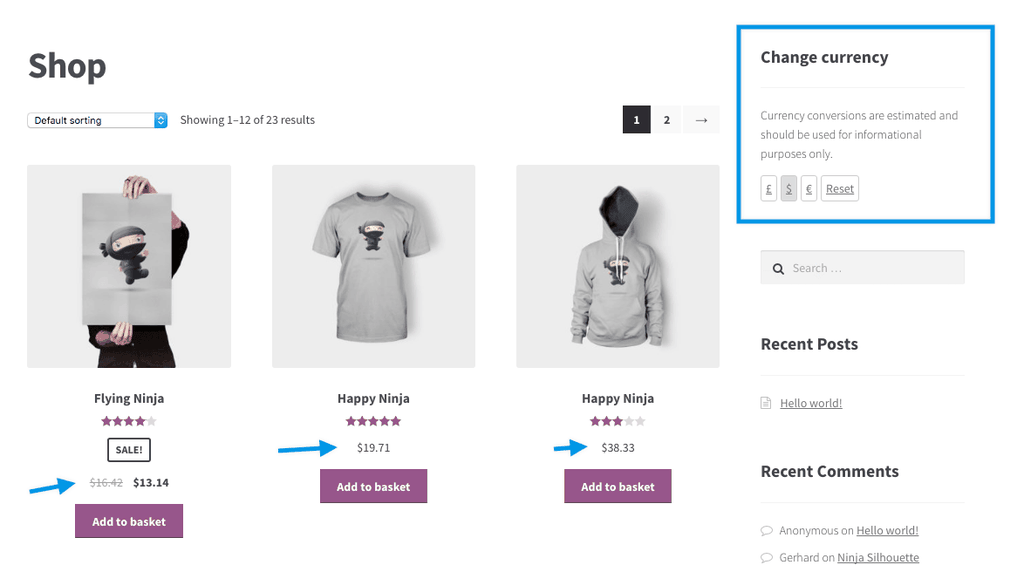 If you're selling internationally, WooCommerce Multi-Currency is a must-have. This plugin will display the currency based on the website user's geolocation. Multi-currency confirms to a user that you're available in their location and helps encourage users to convert from passive website viewers to active buyers.
Quick links:
Features
Round prices after conversion
Users can toggle their desired currency.
Calculate rates live.
Pricing
£10.79/month or $129/year.
Used for
International ecommerce websites
Store management
WooCommerce Memberships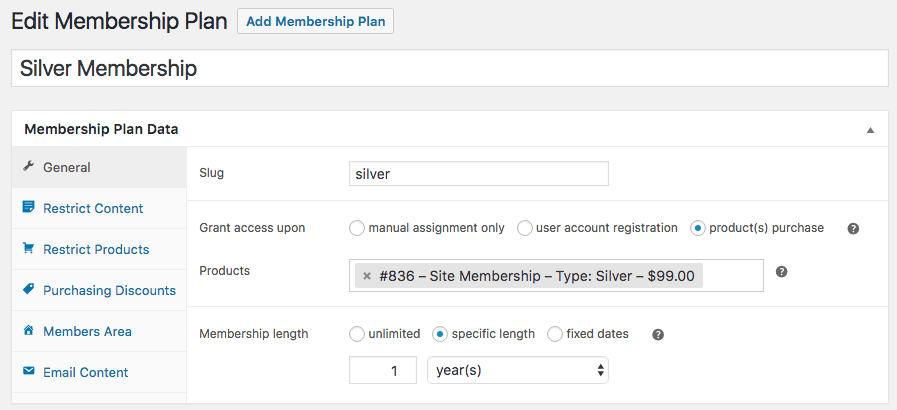 WooCommerce Memberships is a simple plugin that you can use to manage everything related to your website memberships.
With a membership, you can provide exclusive content or products to your most engaged and invested audiences.
Quick links:
Features
A membership solution
Integration with your existing content and products
Paid-for memberships available
Pricing
16.59/month or $199/year.
Used for
Managing and selling memberships
Providing membership-only content to select users
Direct Checkout for WooCommerce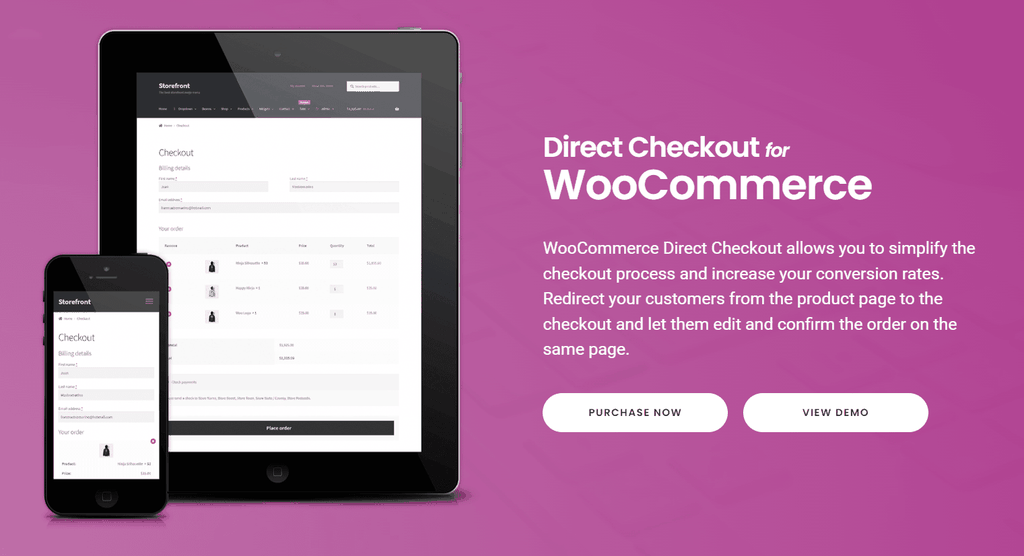 A faster checkout could increase conversions. Direct Checkout for WooCommerce streamlines the purchasing process by skipping the cart page and taking users to checkout.
You also have the option to simplify the WooCommerce checkout process by removing fields that you don't need.
Quick links:
Features
Skip add to cart and streamline checkout.
Removes checkout fields.
Pricing
Start for free with basic features and without support, and scale up from $49/license, depending on your needs.
Used for
Improving conversion rates
Enhancing UX
Optimizing checkout flow
LiveChat for WooCommerce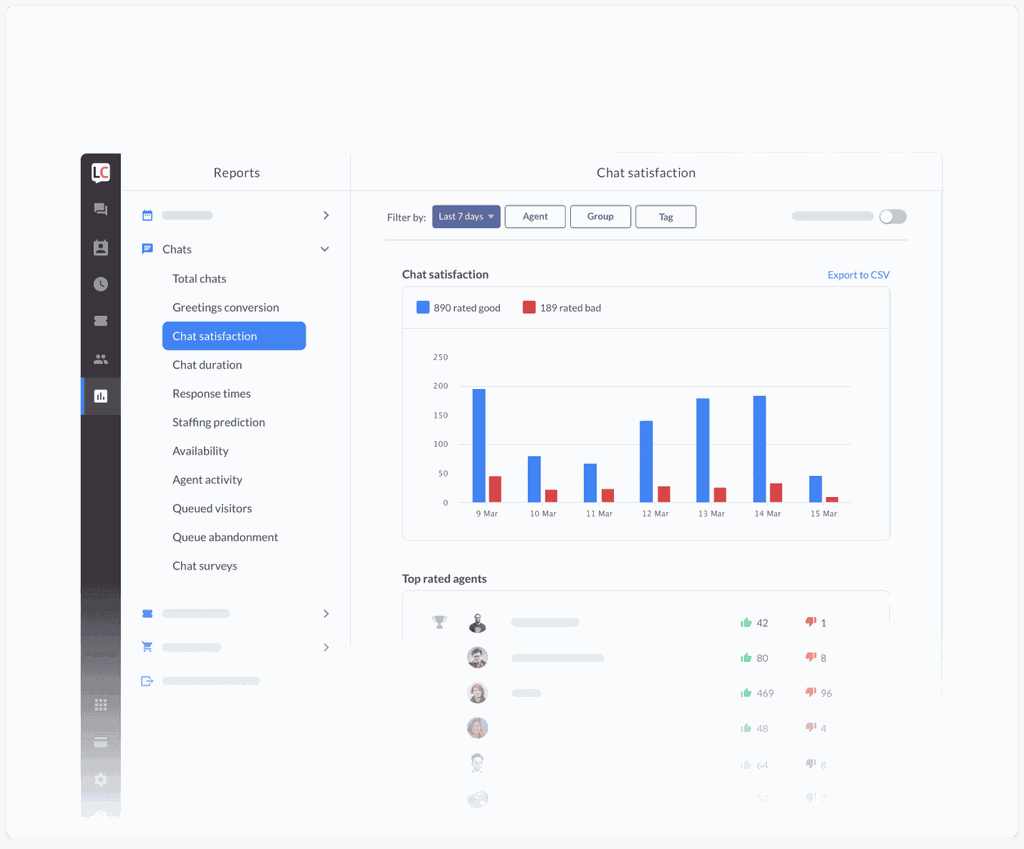 LiveChat for WooCommerce is a free download that allows your potential buyers to talk to you in real-time. Visitors can type a message or pick a question. The plugin can be customized so it has the look and feel of your site.
Quick links:
Features
Automated messages
Customisable live chat widget
Pricing
This plugin is a free download. There are premium packages with various features for those needing more functionality. Packages start from $20/month.
Used for
Increased customer engagement
Improved help and support
Increased conversions
WooCommerce Products Slider
WooCommerce products slider helps you display products in a way that is visually appealing and engaging.
Quick links:
Features
Mobile-friendly plugin so your site looks great wherever it's viewed
Customization over the visuals (e.g. show or hide prices)
Shortcode generator
Pricing
Excellent features are available with the free version and even more with pro. Prices start at $39/year for use on one website.
Used for
Optimizing the aesthetics of product listings.
Increasing engagement and conversion.
Marketing
Sparks for WooCommerce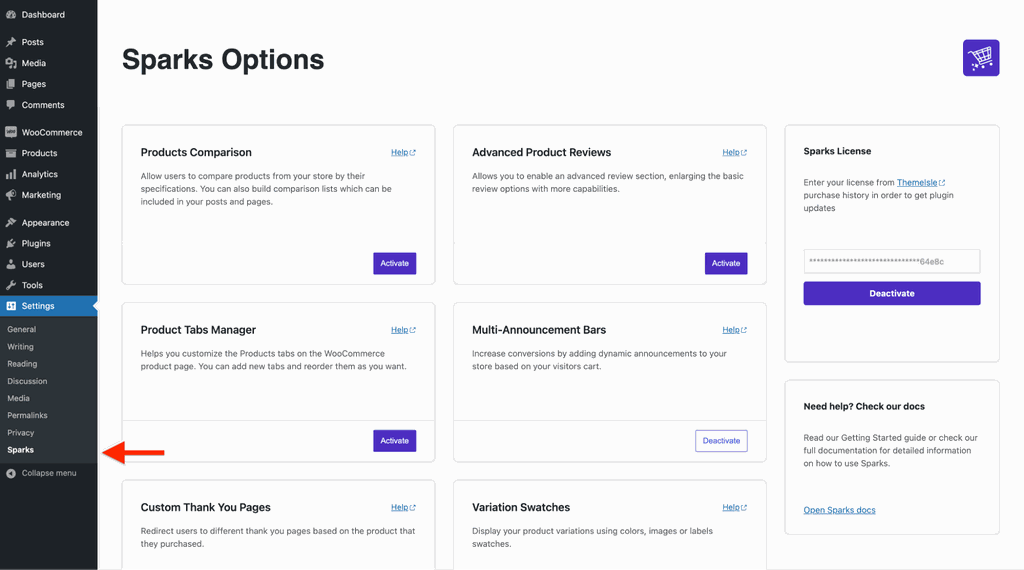 The Sparks for WooCommerce plugin is here to help you bolster conversion and engagement with a range of features.
These include announcement bars, a wishlist, a comparison table, an advanced product review, and more.
Quick links:
Features
Announcement bar
Wishlists
Coupons
Pricing
Sparks for WooCommerce is a paid plugin costing $6.59/month or $79/year.
Used for
New features on your site to help increase conversion.
Increase website engagement.
WooCommerce Product Add-Ons

For store owners with more complex products with options or variables, try WooCommerce Product Add-Ons. With this plugin, you can add options to your product pages, including, but not limited to, text fields and customisable dropdowns.
Quick links:
Features
New text fields
Two-column grid layouts for fields
Conditional fields so you can hide fields that become irrelevant based on other selections.
Pricing
You can get started with this plugin for free and later bring in paid premium features as needed.
Used for
Improving product information
Improving the buyer experience for products with conditional options.
Search engine optimization (SEO)
Yoast SEO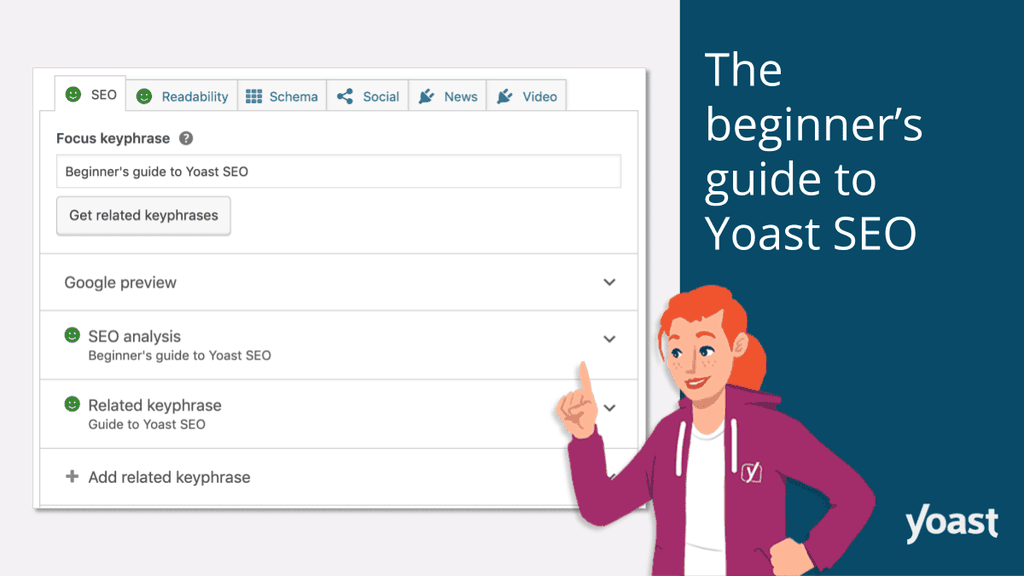 If you're working on your ecommerce store, you want people to find it. Yoast SEO will help you get your website into search engines with SEO best practices. This plugin has had over 5 million downloads. Yoast handles on-page and technical SEO. With the paid plugin, Yoast SEO makes light work of internal links and other exciting features.
Quick links:
Features
On-page recommendations
Website breadcrumbs and schematic markup
Auto-generated sitemaps
Pricing
The free version is a must-have. There's also a paid version for those who are really serious about SEO.
Used for
On page SEO
Technical SEO
Best extensions for WooCommerce
Extensions can unleash the potential of your ecommerce setup. You can easily find them on the WooCommerce website. Here are the best extensions we found for:
Payments
WooPayments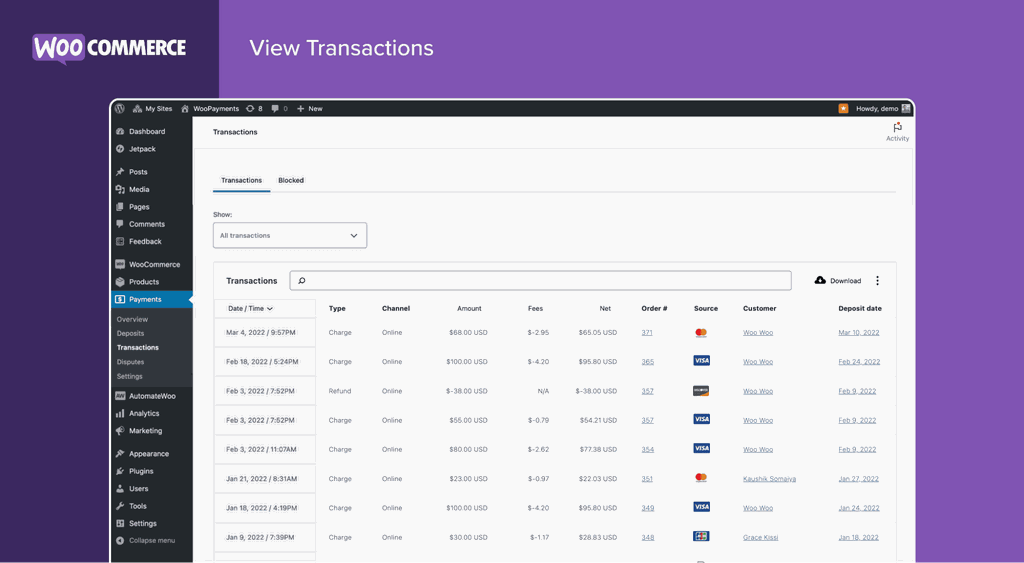 Quick links:
WooPayments is a popular WooCommerce extension. It's developed by Woo, so you can feel very secure with its compatibility with WooCommerce. The plugin expands your ability to take payments.
While it's the Woo-specific extension, WooCommerce also lets you choose a wide range of payment processors and gateways. You can find nearly 50 of them at the WooCommerce Extensions Store.
Features
Administration within WordPress backend
Take payments from debit or credit cards
Handle refunds and chargebacks
Pricing
WooPayments is free to install and use. Naturally, with all payments, there are fees per transaction.
Used for handling payments.
Store management
WooCommerce Email Customizer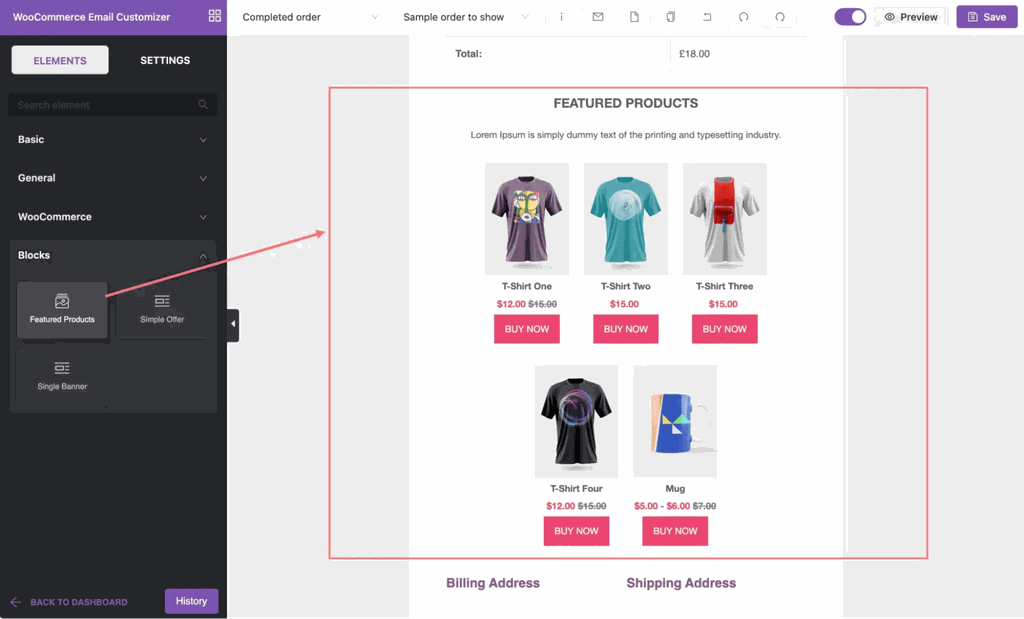 Email Customizer for WooCommerce by ThemeHigh will take your WooCommerce emails from good to great! With the extension, you can use a drag-and-drop editor to customize emails and build your own design, including text, images, dividers, and more.
Without this extension, you can only change text and colors via the standard WooCommerce plugin.
Quick links:
Features
Drag and drop
Templates
Preview
Pricing: Free to get started with paid premium features. Premium features cost $5.75/month
Used for
Email design and customization.
WooCommerce Checkout Field Editor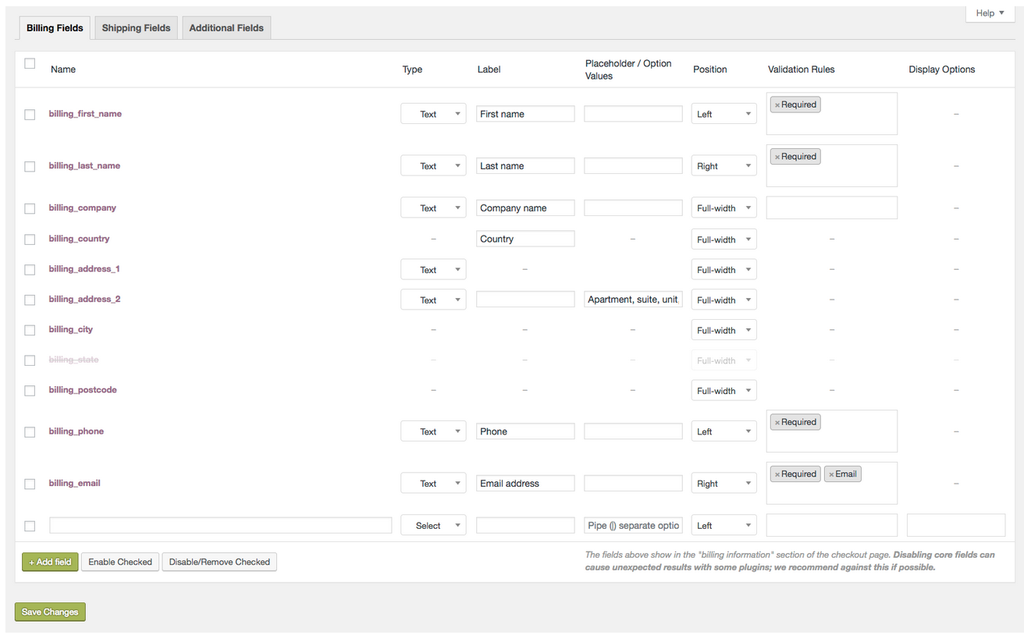 WooCommerce's checkout field editor is the extension if WooCommerce's standard checkout isn't gathering the data you need. Generally, WooCommerce's standard checkout will get everything you need for a basic checkout implementation, but you might have bespoke needs or have a desire to streamline your checkout and processing by adding or removing fields.
Quick links:
Features
Customizable fields: Easily add, edit, or delete fields on the checkout form. Gather the info you need to process orders.
Add gift options, such as messages, gift receipts or gift wrap options.
Pricing
$4.09/ month or billed annually at $49
Used for
Custom fields at the WooCommerce checkout.
Provide additional services like gift options.
Start customizing WooCommerce
There are thousands of plugins that you can add to enhance your WordPress website. This article has focused on the top fifteen as recommended by experts and should provide plenty of inspiration for your own ecommerce site.
Take a look through and start exploring this range of WooCommerce plugins and extensions. With plenty of free versions or money-back guarantees, what's stopping you from giving these great plugins and extensions a go?