As the holiday season approaches, businesses are looking for effective strategies to capitalize on the festive shopping season. In this article, we'll explore practical tips on how to leverage Websites + Marketing to boost your holiday sales and make the most out of this season's business opportunities.
Tips to boost sales
Check out these five tips to boost your sales this year:
Ready to jump in? Let's go.
1. Create a visually compelling store experience
Consumers tend to decide whether they want to buy at the store within the first few seconds of browsing. For this reason, it's important to provide great visuals, make the information as easy and accessible to digest, and provide consumers with the right "proof" to make the purchase decision.
Here are some helpful tips on how to design your store to pack a visual punch:
Include a variety of in-context and product-only images
Images are essential in helping customers make purchasing decisions. When you're creating images for your products, make sure to include the following:
Click the text to expand each section below for more information.
In-context shots that show products in use

These create an emotional bond and tell a story. It's also the perfect way to show your products in action or suggest a particular use for your product.
Product only shots

High-quality images of all your product angles, ideally with a white background for greater appeal.

Pro tip: Need to remove an image background on the fly? Our GoDaddy Studio integration can help.
Customize your product images
Using GoDaddy's Online Store Builder, you also have a lot of flexibility on how to best showcase images throughout your store. Here are a few features that we recommend for your store:
Featured products

If you have a featured product section and product images that have a square orientation, use the Spotlight layout to make them stand out.
Product gallery

You may also sell products that have a certain size or shape, so the product images will likely look better in a specific orientation. To customize the shape in which those product images appear on your store, go to the store page, choose the Product Gallery tab and then click Image Options.

Tip: You can also enable a quick view option for your products from these menus. This gives your customers a quick and easy option to purchase products quickly. Here's the option that you'll need to enable:
Product detail pages

You can also make your product images stand out further on product detail pages by selecting the Hero Image layout. This is great for showcasing beautiful product shots as the main focus of your product detail page.

To choose this layout, go to your store page, choose the Product Page tab, then select the Layout option.
Create a stunning first impression and sense of urgency with a header
Provide a powerful visual image (an in-context shot or aspirational image of your product being used) and pair it with an action button to shop. A streamlined landing page can be crucial when attempting to capture new customers, as well as repeat customers.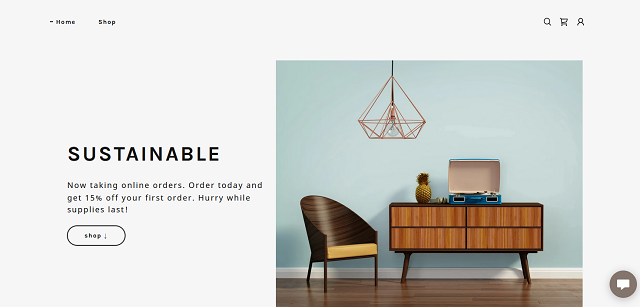 Add a header

Go to the Website editor, click Header, and select the Cover Media to use.

You can also add an Action Button and specify the message. For an added touch, the message should emphasize an urgency to buy.
Use the Photo Gallery to feature helpful product images
You can also take advantage of merchandising beautiful product images through the photo gallery feature in Websites + Marketing.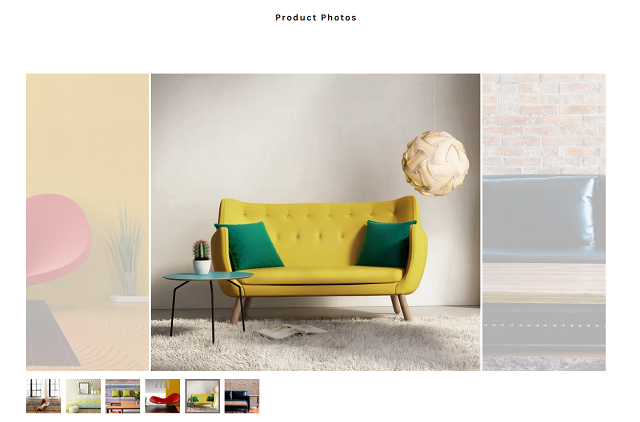 Create a photo gallery

From your website editor, simply select Add a Section and choose Photo Gallery.

You'll see various options on layouts to choose from and how your images are displayed. This is a great opportunity to show photos of customers using your product or in-context product shots, to create an appealing connection to your potential customer.

For more details on this feature, take a look at our photo gallery help guide.
Consider a single-column product photo gallery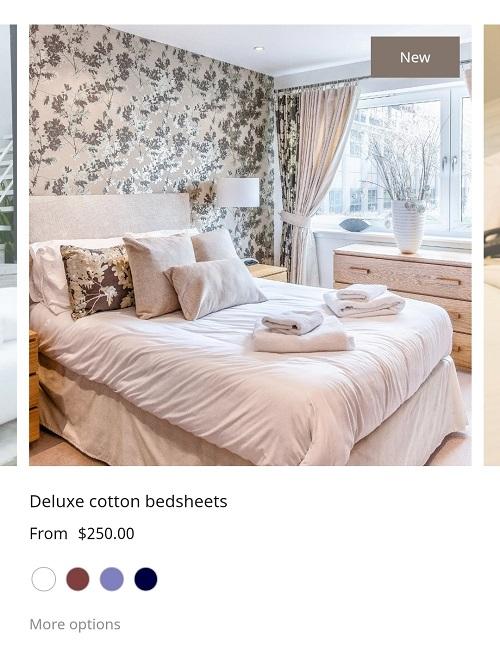 Websites + Marketing Ecommerce also has the ability to display product photos in a single column. This option better showcases products that have multiple product images to view, especially on mobile devices
Add a mobile-friendly single-column gallery

To access this option, you will need to be editing the Online Store section of your Websites + Marketing dashboard. From there, select the Layout Options tab:

From there, select the desired number of columns:
Vertical product detail page layout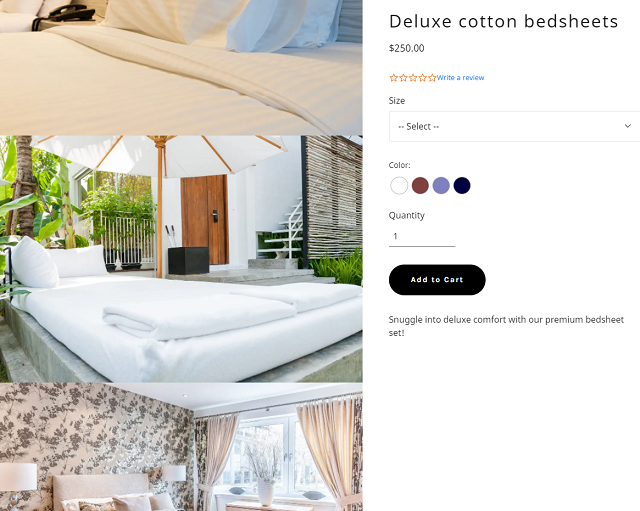 For a more modern look, you can enable a vertical product detail page in Websites + Marketing Ecommerce. This is a great option for showcasing tall and wide product images.

Add a vertical product layout

To enable this option:
Enable a promotional banner with limited time only messaging
Let your customers know that you're having a sale or special offer so that they have a strong reason to purchase right then and there. You can have multiple sales happening throughout the year, but run one sale at a time so there is more urgency to purchase during those specific timeframes.
Your message should include content that mentions perks customers get for buying (for example, free shipping, sale pricing, free gift wrapping, etc.).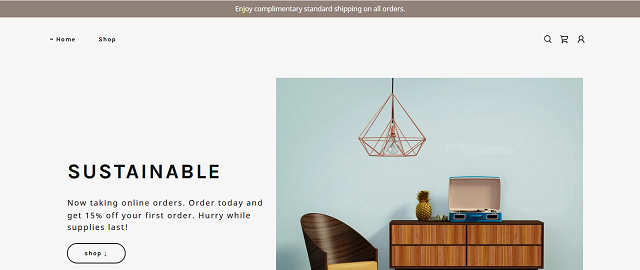 Learn more here.
Showcase similar products in your store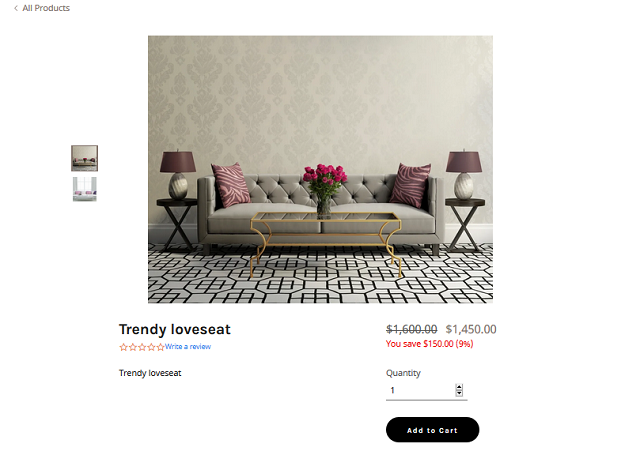 Similar products are an excellent way to cross-promote more of your products.
Enable similar product showcase

To enable this option, you'll want to edit your Online Store page:

Once enabled, you'll need to publish your site in order to see the suggested items section.
Show available options with color swatches and display buttons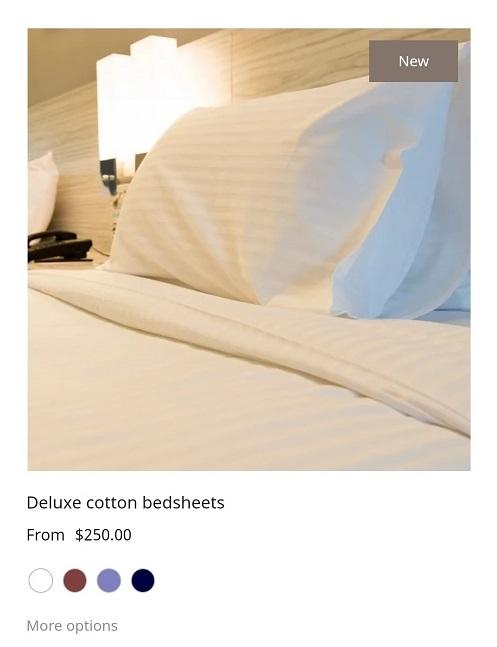 A great way to grab attention to the options available for your product would be through color swatches and display buttons. Having these options enabled can be a perfect upselling opportunity for your products. The available options for your customers can be seen on the product gallery and the product detail pages.

Add color swatches

You can enable these options when adding or editing product options:
Draw immediate attention to your promotions using the announcement pop-up add-on
This will help let customers know immediately what promotions you are running and can also guide them to specific areas of your store they may be likelier to buy (such as sale or clearance items). Black Friday? Cyber Monday? Running a sale? Let your customers know!
To increase urgency, make sure to include a reason to buy now (for example, sale ends soon, limited time only, etc.) and an action button that directs users to the store products that are on sale.
Learn how to create a pop-up box here.
Feature store categories in a compelling, visual way
Product images aren't the only visual that needs to look great. Ensure your categories stand out.
Create a sale category

Creating a category specifically for sales helps your customers easily find limited-time sales you may be offering. You can create a category for items that are specifically on sale and then rearrange the order of that category so it shows up at the top of the list.

Our help center has more information on how to create and manage categories.
Enhance a category's appeal with beautiful images

Add a beautiful image for each category as well as a description so that it stands out to consumers and is instantly recognizable when they are browsing through your store.

The category image that you select will display as a banner for your customers.
Showcase select featured categories throughout your store

You can also feature select categories with beautiful imagery throughout your store. Go to the Websites + Marketing editor, select Add a section and then choose Featured Categories.

By selecting add an image, you can also specify where the image links to and point to a specific category.
Create and showcase categories that help consumers narrow down what to buy

Guide customers on what products they should be looking at if they're not sure where to start.

Consider creating "new arrivals," "best sellers," and any "limited availability" categories at the top of the category list to immediately draw in consumers.
Having too many categories can distract customers.
Focus on creating distinct groups of products and a narrowed-down list of categories so customers aren't bogged down with too many details and have trouble finding or understanding what they're looking for.
By the way, if you're interested in seeing these features in Websites + Marketing in action, check out our demo site.
Showcase product reviews
Your customers will feel confident in their purchase decisions if they know others have purchased products from you and gave that purchase a thumbs up.
Enable product reviews

For each of the products you sell, allow customers to provide a review that's visible to other potential consumers. This is an excellent way to communicate your company's social media standing.

You can find more information on how to do this here.
Showcase customer testimonials

While product reviews allow your customers to rate your products specifically, you also have the option to add a more general testimonials section as well.

Adding a testimonials section in addition to your product reviews allows you to drive home what customers think about your store and your customer service.

You can view the steps on how to add testimonials to your site here.
Display your Facebook and Instagram presence on your store

You can highlight your social presence for added legitimacy as well as a broader connection to your customers. Learn how to enable links to your social presence — as well as any reviews you've received on social media — here.

If you are on Instagram, you can also connect your Instagram feed to your Websites + Marketing store. Learn more here.
2. Capture more customers
Once customers have found a product they're interested in, here are our best tips on how to increase the likelihood they'll purchase it. Expand the desired section to see more information on how to enable that feature on your site.
Provide a sales price for each product

Entering a sale price for your product will show both the original and sales pricing. You can do this by going into Store > Products > Add/Edit Product > and filing in the Sales Price field.
Offer free shipping, local pickup or delivery

Offer customers an extra nudge to purchase by providing free shipping and showcasing it on your store. This is also a great way to prevent users from abandoning their shopping cart if they are surprised by the cost of shipping.

To offer free shipping on select products, go to Shipping under your product details page, and select the option for This item always ships free. It will display a free shipping badge on your store.

You can also offer site-wide free shipping. To learn more about how to do this, visit our help guide.
Offer free product returns

Give your customers peace of mind with free returns. This option allows sellers to offer free returns on any or all of their products. The free returns option can be found on each product detail. You can find the products list under Commerce > Products.
Enable abandoned cart recovery

Another route for capturing more customers would be to leverage the abandoned cart feature offered in Website + Marketing Ecommerce. This feature reminds customers that they've left items in their cart via email.

To enable this feature, see the help guide here.
Recognize gifts and offer free gift wrapping

Many purchases are meant to be gifts. Allow your customers to specify this in the check-out so you can prepare the order appropriately.

To enable this, go to your Store Settings and under General, select Check-out, and then select Allow customers to include special instructions during check-out.

You can ask your customers to provide the recipient's name, as well as describe what you'll do if the order is a gift (e.g. include a gift note so we can place this in the package).

Also, as a way to stand out from competitors, you can also offer free gift wrapping. You can provide this for all products and specify this in the check-out instructions mentioned above.

Or if you'd like to enable this for only specific products, you can include gift-wrapping as an add-on for each product.
Highlight your limited edition items

If your business tends to offer seasonal or limited edition items, you can showcase those products through the new limited edition option. Showcase those products through the new limited edition option. You can find this option in the Inventory section for each of your products:

Keep in mind that you'll need to publish your site after enabling this option the first time. Here's how it'll appear on the live site:
Set custom threshold for low inventory messaging

In addition to setting limited edition messages on your store, sellers now have the option to set the threshold for when low inventory messages will display.

This feature will need to be set individually for your products, and it's a great tool to create urgency for driving more sales.
Customize order/shipping/booking confirmation

With this update, website owners can now customize their order/shipment/booking confirmation emails. Add your company's logo, match your brand, add a coupon code for the next order, etc. You can find this new option under "Automations".
Enable zip code level sales tax calculation

For simplified tax calculations, you can configure sales tax for your online store via a simplified automated sales tax system.

To activate this function, visit your sales tax page and add the zip code level sales tax option. From there, add the states where you are required to collect tax, and tax rates will be automatically updated and calculated for your Online Store orders at checkout based on the shopper's zip code.

Tax changes happen regularly, and it gets difficult to keep track of it manually. With this solution, the tax rates will be automatically updated daily.
Get accurate shipping rates and print labels easily

Tired of copying and pasting addresses into other tools to purchase shipping labels? Now you won't need to. Our integration with ShipEngine allows you to quickly get rates and purchase labels from FedEx, UPS and USPS, all without leaving GoDaddy (please note that this feature is currently limited to US-based customers only).

To set up your shipping labels, simply click on "Buy Shipping Label" when viewing an order and ShipEngine onboarding will begin.
Use Smart Ribbons to make your sales stand out

With the Smart Ribbons feature, you're able to highlight the desired products with Bestseller and New Product tags.

To use these Smart Ribbons, you will need to ensure that you've selected the desired tags on any qualifying products.

Note: Keep in mind that you can only display one ribbon per product, and the On Sale category takes top priority, then Bestseller, and then New Product.
Add Smart Ribbons to your Featured Products as well

If you want to highlight your bestsellers and new products, the Smart Ribbon function for Featured Products will help you do just that.

Using the dropdown menu under each category option will let you choose the specific labels you'd like to use for each.

Note: This option can only be used with the Classic and Carousel layout options for Featured Products.

You can also choose the style of your Smart Ribbons:

The default, transparent and rounded rectangle options will keep the ribbon in the default location for your template, while the pill style option will move the Smart Ribbon location. This can be helpful if the default ribbon location doesn't work for your specific product images.
Create and share coupons

Coupons are another great way to incentivize users to buy now. Learn more about how to create coupons.

To showcase the coupon, you can also highlight it in the promotional banner on your site.
Add an email subscription form coupled with a coupon incentive

A newsletter is a great way to connect with your consumers and provide them email promotions on new products, ongoing sales, and any new worth noting. Websites + Marketing makes it easy to add new subscribers to your company newsletter.

Learn more about adding an email subscription form.

To enable a coupon, simply turn on the option to enable coupons for sign-ups and customize the discount amount and message content.
3. Expand your sales by selling everywhere
Besides selling on your online stores, you may want to consider selling popular marketplaces like Amazon, eBay, Etsy, etc. and social networks like Facebook, Instagram that draw billions of users every day.
Websites + Marketing makes it easy for you to sell your products on all of the major marketplaces, as well as on Facebook and Instagram
Editor's note: Social media ecommerce integration and marketplace features are available only for audiences within the United States at this time.
Sell anywhere with GoDaddy Payments
With GoDaddy Payments, you're able to sell in person through a retail store or physical location, book appointments over the phone or sell remotely via mobile app at farmer's markets or pop-up events. You're also able to accept payment with the GoDaddy Card Reader with Docking Station and the mobile app for on-the-go payments, a GoDaddy Smart Terminal for in-store payments, a Virtual Terminal for phone orders, and Pay Links that can be used via email, text, social and more.
Additionally, with a unified experience across online and in-store, customers can buy online and pick it up in-store, book online and pay in person, or order in-store and have it shipped to their home.
Related: Why you should swap your old POS for a Smart Terminal
Smart Terminal hardware


The Smart Terminal hardware offers a robust point of sale option for in-store payment needs. It connects with accessories such as printers, cash drawers, and barcode scanners.

Features of the Smart Terminal hardware include:

Accept all major credit cards with a swipe or chip or contactless.
Contactless payments allow customers to pay using smartphones via Apple Pay and Google Pay.
A lightweight terminal allows for on-the-go mobility, as it doesn't need to be tethered to the docking station to be used.
Easy touch interface for merchants to add orders.
Our easy-to-use docking station allows you to connect the Smart Terminal to an existing register, cash drawer or scanner.

Online orders for pick-up and delivery are also integrated with your Smart Terminal. Customers can pay for their order in person using credit cards or contactless payment, and you can update the status of the order from your Smart Terminal. The order will automatically update in your Online Store.
GoDaddy Mobile app

The upgraded GoDaddy Mobile app allows sellers to have a mobile point of sale option, all from a seamless mobile app. This app requires no additional hardware, making it a great option to get started quickly with on-the-go payments. This feature is available at no additional cost.
Card reader hardware

Ideal for on-the-go payment, our card reader hardware works in conjunction with the GoDaddy Mobile app, making it a low-cost hardware option to get you started.

Easily take credit card payments anywhere on the go with a small, easy-to-carry card reader.
Accept all major credit cards with a swipe or chip or contactless.
Contactless payments allow for customers to pay using smartphones via Apple Pay or Google Pay.
The included docking station allows you to stabilize the reader and use on a tabletop or at your register.

Related: GoDaddy now offers point-of-sale devices and breakthrough low payment pricing
Sell on marketplaces
In addition to selling on your online store, it's also a good idea to sell where your shoppers will likely be browsing in their free time.
With Websites + Marketing's Online Store, you're able to easily sell your products on multiple marketplaces at the same time.
This includes sellers such as Amazon, eBay, Etsy, Google and Walmart.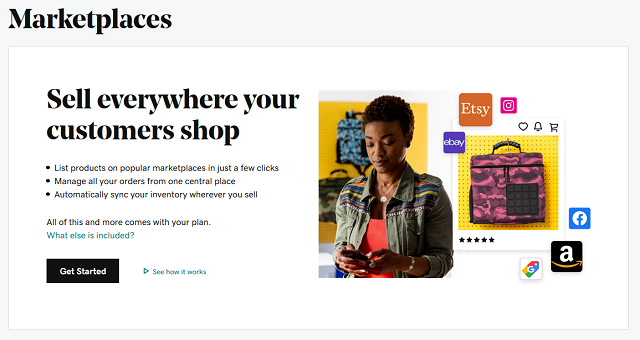 These popular marketplaces attract high volumes of online shoppers and can be a big boost for your online sales. Having your products where the traffic is high can be a major boost to your online sales.
Websites + Marketing also keeps your inventory synchronized across the various marketplaces, so you don't have to worry about keeping separate sites up to date.
Ready to get started with Marketplaces on Websites + Marketing? You can use this guide to connect to Marketplaces for the first time.
4. Engage your audience with email and social posts
The key to retaining customer interest is through active engagement with your customers. Two ways to engage with your customers are through email newsletters and social media.
Email campaigns
Websites + Marketing offers seamless integration with GoDaddy Email Marketing to help you to easily keep in touch, as well as for coordinating your email marketing campaigns.
An editorial calendar can be immensely helpful when planning what you'd like to send and when. Not sure where to start? We recommend this guide:
Social media campaigns
With GoDaddy Studio, creating a stunning social media campaign for your business is simple and allows you to make and maintain connections with your customers.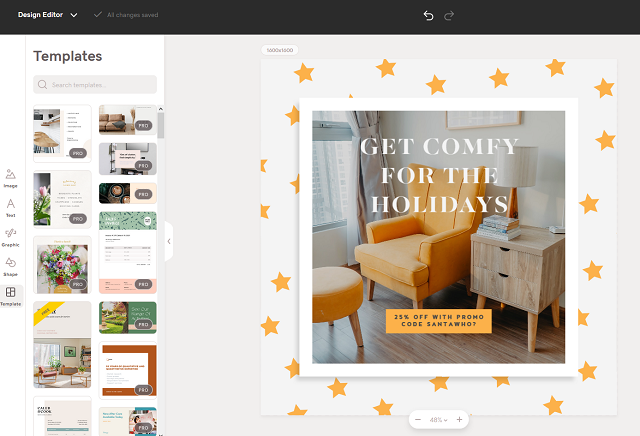 Need more information on how to create your marketing campaign using GoDaddy Studio? Check out this help guide for more information.
As with email marketing, there are some important considerations when launching a social media campaign. Here is a guide to get you started.
Advertise your business on social media

Looking to get your business noticed on social media? Advertising is the perfect way to do that. And now, you can create ads for social media through your Products list page.
Allow customers to share products to their own social media accounts

With this option enabled, your customers can share products from your website directly to their own social media pages. This feature can help boost visibility for your products via your customers' social media feeds.

This setting can be enabled in the Websites + Marketing editor, under the Online Store's "Product Page" tab.

Note: You will need to publish your site for this feature to be live after enabling it.
5. Create a winning customer experience wherever you are
Having the ability to be flexible as a business owner is invaluable and there are definitely going to be times when you need to be able to manage your business on the fly. Here are a few features to help you do just that.
Support your customers via chat

With Websites + Marketing, you have access to a built-in chat feature for your website. This allows you to provide instant customer service and is the perfect way to respond to any questions or concerns a customer has that may hinder them from completing their purchase.

To use this feature, you'll need to enable the Website Messaging service inside of Websites + Marketing. You can view the full set of instructions on how to do that here.
Manage orders on the go

No matter where you are, you can receive order notifications and completed order details via the GoDaddy Mobile App.
Return/refund policy reminder

Having a clear return policy is also important for the customer support experience. There is a reminder on the Online Store landing page to remind store owners to offer and/or review their return/refund policy. It's common for stores to have return/refund policy, and it is one of the requirements when listing a store through Google.
Boost your sales this holiday season and beyond
No one can fully predict what the holidays will look like for retail businesses, but it's safe to say that ecommerce will continue to be an important feature for businesses into the future. With a bit of planning now, you can optimize your ecommerce site and get ahead of the game.
Ready to get your business ecommerce-ready? GoDaddy's Websites + Marketing Online Store will help you build a beautiful and functional online store in no time at all.