HubQuest: Score critical time-saving points with the Hub by GoDaddy Pro
If website freelance life were an RPG, the Hub by GoDaddy Pro would be a +3 flaming sword infused with magic. Users wielding the Hub report that it saves them an average of three hours each month for every site they manage for clients.  
Talk about a baby orc dilemma. Do you use that saved time to chill, or ride the momentum and slay the rest of your day?  
Whatever you choose, it starts with mastering the Hub. We've broken this —  um… HubQuest? — into digestible episodes. Each one concludes with a challenge from the level boss who, for the nimble-fingered Makers of the Web, should be laughably easy to vanquish.  
Thanks for playing our game. 
Prologue: Embarking on the
HubQuest
Embark on the HubQuest by signing in to your intuitive dashboard of the Hub. You're ready to start saving time with your web dev and design business. The Hub lets you breeze through managing all your projects, sites, clients, and products.  
It can reduce hand-holding when you need clients to give you hosting credentials or sign up for an app or service. You can also shave loads of time off tasks like website maintenance, security, and updates. 
With this quick-start guide, you'll learn how to master the Hub basics of: 
Adding clients

 

Managing clients

 

Tracking projects

 

Connecting sites

 
Users report they save an average of three hours each month per site when they move to GoDaddy Pro. To start taking back that time for yourself, sign up for GoDaddy Pro and log in to the Hub — game on! 
Level 1: Adding clients to the Hub
When clients are added to the Hub, you can access any of their products, manage their websites, and track any tasks you need to complete the project. You'll also be able to make purchases on their behalf, without having to get login credentials or payment information.  
To add a client: 
Click

Add Client

from the Hub homepage or select

Clients

from the left-hand menu

and click

New client

.

 

Enter a first, last, and business name for the client. 

 

Enter your client's email address.

 

Click

Save

.

 
Beat the boss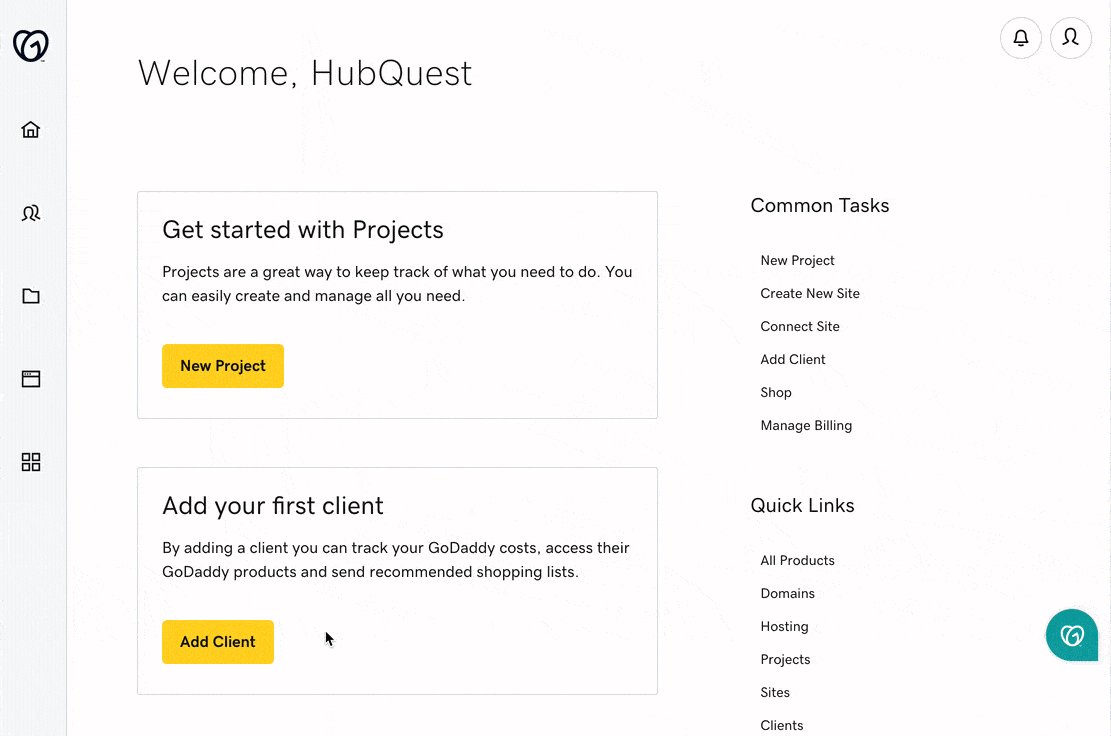 Level 2: Requesting access to manage your client
After unlocking the achievement of adding a new client, you'll need to request access if you want to completely manage their products or make purchases on their behalf.  
To request to manage your client's products: 
Select

Clients

from the left-hand menu.

 

Next to your client's name, select

…

under the

Actions

heading.

 

Select the

Request access

button

and review the options.

 

Choose

Manage Products

or

Manage Products & Purchase

and click

Save.

 

Enter a personalized message to your client, or simply use the premade one. 

 

Click

Send email

.

 
You're almost done! As soon as your client has accepted the request, you'll be able to click on their name to see your client's products, log in to their account, and even make purchases on their behalf.  
You can repeat these steps for any current and future clients you work with.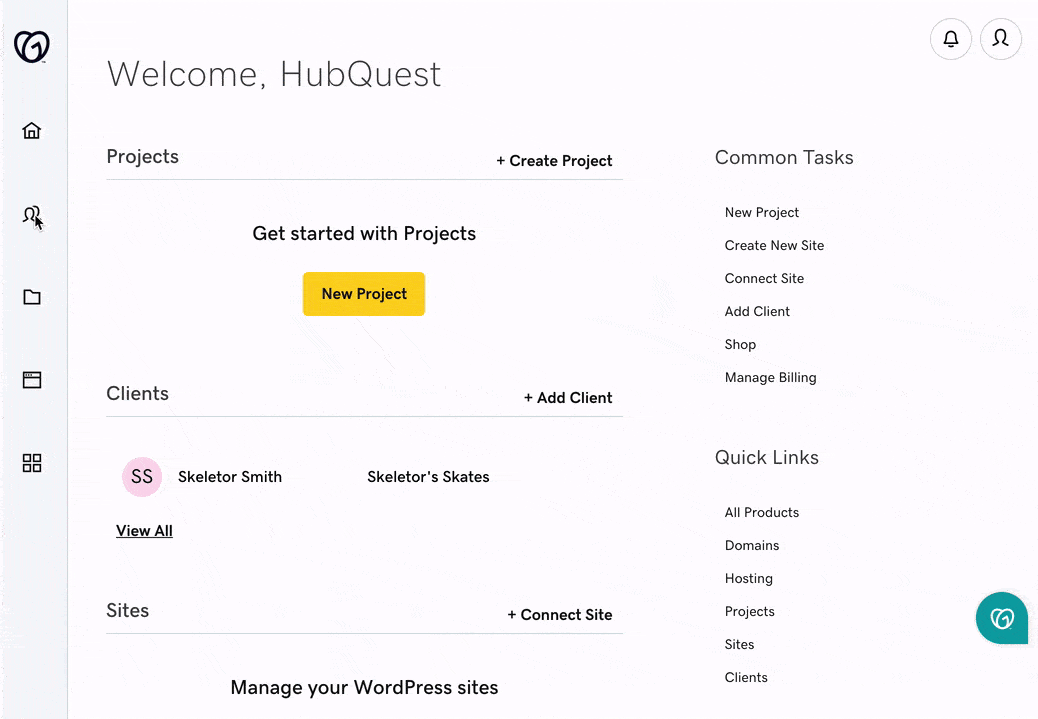 Level 3: Tracking your client work with projects
Now that you've got your client set up, you're ready for the big adventure. Just like a quest log, you can add a project to the Hub to help track and manage your work. You can also add a timeline to your project in order to group the tasks necessary to move it to the next phase.  
By default, a timeline is automatically added to each project, but you must enter details. 
To add a project: 
Click

Create New Project

from the Hub homepage or select

Projects

from the left-hand menu.

 

Define the project name to describe the work you'll be tracking.

 

Set an estimated due date to help track your progress.

 

Assign your client to the project. You can enter new client details

here or

add your existing client by clicking

Set existing client

from the top right

.

 

C

lick

Save client.

 

Click

Launch project.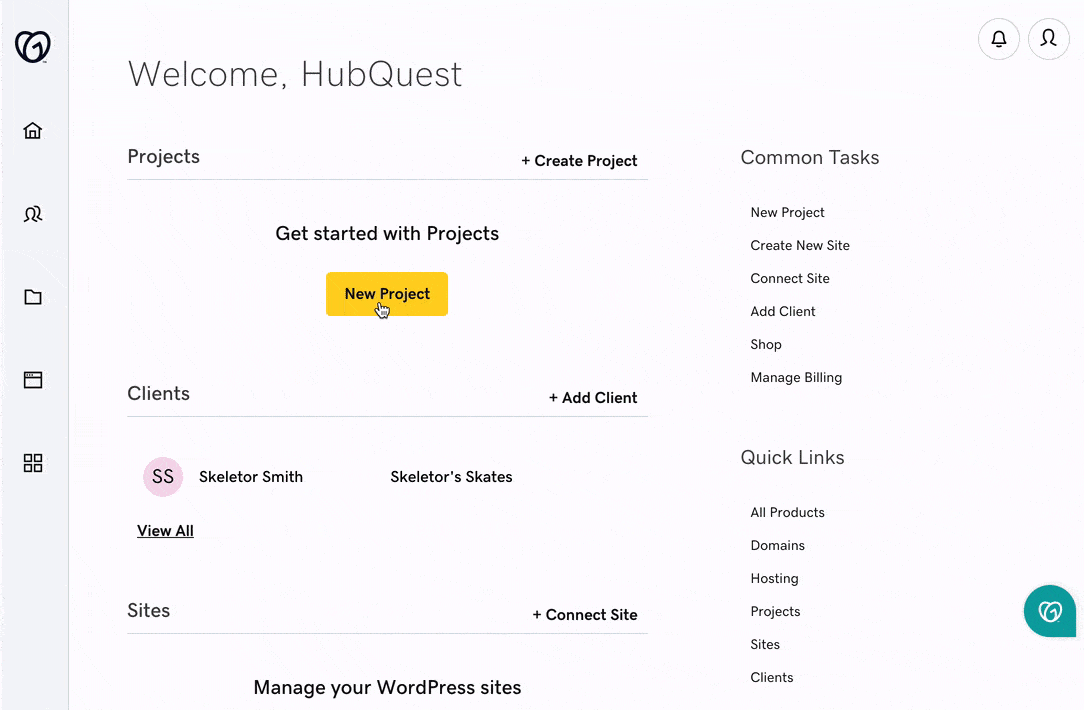 This project will now appear in your list of active projects. From here, you'll be able to add phases to the timeline and individual tasks to organize your work. This helps you visualize your work in manageable pieces and effectively track progress as your project levels up.  
To add a project timeline and tasks: 
Go to the left-hand menu, and then click

Projects

.

 

Select

the project

.

 

Next to the default timeline, click

New phase

.

 

Enter a

Name

for the phase, the

Duration

you expect it to last

in days

, and the

Order

you want it to appear with other phases, and then click

Save

.

 

Click

Add task

or c

lick the phase you want on the timeline, and then click

New task

.

 

Enter a

Title

and

Description

, select a

Phase

and

Status

, and then click

Save

.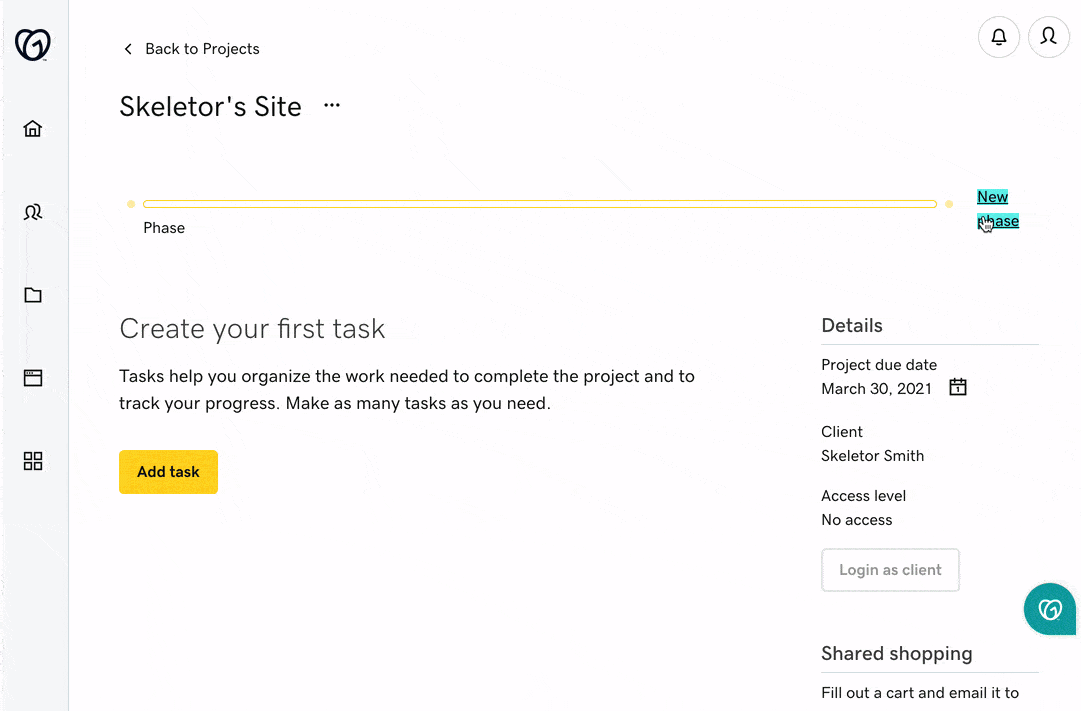 Level 4: Connecting sites
Connecting sites to the Hub lets you monitor their health stats and handle routine maintenance with a single login. With sites connected to the Hub, you can significantly reduce time spent on routine tasks, such as updates, by handling them in bulk for multiple websites. 
You can connect external sites using their URLs or import sites from your GoDaddy account.  
To connect external sites using a URL: 
Go to the left-hand menu, and then click

Sites

.

 

Click

Add website

.

 

Enter the URL of the website you would like to connect, and then click

Add website

. You can enter multiple URLs separated by commas. 

 

Enter your WordPress admin username and password. Alternatively, you can

use a connection key instead

.

 

Click

Add website.

 
To connect GoDaddy sites: 
Go to the left-hand menu, and then click

Sites

.

 

Click

Connect site

.

 

Click

Connect GoDaddy Sites

.

 

Select the sites you want to add, and then click

Connect Sites

.

 
Epilogue: You now wield the Hub
And so, the HubQuest is complete. Congratulations, Maker of the Web. 
The Hub's single sign-on and account delegation features significantly reduce client hand-holding — you won't have to pester them for credentials and can even help purchase important website products like hosting, security, email, and backups on their behalf. 
Within the intuitive centralized dashboard, you'll find a number of useful tools which will also help reduce time spent on repetitive tasks.  
One-click updates will help keep your clients WordPress sites patched with all of the latest security and feature updates available. Customizable task lists and timelines will make sure you stay on track with all your projects. 
Allies are always here when you need them
Should things ever become grim in your workday, just pick up the phone or chat, 24/7/365. 
Our award-winning support team is only a call, ticket, or chat away. As a GoDaddy Pro member, you'll skip the queue and enjoy prioritized support ticketing to make sure you get timely assistance with all of your questions. 
---
More time = happier clients
When you use The Hub from GoDaddy Pro, suddenly there's more time in your day to focus on what matters most. Forget about juggling admin tasks. Reclaim your time and use it to make clients feel like the center of your universe.
---
Free virtual event: Connect with thought leaders
Expand 2021 from GoDaddy is a free virtual event that brings together the web design and developer community. You'll get to share ideas and experiences, make connections and find support for your success. Sign up today and discover new ways to expand the amount of time you have to get stuff done.