How to make Pinterest pins on your mobile phone
When you start to delve into the world of Pinterest marketing, one of the first hurdles you need to overcome is choosing a program to create your pins. Many people think the only way to do this is at home on your computer using Photoshop or Canva. What you may not realize is that there are design tools that work like a charm right on your mobile phone.
That means you can design all your Pinterest pins while waiting to pick up your kids at the bus stop, on your lunch break at a restaurant, or while standing in line at the post office. No need to be shackled to your desk!
There are many design applications to choose from but after some exploring, I discovered WordSwag. It's available on both iOS and Android platforms and costs less than $5. None of the free tools I tested out worked nearly as well. WordSwag is hands down, the best mobile app on the market for making your Pinterest pins (and Instagram, and Facebook images, too!)
It's a huge timesaver when you need to get an image posted fast.
WordSwag's claim is that you will "Add awesome text to your photos in seconds" and it's 100-percent true. If you're in a rush, you can create an image with text on it — saved to the size you need — in less than a minute. Not only is it a snap to drop your text on an image, but also it can help you come up with things to say. There are hundreds of built-in quotes, thoughts and jokes that you can cycle through and choose from.
Related: Social media image sizes — The 2018 cheat sheet
How to use WordSwag to make Pinterest pins on your mobile phone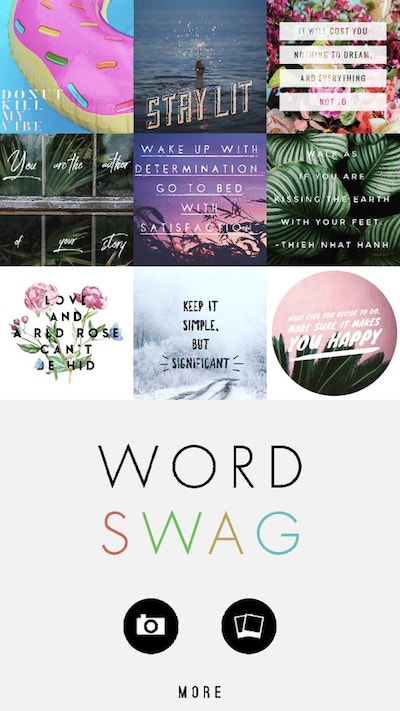 Homescreen
When you open the app, the first step is choosing a picture for your background. There are some icons at the bottom of the screen that let you choose from your camera, or by searching free pictures provided. Click the icon on the left that looks like a camera.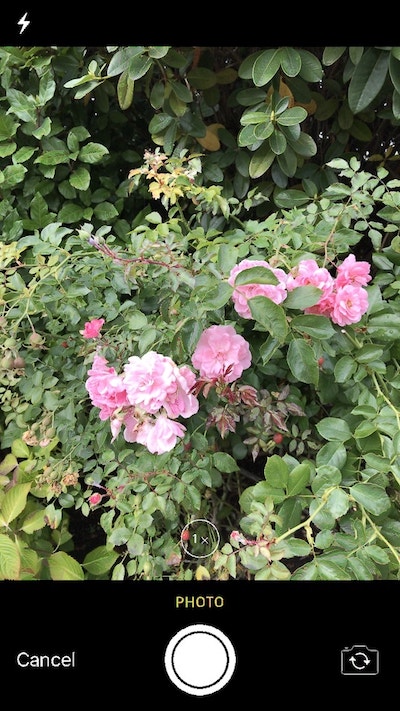 Connect to your camera
The camera icon brings you to your phone's camera application where you can take a fresh photo. If you change your mind, hit Cancel to go back to the home screen.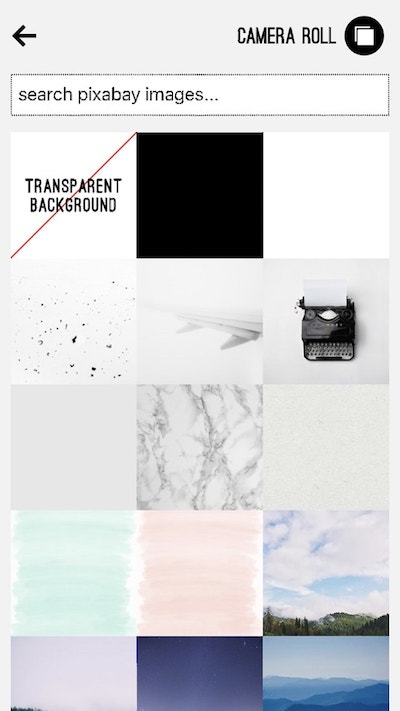 Search free images or choose from camera roll
If you click the other icon on the home screen that looks like little Polaroids, that leads to a search screen.
The image search is tied into Pixabay which has Creative Commons images so you're free to use them commercially. You can scroll down now or click in the search box to describe the kind of image you want.
The Transparent Background choice is perfect if you want to make a quick logo for yourself with text on a transparent background. You can also choose plain black or white on this page. Or start scrolling through all the fun options.
If you don't want to search, you also have the option of clicking the Camera Roll icon in the upper right. This leads to your phone's image library where you can choose from previously saved images.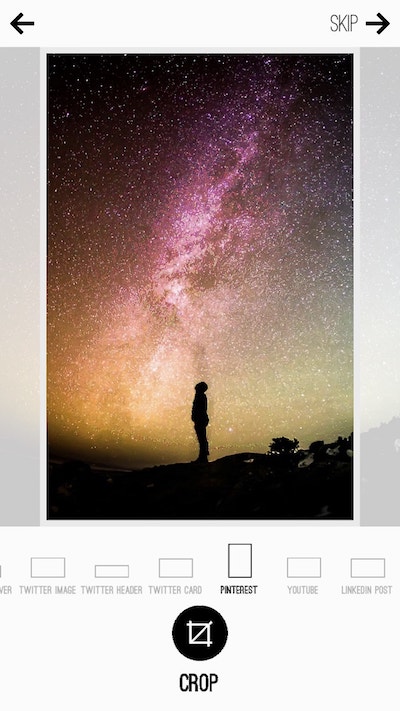 Related: Tips for styling pictures on Pinterest
Pre-sized crop template for Pinterest
Once you pick your background image, you get a cropping window. Simply scroll through the different crop sizes to pick what you want. Scroll to the right to find the Pinterest crop and choose it. Then click the Crop button on the bottom of the screen.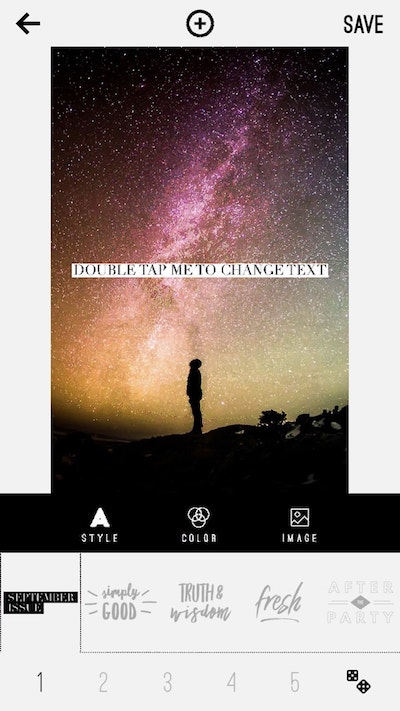 Text styles
After you've cropped, you are taken immediately to this screen where text is added. It automatically populates with the first text style option and placeholder text telling you to double-click to edit. Double-click that to go to the next step.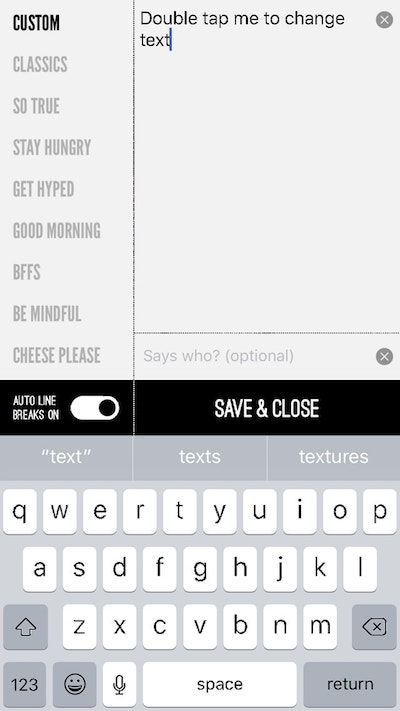 Feature-rich text editor
Now you're in the text window and there are so many fun options to choose from. Simply delete the placeholder text to write your own from scratch. If you're quoting someone, you can attribute them by putting their name in the bottom Says who? box.
If you don't have a quote in mind, you're still in luck. On the left side of the screen you can choose different categories such as Classics or So True or Stay Hungry. Let's click on So True.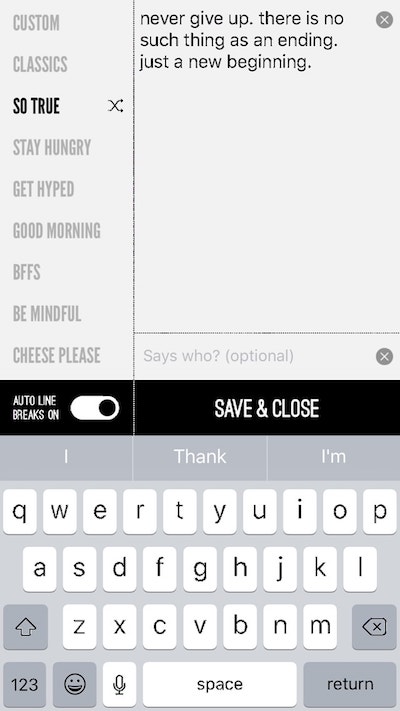 Hundreds of quotes and jokes to choose from
If you don't like the first quote that comes up in a category, you can click the little criss-cross arrow icon next to it and new options will appear. Click So True again, and a new option comes up: Do what makes you happy.
There's a little toggle in the middle left (above the keyboard) that says Auto Line Breaks On. You can click this if you want to add your own line breaks and have full control of that. Or leave it as is and click Save & Close to proceed to the next screen.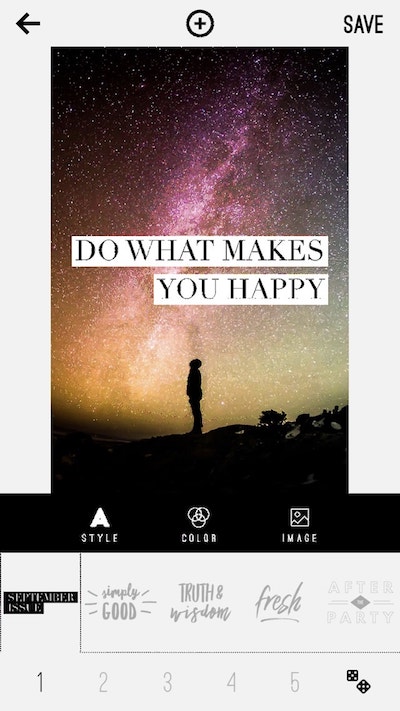 Font styling options galore
Now for some fun! We are in the "Style" menu. This is where you can pick different text styles and layouts. If you don't like the first option, just start moving right and picking new layouts. Let's pick the Truth & Wisdom style next.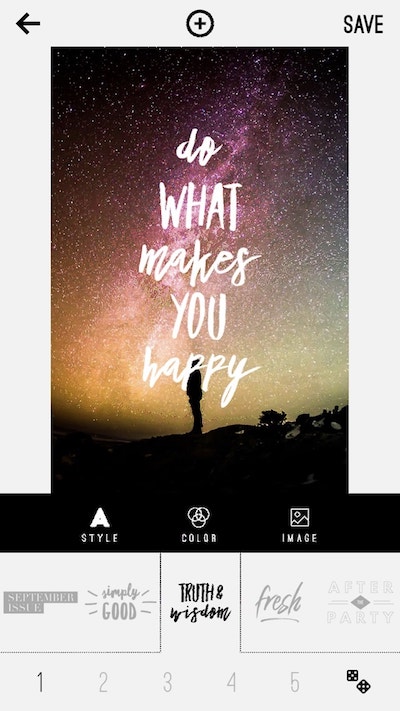 Text is easy to resize, even on your mobile phone
When the text changes, you can click on the text box and resize it by pinching or stretching with two fingers on your screen. Then you can dig deeper on this style by choosing one of the other numbers displayed across the bottom of the screen (1-5). This is option 1.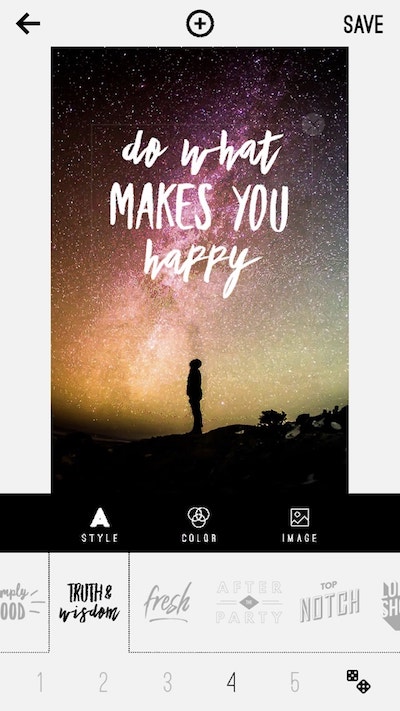 Roll the dice for more suggested layouts
Here's option 4. You can also click the little dice icon in the far right to randomly bring up even more fun layouts. Roll the dice and see what you get!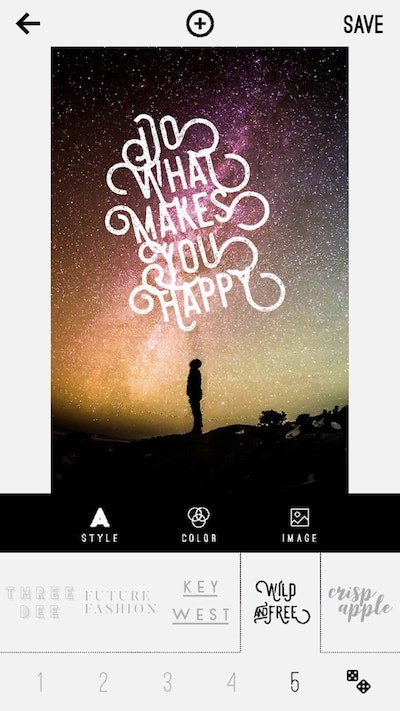 Text rotation is a snap
If you click on the text, you can make it larger or smaller as we saw earlier, but you can also rotate it for a nice effect.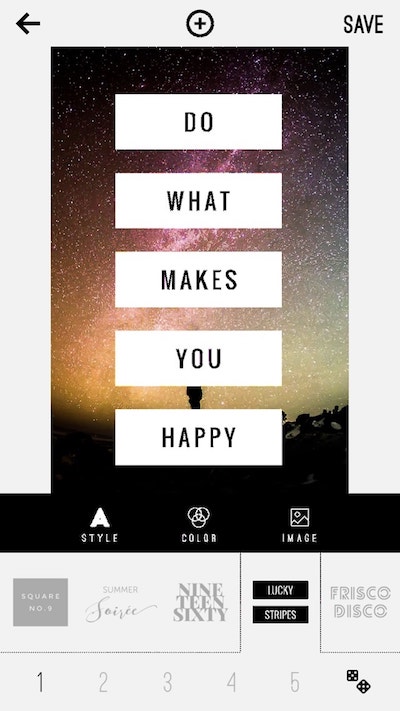 Color the text or text boxes
I switched up the styles and chose Lucky Stripes next, which is a fun boxy design, where each word breaks down into its own box. For a design like this you can change the color of the box itself, instead of the text. Just click on the Color tab (just above the styles, in the center) to bring up a rainbow of choices.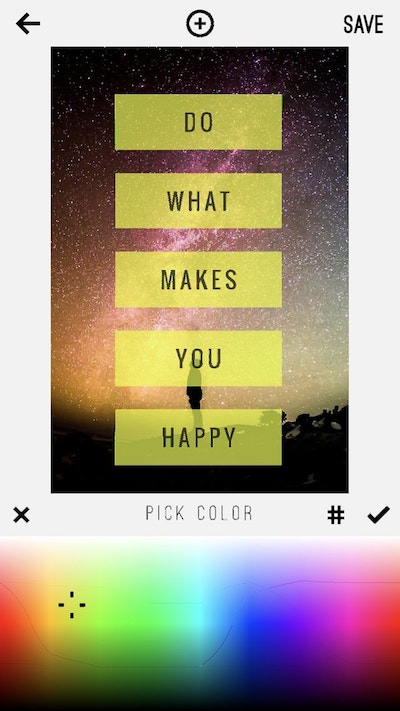 Drag your finger around in the rainbow to choose a shade you like. Then you can click the checkmark to choose that color, or click the X if you want to exit the color screen. Let's hit X to cancel and keep the white boxes.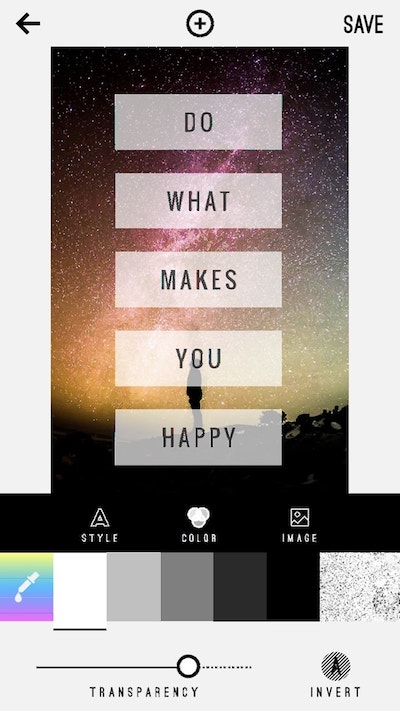 Adjust transparency with slider
Click in the Image tab next, in the strip of options, and you'll get this array of colors to choose from, as well as a transparency slider and an invert button. Click on the transparency slider and drag until you can see through the boxes slightly but still easily read the text. Fun!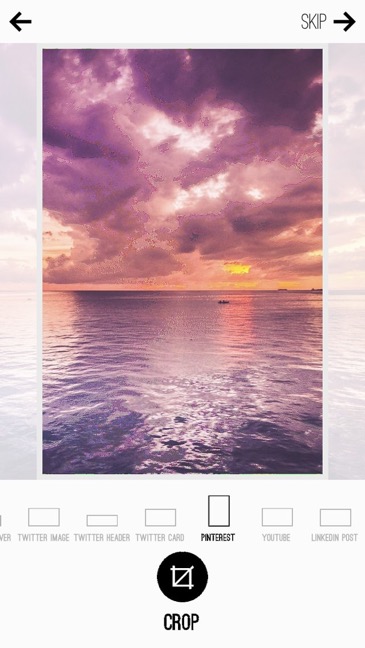 Switch things up without starting over
At this point, we could call it done, but let's try out a different background photo. It's easy to do with WordSwag, because you don't have to start over from scratch.
Just click the arrow in the upper left corner of the screen to go back a couple screens to the Pixabay search window. I wanted something more colorful so I chose this pretty sunset seascape photo.
The Pinterest size should still be selected so clicking Crop goes to the next screen where your "Do what makes you happy" text still resides.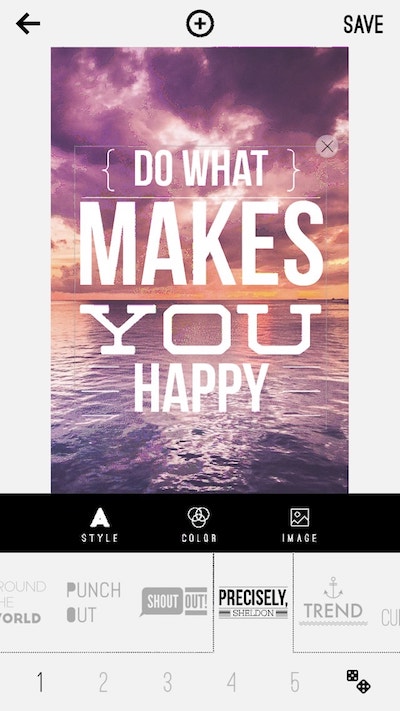 Try out a new text layout to really take advantage of the space. Look for chunky text.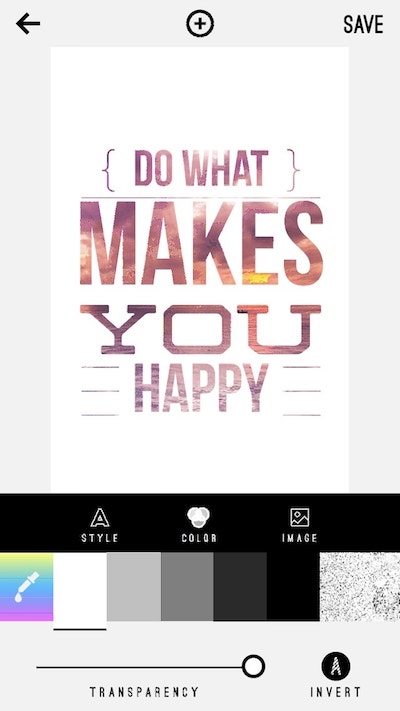 Put images inside your text with Invert tool
Now you get to see the Invert tool in action! I love this button because it masks the photo inside the text area. This works well with thicker blocky text so you can see the pretty photo details in it more easily. That looked pretty good but let's see how a color overlay would look.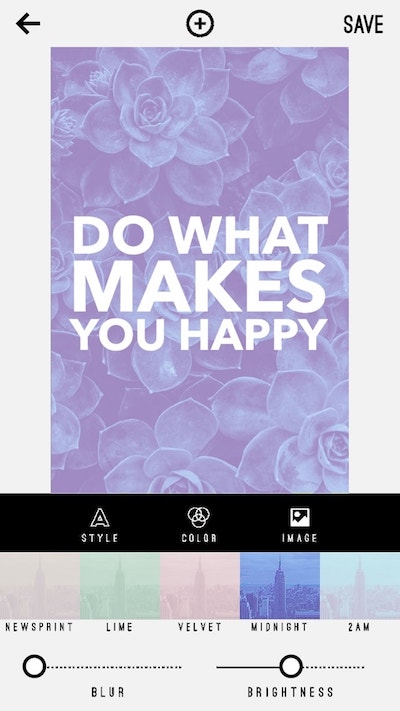 Add an image overlay color
Click the left facing arrow to go back a few screens and choose a new image. I chose a photo of some succulents. Then refresh the text style to something simpler so it will stand out and be easy to read on this pretty color overlay.
The color overlays are available inside the Image tab. There are quite a few different color and shading options to choose from.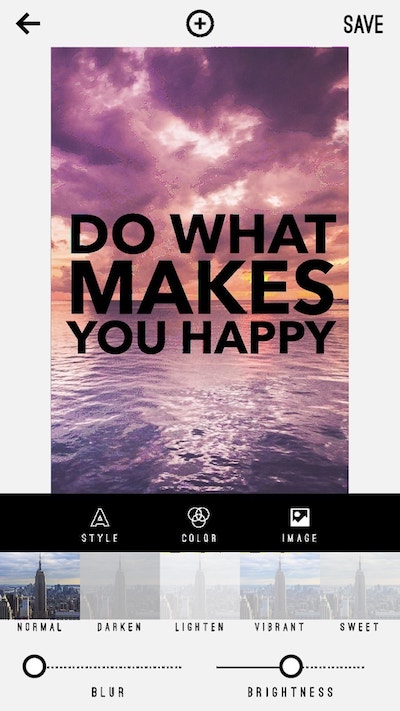 Use blurring tool for unique effect
One more fun way to use WordSwag to make Pinterest pins on your mobile phone is to alter the image you put in the background. For this colorful seascape image, we can make it unique by blurring it, using the Blur slider at the bottom.
It's not even recognizable anymore — it just looks like a pretty array of colors.
I love this option because it helps my pins stand out from others who are using this same tool and same set of free images.
This technique works wonderfully with colorful images like rainbows, flowers and even fireworks.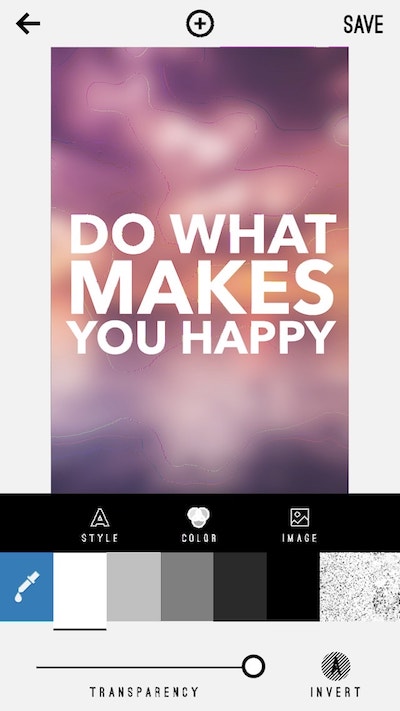 That black text looks too dark so click into the Color tab and change it to white. Perfect!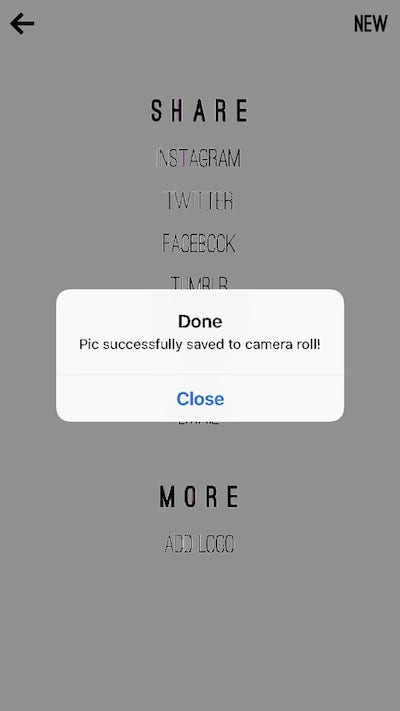 Save your gorgeous pin to your mobile phone's camera roll
The next step after this is to click Save in the upper-right corner of the screen. You'll get a dialog box saying the image was successfully saved to your camera roll.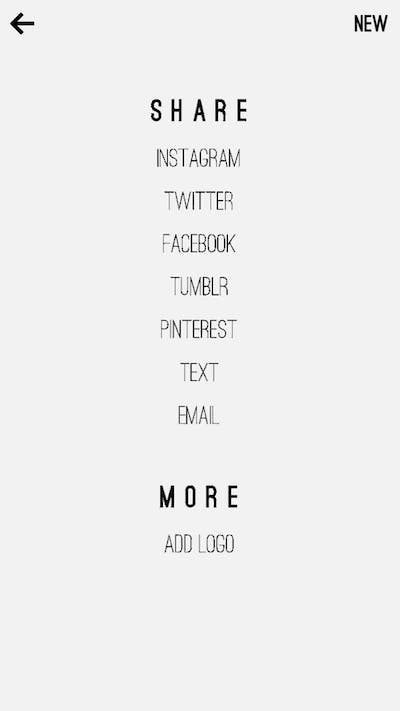 Or share directly to Pinterest + other applications
Then you can choose Pinterest from the sharing options. WordSwag also allows you to send images to Instagram, Twitter Facebook and more.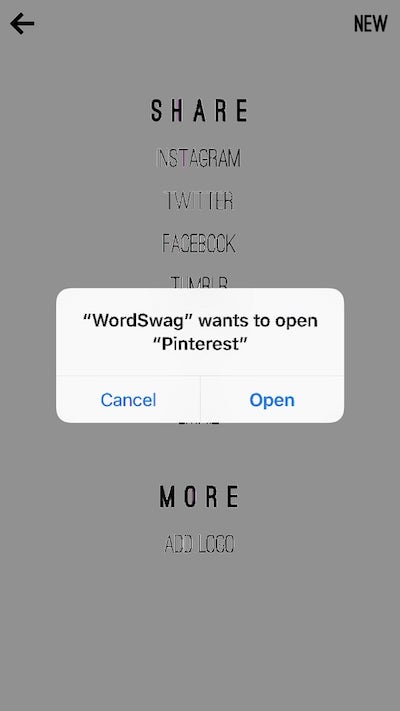 That pops up this window, which prompts you to open Pinterest and post your masterpiece. You can also just save it on your camera roll and post it to Pinterest later.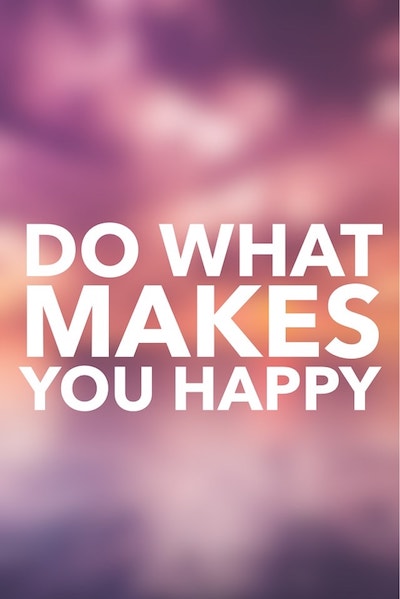 Either way, you have a beautiful pin ready for your boards, and you created the entire thing conveniently on your mobile phone. With WordSwag it's easy to whip up a few pins while you're riding the bus to work, or during your lunch break. No computer required.
Editor's note: Still not sure where to start with your Pinterest marketing? Tap into the experts for help with GoDaddy Social. Happy pinning!
Related: A beginner's guide to social media for small business