How to sell video games online: A reference for indie game developers
Independent video game developers face an uphill battle to get their titles discovered and played. Breakthrough hits are rare. But with a strong online presence, indie game developers can build a fanbase to sell video games online, even before the game is finished.
Video games have been mainstream for years, but thanks to widespread adoption of smartphones, the number of people playing video games is at a whole other level.
The rise of mobile gaming makes it easier than ever for small developers to sell video games online.
Unlike PC gaming or console gaming, both of which require an up-front investment into hardware, mobile games work on whatever mobile device a player already has. And where a typical PC or console game might cost you anywhere from $40 to $70 (depending on the title and the market you're in), mobile games average only a few dollars; otherwise they're free, relying on in-app purchases ("microtransactions") to generate revenue.
As you might expect, this creates a huge opportunity for aspiring game developers to sell video games online. Back when I was in college and toying with the idea of getting into the gaming industry, the general verdict was that getting into the gaming industry was difficult at best.
There was a huge barrier to entry in the early 2000s. But now, thanks to the App Store and Google Play, anyone can get their game into the marketplace and see success. (Remember Flappy Bird?)
It's a good time to be a video game developer. According to a report from Pocket Gamer, game developers are optimistic about the future of the business. They see new potential from emerging markets, new monetization methods, and growing popularity for competitive multiplayer games.
But it's not all sunshine and rainbows. The same report calls out fierce competition, marketing costs and user acquisition as common concerns. And that's what we're going to focus on in this article: tactics for finding new players by marketing and selling your video games online.
Want to sell video games online? Do the following.
Yes, I know that the App Store (for iOS) and Google Play (for Android) are the most important platforms for selling mobile games. Ditto for Steam and itch.io, if you're developing games for the PC. There are entire courses online dedicated to app store optimization for that very reason.
These marketplaces are important. But to see success you also need to build interest and demand in your game before it's available. Here's what you need:
Centralize everything on a website
Your website is the hub of all information about your game. Before your game launches your primary goal is to get people hyped about the release and, ideally, get them to place a pre-order for it. After the game launches you're continuing to build on the hype and drive people to purchase or download the game.
So what should your website cover?
Story: Introduce people to the world your game takes place in.
Gameplay: Tell people how the game works.
Media: Videos, screenshots, concept art.
News: Ongoing updates from the people working on the game.
Community: Either hosted on your site or elsewhere (e.g. Facebook, Reddit, Slack, Discourse, or other standalone site).
Support: Where to find tech support for the game.
Merchandise: Physical goods, like apparel and accessories, are another revenue opportunity beyond game sales an in-app purchases.
Preorders and purchases: Before the game is live, give people a way to pre-order the game. (More on that below.) Once the game is live, direct them to where they can buy the game. (This'll usually be a page in the App Store or Google Play.)
The design of your website, including the images you use, should reflect the style of your game. Concept artwork comes in handy here. Use landscape and scenery illustrations for page headers, and place character and object illustrations throughout the page content. The official Minecraft website does a great job with this.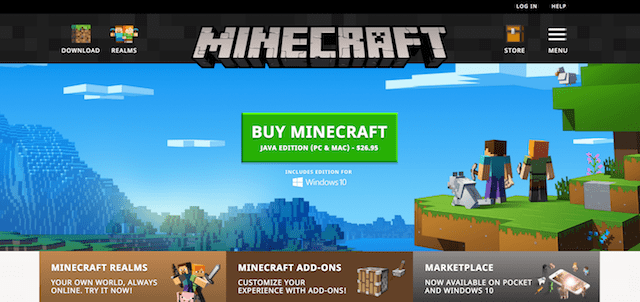 Tip: Use a tool like GoDaddy GoCentral to quickly get your site up and running. No need to fuss with a complicated CMS. You're a game developer, not a web developer!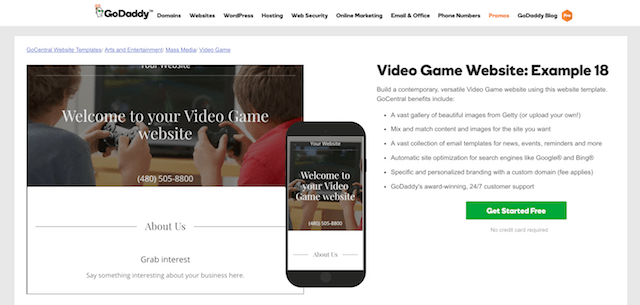 Publish screenshots to show off your game
Until your game is ready to play, people will rely on images and video to get a feel for it. Screenshots are vital here. Use screenshots to show off the range of visual styles, interfaces, settings, and characters you've created. When your game gets covered by bloggers, journalists, or even just potential fans, these screenshots will be available for them to share.
Make sure your screenshots are crisp.
Capture them in HD resolution. And don't forget to tuck your game's logo in the corner of the image, so folks know where the screenshot is coming from.
Publish trailers to get players hyped up
Blizzard Entertainment has an entire cinematic team producing epic trailers for their blockbuster titles like Diablo, Warcraft and Overwatch. Riot does the same for League of Legends. On the mobile gaming side of things, you might've seen a couple of big commercials for Clash of Clans or Mobile Strike. These trailers don't reflect actual gameplay. Instead, they set the tone, style, and energy of the game. (Gameplay trailers, on the other hand, showcase the actual playing experience.)
Do the same. Publish trailers that introduce players to your world and get them excited for the story. As development moves along, start sharing gameplay trailers to get players excited for the actual in-game experience.
Share updates through vlogs on YouTube
Show people that you're actively working on the game by maintaining a vlog on YouTube. Use the vlog to keep people in the loop about the development progress. If you're soliciting feedback, acknowledge it in these updates. Blizzard does this regularly with their Overwatch Developer Updates.
Want to sell video games online? Be present in online communities.
Be where your potential players are. Find the online communities where they already hang out. Don't know where to find them? Look for communities dedicated to your game's genre, or dedicated to similar titles.
Use tools like Google Alerts (free) or Mention.com (paid) to get notified when your game is mentioned. Set up a Facebook group, Discord channel, or subreddit where fans can come together in a single place.
Write press releases for mainstream coverage
This one's for the journalists. If you're looking to get picked up by traditional news outlets, put out a press release. A general structure to follow:
Your city and country, plus the date, on a single line.
Single line, answer the five W's: Who, what, where, when, why and how.
Quote from the game development team.
Link directing people to find more information or your press kit (more on that below).
Contact information, like email address or phone number.
You can find inspiration for gaming industry press releases on Gamasutra.
Create a press kit
Publish a page of assets (images, video, logos), summaries, and contact information on your website. This helps reporters, journalists, bloggers and others easily find media to use in their coverage of your game. Take a look at Cuphead's press kit for inspiration.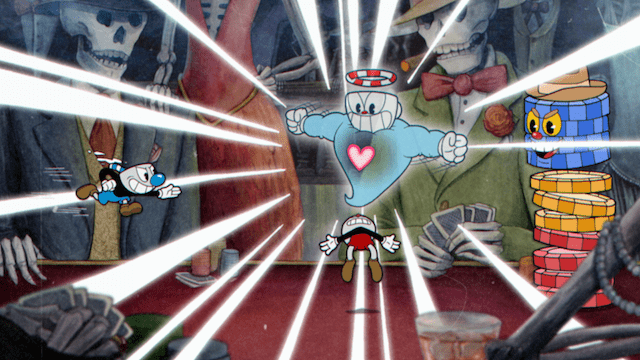 Set up a mailing list for email subscriptions
Give people a way to stay on top of your game development updates by setting up a mailing list and letting people subscribe with their email address.
When your game is in early development, your mailing list is the priority for reaching your most engaged fans and potential customers. When the game is released, send out a promotional email with direct links to purchase the game.
Tip: GoDaddy Email Marketing comes with GoCentral, so you can build your website and gather email addresses all in one place. Learn more about GoCentral.
Attend festivals and events
Get people interested in your game by giving them an opportunity to play it. Showing up at festivals and events is a chance for you to talk with players and potential customers face-to-face. You're also more likely to run into gaming press at these locations.
Wondering which events you should attend? This Quora thread covers worldwide events for indie game developers.
Get backers or sell preorders
There are a few upsides to getting backers and selling preorders. First is that you're validating interest. If people are willing to put money on the table, you know you're doing something right. Second is that it's an opportunity to start building a community around your game. And third is that it brings revenue in that can help cover your development costs.
A few popular services you can use:
Run an advertising campaign
Before you launch your game, use advertising to build awareness of your title. Focus on getting people to either join your mailing list, back its development (e.g. via Kickstarter or Patreon), or pre-order the game (e.g. via PayPal or Gumroad).
Once you launch the game, switch up your advertising. Either drive people to a landing page on your website where they can learn more about the game, or send them directly to purchase the game from the appropriate marketplace.
Collaborate and cross-promote with others
Marketing is all about obtaining attention and, ideally, turning that attention into interest and action. Advertising campaigns are one way to do that. But it's not the only way to get attention.
Collaboration, cross-promotion and strategic partnerships are all great ways to get your game in front of people.
Collaborate with other people who are trying to reach the same audience as you. Cross-promote with another indie game developer to get your title in front of their fans (and vice-versa). Strategic partnerships with non-competing businesses or publications can also be leveraged to reach new audiences.
Boost pre-order and early bird sales with special promotions
Incentivize and reward your early fans, backers, and customers with exclusives. These could be physical items, digital items, or in-game perks. These sorts of promotions are usually marketed as a kind of "founders pack" or "collector's edition" release.
Looking for inspiration? Check out these collector editions from IndieBox.
Measure your marketing and sales performance
We've covered a lot of tactics here, but to know if they're working, we need to measure them. If nothing else, get Google Analytics running on your website. With Google Analytics, you'll be able to see what's happening on your site; what pages people are looking at; where they're coming from; where they're going; and what they're doing.
For example: If you have a sudden spike of visitors to your website, you can use Google Analytics to see where the traffic is coming from.
When you combine this information with the data you pull from other sources, e.g. Facebook ad campaign performance or sales reports from the App Store, you'll have a much better idea of how you're doing as a business.
Closing thoughts
Selling your video games online involves more than just putting your game up for sale. You need to start building the hype while the game is still in development, so that when it's released, you have a mass of customers ready to buy. But that's easier said than done.
There's a lot to do as you set out to sell video games online:
Centralize everything on a website, e.g. using GoCentral.
Publish screenshots to show off your game.
Publish trailers to get players hyped up.
Share developer updates through a vlog on YouTube.
Be present in online communities.
Write press releases for mainstream coverage.
Create and publish a press kit on your website.
Set up a mailing list for fans to subscribe via email.
Attend festivals and events to demo your game.
Get backers or sell pre-orders to build hype and fund development.
Run advertising campaigns before and after you release your game.
Collaborate, cross-promote, and partner with others.
Boost pre-order and early bird sales with exclusive offers.
Measure your website's performance with Google Analytics.
Combine with your sales data to understand your business performance.
Now it's your turn to build the hype and sell your video games online. Step one: Start by creating your website with GoCentral. Sign up for a free trial.
Image by: Glenn Carstens-Peters on Unsplash