How to use Facebook Messenger for your business
What would tapping into an ecosystem of 1.3 billion users do for your business? A lot of business owners are unaware of an untapped feature of Facebook. Let's talk about Facebook Messenger for business.
What once began as a messaging tool for family and friends, has now become a powerful way for businesses to communicate with their customers.
It could be the hidden gem you've been looking for to transform how you engage with your customers and run marketing campaigns.
Below you'll learn how Facebook Messenger for business can be a powerful tool, how you can get started, and some examples of how it can be used to enhance support, transform your advertising, and much more.
Why your business needs Facebook Messenger
Facebook Messenger used to primarily be a way to message your family and friends. However, times have changed. The messaging tool has grown to become a crucial part of a lot of brand marketing strategies.
More than 20 billion messages are exchanged between people and businesses every month.
The growth of messaging apps has outpaced even the fastest growing social networks in recent years.
If you're already active on social media, this is another app that can help you grow your business.
Combine the overall reach of messaging apps like Facebook Messenger, plus the lack of other business competition, and the one-on-one communication abilities, and you have the perfect storm.
Messaging apps also have a much higher user retention rate, than other mobile apps. So, your users are much less likely to leave the platform, compared to other apps you're using to communicate.
Using Facebook Messenger for business gives your brand a chance to meet your customers where they're at.
Maybe you're already using Facebook's native advertising platform to expand your reach, but you're looking for a better way to deepen your customer relationships.
Facebook Messenger for business gives you an entirely new way to engage with your customers. In fact, most consumers prefer live chat to other forms of communication, the live chat abilities of Messenger can give you 15 times more engagement than other channels, like email.
Related: A beginner's guide to social media for small business
How to get started with Facebook Messenger for business
Now that you understand the importance of using Facebook Messenger for your business it's time to set up Facebook Messenger and get busy creating your messaging campaigns.
Let's go.
Plan your Messenger strategy
Before you start creating your Messenger strategy, you'll want to map out your campaigns and the reasons your brand will be using Facebook Messenger in the first place.
Here's how you can get started.
1. Define your audience
Ask yourself, who are you talking to?
Spend some time defining your target audience. Is it the same market you're currently speaking to on your website? Or, is it just a small portion of your audience you want to address with Messenger?
Your audience will dictate how you communicate, the language you use, and any automations you put in place.
Related: Why a target audience matters (and how to find yours)
2. Plan your objectives
What kind of problems are you solving? The way you use Facebook Messenger will change depending on what goals you're trying to reach.
For example, are you trying to improve overall brand awareness? Increase levels of customer satisfaction? Improve your sales via in-depth product recommendations?
It's also important to consider why they'll be reaching out to you in the first place. Are you encouraging your customers to send support messages? Do you have an automated bot that delivers gift recommendations? Do you deliver shipping updates via Messenger? Or, something else entirely?
3. Enable the message option for your page
Finally, with your foundation set, you'll need to enable Messenger use on your page.
First, navigate to your business Facebook page and open your General Settings.
Then click on Messages, and then click the blue Edit link. Then, check the box that says Allow people to contact my Page privately.
Finally, save your changes and you're all set.

There are some additional message settings you might want to enable while you're here.
The first is turning on instant replies. Even if you're not doing any complex automation, turning on this setting can make it so you don't leave your customers hanging.
To change this go to the Messaging section, and look for Starting a Messenger Conversion. Under this option, you'll be able to turn on and manage your instant replies section.
Here you can create your instant reply up to 250 characters. This will send out automatically whenever a customer sends you a message.
You can create a series of automated responses by navigating to the Automated Responses section.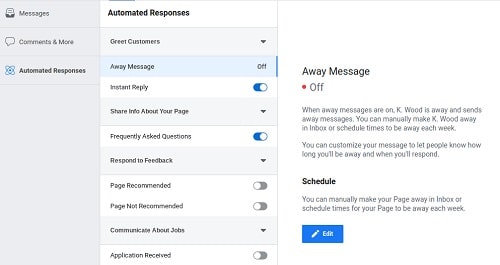 In this section, you can turn on and set a number of different automated responses that pertain to specific messaging situations.
Choose your preferred messaging option
With Facebook Messenger for business, there are a few different messaging options you can use to stay in touch with your customers. The approach you take will depend on the goals you defined in the section above.
Here are the big three messaging approaches you'll be using with Facebook Messenger:
1. Manual messaging
The easiest approach to live chat is sending out manual messages. Whenever you receive a message, you'll just fire up Messenger and respond as if you were writing to a friend.
This approach works well because you can create a personalized bond with each customer.
It is more time-intensive but can be a great way to get started integrating Facebook Messenger into your business.
You can even add automated elements into your manual messaging campaigns. For instance, you can set automatic away messages when you're not logged in, instant greetings, and more.
2. Automated messaging
Automated messaging is a completely hands-off experience. Instead of directly engaging with your customers you'll create a series of questions and answer scripts.
You can either create these yourself with the Facebook Lead Generation in Messenger tool or work with a developer who specializes in building chat templates.
Keep in mind that automated messaging sequences are often created with a goal in mind. Maybe you want to drive traffic whenever you publish a new blog post? Or, encourage your fans to sign up for a new webinar you're promoting?
Automated messages start with the end objective in mind and build out from there.
3. Using a third party chatbot service
If you want a completely hands-off chatbot messaging experience, then you'll want to work with a third-party developer or service.
They will handle nearly every aspect of your chatbot messaging experience. They'll work with you to design a chatbot that accomplishes your business goals.
You can even have a hand-off point where your bot will eventually direct the request to a live representative.
Ideas for using Facebook Messenger for your business
There's no one and done approach for integrating Facebook Messenger into your business.
It all depends on the type of business you run and where using a messenger app can enhance your marketing activities and customer relationships.
For example, will Facebook Messenger be your preferred method of support? Will you use it in conjunction with your advertising activities?
Below you'll learn about the four most common ways businesses are using Facebook Messenger.
1. Use chatbots to deliver content to users
Chatbots are one of the most innovative and exciting ways to use Facebook Messenger for business. They're powerful automation tools that can be used across nearly every aspect of your business, from automating product recommendations, to customer support and even content delivery.
For example, the Food Network uses a Facebook Messenger chatbot to help users find the perfect recipe. Just answer a few questions about the ingredients you currently have on hand and you'll automatically get recommended recipes from the Food Network website.
LEGO was another company that was able to employ an automated chatbot to enhance sales during the holiday season.
They created click-to-message ads (highlighted below), which encouraged users to message their chatbot named Ralph. He would then guide users through finding the perfect new toy through a series of automated questions.
This targeted advertising and chatbot campaign brought in some impressive results by improving the return on ad spend and increasing the total order value when purchases were made through messenger.
2. Click-to-Messenger ads
Another innovative Facebook Messenger feature is the click-to-messenger ad functionality.
These ads are highly targeted, with the end goal of having new visitors start a dialogue in Facebook Messenger. With this form of advertising, it's very easy to measure the effectiveness of your campaigns.
Let's look at an example:
5 Napkin Burger (a New York-based burger chain) wanted to boost foot traffic and sales in their New York locations. So, they ran ads that clicked to Messenger and asked them to join their email list.
In just under two months they were able to send out 2,500 new Messenger messages. This led to 477 in-store visits to redeem the email coupon code, along with a 10x return on ad spend.
3. Provide customer support
Often, social media will be a place where your customers will vent about your company. But, you can transform these sour moments into a positive customer experience moment, helping you build a deeper bond with your customers.
For example, a lot of times your customers will post to your business Facebook page about any concerns or issues they're experiencing.
Instead of responding to the request in public, you can use this opportunity to send a private message instead. With this feature, you can respond privately to a public post.
Outside of the public/private messaging feature, you can manage all of your customer support requests with Facebook Messenger.
Instead of making users create an email ticket via the support form on your site you can have them send you a Facebook message.
This can help to improve your support response time and increase customer satisfaction across the board.
For example, the airline WestJet created a customer support bot to enhance its existing customer support team. In its first 6 months of implementation, it led to a 24% increase in customer satisfaction and grew the total number of support messages received by 5x.
Even if you don't invest in the creation of a support chatbot, you can still offer improved support via Facebook Messenger. Just make sure that you respond to requests as fast as possible.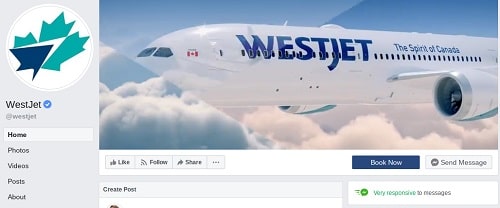 Depending on how active your support team is, you'll get a badge that shows the expected response time on behalf of your customers.
Related: 4 ways to wow with social media customer service
4. Reconnect with customers one-on-one
Using Facebook Messenger for business allows you to deeply engage with your prospects. Since Facebook Messenger began as a peer to peer messaging platform it still carries that aesthetic. It's a great way to engage personally with your customers. Even when you're a large corporation.
You can use this as an advantage for your business.
For example, the massive retailer QVC was able to use Messenger to send sponsored messages to people who they've chatted to recently. This type of re-engagement was able to revive dead conversions and turn these people into new customers.
QVC had already been using Messenger for support requests and ongoing promotions. So, they created a new series of ads targeted towards people who had already been engaged on Messenger.
The results of this campaign were pretty impressive and they were able to achieve a 5.3x higher return on ad spend, compared to other advertising channels.
Summing it up
Facebook Messenger reaches over a billion people. It'd be a smart decision to see how your business can take advantage of this promising tool.
You can use it to run creative marketing campaigns, automate portions of your sales and support sequences, and build a deeper bond with your customers.
Enhanced communication brings greater brand loyalty and Facebook Messenger can help you do just that.
With Facebook Messenger for business, it's important that you start small and slowly integrate it into your existing business. Experiment with migrating support, promoting content, or even creating simple automations, to see how your customers and followers react to this new messaging style.
This article includes content originally published on the GoDaddy blog by Derric Haynie.