GoDaddy guide to internet security.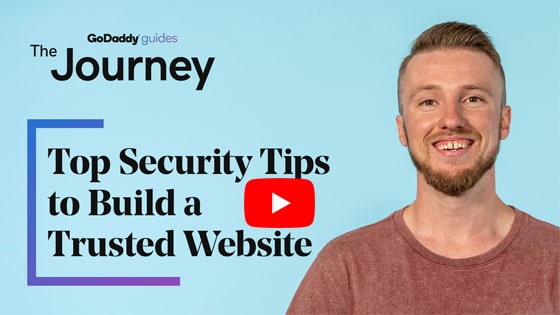 The internet has made life easier for businesses of all shapes and sizes. But, all the rewards businesses reap online also come with internet security risks. Not to worry though, we have some nifty online security resources for you.
The resources on this page will help you dodge internet security threats like malware, spyware, viruses and phishing attacks using online security tools like SSL certificates, malware scanners and strong passwords.
Internet security resources
We'll kick it off with a little online security 101, then we'll run through combating cyberattacks and using security tools for your website and email.
Even the smallest businesses can take steps to stay safe online.
When it comes to internet security for beginners, we'll help you learn everything from coming up with strong passwords to getting an SSL certificate, scanning for malware, and backing up your website.
Heard about two-step verification? That's just one more tool we'll explain how you can use to protect your online presence.
Take a deep dive into the cybersecurity threats that target even the smallest businesses online — and get the chops to identify and avoid them.
Learn why website monitoring and SSL certs are must-have tools in the digital age.
Seeking know-how about WordPress security? We'll help you stay on top of WordPress security issues with tips from leading experts.
If you're looking to up your email security game, you'll find tips for spotting fake emails and avoiding phishing scams. Plus, get the skinny on email encryption for an extra layer of protection.
For more tech-savvy folks, we've got how-to guides for enabling HTTPS on servers and modifying .htaccess files. Fun!
Here, you'll find all the internet security resources you need for some peace of mind and a more secure online presence. Safety first!