Offer a hook-up: The give and take of networking basics
Ten years ago, I knew a few people who I considered to be ninja-level networkers. They were well-spoken, incredibly accomplished women. They seemed to know everyone in town, and they were constantly offering to connect me to the interesting and impressive people they knew. And I let them so I could learn the networking basics.
Now I strive to be a connector myself. Because of them, I've come to believe that networking is only rewarding when it's a two-way street.
Successful networking is a two-way street.
Naturally, networking is an activity that's rooted in self-interest — you want to meet people who might hire you, bolster your career, or move you closer to your professional goals. Remove the self interest and you're just making friends (also a valuable and important activity, but not one that's guaranteed to benefit your working life).
Yet networking efforts that are solely driven by a desire to get something can feel harsh, selfish and grating.
If a mutual friend introduces you to a potential connection, and you do nothing but ask advice and demand favors, that connection won't last. No one wants to feel used.
But balance that desire with a willingness to give something, and your overtures will be more effective and well-received. In fact, one of the best ways to secure an introduction or cement a connection is to offer one up yourself. But how can you do that gracefully and efficiently?
Here are three networking basics that will help you along the way.
1. Offer to help.
Simple, yes. Powerful, undoubtedly. Make sure that any networking exchange wraps up with you asking, "How can I be helpful to you?" That way, everyone who meets you will know that you're willing to give as well as get. I ask this question of virtually all my colleagues any time we meet, and sometimes it catches them off guard.
Go into networking events armed with helpful ideas.
It's helpful to have an idea or two in mind beforehand — your colleague might be able to come up with something on the fly, but offering a solution makes everything easier. If someone has talked about being overwhelmed by scheduling demands, offer to connect them with your own virtual assistant. Hook them up with your social media firm if they've got an event in the works.
There are plenty of ways to help, but remember — suggestions are great, but always be open. Offer generously, listen, and be willing to help those who've offered their time and energy to help you.
2. Don't be afraid to snoop a little.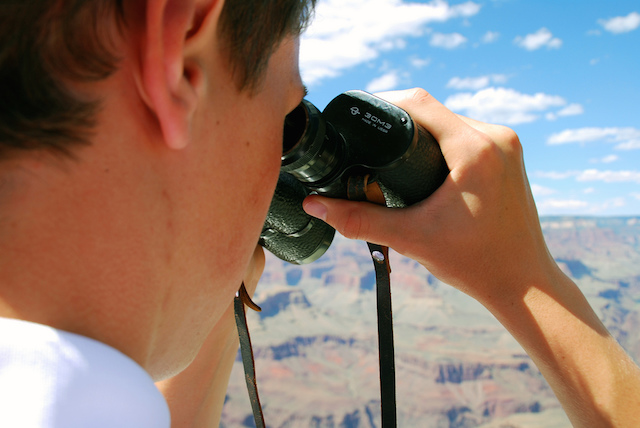 Doing a little social media stalking can be incredibly beneficial when working a new connection. Networking basics consist of discovering someone's business interests and achievements, then brainstorming ways you can connect with them.
Let's say you're scheduled to meet with a COO whose input might help you improve operations at your small business. You take a peek at his LinkedIn profile to get a feel for him and notice that he's recently posted an article about the need for competent web designers. You're a competent web designer! When you meet him in person, you touch on the finer points of the article, wowing him with your insight and attention to detail.
Some people might be surprised at first to see you've done your homework, but taking that kind of initiative shows that you're eager to help.
Since you might not always come to the networking table with a clear-cut idea of what's needed, browsing social avenues can give you the advantage. Plus, it's a surefire way to show that you're interested in a symbiotic relationship.
3. Be attentive and actively listen.
No, really. LISTEN! Seems like a fairly simple concept (these are networking basics after all), but it's incredibly important.
Whenever you network, make sure you're alert and attentive to anything that's mentioned in passing as a need or pain point.
And make sure your mental address book is accessible so you can offer up helpful connections. When you truly engage with someone, it becomes easier to identify how you can be mutually helpful. That's the difference between simply hearing and actively listening. So don't just smile and nod. Ask questions, be interested, and absorb the answers you're given.
Mastering networking basics to reach ninja-level
I'm not saying that you shouldn't engage in networking conversations without a specific, personal goal. You wouldn't bother setting up meetings, coffee dates or phone calls if you didn't require the input or support of others. And that's fine.
But also be willing to help.
Make connections that foster pay-it-forward mindsets. Show your colleagues that giving is as good as getting. With all of these networking basics at your disposal, you'll have more opportunities to make meaningful connections. Ninja level achieved.
Image by: Richard Masoner / Cyclelicious via VisualHunt / CC BY-SA