Quick roundup of CRM software for freelancers
Hi folks, today I'm gonna be that guy. Let's pause your five-minute pomodoro Reddit-browsing break to talk about affordable CRM software for freelancers.
What are CRMs?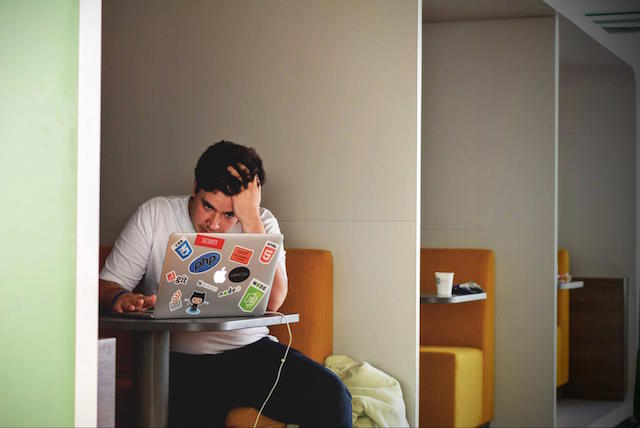 Customer relationship management (CRM) platforms are those fun little tools that so many people incorrectly use. Not that I blame them. It's tough to differentiate good CRM software from bad.
"Our CRM will change your business! It'll create INSANE growth! Sales will fall from the heavens after this quick integration with our anointed CRM!"
Sound familiar?
In all seriousness, CRMs as a category have really done an amazing job of positioning themselves as a sign of success. Only an established, well-running company would need a CRM. Props to you if you're at the point where you need one.
A brief history on CRMs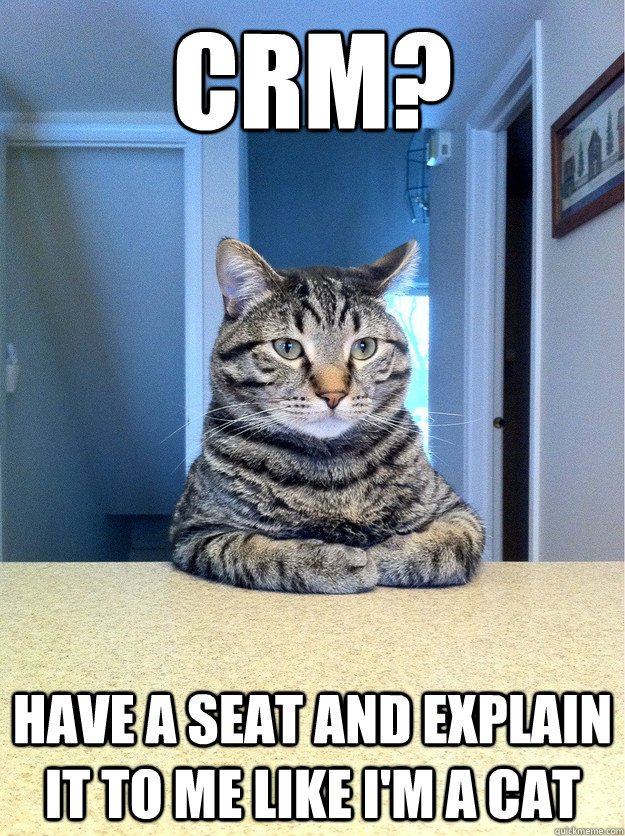 In their infancy, CRMs began as platforms to manage ongoing customer activity — above and beyond sales. But since CEOs usually only buy things that make new money, CRMs have gradually moved to solely serve sales functions.
For example, HubSpot recently released a CRM that focuses more on sales than the ongoing "customer relationship management," as the acronym represents.
Freelancer, do you even need a CRM?
Pro tip: Like all tools, CRMs should only be used when the volume of the task is too large to keep up with manually. That is, you've reached critical mass with too many people, contacts or deal flows.
I'll summarize both free and paid CRMs. But first, a review on whether you, as a freelancer, actually need a CRM.
For some background, I've had quite a bit of varied experience with CRMs:
I've implemented Salesforce for small- to medium-sized businesses.
I've run a traditional small business which had both outside and inside sales teams.
I've designed a personalized CRM tool with Google Forms and Sheets.
Now, a few questions to help you decide whether a CRM is necessary for you.
1. What are you trying to do – create new sales and leads, or expand current relationships?
Ideally, your business is moving along nicely so that both of these categories are needed. However, if you had to pick, figure out where most of your revenue is going to come from this year. Current customers expanding? Renewing projects or retainers? Or, are new clients core to your business? In that case, getting a sales process codified into a CRM is key.
2. Who is going to run this project?
An employee? Or just yourself? How many people will be using the software you might choose? If it's just you, software can help, but it can also slow you down. How are you doing it today? Excel spreadsheet or a notepad?
Ideally, this is a project that you, the boss/CEO, are going to run. That way, you can try it out for a bit before rolling it out to the troops.
In my Salesforce days, the implementations where the CEO was directly involved in moving them forward were the most successful, compared to the implementations that were assigned to a subordinate.
The Golden Rule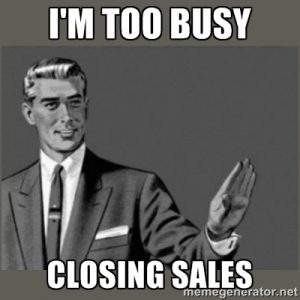 The main goal of a CRM is to put an expected, predictable return on your sales activities (or growth with current customers).
If you can easily pull the expected return of your sales activities from your head, you're a demigod. CRM tools are designed to help you clarify future revenue in a predictable fashion. Everything else is tangential — my word of the week.
CRMs come in all flavours — small, big, free, automated, integrated, etc. Let's go over a few categories, plus pros and cons of each.
Big CRM software options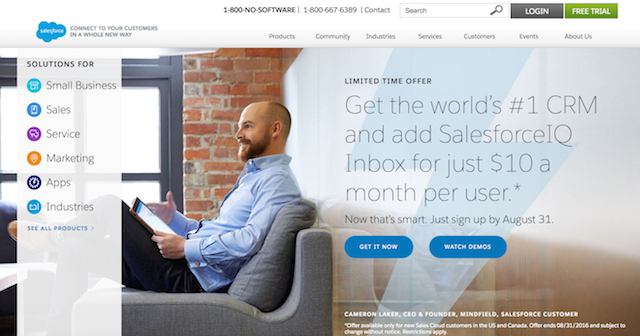 Salesforce
The category leader is definitely Salesforce. It's a big piece of software. This one is not for the faint of heart.
To get the most out of Salesforce, dedicating significant resources to setting up, training and integrating with current systems will drive the most value.
Pros: Customizable to the max
Cons: Some assembly required
Recommended for: Companies who can afford a partner integrator to set it up properly
SalesforceIQ (formerly RelateIQ)
I would normally put SalesforceIQ in the small category, but since RelateIQ was sold to Salesforce and rebranded to SalesforceIQ, I think it belongs under the big category. SalesforceIQ automatically integrates with your email and calendar.
The BIGGEST advantage of SalesforceIQ is that it's the only CRM I'll mention today that focuses on what to do next.
The software is constantly trying to suggest the next activities for you or your team to do. It'll send reminders from a 15-day old contact, or reminders about upcoming events or tasks. But, it's way less customizable compared to its big brother.
Pros: Tells you what to do next; very unique and helpful
Cons: Scalability concerns; focused on smaller companies
Recommended for: Small teams with LOTS of prospects where automation helps
There are many other big players, but I've personally used and implemented the above several times, so I'll go with what I know in this case.
Medium CRM software options
This category is where the majority of CRMs exist. Inside the medium-sized CRM category is a wide gamut of products focused on a slight twist of the classic.
HubSpot CRM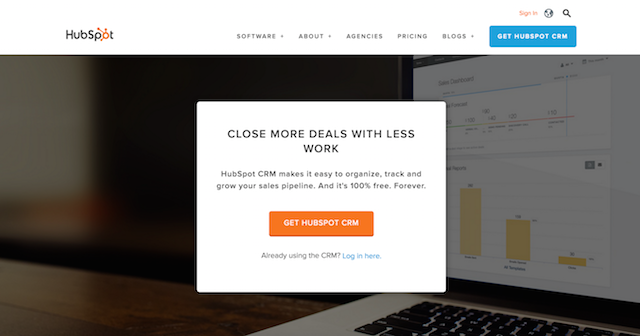 HubSpot launched its CRM as a basic lead gen tool. This tool will be free forever if the marketing copy is to be believed. But make no mistake: they are not losing money on this free software. All the really amazing features, like in-app calling and logging, are just out of reach within the free product.
That being said, HubSpot's CRM is a well-built product with simple methodologies. They took a page out of SalesforceIQ's playbook by automatically pulling in tons of data about prospective companies (like headquarters, revenue and company size).
Pros: Free
Cons: Some of the best features are paid
Recommended for: Teams with more than 1-2 salespeople; people with a solid, written-down sales process
Small, niche CRM players
This is my favourite category of CRMs. These lightweight and specialized platforms are interesting because they are focused on doing one thing really well.
Streak CRM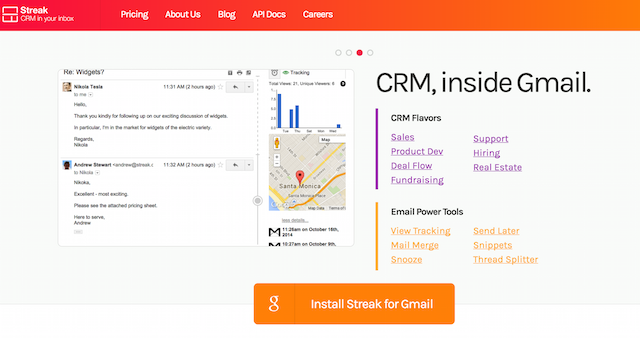 The Streak CRM was one of the first to build a business inside Gmail. Streak is really simple to set up and use. The free tier has functionalities you would expect to pay for. Streak is easily customizable, as it has pre-set pipelines for sales, fundraising, or tracking support feedback. It's worth a spin.
Pros: Built inside Gmail; flexible
Cons: Restrictive for scaling teams
Recommended for: First time to CRM; smaller teams
Google Docs
Why not just build a great big ol' spreadsheet? Not a bad idea actually. Especially if you dedicate the effort. One trick is to build a Google Form for your data entry. That way, the spreadsheet gets populated with all the right data.
This approach is massively customizable. However, you also need to know which columns to populate and which questions to be asking. Not for the inexperienced. But, there are many posts on sales processes out there. You could do your research and try a custom process until you get the hang of it.
Pros: It's yours
Cons: Takes work
Recommended for: Super custom requirements, but no budget
Summary on CRM software for freelancers
There are an immense array of CRM tools available for freelancers. However, a couple of final tips to leave you with:
The CRM software you pick today might not be the CRM you end up with one to three years from now.
Any CRM is better than your head or a mishmash of emails.
The main objective of CRMs is to express the expected value of your sales pipeline, and by doing so, help you forecast.
Have another CRM software recommendation for freelancers? Let me know in the comments!
Image by: luckylynda74 via Compfight cc