Search Engine Optimization in 2015: The GoDaddy Pro eBook
One thing to know before downloading this eBook — this is not an SEO optimization guide for the casual dilettante. Instead, this is an in-depth read for professional designers, developers and consultants who want to deeply understand the current state of the art with respect to Search Engine Optimization. What's inside?
60 pages of information
A deep dive on the SEO value chain, with an explanation of how Relevancy, Authority, Tactics, Engagement and Reputation affect where your site's pages appear in search results
A map of how the SEO value chain maps to a typical buyer's journey of Awareness, Interest, Desire, Action and Advocacy
A 100+ item SEO Checklist that will guide you through a deep analysis of the SEO dos and don'ts for your site
An SEO Scorecard you can use to benchmark your site against your competitors, enabling you to laser-focus on the areas of improvement or opportunity for your business
More than a dozen references to additional resources that can help you up your game
Download the Search Engine Optimization eBook
Want to check it out? Download it here.
A deeper look at what's inside
This guide provides a comprehensive Search Engine Optimization checklist that will help you to optimize your WordPress or other site utilizing industry best practices, GoDaddy services and recommended third-party tools. The checklist consists of multiple sections to provide a flexible, customizable experience and can be read as needed. Each section is a compilation of information from more than 50 of the top SEO resources available today, with additional insights from experts in the fields of SEO, WordPress, content marketing and conversion rate optimization.
This guide will be most relevant for consumption by those with a website utilizing several GoDaddy services, including WordPress hosting. It provides a robust set of tips in the areas of initial site setup, site migration, on-site factors, off-site factors, and even tactics to avoid.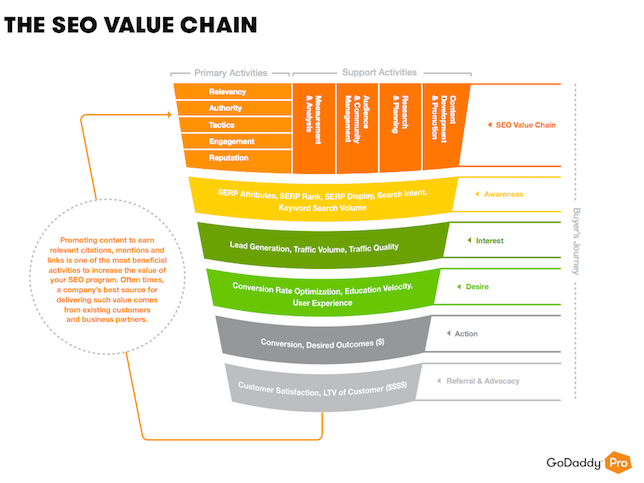 There is a tremendous amount of noise around search engine optimization and how it has become "impossible" to utilize the search channel as a viable means for scaling your business. We're here to tell you — it's not impossible. But the SEO game has changed over time with the tidal wave of algorithm updates. Those quick SEO tricks of yesteryear will no longer provide a large amount of visits to your site. The rules of the SEO game have changed and will continue to evolve.
It's no secret that it was easy to game the algorithm a few years back and attain rankings that were likely not the most relevant answer to a person's search query. You could garner a ton of visits with a handful of blog comment links and some keyword stuffing — but in reality these visits likely did not deliver the desired outcomes you were tasked to provide to your organization.
Are you ready to go Pro?
The SEO pros who will stay on top of the game's ever-changing rules, and adapt to them faster and more effectively than their competition, will win the game. They're the professional experts, the winners every company needs to scale its business. They understand how to obtain organic search engine visits in very competitive markets. Expert SEOs are winners at the game of search, and winners have a plan, check all the boxes and know the score.
This free guide will help you get there.