This article was originally published on Oct. 25, 2019, and updated on May 12, 2022.
The internet is an enormous place filled with millions and millions of websites. Competing in such a massive world can be daunting for small business owners trying to promote their local shops. But don't fret. There is a way for your business to stand out and connect with nearby customers. It's through local SEO.
Local SEO helps brick-and-mortar and service-based businesses get found through search, even when competing with large brands and national businesses that have a massive online presence.
Related: How your small retail shop can compete with a big box store
Everything you need to know about local SEO
The rest of this guide will explain what local SEO is and how you can use it to drive more traffic to your website and business. It covers:
Editor's note: Need some help? Let the experts at GoDaddy SEO Services guide your SEO strategy and optimize your site so it gets the attention it deserves. Contact GoDaddy today to see how you can work less and rank higher.
What is local SEO?
Before you can understand local SEO, you first need to understand what SEO is.
SEO stands for search engine optimization.
SEO refers to the tactics and strategies that marketers use to help their brand show up organically when a user searches for a keyword related to the brand's business, products, or services.
For example, Fantastic Sams Cut and Color would want its business to show up when a user searches for "hair salon." And, Dyser Plumbing Company would want its business to show up on the first page of search engine results pages (SERPs) when someone searches for "plumber."
Businesses want to show up when someone searches for a topic related to their brand, products or services. SEO helps them do that.
Related: Beginner's guide to search engine optimization for small business websites
What's the difference between SEO and local SEO?
Brands that offer services to anyone anywhere — like a car insurance company or an online software provider — want people across the country (or even the world) to find their business through search.
But local brick-and-mortar and service-based business owners don't need people around the world to find their business. They only need nearby searchers to find their business. Local SEO helps them do that.
Local SEO refers to the tactics and strategies that marketers use to help their brand organically show up when a nearby user searches for a keyword related to the brand's business, products or services.
It optimizes a brand's online presence so that local customers can find the brand via search.
Fantastic Sams Cut and Color in Tampa, Florida, doesn't care if someone in San Francisco, California, finds the brand while searching for "hair salons." That searcher isn't going to become a customer. So Fantastic Sams Cut and Color uses local SEO to help people near the business — the people most likely to become customers — find them via search.
How does local SEO work?
Local SEO follows many of the same rules as SEO. Of the three primary categories that drive local SEO, two are also related to general SEO.
Relevance: Search engines want to show results that best match what the user is looking for. Relevance helps them match results with search phrases and intent.
Prominence: Search engines want to show results from leading brands and publications. Prominence helps them determine which sites are the most well-known and trustworthy. Sites with higher online authority receive higher search rankings.Both relevance and prominence are related to general SEO.Search engines want to present results from top websites that are closely related to search phrases. But in local SEO, search engines consider another factor.
Proximity: Search engines want to show results that the searcher can use so they prioritize results that are near the searcher when the search is related to a local need. Proximity refers to the distance between the searcher and the location of the business displayed in search results.
Later in this post, we'll look at the steps you can take to optimize your web presence to appeal to the three factors of local SEO: relevance, prominence and proximity.
What do local search results look like?
Now that you know how local SEO works, let's look at what local SEO looks like when you see it in search.
General search results and local search results can sometimes look the same in search.
For example, when you search for "hair salon," you will see results for local businesses and general results mixed together in organic and paid search results.
General organic search results
Organic search results display websites that search engines have deemed to be the most useful for searchers. The top placements are earned by websites that have strong SEO. In organic search, you might find results that are tailored to your location as well as general results.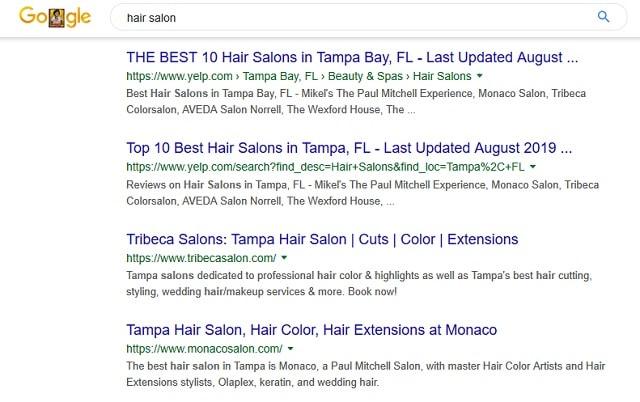 General sponsored search results
In general search, you will also find sponsored search results. These results appear because the brand paid for the placement. The position wasn't earned; it was placed through pay-per-click (or PPC) marketing.
You can tell the difference between an organic result and a sponsored result by the "Ad" designation on the search result. Like organic results, these results might be closely related to local search or relevant for a wider audience.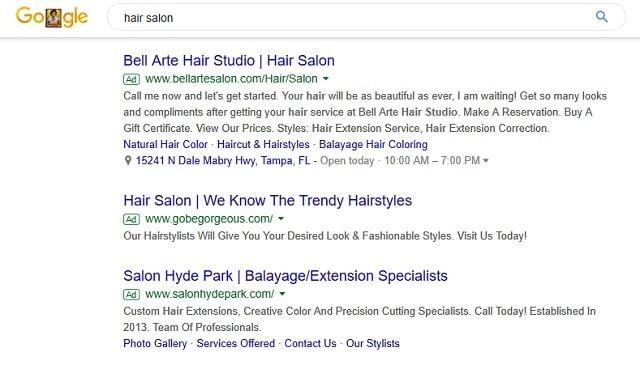 While organic and sponsored search results appear for both general and local searches, there are some results that are specific to local SEO. These are known as:
Google Map Pack results
Google Guaranteed Listings results
Note: Google Map Pack is powered by Google Business Profiles and was formerly known as Google My Business.
Google Map Pack results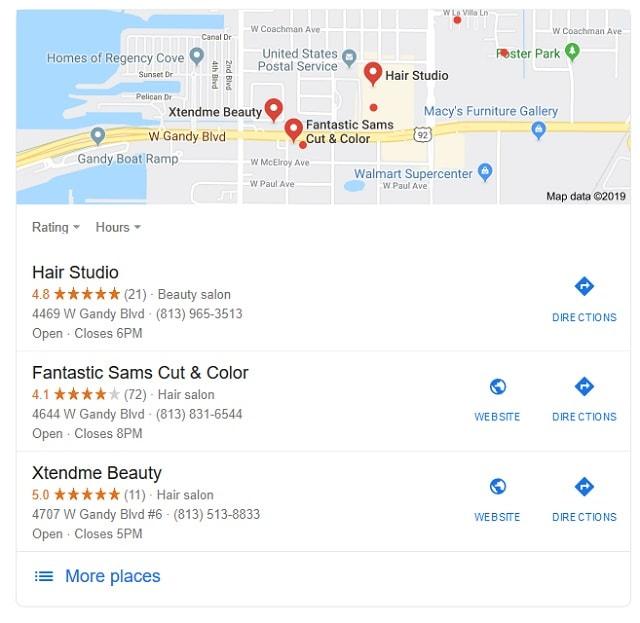 Google Map Pack results (also referred to as Snack Pack, Google 3-Pack or Local Pack) are rich results that appear differently from general results. They might appear as listings and maps that show businesses relevant to the search phrase and located near the searcher.
For a business to appear in Google Map Pack search results, it must have a Google Business Profile set up. Google pulls information from those profiles to create listings as well as rich search results for individual businesses.
Related: Standout tools — Website Builder Google My Business listing feature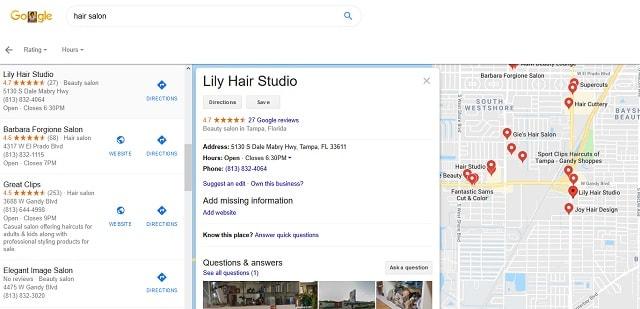 The results in the listings can be organic and earned by following local SEO best practices, or they can be sponsored and paid for through PPC campaigns. The same "Ad" notation differentiates organic listings from paid listings.
Based on a study by Casey Meraz for the Moz blog, Meraz and his team conducted live interviews with searchers and found plenty of opportunities within reviews. They noted that "reviews are magical" when it came to earning clicks and have potential to earn you more leads compared to other competitors that have no reviews. Even if you don't show up in the top three results, there's still a chance that searchers will enter your site if you have good reviews.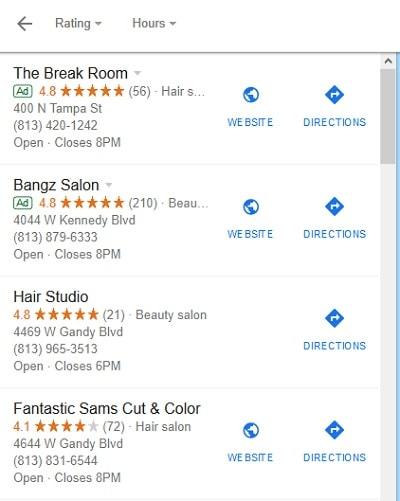 Google Local Service ads
Other search results that are unique to local SEO are Google Local Service ads. Google Local Service ads feature service-based businesses by positioning them at the top of search results pages.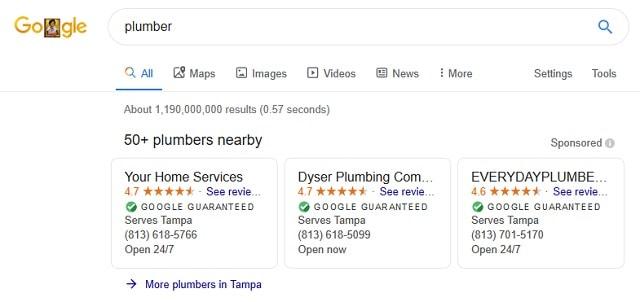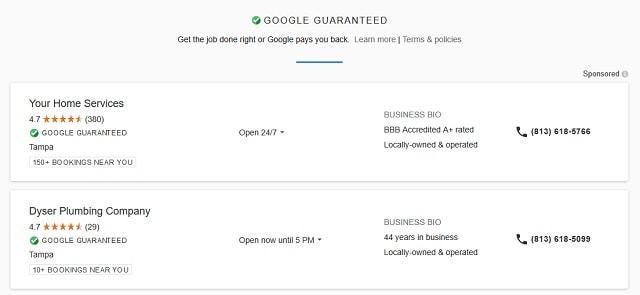 The results might also be featured on a Google Local Services page when a user searches for a service-based business.
Businesses that appear on this list have signed up through Google Local Service ads, met certain criteria and paid for placement. Some businesses have taken it one step further and become a Google Guaranteed business.
Google Guaranteed businesses have a special destination that shows that they have passed a Google screening and qualification process and are backed by a guarantee.
If a customer uses a business backed by The Google Guarantee, and is unsatisfied with the work, Google might refund the amount paid for the service.
Service-based businesses might want to join Google Local Service if they are looking to stand out in search.
The benefits of local SEO
Having your local business appear in any type of search results is beneficial. Of course, the more people who find your business, the better. But local search is helpful in other unique and specific ways.
Local search is widely used
A lot of customers use local search. Forty-six percent of all searches on Google were for local information (GO-Gulf), and between 2015-2017, there was a 500% increase in the number of mobile searches that include the phrase "near me" and a variant of "can I buy" or "to buy" (Google).
Local search is specific
Local searchers are often near the end of the purchase funnel. They often know what they want and just need to find a place that sells or provides it. Eighty-eight percent of searches for local businesses on a mobile device result in either a call or a visit to the business within 24 hours (Nectafy via Hubspot).
Local searchers are eager to visit a business
When someone searches for a local business, they are usually only a few steps away from visiting the business. As of 2014, half of the consumers who conducted a local search on their smartphone visited a store within a day (Google).
Local searchers are eager to buy
People who perform a local search are often ready to buy.
They're looking for a place that offers what they want and are only a few steps away from making a purchase.
Eighteen percent of local mobile searches lead to a sale within one day (Google).
If your business isn't showing up in local search, you could be missing an opportunity to connect with customers at the right time. Local searchers are eager and ready to do business with a local brand. You need to use local SEO to make sure you are the option they find while searching for their options.
Local SEO best practices
Now that you know what local search is and why it's so important for small and local businesses, let's look at how your brand can set up a successful local SEO plan. Here are some top local SEO tips to keep in mind as you build out your strategy.
Closely manage your business's online contact info
Proximity, or the distance between the searcher and the business, is a top local search component. So it should be no surprise that the management of your business's address needs to be a top priority for local SEO.
Your business contact information needs to be consistent and up to date across your entire online presence.
Your business contact information, often referred to as your NAP (name, address and phone number), is what tells search engines where your business is located and how customers can contact you.
Check to make sure your business NAP is consistent across the board and ensure that the information is correct. This allows search engines to confidently provide your address to users.
On the flip side, a lack of NAP consistency is a red flag to search engines. It can eat away at trust and hamper rankings if you're not carefully inspecting your information.
Keep your NAP consistent by always:
Using your official physical address.
Carefully spelling out your business's name and address.
Using the same variation of name, address and phone number all across the web.
Even just a small change in your address (e.g., having one listing that includes your suite number and one that doesn't) can throw off your NAP consistency. So make this a top priority for your local SEO.
Editor's note: GoDaddy's Local Business Listings product enables you to manage multiple local business listings from one dashboard.
Fully understand the local SEO landscape
While there are best practices to boost your local SEO (which we'll discuss later in this post), there is no exact plan to get your brand to the top of SERPs.
How much work it will take to improve your ranking depends on the competition in your space.
So before you start your local SEO plan, take some time to review your sector to see what you are up against. If the competition is high, know that it will take more work to get top placement. If the competition is low, expect to see results quicker.
Research your industry and competitors
First, look at the brands that are already winning in your industry and location. Perform a search to see which brands receive top placement. Also, look at how many other businesses are in your category and in your area.
Look closer at the brands in the top placements. Understand that you will need to outperform them in order to claim the top spots in search.
Make a list of top competitors and research their strategies to see what you will need to do to compete and overtake their rankings.
Pro tip: Search engines personalize your results depending on past actions and preferences. For example, if you have already visited the website for Fantastic Sams Cut and Color and you search for "hair salon," it's likely that Sams will show on the first page of results. So, if you want to get an objective, unaltered view of results, search from a private or incognito browser that doesn't consider preferences or past searches.
Research your keywords
Next, research the keywords that are top terms in your industry or category. We'll dive deeper into this later in this guide. But at this point, understand that some keywords will be more difficult to rank for than others.
While you might go into your local SEO strategy planning to rank on the first page of search for broad keywords like "hair salon" and "hair stylist," you might have to adjust your strategy depending on the competition for those terms. You might find that you need to focus on terms that are less popular but also less competitive (such as "best Tampa hair stylists" and "best hairstyles for the beach").
Always put user experience first
While there are more than 200 ranking factors that help search engines decide which sites to put at the top of organic SERPs, search engines are really looking for one thing — what results will provide the best user experience.
Search engines want users to find the best results. They want to offer the most useful and relevant information in the best packaging. So as you go through the local SEO checklist, always keep this in mind.
Follow local SEO best practices, but always think about how what you're doing will affect users.
Do what will provide the best experience for them. Pleasing users helps to build brand trust and affinity. Plus, keeping users on your page longer helps boost your SEO even more.
Search engines also consider engagement metrics (like time on site and bounce rate) as ranking factors. So always keep the user experience at the forefront of your SEO strategies.
Related: What is website analytics — and how can it help your business grow?
Understand that backlinks are good — and bad
Gaining links back to your brand's website is a top ranking factor for both general and local SEO. But it's important to know that backlinks can be both good and bad.
Not all links are equally valuable.
Backlinks from sites that have high online authority are more likely to boost your SEO than backlinks from lesser-known sites.
Backlinks from spammy sites can actually negatively impact your SEO.
Links from a few quality sites are better than a lot of links from low-quality sites.
So as you develop link-building strategies and build citations for your website, always check on the quality of the linking site before creating the connection.
Consider all search engines
While most of this post is about Google, most SEO advice refers directly to Google and most searches are performed on Google—you can't ignore other search engines.
Remember that searchers might be using other search engines like Bing or DuckDuckGo.
Many of the tips for optimizing for Google will be the same as optimizing for other search engines. But as you go through tips for optimizing for Google, keep in mind that you might need to repeat steps for other search engines — such as creating a local listing on Bing Places for Business and running sample searches on sites like DuckDuckGo.
Local SEO checklist: 11 steps to success
Now, let's look at the specific steps you can take to improve and optimize your brand's online presence to boost your local SEO.
Read on to learn more about each step.
1. Make sure your site is mobile friendly
A mobile-friendly site is a responsive site that automatically repositions its layout so that the content looks good and is easy to read on every screen size. Mobile friendliness is crucial for local SEO for three reasons.
Mobile friendliness is a confirmed general ranking factor.
Search engines give higher rankings to sites that are responsive.
Mobile friendliness is a top-ranking factor for mobile searches. And Google can tell what type of device someone is searching on. If Google needs to decide how to rank two websites with similar relevancy, they will most likely rank the site that is mobile friendly over the one that isn't.
Many local searches are conducted on mobile devices. When people look for a nearby business, they are often on the go and searching from their mobile devices. Eighty-two percent of smartphone searchers conduct "near me" searches and 90% were likely to click on the first set of results.
It's imperative for your business website to be mobile-friendly so that search engines show your business to the customers that matter most.
A poor mobile experience will cripple your local SEO and drive away people who are actively trying to give you money. Get this one right from the get-go; and if you aren't sure if your site is mobile friendly or not, run a test.
Make sure your site works properly on mobile by using Google's Mobile-Friendly Test. Enter your site URL, and the tool will report back with any problems that might exist on the mobile version.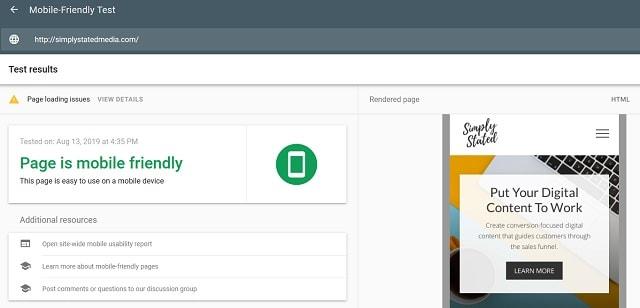 2. Make sure your site is fast
People want a good experience while using a website. They want it to look good on their screen size, and they also want it to load quickly. That is why search engines also use page load speed as a ranking factor.
Search engines give higher rankings to sites that load quickly, and they prioritize this even more for mobile searches (which is where many local searches take place). Quickly loading sites:
Provide an overall better user experience, which search engines want to provide.
Make your site easier to crawl, which helps search engines quickly understand and better rank your content.
Reduce bounce rates and increase conversions, which tell search engines that your site is engaging and useful to users.
To follow local SEO best practices, focus on building a quick-loading website and regularly checking in to make sure your site speed stays high.
Check your site speed
Google helps you quickly identify if your load speed is up to par. Use its PageSpeed Insights tool to measure the load speed of your site.
Enter your site URL, and the tool will provide loading scores for both the mobile and desktop versions of your site. It will also provide tips for what you can do to improve your site speed.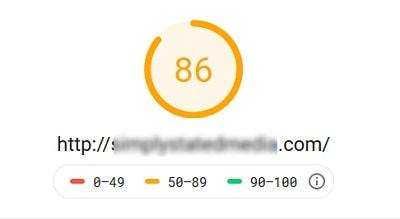 Improve your site speed
To improve your site speed, use the opportunities and diagnostics reports from Google PageSpeed Insights, and follow these other best practices for improving site loading speed:
Enable browser caching.
Use file compression to reduce the size of CSS, HTML and JavaScript files.
Reduce image sizes.
Improve server response times.
Reduce the number of redirects.
Many tactics to improve site speed require technical knowledge, website development tasks, or back-end coding. If you can't implement these yourself, look for a service provider who specializes in site speed to give your site the boost it needs.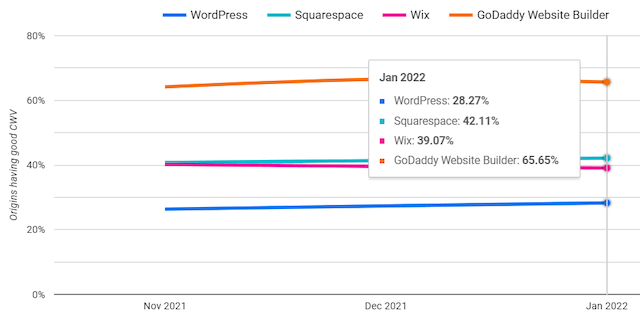 3. Claim your Google Business profile page
Earlier in this post, we talked about how local search results appear as Google Map Pack listings and featured search results. So, it should come as no surprise that setting up your Google Business Profile page is an essential step in a local SEO checklist.
Your Google Business Profile listing is the heart of your local SEO efforts and gives you an authoritative presence across Google search, not just Google Maps.
It also gives you an integrated way of attracting reviews and ratings, which can help you improve your standing in Google's revised local map results and add authority to your paid advertising.
To get started on your Google Business Profile page:
If you haven't already claimed your listing, create a listing for your location.
If you have more than one location, create a listing for each location.
Make sure there aren't duplicate listings for a location. If there are, decide which is the most important and delete the other pages.
Make sure the page is verified.
Use an account email address that matches the domain of your website.
A quick note on page verification: You will need a genuine address for your business. Google prefers to verify a business by mailing a postcard with a verification code. Although, other options may be available for your account.
Pay close attention to the official Google My Business guidelines as you set up your basic profile information. And remember to be particularly careful in establishing your official NAP information here.
This is a core set of information you want to be cited consistently online over time.

If you're a new local business, take the time to study your competitors closely on Google Maps. Below are the map listing results for the search terms 'bakery near Santa Monica.'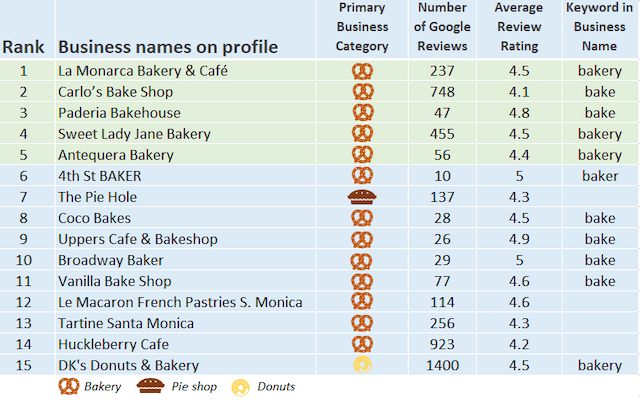 Editor's Note: GoDaddy Websites + Marketing Ecommerce now makes it easier than ever before for local consumers to find your business via Google Web Search and Google Maps, and even improves your website's search engine optimization ranking.
4. Optimize your Google Business profile page
Once you set up your Google Business Profile, you might think your work is over—but it's not. To give your brand the best local SEO, it helps to regularly engage with, optimize and update your Google Business Profile page.
Description: Add a short blurb about what your business does and why you do it.
Categories: Add categories that closely describe your products or services and be as specific as possible. If you're not sure which main category to use, look at local competitors and big brands to see what they're using. Primary categories are listed below any Google reviews. It's important to add additional categories to help Google understand your business offering, even though these won't be visible.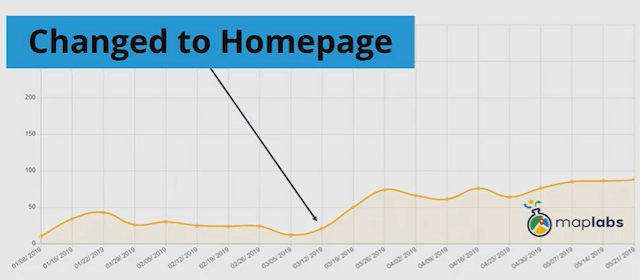 Website link: Link to your main homepage instead of location pages. Even if you operate in multiple locations and have unique Google Business Profile pages, you need to ensure your homepage is the main link. You can add clear messaging on your homepage to communicate that multiple location options are available.
Attributes: Private group dining or soft play areas for restaurants are examples of attributes that are increasing in online visibility for mobile search.
Appointments: Add a button that leads users to the page where they can make an appointment.
Business hours: Make sure your hours are always up to date as this information appears prominently on your profile.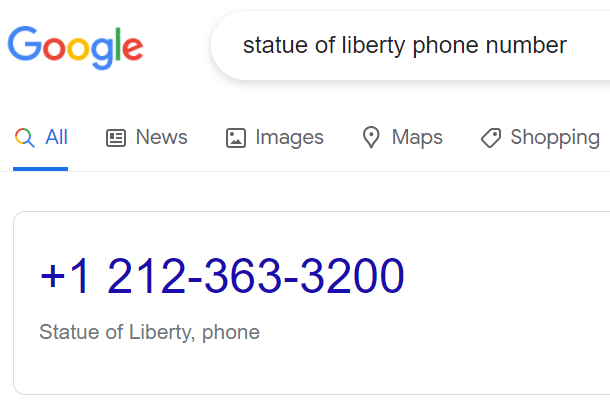 Telephone number: Google and Bing can pull numbers from profiles for a relevant search query. Some businesses add a secondary telephone number to their profile to use exclusively on other websites for their business citation listings. This can avoid unwanted sales calls on the main telephone line.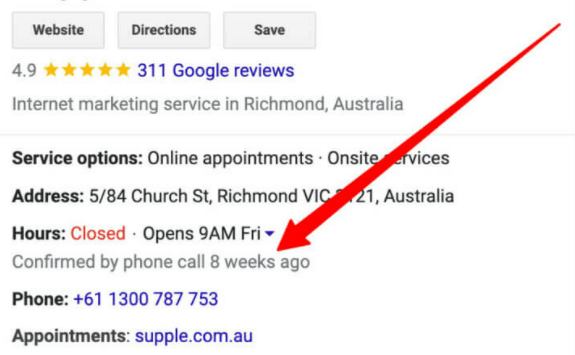 Images: Start by adding cover photos and an album of photos that show the interior and exterior of your business. Then, continue to add fresh photos that show off the personality, products and services of your business.
Request a quote feature: Use with caution – Google might forward your customer's quote request to your competitors.
Videos: Add a video that gives potential customers a closer look at your business and what you do or sell.
FAQs: Keep an eye on this section and answer any questions that come in from customers. If customers don't provide questions, enter your own. Add the frequently asked questions that your team hears most, and provide the answers to help build out your profile.
Google Posts: Utilize Google Posts to share information about your business, promote events and highlight new products and services. Also, use offer posts to set a time-sensitive special offer that can drive in new customers.
Log in frequently: Before new features rollout, Google often cherry-picks certain business types for testing. If you're lucky, you'll be able to take an early bird advantage.
5. Build other business citations
While a Google Business Profile is the most important place to list your business, it's just the beginning when it comes to using business directories and citations.
Google uses prominence and authority as ranking factors. It wants to show the businesses that are the most well known and trustworthy. Business listings and citations send those trust signals to Google, increasing your chances of ranking.
Having more citations makes search engines view your business more favorably, so build profiles on online business directories based on your location or industry.
Here are a few places to start:
Yelp
Foursquare
Angie's List
Yellow Pages
TripAdvisor
MapQuest
Apple Maps
Citysearch
To find directory sites based on your location, use Moz's Citations by City list. It includes the most popular sites in your area so you can be sure to create profiles on the sites where your competitors already are.
Bear in mind that you're after quality when it comes to these local links.
Citations on high-quality sites can boost your rankings, while citations on spammy, low-quality sites can decrease your rankings. Be mindful when reviewing directories and only create profiles on trustworthy, high-quality sites. Avoid sites with unusual names like websitelinksrus.net and look closely at the types of businesses it has listed within them.
6. Create and optimize your social profiles
Another way to show that your business is trustworthy and legitimate is by claiming your social media handles and building social profiles. Social profiles provide links back to your website and present another opportunity to share your brand's NAP, which are both indirectly beneficial to your SEO. Plus, social media is a great way to get in front of your local customers.
If you have one location, create one social media profile on each of the top social sites: Facebook, Twitter and Instagram
Consider what other social media sites might be right for your brand, depending on your industry and audience. This could include:
LinkedIn (If your brand focuses on professional services like an accounting firm or a marketing agency.)
Snapchat (If your brand targets customers 30 and under like a clothing boutique or a nightclub.)
Pinterest (If your brand is visually driven like a hair salon or interior decorating firm.)
For the most part, you can use one social account for your brand as a whole. But if you have multiple locations, you might want to create a separate account for each location.
Facebook and Instagram rely heavily on location.
Facebook has a section to add your full address and allows check-ins at individual locations. Instagram also uses geolocation tools to allow users to tag their specific location. It might be worthwhile to create those accounts for each of your business locations.
As you create your profiles, always include a link to your website and include as much relevant location information as possible.
Related: A beginner's guide to social media for small business
7. Get more backlinks for your site
By creating business directory profiles and building out social profiles, you've already started the next task in your local SEO checklist — building backlinks.
Backlinks are the lifeblood of the internet. They connect pages, show relationships between information and help search engines decide what content is the most valuable and useful.
When you have a lot of high-quality links (links from authoritative websites) pointing to your site, it tells search engines that your site is valuable and should receive high rankings.
So in addition to building citations and social profiles, put a plan in place to build links back to your brand website. To build links for your website:
Approach relevant local bloggers about reviewing your business
Send press releases to local news sites (it's always best to have some actual news to share)
Engage in guest posting
Link share with other local businesses
Produce great content and ask other websites to link to it as a resource
For more tips on how to create valuable backlinks for your website, check out the GoDaddy guide: How to get backlinks to a small business website.
Request, where possible, backlinks pointing to your pages to include your location in the anchor text.

Reach out to online articles that focus on local businesses like yours. This signifies a trustworthy signal to search engines and can also enhance your chances of ranking in Google's 'top places' results.
For more tips on how to create valuable backlinks for your website, check out the GoDaddy guide: How to get backlinks to a small business website.
Related: How to get backlinks to a small business website
8. Feature your online reviews and encourage more
Multiple studies have found that the volume and quality of reviews can directly impact search visibility. In other words, the more positive reviews you have on Google, the more likely your brand will show up in Google search. Local businesses that appear on Google Map Pack with high reviews and average star ratings tend to rank better and get more traffic.
To get more reviews:
Don't be afraid to come out and ask your customers for reviews.
Make it easy for customers to leave reviews by creating a page on your website that directs customers to where they can leave reviews on Google, Yelp and Facebook.
Put up signs in your business that feature review-site logos.
Ask for reviews in your email newsletter.
Feature and ask for reviews through your social media accounts.
Engage with existing reviews to show that your brand cares about reviews.
Pro-tip: Don't have any reviews yet? Try creating a review page on your site for customers to share their excitement. You can display things like customer quotes, photos of handwritten thank you notes, or screenshots of text messages. Using a page URL such as yourwebsite.com/reviews will make you more visible in search query results.
For an extra boost in online visibility, add your review page to the main navigation or footer menu of your site. You can also network with other relevant websites to get a good quality backlink.
Related: Generate reviews —8 ways to get more product reviews
9. Keywords: A quick recap
Before we dive into content optimization that'll enhance local SEO, here's a quick keyword refresher:
Google matches search queries with the most relevant content to give searchers what they want. The search engine wants to provide the content that best matches what the searcher is looking for.
To help Google see your content as the most relevant information, you need to use keyword optimization.
Through keyword optimization, you:
Perform keyword research to identify the top search terms that your target audience is searching for related to your business, products or services.
Use tools like Google's Keyword Planner or Moz's Keyword Explorer to get information about the term's search volume.
Create a page of content and assign one keyword to that page of content.
Use on-page keyword optimization to help search engines see that the page is relevant to the assigned keyword.
When you find a keyword you want to use, optimize ONE page on your site for that keyword. Never assign a keyword to more than one page on your site. This leads to keyword cannibalization, which makes it difficult for search engines to determine which page is more important. Oftentimes, they won't rank either page.
Related: How to do SEO keyword research to drive traffic to your website
How to conduct keyword research
Keyword research is the process of looking up the terms and topics that will be most likely to attract your target audience and drive traffic to your site.
To find potential keywords, start with a list of terms that are relevant to your business. Research the terms using tools like Google's Keyword Planner or Moz's Keyword Explorer to get information about the term's search volume and competition and then:
Look for keywords with low competition. Highly competitive terms might be difficult to rank for if you're just starting out with SEO.
Look for popular terms. You want to target terms that people are actively searching for, so look for terms with a decent amount of search traffic.
Identify terms that might be good for a pay-per-click (PPC) marketing campaign. Through a local Adwords PPC campaign, you can pay for placement on SERPs for terms that are too difficult to rank for organically.
Consider targeting long-tail keywords (phrases with three or more words). As voice search continues to grow, more and more searches include long phrases and questions.
Related: How to do SEO keyword research to drive traffic to your website
10. Content optimization for local SEO
Location-based keywords are terms that reference your region or area. They might include your city, neighbourhood or district.
For local SEO, you also need to use location-based keywords to help nearby customers connect with your content.
Optimize the page for the keyword and your location by using both terms where practical in the:
Headline
Meta title — This is the blue stand-out title in the search engine results.
Meta description — This is the description below a meta title, shown in the search results.
Subheading
Page URL
Naturally in the content
Image alt tag — This is the alternative description you've written when an image cannot load. It's also used by search engines for image searches.
Remember, don't go overboard and flood your pages with keywords and locations. Write compelling content with important lingo naturally spread throughout.
Also, as you create content, consider the search intent of the keyword. Ask yourself why someone would be searching for the keyword. Then, give the user what they would want to find in the content.
Optimize individual pages of content by targeting a general keyword, along with a location-based keyword. Some examples might look like:
"Hair salon Tampa"
"Plumber in San Francisco"
"Carpet cleaner in San Diego"
Also, optimize your site for searches that include a general keyword plus a "near me" phrase. This could like "hair salon near me" or "who's a good plumber near me."
Optimize your website to highlight your address
Add your address to your website. Add your physical address to your contact page. If you have one location, also add your address to your website footer.
Embed a Google map on pages that feature one address.
Create a location page. If you have multiple locations, create a page that lists the address of each of your locations.
Create a page for each location. Take it one step further and create a page for each of your locations. Include the full address as well as an embedded Google map.

Be sure to add links to your location pages from your website's sitewide footer. This can increase organic traffic, but don't overdo it. Visitor behavior varies from site to site, and you don't want to risk any negative impacts from adding too many.
Use Schema markup to add your business address and details to the backend of your website. Schema markup is a type of structured data that provides extra information to search engines so they can better understand and rank the page.
11. Don't forget about general SEO best practices
When it comes to local SEO, general SEO is still very important. You need to implement SEO best practices on your websites to ensure that your business can compete in search. You should:
Create an on-going content strategy that allows you to create fresh content that engages readers and attracts search engine bots.
Submit your sitemap to search engines. Some website platforms and website builders do this automatically for Google, but you may need to check Bing and other search engines.)
Use organized and natural site architecture.
Add security to your site by installing an SSL certificate. This is included with GoDaddy's Website Builder.
Use redirects or delete repeat content to resolve duplicate content issues.
Use both inbound and outbound links* to tie your website to the rest of the online world
Get more tips on how to optimize your site for general SEO in the GoDaddy guide: Beginner's SEO guide — Search engine optimization for small business websites.
A quick recap on links: Inbound links are links on other websites that point to pages on your site (aka backlinks). Outbound links are inserted on the pages of your website that link to other websites you don't control. Internal links are links between pages within your website that you control.
Local SEO tools
As you go through the tips outlined in this post, try using local SEO tools to help you through the process.
Google Business Profile
Your local SEO presence is built around your Google Business Profile page, so it should be no surprise that this free tool is at the top of the list of local SEO tools.
Sign up for free and use it to manage the local search results that show up for your business. Create your free Google Business Profile.
Schema plugins
In the list of local SEO tips, we briefly mentioned using schema markup as a way to provide extra information to search engines to let them know what your page is about and where your business is located.
Adding Schema markup requires adding code to the backend of your website. But there are plugins that make it easy to add Schema markup through simple front-end forms. Top Schema plugins include:
GoDaddy SEO Services
GoDaddy can help you improve your local SEO by helping you improve your overall SEO. GoDaddy's SEO Services takes over your site's search engine optimization so experts can guide your SEO plan. Sign up for a monthly SEO plan and GoDaddy will:
Examine your website to find optimization opportunities.
Walk you step-by-step through keyword and phrase suggestions to improve your website's search rankings.
Track your search metrics to show you how your SEO improves over time.
Create citations and directory listings for you.
Learn more about GoDaddy's monthly SEO services.
Use these local SEO tips to grow your business
Now you know the answer to the question "what is SEO?" You know what local SEO is, why it's important to brick-and-mortar and service-based businesses, and you have the steps you need to implement a local SEO plan.
Use these local SEO tips to build and grow your online presence and start driving more traffic to your business and website.
Make sure your site is mobile-friendly.
Make sure your site is fast.
Claim your Google Business Profile
Optimize your Google Business Profile
Build other business citations.
Create and optimize your social profiles.
Get more backlinks for your site.
Feature your online reviews and encourage more.
Optimize your content for keywords
Content optimization for local SEO.
Don't forget about general SEO best practices.
But if all of this still sounds too daunting even with the list of local SEO tools, GoDaddy is here to help.
GoDaddy SEO Services can work on your site to boost your local SEO and start driving more local traffic to your website and through the doors of your business! Consult with our experts, and they'll get your local SEO up and running.
This article includes content originally published on the GoDaddy blog by the following authors: Ariana Crisafulli, Emma Wilhelm, Erik Deckers and Tom Ewer.