Standout Tools: GoDaddy GoCentral Online Store + Square
The GoDaddy product information in this article is outdated and currently under review for accuracy. For the latest up-to-date product information please visit godaddy.com
If you sell products both online and offline — or hope to — GoDaddy GoCentral Online Store makes it easy to create a website to do just that. With GoCentral's Square integration, you can collect payments on your website, in-person and even in your sleep.
Sell your handmade sweaters at local craft fairs and on your own eCommerce website. Sell 99 varieties of olive oil in your shop on Main Street and on your own dot com. With GoCentral Online Store and Square, you've got a mobile-friendly eCommerce solution that allows you to make sales anytime, anywhere.
GoDaddy GoCentral Online Store Square integration
You might think that having your own online store is going to be complicated. You may fear that it will cost you an arm and a leg to have a developer build one for you. Or maybe you've had a bad experience in the past with DIY website building products. Fear not, brave entrepreneur — your online store is within reach.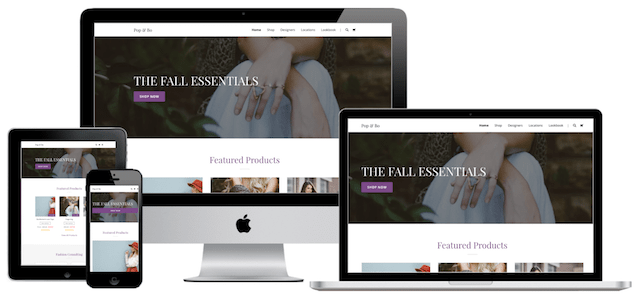 Whether you're a long-time business owner or you're launching a side hustle, GoCentral Online Store can help you create a professional, mobile-friendly website to drive sales. Just answer a couple questions about your business and GoCentral will help you build a fully customizable online store. Use gorgeous stock photos from Getty and add your own images. Choose colors and fonts that match your brand.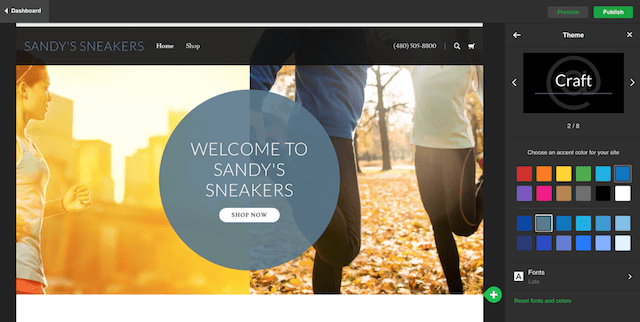 Once your website looks just how you want it, start adding products to your online store. (In fact, you can even import existing products from your Square account.) Set up product variants, product categories, featured products, sale products and shipping information. Then, decide how you want to collect payments.
You've probably seen the white Square reader in shops and at outdoor events. Square offers software and hardware to help businesses of all shapes and sizes sell products and services. You can do business online and offline with a single Square account.
Square will even send you a free magstripe reader that, along with the free Square Point of Sale app, allows you to accept payments on your smartphone or tablet. But you don't even need a card reader to start using Square with GoCentral.
How to set up Square in GoCentral Online Store
It's easy to set up Square in GoCentral Online Store. (Note: GoCentral Online Store currently supports Square payments only in English and USD.) Here's how to set it up:
Log in to your GoDaddy account. Under My Products > Websites, select GoCentral Online Store and click Manage. [If you don't have an existing GoCentral Online Store, you can sign up for a free trial here.]
From your GoCentral Dashboard or the editor, click Manage Store.
Navigate to Payments. You will see a list of payment types.
Click Connect next to Square Payments.

If you have a Square account: Click Connect and click Sign in with Square to connect your account.
If you don't have a Square account: Click Create an account and follow the quick onboarding process to create an account.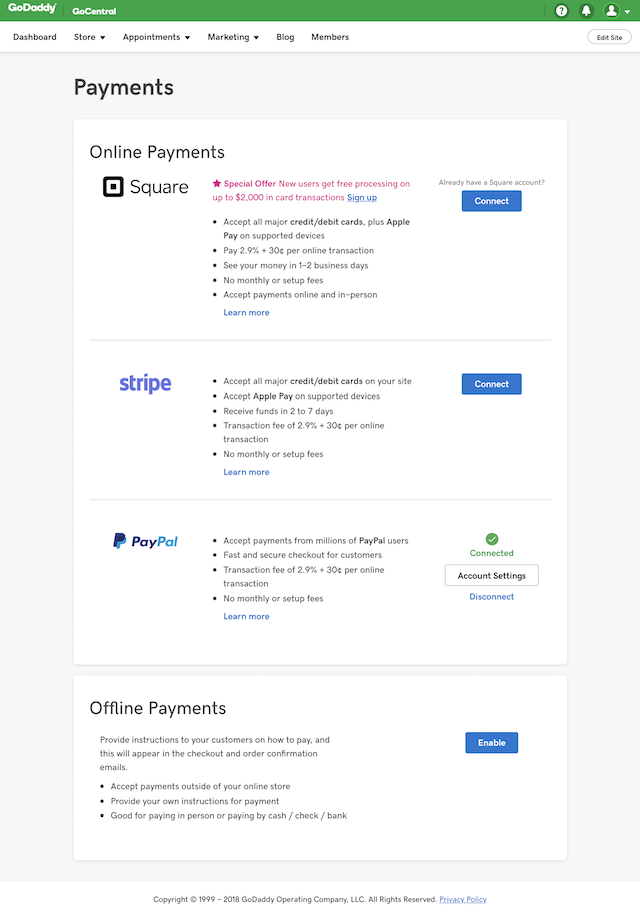 That's it — your Square account is connected to your GoCentral Online Store account. You'll now be able to collect credit card payments on your website and in person using a single tool: Square!
Square catalog import and two-way inventory sync
If you're already using Square offline, you can build your Online Store inventory quickly by importing products, prices, quantities and categories from your Square account. Then add images and create product descriptions for online sales. Here are some of the benefits of syncing GoCentral Online Store with Square:
Your inventory levels will be in sync between Square and GoCentral Online Store 24/7.
You can use the same Square account to process credit card payments at your physical location and online.
You can offer in-person order pickup for online sales.
With Square inventory sync, you can blur the line between your physical store and online commerce. This lets your customers shop the way they want and makes life easier for you. Know exactly what's in stock and what you need to replenish.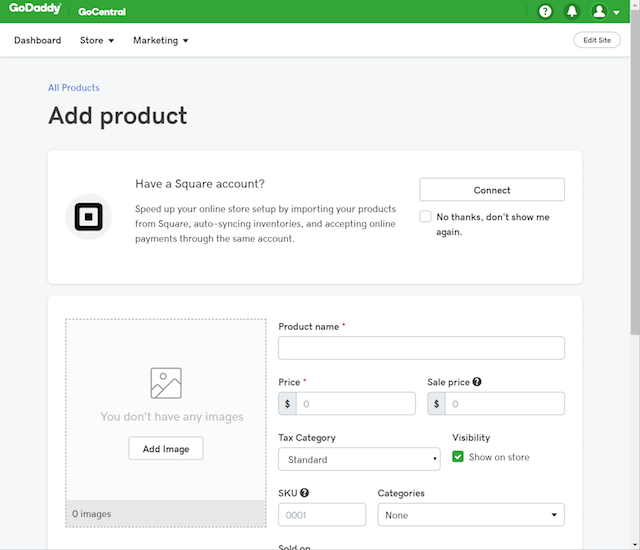 To give it a try:
From your My Site menu, click Manage Store.
Click Add Product.
Next to Square, click Connect (if you already haven't connected your Square account).
Follow instructions to log in or create a Square account.
To import products from your Square account, click Import.
Other reasons to love GoDaddy GoCentral Online Store
If the ability to run your online store from your smartphone appeals to you, then GoCentral Online Store is a great choice. Build your entire eCommerce website from a mobile device and manage your content, products and orders on the fly. Receive text messages about new orders. Plus, your website itself will be mobile-friendly.
Your potential customers are probably shopping on their phones.
Almost two-thirds of all transactions on GoCentral Online Store websites are made on mobile phones. To compete online, your eCommerce website needs to be optimized for mobile phones.
An online store needs traffic to score sales.
That's why GoCentral Online Store includes built-in marketing tools to increase your visibility and drive repeat traffic and sales. If website visitors leave your site midway through the checkout process, you can even send automated reminder emails to help close the sale.
With GoCentral, you can securely accept all major credit cards. It's easy to connect your GoCentral account to a Square account, which will really come in handy if you plan to sell offline as well. And when it comes to shipping preferences, you have a lot of flexibility with GoCentral. Offer free shipping or real-time carrier-calculated shipping charges.
Start selling online today
Sold on the benefits of using Square for your online store and beyond? Try GoCentral Online Store for free today.