Strengthen your gym's social media for the new year
With the new year here, consumers will be making resolutions — and fitness-related goals will be right near the top of their list. Why not use your gym's social media channels to tell these folks why your gym's the right one for them?
Last year, 45 percent of Americans said that their New Year's resolution was to lose weight or get in shape. You know the drill: Your gym will see an increase in memberships and class enrollments in the first few months of the year.
Get ahead of your competition now and capture the attention of potential customers who are looking to get fit in the new year.
How to perfect your gym's social media presence in the new year
Here's how to convince customers to choose your gym to support their fitness goals in the new year and beyond.
Enhance and optimize your social media pages.

Post on a consistent basis.

Engage with your followers.
Now, let's get ready to work your social media muscles.
1. Enhance and optimize your social media pages
Adding simple details to your profiles can make a big difference converting potential customers. On Facebook, Google and Yelp, update your gym's information (like the "About" section, address, phone number, contacts and links) so people can easily find this information or sign up for classes and training sessions.
Related: Why it's time to revisit and revamp your website contact page
Your Instagram and Twitter bios should contain compelling descriptions of what you do and the unique services you offer.
It's also a good idea to implement SEO strategies into your social media plan to ensure that your business is at the top of the list when customers are searching for gyms in your local area.
Editor's note: Want to be the first gym customers see when they search online? Check out what Local Business Listings from GoDaddy can do for you! You can take care of all your local listings from one place, so you can focus on your new customers.
Next, take a look at your profile and cover photos. They should be consistent on Facebook, Instagram and Twitter so that users can recognize your brand across platforms. Use your logo for your profile photos and a high-quality image of what you do as your cover photos. This way consumers will become familiar with your brand wherever they look on social media. If they see an authentic and consistent brand presence, they'll know they're dealing with a professional gym or studio and will be more likely to sign up for a membership or buy a series of classes.
Related: Social media image sizes: The 2019 cheat sheet
A great example of this in action is the local Gold's Gym in Washington, D.C. It uses its logo and an eye-catching cover photo on Facebook to give users a clear impression of its brand and its services.
2. Post on a consistent basis
Ahead of any promo (and any time of the year, really), you should actively post content to your gym's social media pages. It will show potential customers that your gym is ready to help them achieve their fitness goals in 2019 and beyond.
What should you post in the new year? These social media content ideas are a good place to start.
Promote deals and specials
If you're offering special New Year's resolution discounts or promotions, use social media to get the word out to your followers and others in your key demographic. Hint: These make great boosted posts on Facebook, like this post from Pure Barre in Austin, or effective Instagram ads.
Related: Fitness marketing: How to use Instagram for gym promotions 
Host free events and post about them
Host free events and classes to show potential members that you're committed to getting your community moving and healthy in the new year. Advertise these events on your gym's social media pages.
Show your customers some love
Post shout-outs to currents members to show new customers how much you care about your clients. Recognize milestones (100 rides at your cycling studio) or offer words of encouragement ("Sam is just four classes away from hitting her goal! Go for it, Sam!"). This allows you to thank loyal customers while catching the attention of those who've made fitness-related resolutions and are looking for the right gym.
Share New Year's-related content
Post about New Year's resolutions. Remind users that the new year is here and that they need to start working toward their goals now.
Post tips and tricks
Today's consumers don't just want to lose weight. They want to be healthy mentally, physically and spiritually. Sprinkle in messages about whole-body wellness, mindfulness, meditation, healthy eating and more, along with the weight-loss tips.
Highlight your products and services
Your products and services are the backbone of your gym. They're a huge part of what keeps your loyal followers coming back, and they're what will bring in new customers. So don't be afraid to show them off. Post about your most popular barre classes, your amazing pilates reformers, your new medicine balls — anything that will entice new customers to get fit at your studio.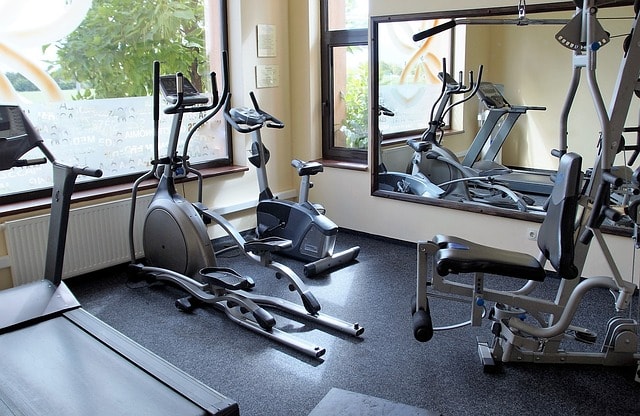 If you need help managing your social media presence, GoDaddy Social, powered by Main Street Hub, can help you with all of your gym's social media marketing needs.
3. Engage with your followers
Social media users love interacting with brands and businesses on Facebook, Twitter and Instagram. This means that a large number of consumers are talking to the gyms and studios in their communities by commenting and asking questions on their posts, and writing reviews on their pages. This is your chance to extend your customer service online.
When your customers reach out to you on social media, you have the opportunity to start conversations with them and build relationships, ultimately deepening your connection to your community. Respond to everything — comments, tweets that mention your business, tagged photos on Instagram, posts on your wall and reviews .
Each and every one is a chance to strengthen your gym's social media presence.
New customers will see that your gym is responsive, and they'll understand how much you value your customers both online and offline.
Related: The rulebook for crafting a response to negative comments on social media
Get social
With these three easy tips, you'll get your gym's social media off to a good start in the new year. Be sure to keep flexing those social muscles to enhance your brand and keep clients coming back for more.