Take these 5 online security precautions before you travel
Travel can be stressful. Even if the end-result is vacation, there's so many details to keep track of and deal with: boarding pass, confirmation number, ID, checking bags (that are also under 50 pounds), the list goes on. The last thing we want to think about is online security. Yet, traveling opens up more ways for your identity to be stolen. According to recent research, 16.7 million Americans experienced identity theft in 2017, equating to over $16 million in losses. As you travel for business or pleasure, how can you take security precautions and avoid this and other online security threats?
The best way to combat potential online security threats is by taking the proper safety precautions prior to your departure.
Related: Travel trends — How business travel will change in 2018
Take these 5 online security precautions before you travel
Here's a pre-trip security checklist to keep you safe online during your travels.
Put a pre-trip prevention plan in place.

Avoid unsecure networks and install a VPN.

Update software (Yes, ALL software).

Follow password best practices.

Be aware and smart while traveling.
Now let's dive in and learn which security precautions you should take before you travel, so you leave yourself more time to truly enjoy your trip.
1. Put a pre-trip prevention plan in place
Some quick research and a few easy safety precautions will provide extra insurance, especially if devices are comprised during travel.
Secure your at-home devices
Any device you're leaving at home needs to be secured — whether it's a personal or work laptop, tablet, or even your desktop computer.
In the event of a break-in, your personal data is just as valuable as your possessions.
First, if you don't already have one, enable a power-on password screen. Then place any smaller devices in inconspicuous places. Finally, log out of all websites and platforms on your devices, including your web browser, social media accounts, email inbox, and bank accounts or financial institutions.
Password protect everything
You should also password protect any devices you're taking on your trip. Password unlock screens offer the first line of defense for lost or stolen devices.
Backup any valuable data
Make sure to backup your data on the devices you do plan to take on your trip, prior to departure. This will avoid a double-catastrophe if you lose a device and files aren't backed up to a cloud-based or physical hard drive.
Editor's note: GoDaddy's Website Backup can give you all the protection you need without any legwork on your part. This service will help keep your data safe when servers crash, hackers attack, and malware makes the rounds.
Have a location tracking and remote log-out plan
Enable location tracking for your phone and computer. In the event of loss or theft, this might allow you to find your device. Quickly research ways to remotely lock your phone or accounts. Apple products allow users to remotely put devices in lost mode from their iCloud account. Google accounts have a similar locking functionality. Most social media platforms also allow users to remotely log out of any devices. This research doesn't need to be exhaustive, but it's helpful to know what you would need to do to protect your online information.
2. Avoid unsecure networks and install a VPN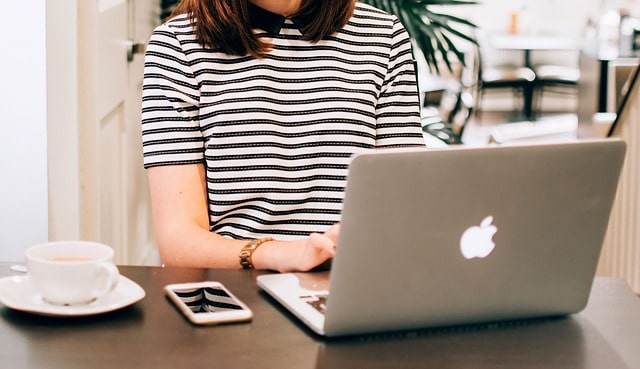 When traveling — especially if you have a long delay in an airport — it's hard not to jump on a free WiFi network. You don't want to use your phone as a hotspot and waste data, service might be spotty, or you're worried about international data/roaming charges. Whatever the reason, using public WiFi networks is sometimes inevitable.
Yet, public and free WiFi connections are generally the most unsecured networks.
Often, hackers prey on those networks to access devices and information. If you can't steer clear of them altogether, here are two situations to add to your safety precautions checklist when you're using public internet:
Do not use a network that isn't password protected in some way — these are the least secure.
Do not shop online, enter your credit card info, or visit banking/financial websites. Save those tasks for a secure connection.
Even if you plan to avoid public WiFi networks all together, installing a Virtual Private Network (VPN) on your phone and computer will add additional protection. VPN software uses encryption technology to allow you to directly connect from your device to a website. VPNs block your IP address, keep your data private, and significantly lower the chance of cyber attacks.
Related: At least 5 reasons you need a virtual private network (VPN)
3. Update software (Yes, ALL software)
Software updates can be annoying; they pop up everywhere — phones, apps, laptops, web browsers, etc. When planning a trip or vacation that might be low on the priority list, but software updates are meant to better protect the end user. When developers find issues or security flaws, updates patch these problems. When updates go uninstalled, you leave yourself open to potential threats.
As a safety precaution, take the time to update all of your devices and software prior to travel.
Updates can take a long time and require strong internet connection, it's best done at home, on your password protected WiFi network. Operating systems on your phone and computer should be your first priority, but apps and web browsers are important as well.
To save time, enable auto-update features on devices. Generally, this will automatically install updates when devices are being charged and connected to WiFi.
4. Follow password best practices
Are your passwords automatically saved or auto-populated in websites and apps? While convenient, reconsider this when traveling. It leaves you open to multiple potential threats in the scenario of losing your device.
Prior to hoping on a plane, make sure that all your passwords are strong and secure. Next, enable multi-factor authentication on both your devices and information-sensitive accounts, such as personal and business email, or banking accounts.
This feature provides extra layers of security by authenticating your account through another device.
Say your laptop is stolen and you log out of your email account with your phone. If someone tries to access your email, not only will they need to re-enter your password, but also enter a unique code that is sent to your phone.
Also, consider using a password manager. These applications not only securely store passwords with extra layers of encryption, they even generate lengthy and complex passwords for your accounts.
Related: Increase account security with two-step verification on your mobile device 
5. Be aware and smart while traveling
Safety precautions and preparations will not help if you're not conscious of potential online security threats while you travel. Here are a few more items to be mindful of:
Alert your bank about travel plans
Banks might lock your account when you make out-of-state purchases. Usually you just give them a call to confirm your location, however communicating with them beforehand will avoid the inconvenience. Also, if your bank or credit card issuer knows where you're traveling, they can quickly flag suspicious activity from other locations.
Log out of anything sensitive prior to going through customs
If you have any sensitive information on your laptop or phone — move it, log out of sensitive accounts, or even delete applications. Customs policies differ for all countries — you might have to surrender your unlocked device for an agent to look through.
Know the security options at your lodging
When exploring destinations unplugged, devices might need to be left in a hotel room. Check and make sure there's a safe large enough to fit your laptop or tablet. If you're at a hostel or Airbnb, ask hosts about options for securing devices.
Turn off bluetooth and sharing connectivity
Make sure all your devices have their sharing and Bluetooth functionality turned off. When left on, people on the same WiFi network can access your files, send unwanted data, or hack into your device.
Look for HTTPS on websites while traveling
The "S" on the URL ensures that the site is secure and you're at less risk for phishing or spoofed sites.
The right security precautions can go a long way towards your online security and safe travels
Travel can be stressful. Whether you're en route to an exciting vacation, visiting family during the holidays, or on the road for work, you don't need to worry about online security. If you take the time to properly prepare your devices for travel, you can ensure that you will not be a target of digital security threats.
Password protect all devices and accounts with strong passwords, utilizing a password manager and multi-factor authentication for additional security. Briefly research preventative plans on how to lock devices and log out of accounts, in case of loss or theft. Install VPNs on your devices to protect your data while online. Know where the potential threats are the most dangerous — public WiFi networks and unsecure connections.
When you take the time to understand your online security, you can enjoy travel and immerse yourself in experiences, worry-free.
Image by: JESHOOTS.COM on Unsplash