Tools and tactics to find brand influencers
By now, I'm sure you're convinced that influencer marketing has the potential for high ROI, bringing in tons of new customers to your business while keeping costs low. But you're probably wondering, "OK, but how do I find brand influencers?"
Well, friend, today's your lucky day because I'm sharing three tools to help you find brand influencers and get your products in front of new and enthusiastic fans. Let's dive in!
1. Ninja Outreach
Ninja Outreach is an influencer marketing tool that has three search features you'll find particularly useful if you want to find brand influencers to work with. As an example, let's say you're a travel accessories company trying to promote your new suitcase line. Here's how you might use Ninja Outreach to find influencers who are a great fit for your brand.
Instagram Influencers search
To begin your search, enter keywords associated with your niche. Things like "travel blogger," "luxury travel," or "budget travel" might work in this example. Also, be sure to check the box next to Influencer, as this will narrow the results to only those with 3,000 followers or more.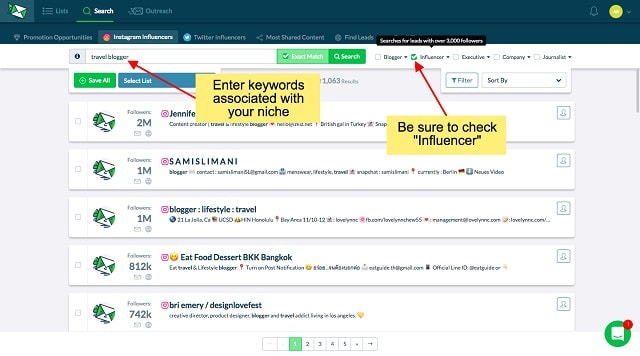 You'll then get a list of potential Instagram influencers in your niche you could work with, along with their number of followers, website and email address.
Twitter Influencers search
The Twitter Influencers search works exactly the same as the Instagram Influencers search we went over above. Here's an example of the search results when we type "luxury travel" as our keyword:
Most Shared Content search
Finding brand influencers on Twitter and Instagram is great, but what if you're more interested in finding bloggers who can write awesome and potentially viral blog posts? That's when you want to use the Most Shared Content search feature on Ninja Outreach.
With Most Shared Content, you can find specific articles or blog posts that contain your keyword and are highly shared on social media.
Why is this important? Well, this works great if you want a blogger influencer to add a link to your product or write a new blog post about it. Most Shared Content will help you find bloggers who write quality content that people want to share.
So let's say you type "best luggage" to find round-up posts that are relevant to your new suitcase line. I highly recommend that you put your keyword in quotation marks to find more relevant content. If you fail to put your keyword in quotation marks, I've found that Ninja Outreach returns some pretty irrelevant results.
Ninja Outreach offers a 14-day free trial, followed by paid monthly plans.
2. BuzzSumo
BuzzSumo is another influencer marketing tool you can use to find brand influencers to work with. It has three features that will prove useful to you as you search for influencers:
Content research
If you're looking for bloggers who can write content that gets shared, this is your place to start. Simply type in a keyword that relates to your brand and the product you're promoting. For this example, let's say you're a software company trying to promote your new accounting software. You might type "best accounting software."
Influencers
The Influencers feature on BuzzSumo searches only for Twitter influencers. So just keep that in mind. You can, however, check the box next to "Has Instagram Profile" to narrow down the results to Twitter influencers who also have Instagram accounts.
Monitoring
BuzzSumo's Monitoring feature is really useful because it lets you track mentions of your brand. You can use this information to find brand influencers who are already talking about your products — these are often the ones who will most enthusiastically work with you as they're already familiar with your brand and in love with your products. You do have to pay for BuzzSumo to access Monitoring.
Buzzsumo offers a 7-day free trial, followed by paid monthly plans.
3. PeopleMap
PeopleMap is a tool built specifically for finding Instagram influencers. While plenty of Instagram marketing tools can provide a list of accounts with lots of followers, the power of PeopleMap is that is can actually analyze the stats of each account, allowing you to see just how influential that influencer really is.
Don't be fooled by large numbers of followers.
You need to check the engagement rate, which is partially measured by how many likes their posts get on average.
So let's say you're a food brand looking to send 30 packages of your new gluten-free cookie mix to food bloggers. Here's how you might use PeopleMap to find Instagram influencers who could create quality posts using your new gluten-free baking product.
Click Search, and then type in a username or hashtag related to your brand and product. Let's type "#glutenfreebaking."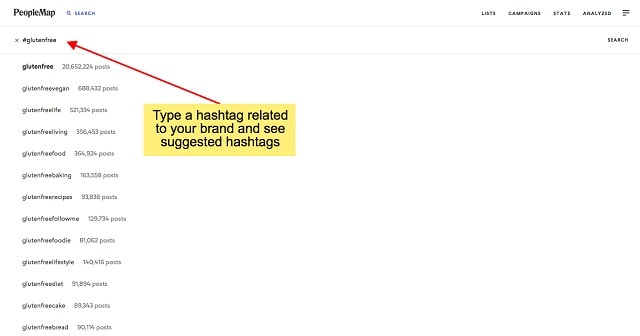 If you want to filter by more influential accounts, try entering a minimum likes number. We'll put 500 here. If a post has 500 likes or more, it's likely from a very influential account.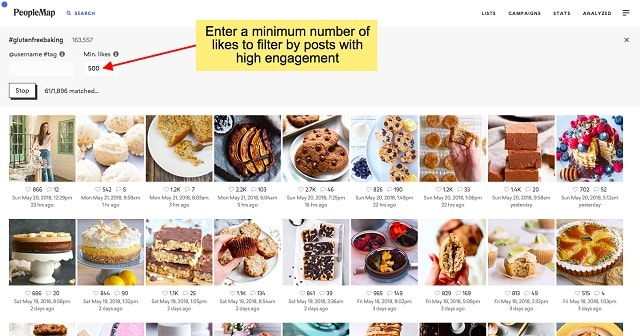 Next, you'll get a ton of beautiful and influential Instagram posts tagged with #glutenfreebaking. Think of each post as a portfolio of sorts for the Instagram influencer you are planning to work with. Review the content, the composition of each image, and the words in the description. Is this up to par with your quality standards?
You can click an individual post to read the description, get more information, and find out who posted it. Let's click this photo of cookies — that's relevant to our example's gluten-free cookie product!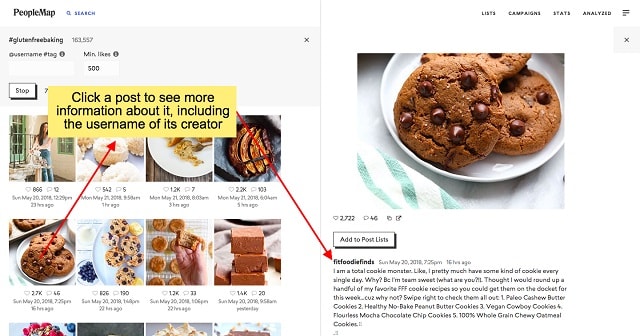 Wow, this is a really relevant Instagram influencer — she even says in the post description that she loves cookies! Perfect for our hypothetical brand. Next, click the username (@fitfoodiefinds in this example) to learn more about that Instagram influencer.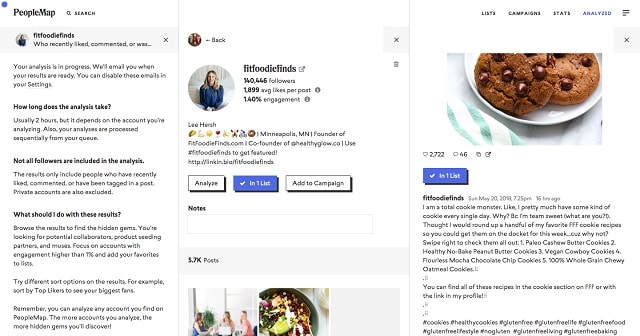 And finally, you can click Analyze to get a detailed list of similar Instagram accounts, saving you time!
PeopleMap has a 14-day free trial, followed by paid monthly plans.
Which tool will you use to find brand influencers?
Those are just some of the top tools I've used to find brand influencers. You don't have to use any software at all, but it definitely makes finding influencers easier and results in a higher quality list.
So instead of doing the usual routine of searching, scrolling, taking a screenshot, and scouring the internet for an email address, try one of these influencer marketing tools to make finding brand influencers a breeze.
Image by: Jason Rosewell on Unsplash