We're stoked about launching the new GoDaddy Pro, an experience totally tailored to the unique needs of website designers and developers. But if you're one of these folks (we call them Makers of the Web) you might be going, GoDaddy Pro isn't new! It's been around for a while.
And you'd be right. GoDaddy Pro has existed, in one form or another, for a few years. If you stick to a black-and-white definition, GoDaddy Pro isn't new.
The name started as a platform for freelancers, then we created an interface for managing multiple WordPress websites, and now… Well, GoDaddy Pro is something so unique that we're comfortable describing it as new.
Within the GoDaddy family, GoDaddy Pro is distinctly its own thing. It's an app, a platform, and a community. We built GoDaddy Pro from the ground up to not only meet your needs, but empower you to achieve even greater success.
Let's take a sec to dive deeper into what we're describing as new and introduce the Hub by GoDaddy Pro.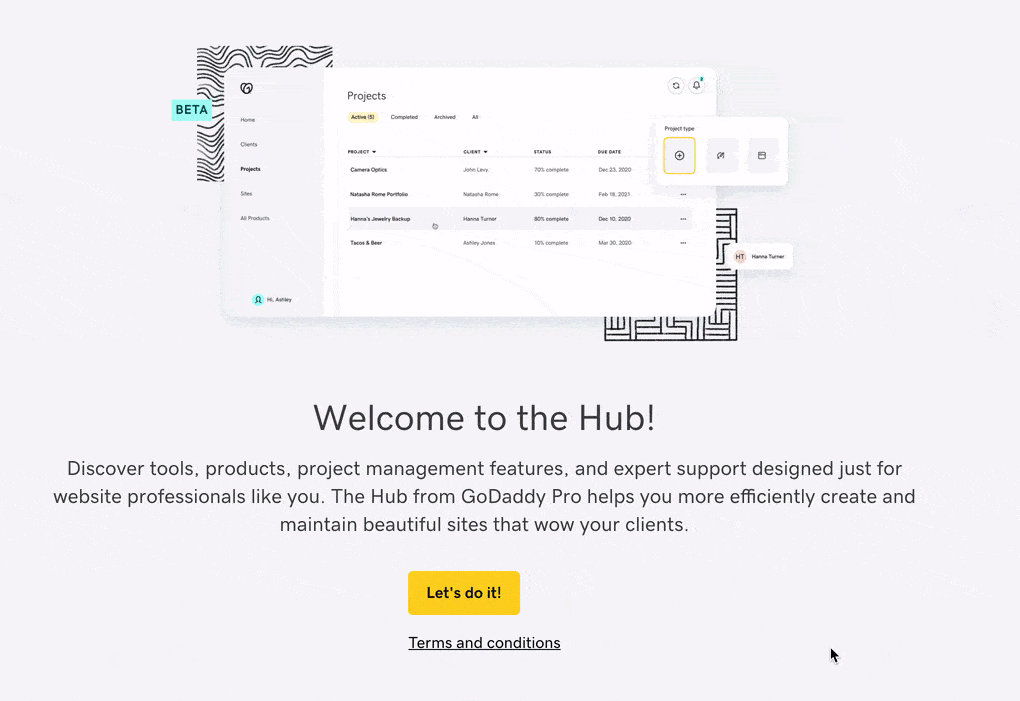 The new GoDaddy Pro is powered by the Hub
With this latest iteration of GoDaddy Pro comes an experience designed to be the ultimate tool for website and project management.
It gives you access to every client and their website from a single dashboard. The Hub includes features like bulk WordPress updates, client shopping carts, and uptime monitoring. It's purpose-built to reduce the amount of time required for routine tasks.
People who use the Hub report saving, on average, three hours each month for every site they're maintaining for clients.
That's what we call a good start. We've created a whole business unit dedicated to developing solutions that line up with a strategic roadmap — and backed it with significant resources. It's completely free to sign up.
How the Hub evolved (and continues to)
If you ever used GoDaddy Pro for site management, things might feel familiar when you log into GoDaddy Pro and check out the Hub. That's understandable. Turns out, GoDaddy Pro caught on quickly and there was an increasing demand from a user base with broader needs.
The Hub is the result of countless hours of research.
Through interviews with real-world website designers and developers, we gained an understanding of pain points and the tasks they face in a given day. Our product roadmap is packed with new features we'll be rolling out over the next few years.
A few more important things to keep in mind:
All your GoDaddy Pro sites and clients are automatically available in the new Hub once you opt in.
Currently, the Hub doesn't have all the features available in the old GoDaddy Pro dashboard.
The old GoDaddy Pro dashboard will remain available until we have feature parity in the Hub.
The new experience is meant to be more intuitive and seamless, but we have so much more coming and are committed to bringing the vision to life. (You should seriously check it out.)
Join the new GoDaddy Pro
Packing all those features into the Hub is one way we're committed to helping the people who build digital solutions for clients.
GoDaddy Pro memberships also include a 30% discount for qualifying purchases.*
For troubleshooting, count on 24/7/365 support from our experienced Care Guides — with a fast-track chat queue reserved exclusively for GoDaddy Pro.
You can catch up with us online a bunch of different ways:
If you're curious to see real-world proof of GoDaddy Pro and the Hub helping other web designers and developers, you can read about their experiences in stories we regularly publish about them. Apply as a contributor if you'd like to be featured next!
Your participation is the most important thing
We built GoDaddy Pro based on insights from real people, and we're going to continue doing that. If you have an idea for making it better, please post your feedback in the community, through our feedback widget in the Hub, or connect with us on Twitter!
---
* See website for additional terms and conditions.