You just lost your job. WTF and what now?
Getting fired is like misplacing your pants during your nephew's wedding reception — a chill moves over your body, no one will look you in the eye, and after a while you wonder how you're going to pay for drinks.
No matter. Just as you can reingratiate yourself with family, it's also possible to bounce back from getting sacked, as our Brit friends would call it. ("Hold on, Brian," I hear you muttering. "You're a preposterously successful writer. How would you know the first thing about getting fired?" Actually, I do.*)
Below are my ideas for bouncing back from getting let go. Put them into practice to ensure you don't get caught with your figurative pants down when the proverbial pink slip hits your desk.
Idea No. 1: Get your brand together
There's an old adage that says don't wait for the zombie apocalypse to start learning how to weld. (Ever notice how important welding becomes in a zombie apocalypse? Soon as the undead rise, some character starts welding pieces of scrap metal together.) Similarly, it's never too early to build your brand and get it in front of people. The best time is while you're gainfully employed. When you're job hunting, it's imperative.
Pulling this off isn't as difficult as you might think. Have a body of work you're proud of? Slap together a portfolio website to show off your wares. Surely you acquired some hard-earned industry knowledge at your last job, so blog about it for prospective employers to see.
Even if you don't have a ton of profundities to offer, it still behooves you to get out there on social media and exhibit a little personality. You never know when you'll bond with a hiring manager over a shared passion for goat yoga.
Idea No. 2: Don't crawl into your shell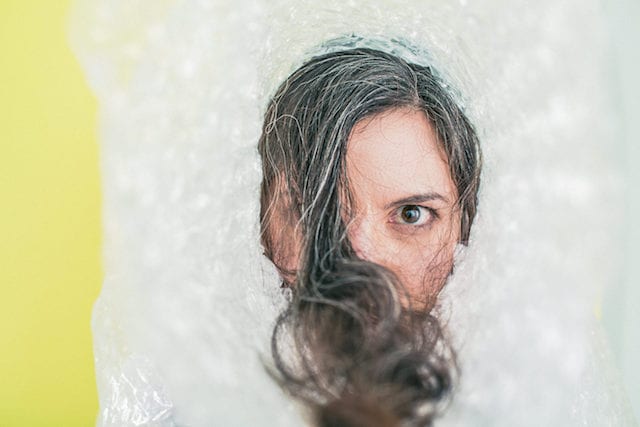 There's no shame anymore in being shown the door by your employer. Layoffs, reductions in force, right sizing, re-orgs — it's not by accident these words live are in our collective verbiage.
Let friends, mentors and network contacts know you're looking for new opportunities. Don't badmouth your former employer, just tell people you're movin' on. Ask for LinkedIn recommendations from former coworkers and remind them how great you were to work with. (This can be huge. I once had a company reach out to me largely on the strength of my LinkedIn recommendations.)
Don't indulge in woe-is-me Facebook posts. Don't do the 3 a.m. Tweets thing. Play it cool. Put faith in the personal approach. When you do, you'll hear about jobs that haven't yet hit the open market. That weeds out the competition and puts you in the best position to negotiate a bulbous signing bonus.
Idea No. 3: Might this, in fact, be a good thing?
Let's look to the Buddha for help with this one. He advocated never attaching labels to life happenings because no event is inherently positive or negative. Could getting fired be a good thing in the grand scheme? Perhaps.
Case in point: I know a guy who got fired who booked an appointment with a new hair stylist for his upcoming job interview. They fell in love somewhere between rinse and repeat. Now they're married with three beautiful children and his hair has never looked better. That never would've happened without good reason for him to stray from Jerome, his regular barber.
You never know what crazy butterfly effect has been initiated by getting fired.
Someday you might look back and see it was all part of your grand life plan. Until then, take solace in never again having to plaster on a fake smile while Sheila from accounting regales you with tales from her weekend.
Idea No. 4: Pretend nothing has changed
Don't discard your routine after you've been fired. Instead, keep to the same schedule you've been on all these months or years and devote a full 40 hours to the job search each week. Your brain will scream at you to slack off in the absence of weekly status reports, but ignore such impulses. Sure, you can start taking that 20-minute, mid-afternoon nap denied to you all these years, but otherwise, keep at it.
Be warned. You'll hear people say crazy things like: "Take some time for yourself before you look for a new job. You deserve it!" or "Why jump into a job search right away? There's plenty of time for that after you finish your ship-in-a-bottle project." Don't listen to 'em. These people mean well, but time is precious. Self indulgence can wait for after you land a new gig.
Bringing this all together
No one likes to talk about getting fired, so let's congratulate ourselves on slugging through a tough topic. I hope the big takeaway is that losing your job needn't be the end of the world. Face the situation with resolve and these ideas in mind, and you'll come out better on the other side. If worse comes to worst, there's always that beginning welding class at your local community college.
* Fresh out of college I worked for a family-owned cabinet manufacturing business. (To this day, I know little about cabinets and even less about manufacturing.) They hired me to replace Tom, their long-time purchasing manager. Tom was cool. He groused about management, took frequent smoke breaks during which he'd polish off three unfiltered Camels, and, at age 60, sported a full head of thick hair he combed high. Sensing he'd been slated for replacement, Tom openly questioned why I was shadowing him and asking pointed questions about purchase orders and vendor relations. He guarded his trade secrets with the same zealousness as he did his precious cigarettes.
Eventually I got his job. I fought valiantly but performed poorly. Eventually I was fired. It actually came as a relief; I hadn't cared about the position for months. Before I was quickly ushered out, HR told me the bank had repeatedly threatened to pull the company's line of credit due to my highly erratic purchasing patterns. The owner had developed a noticeable facial tic that abated only after I'd been gone for six months.
Image by: Ryan McGuire, Gratisography