As of 2016, there were approximately 11.3 million women-owned businesses in the United States — a number that increased a whopping 45-percent in just 10 years. More than ever before, women are embracing the path of the entrepreneur. But it's a path strewn with obstacles, notably in the area of funding. Banks and venture capitalists have been shown to shortchange female-led startups. Small business grants for women can help them overcome funding barriers.
You might've already learned about small business loans for women, but here we're going to explore sources of grant funding specifically for female-led businesses.
Small business grants for women
The following grants are available specifically for women-owned businesses:
InnovateHER challenge
Every year, the Office of Women's Business Ownership, a department of the U.S. Small Business Administration (SBA), hosts the InnovateHer challenge, giving women entrepreneurs across America the chance to showcase their innovative products. First-, second- and third-place prizes are awarded out of a pool of $70,000. The products must:
have a measurable impact on the lives of women and families (30 percent).
offer the potential for commercialization (40 percent).
fill a need in the marketplace (30 percent).
Visit the InnovateHer grant website to learn more.
Eileen Fisher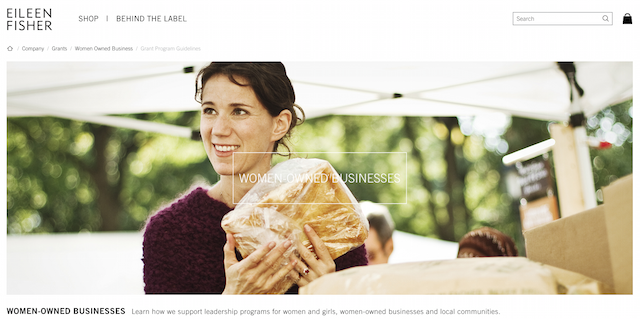 The clothing brand Eileen Fisher grants $120,000 to up to 10 women-owned businesses annually at a maximum of $12,000 each. As the brand's founder states:
"I know how important it is to have someone believe in and validate your work. I want to encourage women entrepreneurs, especially those who firmly believe that business can be used to create social and environmental change."
Applicants must meet the following criteria to qualify:
Women must own and lead the majority of the business (at least 51 percent).
The business must have been operating for at least three years
Revenues for the year prior to application can't exceed $1 million.
In keeping with the spirit of the grant, the business should also be founded on creating environmental and social change.
Visit the Eileen Fisher Women-Owned Business Grant Program site to learn more.
Amber Grant for Women
Each month, the Amber Grant Foundation awards $500 to a qualifying female entrepreneur. At the end of the year, one of the 12 winners is also eligible for an additional $1,000 grant.
Unlike most grants for women (and anyone, really), the application for the Amber Grant is simple. Just fill out a short online form — including a brief description of your business and what you'd do with your grant funds — and pay a $7 application fee. Judges encourage applicants to "speak from the heart," sharing their passion as well as their business smarts.
Go here to apply for an Amber Grant.
Smart Women Grants

Zions Bank hosts a yearly Smart Women Grants competition "to help bolster the efforts of entrepreneurs who strengthen our communities through their diverse talents and endeavors." The winner in each of the following six categories receives a $3,000 grant:
community development
continuing education and teacher support
child and elder care
health and human services
arts and culture
business
To be eligible for a Smart Women Grant, the business proposal must promote the empowerment of women, or their business must benefit women or low-income or underserved in Utah and Idaho.
Other possible grant sources
Check out these sites for additional resources pertaining to grants. While some might not be specifically targeted toward women, they are still a great way to widen your funding search.
Grants.gov
Grants.gov is a database of all federally funded grants in the United States. Although most of them are not specific to women, a quick search in the criteria fields will turn up grants that are either women-focused or specific to your business.
Women's Business Center
There are more than 100 Women's Business Centers across America that are run by the SBA to help guide women entrepreneurs with training, advice and sources. Many of these centers will be able to help point you in the right direction of grants for women in your locale.
In conclusion
Although women are making great strides in the workforce, women entrepreneurs and business owners are still majorly underrepresented in leadership positions. And while funding is a challenge for any business owner, small business grants for women do exist. Knowing your options and discovering helpful sources to start and run a business takes us just a few steps closer to reaching that glass ceiling — and breaking it.