One of the best things about owning your own business is that you get to take a vacation whenever you feel like it. The problem is, there's never enough time.
Before 2015, I lived in Indianapolis and we would take a two-week vacation to Orlando every February, renting a house with my in-laws, just hanging out and enjoying the warm weather. As long as I had WiFi, I was able to get work done and still enjoy the parks and a day or two at the beach. But it was vital that I could still deliver my work to my clients on time.
Then, in 2015, we moved to Orlando. I get to the parks a lot more than I ever used to, although vacation now happens less frequently. I take days off to visit the parks, and I take a vacation here and there, but for the most part I still make sure I get my work done, no matter where I am or what I'm doing. Here's how I've managed it for all these years.
1. Tell your clients you're going to take a vacation
You need to set the expectation that you're going to be out of pocket for a while. Hey, your clients take a vacation and they won't take your phone calls, right? So they should extend you the same courtesy.
If you have one client who won't let you take the time off and insists that you deliver when you're supposed to be relaxing, do the work, then find a way to replace them as soon as possible.
Otherwise, work ahead, meet all of your deadlines and postpone any not-so-important deadlines.
If necessary, plan your vacation months in advance and start working ahead so you can take your whole vacation off. I would do this with clients, getting their deliverables to them a few weeks in advance, and then scheduling articles and social media updates to publish while I was on vacation. I only had to check things on my phone to make sure everything was working alright, but I had my laptop back at the vacation house in case I needed to fix a problem.
2. Trade work with a trusted partner
I've got a couple writer friends I can turn to if I ever run into trouble, and I'll do the same for them. Health issues, too many deadlines, or even the occasional vacation — we can always bail each other out and help lighten the load.
Depending on what you do, see if you can find a couple of people who do similar work and who you can trust to turn to in a time of need. But that trust is important, because you don't want someone to try to steal a client from you. (People who do that are not good people.)
This could be someone who checks your office and waters your plant and feeds your fish, or someone who collects your mail. Or you hire them to do some of your client work for you, or swap it out with the promise of returning the favor. If you need people to handle time-sensitive matters, train them, do as much of the pre-work as you can, and then let them practice it a bit before you leave. Then, make absolutely sure you return the favor for them as well.
3. Plan on working a little anyway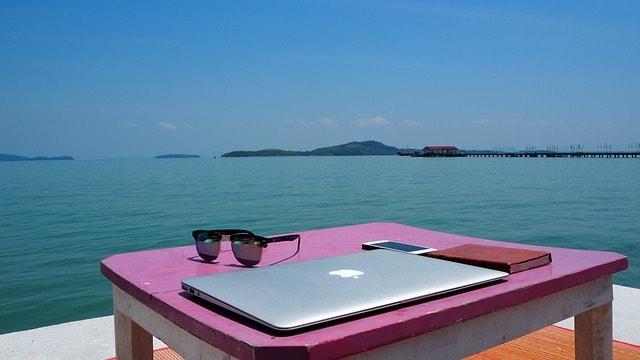 Yeah, right. Like you thought you could take a vacation from your business for longer than 48 hours. I would love to have the kind of life where I could leave work behind at the end of the day and not have to think about it until the next morning. But if I wanted that, I'd be an employee again.
The downside of owning your own business is that you're never done with work; the upside is that you (hopefully) enjoy the work.
I love writing, and I get to write for a living, so I don't mind working on vacation. I'm living my dream, so I get a little antsy when I spend a few days not writing.
Of course, my family didn't want me to work at all when we were on vacation, so we made a compromise. We could stay longer if I could work for a couple hours each morning and maybe a couple hours at night, and even take a whole day to myself for big projects. Then, I would just get up early enough or stay up late enough to do the things that had to be done in real time. By doing this, I could still get some work done, but we got to stay much longer than if I had just taken a single week off.
So if you're a solopreneur, you have two choices:
Take a vacation, don't look at your email and don't do any work. Spend your time fretting that your clients are getting angry and planning to leave. (Don't worry, your clients aren't going to leave. That's just your paranoia.)
Take a longer vacation, do those first two steps and get your most important and time-sensitive work done in your down time.
But if you're going to work while you're on vacation, there are three other things you can do.
4. Put everything in the cloud
But keep the originals on your hard drive.
When I write, whether it's client articles or articles like this one, I do it all on my laptop. It's faster, and I've created different macros and templates so I can do everything quickly and easily. Then, I share it with my clients via Google Drive. I also keep important information on Google Drive so I can access it at any moment, like client social media information, posting schedules and even contracts and proposals.
If I want to lighten my load, I only need to take an iPad and Bluetooth keyboard instead of the laptop, and I'm able to continue working without too much problem.
It's probably a good idea to practice this on a regular basis anyway. Recently, my laptop was out of commission for a whole week. When I realized it was breaking down, I put a couple week's work up on Google Drive and Apple iCloud and then I worked on my iPad and keyboard until the laptop was fixed. It's always important to have a backup method for getting your work done anyway, but it's a good way to work while you take a vacation.
Editor's note: Microsoft Office 365 from GoDaddy makes it easy to work wherever you are. With Office 365, everything's within reach because it seamlessly integrates with OneDrive, a secure cloud storage service. Store all your files and access online versions of Word, Excel and PowerPoint. Best of all, it works the same on a PC, Mac, tablet or smartphone.
5. Use cross-platform services and apps
One of the benefits of using cloud-based services is that they'll work on any device. I know that if I had a real emergency, I could go buy a $250 Chromebook and a cheap smartphone to handle a majority of my work. That's because I use services that work on iPhone and Android, as well as Apple and Windows.
A basic list of my services and apps include:
Google Drive
I can use Google Docs as a word processor and Google Sheets for a spreadsheet. It's a decent replacement for Microsoft Office or Apple's iWork.
Freshbooks
My accounting/invoicing system, and I can't say enough good things about them. They have a mobile app and a web portal. Freshbooks even does recurring invoices, so I don't have to send them myself every month. And I can even accept credit cards. Plus they have a mobile app so I can check on my receivables or send a new invoice.
Todoist
The to-do app that gamifies productivity and works on all devices and operating systems. And it syncs immediately, so I can mark something completed on my laptop and watch it disappear on my iPhone.
Evernote
You can't make a single list about mobile apps without seeing Evernote, and I don't want to disappoint you. Evernote is a great place to store information you might need for a client or for your own business, as well as save articles you want to read later, business cards from people, or even organize checklists of projects you're working on. Some writers even use it for their word processing instead of Google Drive.
A password vault
Rather than try to remember a bunch of complicated passwords, or put my data at risk with easy-to-remember/easy-to-crack passwords, I store them all in a password vault. I chose 1Password because it works on all devices and platforms and syncs up immediately (LastPass does this as well). There are even browser plugins so you can access your passwords when you log into your favorite websites.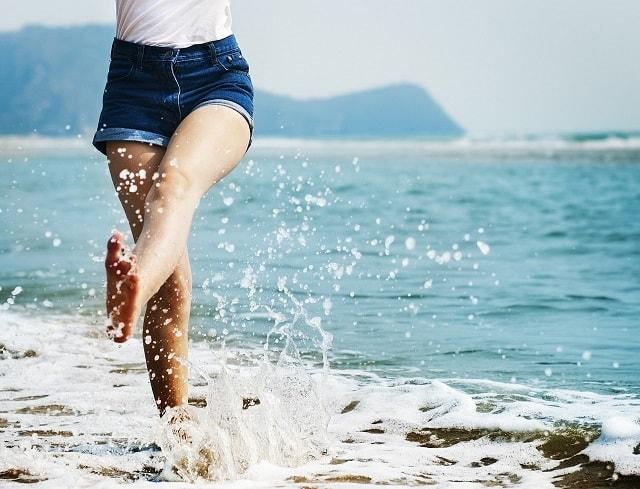 PayPal
My other preferred method of receiving payment. I've connected it to my bank, so whenever I get a payment, I can open up the website or my mobile app and transfer it to my bank.
IFTTT and Zapier
These automation tools have gotten so huge, it's mind-boggling. And while it's good for things like posting your Instagram photos to Twitter, or sending you a text when it's going to rain, it does so much for while you're on vacation.
First, if you need to schedule or automate anything for clients, start with one of these services. Also, there are home automation devices that plug into IFTTT like the Nest Hello video doorbell or the Philips Hue lightbulbs, which you can connect to a smart device like Alexa or Google Home, and then control from your mobile phone. You can see if someone is at your door, you can turn your lights on and off at random times to make it look like you're home, and you can even get a thermostat that will raise and lower the temperature while you're gone for a day or a week.
6. Carry a portable backup drive
After my computer scare, I bought a 2TB portable hard drive for my desktop for $79 on Amazon. This was on top of the AirPort backup, iCloud backup, and external hard drive backup I already had. I decided to get the portable because I wasn't backing up the other hard drive as often as I should, and if I ever lost my WiFi, I'd have a real problem.
The portable drive is only slightly thicker than my iPhone, but the same footprint, so I keep it plugged in most of the time. And if I ever go anywhere for more than a day, I can take it with me so I can keep making backups when I travel, or retrieve old lost documents. While I haven't had the chance to take a vacation since I bought it, I can easily fit it into my briefcase or backpack if I do.
7. Get a P.O. box
Finally, get a P.O. box. This doesn't really help you take a vacation, but if you ever move to a new office, or you prefer working out of coffee shops, this gives you a place to receive mail without telling people where you live. Plus, it's easier to forward your mail if you ever move to a new city 1,000 miles away and start your life all over.
Don't forget to have fun
The benefit of being a business owner or solopreneur is that you are your company. Chances are, you're a service provider or have a small manufacturing concern. What that means is that vacations are short, rare, and more like an interruption of the thing you actually like doing.
Still, they're important to take, so you need to do what you can to get away from work every so often, give yourself a break, decompress and destress, and come back renewed and refreshed. It can be tough to do, but if you try these six steps, you can find some time away for you and your family. Just get away for a little while and enjoy the time off.