Let's cut to the chase: You love makeup and want to share it with the world. Thanks to technology, you have more opportunities to share your knowledge than ever. The easiest way to do that? Blogging. We took a look at the best makeup blogs and found the five key takeaways that make them successful.
5 takeaways from the best makeup blogs
You gotta have personality.

Maintain a steady schedule.

Diverse, creative content.

High-quality visuals.

Bonus points for shop links!
Why blog?
But first, let's talk about why you should have a blog in the first place. Blogging serves different purposes for different bloggers. So we broke it down into cosmetic companies, eCommerce stores, aspiring bloggers and YouTube vloggers.
Cosmetic companies and eCommerce stores
Why would a cosmetic company or eCommerce store need a blog? They're selling products, not information, right? Not necessarily. Think about the steps you take before purchasing a product. If you're anything like me, you read pages of reviews, watch first-reaction videos on YouTube, and go to the store to test the product out yourself. All that information helps customers decide if they want to purchase the item or not.
A blog helps cosmetic companies and retailers build credibility among beauty shoppers.
By having a blog, your customers have access to products and information all at once. Because of this, you gain credibility from your consumers. You don't just sell products — you give honest reviews and you tell people how to put your products to use. Makeup lookbooks, detailed how-to's or in-depth reviews from well-known beauty bloggers can create trust between you and your consumers.
Vloggers and YouTubers
If you already have a YouTube beauty channel, having a blog can help you expand your digital footprint. While you're able to add descriptions to your videos, people can't search through the content of your actual video to find what they want. By having a blog, you have more information for search engines to crawl and search through — a.k.a. you have a better chance of being found by makeup-loving fans.
Aspiring bloggers
Having a blog is the easiest way to get your name out there. If talking in front of a camera is overwhelming, maintaining a blog can ease you into the idea of publicizing your content. If people respond well, you know you can take it a step further by adding a YouTube channel later on.
But enough about why you should have a makeup blog. Here are the five things you need if you want to have one of the best makeup blogs.
1. You gotta have personality
When creating your makeup blog, consider what type of personality you want to convey. Do you want to be funny? Informational? Creative? Whatever you decide, stick to it. If you're a company, having a blog gives the opportunity to create a voice and personality, which ultimately makes the company more relatable.
Major kudos to Memebox for being one of the few makeup and beauty companies to have a blog. Memebox does an incredible job of mixing up product features, letters from their staff, the science behind skincare and more to keep people coming back.
2. Maintain a steady schedule
If you want to have a successful makeup blog, you need to post on a regular schedule. The best blogs we've seen upload new content on a weekly basis — and they make sure their audience knows it, too. In this day and age, people are constantly distracted by new things, new ideas and new people. If they can't find the information and entertainment they need from you, they'll find someone else to fill the gap.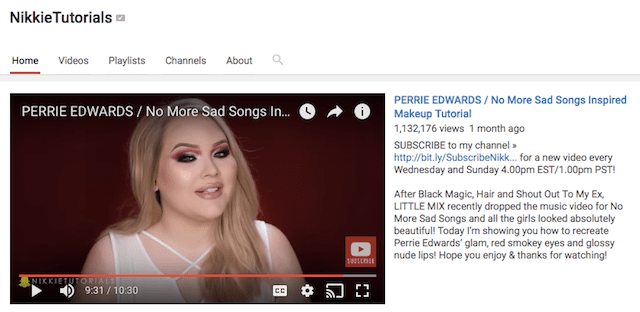 Nikkie is a makeup vlogger from the Netherlands. She currently has more than six million subscribers on YouTube and has a blog as well. She uploads new content every Wednesday and Sunday and posts her videos within her blog to satisfy her blogger and YouTube audiences.
3. Diverse, creative content
Okay so you're good at makeup (a.k.a. your red lips are reminiscent of Marilyn Monroe, not Ronald McDonald). Successful makeup bloggers are super-creative when it comes to their content. They put their own spin on classic looks and don't do the same type of posts e. The best makeup blogs feature reviews, creative looks for special occasions, DIYs and everything in between.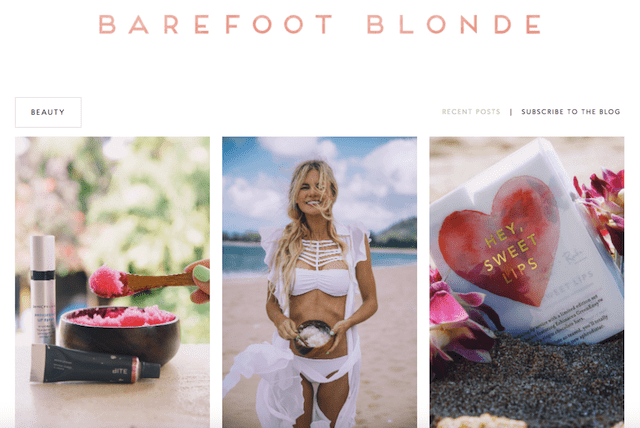 Barefoot Blonde has a lifestyle blog with a beauty component. In it, she does product reviews, DIY sugar scrubs, complete outfit and beauty looks and so much more.
4. High-quality visuals
Let's be honest: Explaining how to do makeup in writing is difficult. Is it doable? Absolutely. But if you're going to write out makeup tutorials, you NEED high-quality pictures and graphics in your posts. Take step-by-step photos to show your readers exactly what you're talking about, and don't forget to pose for the final look. If you decide to forgo the written explanation and record your makeup tutorials, make sure you have a professional video camera. If you can swing it, do both!
Keiko Lynn has been in the beauty game for quite some time now. Over the years, she's taken her blog to new heights, thanks to the graphics she creates for her blog posts.
5. Bonus points for shop links
Always tell people what products you're using. Include the names of your products and to step it up a notch, include links to where people can shop for the same product. The more information you divulge to your readers, the more they'll come back to you in the future.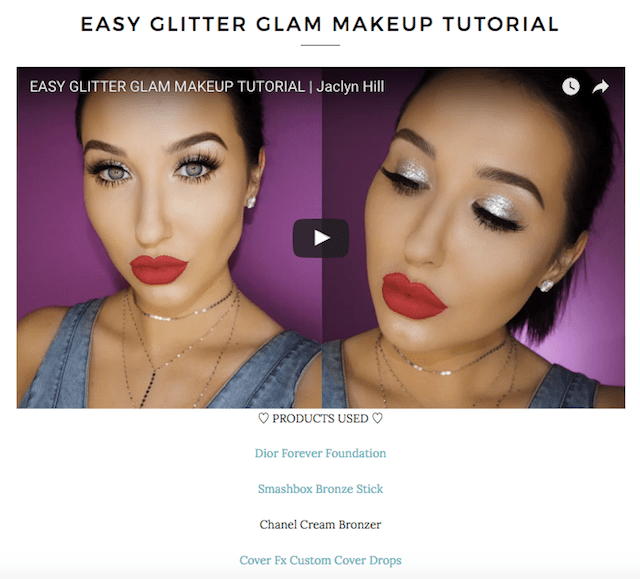 Jaclyn Hill is a 26-year-old makeup artist whose YouTube subscriber base consists of more than four million fans. Whether you're on her blog or YouTube channel, she lists and links all the products used to create her look. Helpful, right?
Count yourself among the best
No doubt about it, blogging is a commitment — of time and passion. The best makeup blogs out there didn't happen overnight. Just as you need the perfect base to create a stellar look, make sure you're setting up your words for success with a solid website foundation. Check out GoDaddy's Managed WordPress for carefree blogging.