For NBA star Kevin Durant, scoring in the business world has become just as important as scoring on the court. And many of his big wins involve longtime business partner Rich Kleiman, a sports agent turned entrepreneur. Both industry insiders co-founded Boardroom after identifying a white space in the ever-evolving world of sports media.
What is Boardroom.TV?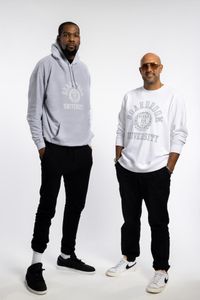 Boardroom is a media network that covers the business of sports, entertainment, and culture. In a world of ESPN, Fox Sports, CBS Sports, YES Network and others, Boardroom distinguishes itself with a special "inside baseball" focus on the ways that athletes, executives, musicians, and creators are moving the business world forward.
According to Kleiman, CEO, "we created Boardroom in 2019 as a way to start covering a lot of the sports industry moves that we were seeing through our relationships as investors and with teams and leagues. I love that it's now a well-oiled news machine able to cover so many aspects of the business of sports, entertainment and culture."
From NFL star Tim Tebow investing in a new soccer league in South Florida, to New York Jets rookie Sauce Gardner's latest endorsement deal with Buffalo Wild Wings, and in-depth profiles of U.S. Open superstars like Serena Williams, as well as up and comers like Anna Kontaveit, Boardroom content includes trends, insights, interviews, and more. Other executives featured on the network have included Jack Dorsey of Twitter, and David Solomon, CEO of Goldman Sachs.
Creating a network that envisions change
The online venture aims to change the world for sports enthusiasts by bringing them into the boardroom, with behind-the-scenes footage and updates on the latest endorsement deals, new ventures, as well as stats on player and team contracts and earnings. Its other verticals include sneakers and fashion, esports, betting, NFTs, and cannabis, creating a central hub that caters to a wide range of modern-day sports fans.
Boardroom strives to be so much more than breaking news and headlines; it aims to drive the conversation around the business of sports by giving visitors exclusive access to sports icons, movers, and shakers. "I see us as at the forefront of industry change: we bring unique perspectives on and access to the news, trending topics and key players you need to know," Kleiman says.
The co-founders, of course, have a competitive advantage. "We have unprecedented access to key players in the industry, and we are able to use that not just to get interviews and exclusives with athletes, execs, and entertainers, but also to understand what trends are forthcoming and educate our audience."
Reaching new heights and milestones
The company is about to hit three million unique site visits a month, a milestone the startup was able to achieve in less than three years.
"I'm incredibly proud of that because we were able to do it in a relatively short time and we did it by growing a very talented and hardworking team," says Kleiman. "I've never been as excited about anything I've done in my career as I am about growing Boardroom, and the energy that gives me is pretty incredible."
Kleiman, a lifelong New Yorker, worked in the music industry for years before becoming a sports agent, with Durant as his first client. The duo went on to launch 35V (Thirty Five Ventures) in 2016, a sports and media focused venture that invests in more than 75 portfolio companies across multiple industries. But Kleiman notes that Boardroom TV is their flagship business venture.
Establishing the entrepreneurial mindset
Kleiman's experience working in the music and sports industry has in many ways prepared him for working in startups and the game of entrepreneurship. "I've been an entrepreneur my whole life. It's a mindset, really."
It's a work ethic he's developed since his college days as a bookie. Early in his career, he took a risk by creating his own label with Mark Ronson, the British-American record producer and record executive. The venture led him to a music management career at Roc Nation, which then led him to the sports world.
"I've always established my own path," says Kleiman, "I think it's important that people realize you can have an entrepreneurial mindset as part of a larger company or on your own, and that really what it takes is to care enough about your goals and your vision to not mind doing all the hard work that it takes to achieve them."
Finding solutions to business challenges
Forbes has called Durant and Kleiman visionaries "who have established track records in starting companies, investing in emerging brands and in disrupting existing markets." But even an NBA star like Durant and a serial entrepreneur like Kleiman must be prepared to face the challenges and obstacles of growing an online media brand.
Says Kleiman, "In many ways, the hardest part of starting a business these days is finding a name that works for your brand, that you can trademark, and that you can build a web presence around."
When it came to launching online, the founding team opted for a .TV domain. "Boardroom.TV was the best version of what was available, the simplest URL, and it's easy to remember and market," says Kleiman. "It also points to the fact that we have a ton of great video content."
Setting new paths for content distribution
But .TV means so much more to the team. For Kleiman, the domain symbolizes Boardroom's role as a pioneer in the future of content distribution. "To me, it's also a little subversive in a way: linear TV is going away and young consumers aren't getting their business news from legacy channels like CNN anymore – they're coming to Boardroom."
"I want our [visitors] to immediately understand what we're offering them as a brand and see the news, insights, and articles they care about the most without having to dig to find them," Kleiman says.
Taking the momentum of success even further
Boardroom TV continues to thrive–and evolve, and a brand new version of the site will be unveiled soon. But Kleiman says he's thinking bigger, by brainstorming new ways to engage their dedicated audience.
"What I'm looking forward to in the coming months is turning our audience into a dedicated community. What that will look like for our fans is even more access: to more content, to events and experiences, and to one-of-a-kind merch, contests, and more."
For Boardroom, building and engaging with their online community is a top priority. Their efforts span video, content, events and podcasts to meet fans where they're at, on the platforms they prefer.
Check out Boardroom.tv now, to get an exclusive look into the business of sports, culture and entertainment as never seen before.