For many years, WordPress was the undisputed "gold standard" of content management systems (CMS). It was one of the only free CMS on the market and it offered everything you needed to create an excellent website from scratch. But is this still the case? Is WordPress worth using if you're in the market for a new website? Or are there other alternatives to WordPress CMS worth exploring?
A brief history of WordPress
The first version of WordPress was released in 2003. It was designed to be a relatively simple way for people to create their own websites, and it worked pretty well, considering the time period.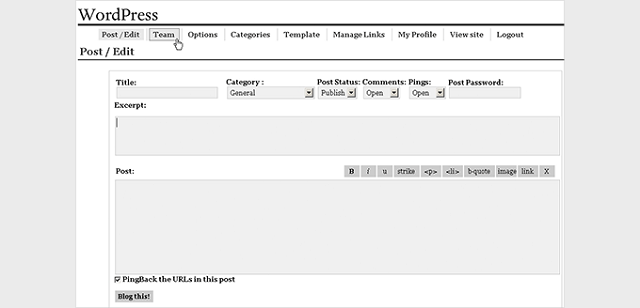 Over the years, it went through a number of changes, with WordPress 2.0 released in 2005, complete with an admin dashboard to make it easier for webmasters to manage their sites. In 2006, Automattic (founded by WordPress co-founder Matt Mullenweg) filed a trademark registration for WordPress, and in 2008, the admin interface was redesigned.
Throughout the 2010s, WordPress exploded in popularity, offering new tools and add-ons, expanding its collection of themes and templates, and ultimately making the user experience easier, and more beginner-friendly.
Today, it's estimated that there are more than 455 million WordPress websites globally, representing about 37% of all websites.
Key features of WordPress CMS
So what's the allure of WordPress? What has turned it into such a dominant force in the market of website builders?
As you'll see when we get to the comparison section, WordPress offers many of the same features other CMS solutions offer.
Anyone, regardless of how much technical experience they have or how skilled they are at coding, can use the tool to quickly and easily put together a website.
Users are walked through a series of steps so that in the course of a few hours, you can go from having a simple idea to having a fully hosted, functional website.
These are some of the key features that make WordPress so popular:
Professional themes. One of the greatest advantages of WordPress is that it offers tens of thousands of professional themes and templates you can use to make your website look professional. You can search for exactly the right theme for your industry and target audience, then customize that theme to be perfectly suited to your brand.
Because your options are practically limitless, there's probably a theme that perfectly aligns with your vision.
This simplifies the website design process, allowing you to tap into professional designs that are already created. Many of these templates are totally free, and the paid templates aren't super expensive, allowing even small business owners with tight budgets to get exactly what they need.
WYSIWYG editing style. WordPress also benefits from its content management system (CMS) which relies on WYSIWYG ("what you see is what you get") editing. As the name suggests, this style of web editor allows you to rely on basic user interactions, such as dragging and dropping, to create your website from scratch. You don't need to understand how programming works, nor are you going to be digging into the backend code of your site. Instead, you're going to reposition and redesign elements at your own discretion, and your completed website will look exactly the way you want it to look.
Search engine optimization. The backend coding of WordPress websites is already optimized for search engines. This means that search engines like Google can readily crawl and index your site, maximizing your chances of appearing in search results when users search for terms relevant to your website. One thing to keep in mind here is that you'll need a full SEO strategy if you want to rank higher and earn more organic traffic. WordPress doesn't do all the work for you; it simply lays the foundation.
Potential store upgrades. If you're interested in building an online store, where you can sell your products and services to people directly, you can do that with WordPress. You'll need the help of special add-ons to modify the structure of your site, but it's still relatively easy even for a newcomer to accomplish.
Plenty of add-ons. Speaking of add-ons, there are plenty of add-ons available for WordPress, since developers are constantly inventing new ones and distributing them. Each module has the potential to change the way your website works, giving you access to new designs, new functions and new user experience improvements when you manage the content on your own site.
Alerts and metrics. WordPress also grants you access to metrics related to your website's performance, so you can track how many people are visiting your website, how they're behaving on your site and more. You'll also get special alerts and notifications for specific interactions on your website, such as when people comment on your blog posts.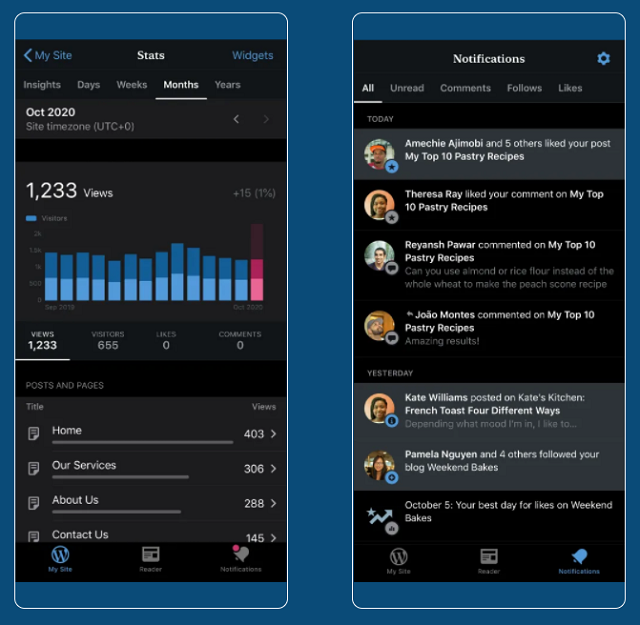 Of course, there are a few downsides that you'll need to keep in mind.
Paid upgrades (including hosting). Although WordPress is commonly touted as free, it's not an all-inclusive package. For example, hosting is not included. If you want adequate hosting for your website, you'll need a product like GoDaddy WordPress hosting. You'll also need to pay for certain upgrades, such as access to certain templates, improving your security or including paid add-ons.
Customization limitations. While you can customize your WordPress design to some extent, there are some hard limitations to what you can tinker with. You will be restricted on what you can edit based on your theme and your WordPress plan.
The plugin bloat problem. Plugins and add-ons for WordPress can be extremely valuable, boosting the performance and capabilities of your site. But as you add more and more, they begin to reveal certain drawbacks. Namely, the speed and functionality of your site can decline due to plugin bloat.
Security issues. WordPress offers some basic security for the websites you build using the platform, but it's not the most robust offering. It may be in your best interest to seek third-party support for further security upgrades or choose a different platform if security is a major concern.
WordPress CMS alternatives: pros and cons
These days, there are dozens of alternatives to WordPress website builders you can use to build a site for free. Many of these alternatives have almost an identical set of features to WordPress, giving you access to thousands of templates, allowing you to edit your website without any coding experience and even offering enhancements in the form of plugins.
For the purposes of our comparison, we will be looking at a couple of the most popular CMS alternatives to WordPress. Because these platforms are so similar, we won't be exploring all the things they have in common; Instead, we're going to focus on distinguishing characteristics.
Drupal
First, there's Drupal, an open-source alternative with more than 1 million websites to call its own.
Slightly harder to use. With Drupal, you'll need at least some technical knowledge. Fans of the platform speak very highly of its features and capabilities, but there's a steep learning curve. If you don't have much experience building websites, you're probably going to struggle to get going.
Greater flexibility. For the most part, Drupal is more flexible than WordPress. There are more things you can customize, and fewer limitations on what you can accomplish with the platform.
Higher security. In part because security is lacking with WordPress, Drupal wins the security battle. You'll find much more robust security protections with this platform.
Joomla
With more than 2.8 million websites, Joomla is another contender worth considering.
Higher difficulty. The biggest drawback of Joomla is the higher difficulty involved. It's a less intuitive platform than WordPress, so it's going to take more time for you to learn how to use it and get started. It also pays to have some coding knowledge if you're going to get involved here.
Ample plugins. Whatever you're looking to accomplish with a Joomla website, there's a plugin that can help you do it. Joomla has one of the most robust selections of plugins of any platform on this list.
Store flexibility. Thanks to the help of plugins and practically unlimited modification potential, Joomla makes it easy to build a functional online storefront.
Creating a website from scratch
Solutions like WordPress or other CMS platforms aren't your only path to creating a website; they just happen to be one of the most popular and accessible options.
Here's are the distinguishing characteristics you'll need to keep in mind if you consider this option:
Much more expensive. Designing and developing a website with the help of an agency is much more expensive than using a website builder. This should be obvious, considering many website builders are totally free.
Technically complicated. Coding a website from scratch is much harder than relying on an existing template. If you're doing the work yourself, you're going to need to do a lot of studying to make your efforts a success. If you're working with an agency, and your project is complicated, expect a few hurdles along the way.
Unlimited flexibility. The big advantage here is that you have truly unlimited flexibility. You're not going to be limited by drag and drop editors or pre-existing templates; instead, if you can dream it, you can make it.
Direct control. Some entrepreneurs like the idea of creating a website from scratch because they get more direct control over the process. Instead of choosing from a limited range of pre-made options, you can build everything from the ground up.
Sometimes, it's obvious that a website was built using a pre-existing template. That's because it looks like every other website. If you want to stand out with an original design that breaks away from oversaturated templates, designing from scratch is a practical requirement.
Conclusion
So what's the bottom line here?
In some ways, WordPress still is the "gold standard" for website builders. It's by far the most popular website builder, it has everything you need to build a website (even if you have no technical knowledge), it's free (or inexpensive), and it keeps adding new features and new plugins.
But even with that in mind, you should know that there are plenty of alternative options, each with its own collection of unique strengths and weaknesses. Before making any decisions, it's a good idea to evaluate your own goals, including your budget, your technical skill and the functional needs of your website.
Once you understand your priorities better, it should be much easier to choose the correct platform for your website building needs.
Interested in a website builder solution outside of WordPress? Get started today with a free option like GoDaddy's website builder.