Editor's Note: This article on WordPress SEO tips and tricks was first published on February 4, 2015. It was updated on November 23, 2018.
Most users adopt WordPress because it's free, it's easy to use, and it offers an abundance of resources and extensions. What people don't realize is WordPress offers an additional benefit that makes it a powerhouse for CMS solutions.
WordPress is the most search engine-friendly software for building websites and blogs. In this article, we'll walk through our favorite WordPress SEO tips and tricks. They'll help you better understand what WordPress offers for SEO and how you can use these features to elevate your position in search.
Editor's note: Need some help? Let the experts at GoDaddy SEO Services guide your SEO strategy and optimize your site so it gets the attention it deserves. Contact GoDaddy today to see how you can work less and rank higher.
Basic WordPress SEO tips and tricks
Canonical links
As with many content management systems, duplicate or identical content is often posted at more than one URL. Google isn't fond of duplicate content because it degrades the user experience and it makes it difficult for the search engine to crawl, digest, and use content in search.
Within WordPress, you can find content by date, by author, or by category to name a few. Search engines want to understand the source of those posts and which URL represents the primary content for usage. A canonical link will help take care of this by using a "canonical tag" that defines the exact URL at which the source article is located. This is advantageous because it means if your article is shared through different URLs, the authority is all weighted at the source -- and you'll rank better than having disparate pages all being linked to with identical content.
WordPress's most popular SEO plugin, Yoast SEO (free or premium), adds canonical URLs to your WordPress install for all content that is marked for indexing by search engines. It does this automatically, and in 99.9% of cases, you don't have to change anything about them.
Thus, once you install WordPress and Yoast SEO, your canonical links are in place and your website is healthy.
Permalinks
All content management systems are comprised of some sort of data layer where content is maintained and a presentation layer where it's displayed. In less sophisticated or older content management systems, a querystring was used to query the database and present the right content. This was ugly and might look something like http://thewordpressgarage.com/?p=123.
WordPress offers the opportunity to customize your permalinks and make them friendly, to view, share, and even optimize with a keyword or two. We recommend the "Post Name" option to keep your URLs succinct and the relative hierarchy of your site simple. Permalink structures provide the search engine with a view of how your site is structured - with the most important content closest to your home page.
A typical URL structure you see on WordPress sites utilizes the month and year in it: eg. http://domain.com/2015/01/post-slug. A better option is http://domain.com/post-slug, which indicates it's a primary page on the site.
You can easily update this yourself within WordPress via Settings > Permalinks.
Robots.txt
At the root of any site is the ability for a search engine to get permission to gain access to the content within the site. There's a simple text file named robots.txt that provides those permissions and can be updated to provide additional information. WordPress allows you to discourage search engines from indexing your site with a setting in Settings > Reading.
If you're preparing your site to go live, it's a good idea to discourage the search engines from indexing it until you're ready, especially if you're going to update the domain or internal paths to content.
XML Sitemaps
There's a method to publish a backend file in XML that search engines can read to ensure they see every page of your site, know when it was last updated, and even understand the prioritization you wish to give it. That's known as an XML sitemap and it's an accepted format for all search engines… but it's not built into WordPress.
Yoast SEO will again take care of this for you. And once created, you'll want to configure your XML sitemap and connect it to Google Search Console and Bing Webmaster Tools.
Local SEO tips and tricks for WordPress
Citations
Search engine algorithms and crawlers continue to advance in their ability to identify terms on a page. For quite some time, it was fairly limited to understanding links on a page and the keywords within the anchor text of that link on the page. Over time, search engines began to understand co-occurrence terms. So if you spoke about SEO or Search Optimization, the search engine understood that you were talking about the same thing. It wasn't necessary any longer to cram a ton of keywords into your content; you just had to make sure that your content was rich and you were writing about a central topic that search users were utilizing.
Search engines continue to evolve, also recognizing citations on pages. Author names, product names, addresses, and phone numbers are all distinct elements that the search engines can be used to identify your site's relevance and position it properly within a relevant search result.
Since author names are often distinct, search engines may improve the ranking of content that's written by specific authors because they've built authority across the web on topics of that nature.
A physical address may assist your site getting ranked in local search results or a mobile search on a given topic. As a result, providing this information in a title tag, body of a page, or even a footer can get your site content aligned with the topic you're speaking about.
Citations for one location
If your business is in one central location, you might wish to simply optimize the entire site, every page, and post, by customizing your theme's site-wide header or footer. In Appearance > Themes, you can customize your site name and tagline utilizing your geographic region.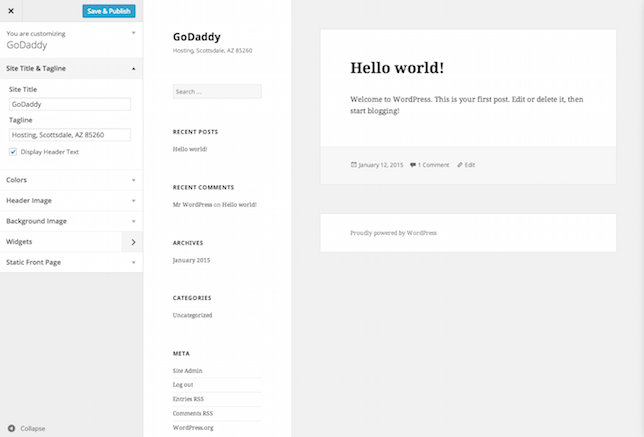 Home page title and meta description
Now, I can modify SEO > Search Appearance > General and modify the Home tab settings to pull the site name and tagline into the home page title and meta description utilizing a substitution string. Yoast now makes this easy by using an Insert snippet variable option for plugin configuration. This is great so that, in the event that you change the name, you don't have to update it in multiple settings.
Default titles
If you'd like to apply your business name and location to every page and blog post, you'll want to modify SEO > Search Appearance > Content Types and add the information to the desired content types. Keep in mind that Google only displays 55 to 60 characters of the title tag, so you'll definitely want to keep your location brief if you're using this method.
If you're not comfortable putting your business name and location in the title of every page, you may instead wish to place it in the footer. Sometimes that's best if your physical location is a long-term or you wish to also include a phone number.
Footer
Many themes come with a copyright field or a Powered by notice at the base of the page. This is a perfect place to add your full postal address and even a phone number. By adding to the footer, every page on your site will have it, providing a citation on each. If you can't control this text in a theme (recommended), you can update the code within the theme's footer.php file. You'll need to enable editing and then select footer.php from Appearance > Editor. Look for the Powered by link and replace it with your site name and location. In the base WordPress theme, you'd replace the Powered by with:
<a href="<?php bloginfo( 'url' ); ?>"><?php bloginfo( 'name' ); ?></a> - <?php bloginfo( 'description' ); ?></a>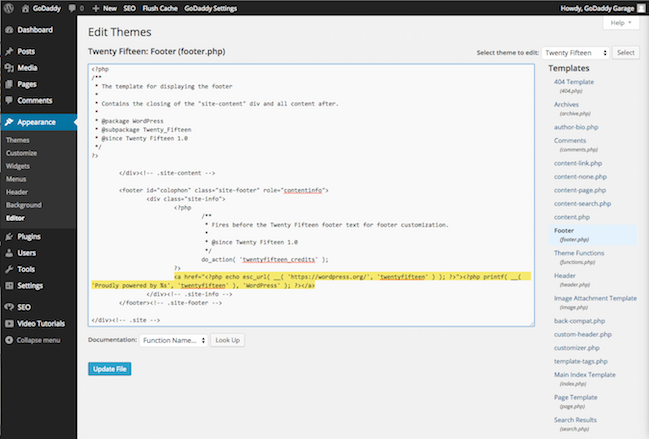 Citations for multiple locations
If you have multiple locations, you'll want these to be represented as well. When doing so, it is important to have a single page for each location and include key information for each location represented.
A good location page will include the location name, phone number, physical address, Google map, and unique content that pertains specifically to that location. If possible, using structured data for local schema will also helpful. In today's SEO, Google heavily relies on structured data and schema and these advanced SEO features are dominating page one of search results.
Using a premium plugin like Yoast's Local SEO for WordPress plugin will help you easily install structured data that will adhere to Google's requirements.
Use local directories
Both Google and Bing display results for verified businesses that have registered with their business services. Register with Bing Places for Business and with Google My Business. Both are free and incredibly important for ranking in local SEO results!
You can also submit to other directories if you wish – but you will want to consult with a local search expert first. Submitting to the wrong directories can actually damage your ability to get ranked if that site is overrun with bad links.
Content specific SEO tips and tricks
If you've done everything above, the last thing you need to do is write content. The behavior of consumers and businesses alike has changed dramatically over the last decade, driving more and more people online to research their next purchase decision. At one time, it wasn't uncommon for the sales representative to be the first person to call on a prospect and the prospect had never heard of the solution or the offering the company was selling. Now it's the norm for the sales representative to be the last point of contact, with the purchase decision almost complete.
As search engines have become a great resource to that research, creating the content to display in those searches has become a focal point of every company's marketing efforts. Content marketing is key, and instituting a blogging strategy to keep relevant content recent and frequent is a baseline requirement.
With so much content being generated and search algorithms improving, it's imperative that your blog posts differentiate themselves from the norm.
One single blog post can drive thousands of visitors and hundreds of leads for a very long time. Here's our ultimate checklist for high-performing blog posts.
There are multiple elements to every website page or blog post that you should pay attention to in order to drive both traffic and business.
Post slug

Most people don't modify the URL slug of the article that they're sharing on their blog, but we'd recommend it. Making a simple slug can ensure it's easily shareable and fully displayed within search results. It can also help search engines more easily crawl and digest it.
When updating the slug, remember to align it with the title and include your focused keyword phrase if possible.
Meta title and description
A meta title and description get displayed by search engines when your content is displayed within the search engine results page. This is your first opportunity to begin selling your content and it occurs before visitors ever reach your website. The meta title and description should be populated to include your focused keyword phrase and they should be easy to read and digest.
WordPress doesn't allow you to add or edit this by default, so you'll need to use a plugin like Yoast SEO to do so. The good news is Yoast will help you create meta titles and descriptions that are user and SEO friendly.
Content length
Years ago you could rank a piece of content on page one of Google with as little as 300 words. In today's world of search that amount isn't close to being enough to rank on Google. Most page one content on Google hoovers around 2,000 words. While you don't always need that long of content, it is good to check page one for what is ranking so you know how much content you need to write to beat your competition.
Make your content longer, more in-depth, and provide more value than your competitors. Google will like it and your human visitors will too!
Sub-header usage
Subheaders are part of the WordPress core editor and they allow you to add headings within the content. These can be helpful to humans who read and browse your content because they break up content and make it easier to digest. What many people don't realize is Google it looking at these too. Google uses subheaders to understand the content flow and outline of the text. When Google better understands the outline, it can better use it to rank in search.
Image alt text
When you add images to WordPress you are given the option of adding an image alt text. This alt text helps search engines and screen readers understand what that image is because it provides a description of the time. These alt text elements are important to both usability and SEO, so make sure you add them with care. An alt text should describe the image - period. Don't fall into the trap of pushing keywords into the alt text, because that will degrade the value of your content to search engines and make the content very messy.
GoDaddy Managed WordPress SEO enhancements
It's important to remember that the purpose of WordPress is to publish content easily, so the features above are all automated and critical but are by no means enough to optimize your site. Here are some additional features not built into the WordPress root CMS that can substantially improve your search engine visibility.
Caching
Every time someone opens a page on your site, it queries the database and publishes the appropriate content. That request requires additional time, so caching is imperative. Caching makes a temporary copy of the complete page to improve load time. As a result, when 10 people land on your site at the same time, it may only query your site once and then display the cache the rest of the time. Speed is an important component for search engine optimization. GoDaddy has its own caching integration by default on your WordPress install!
Security
Security has become a key requirement of Google, so it is one of the last items on our WordPress SEO tips and tricks list. Every website or blog needs to have an SSL certificate applied and URLs presented with an HTTPS URL structure. GoDaddy's Managed WordPress hosting will help make this happen in an easy and user-friendly manner.
Additional SEO Tips and Tricks
Want to learn more about SEO? Here are some great resources provided by Google itself: