For current updates on new features being added to Websites + Marketing Ecommerce, see our updated guide here.
In this guide, you'll find an archive of our 2022 feature additions to Websites + Marketing Ecommerce. Please be aware that some of these features may already have been updated or replaced in future updates.
What's new in Websites + Marketing Ecommerce in 2022
Here's a list of the new features and options available for Websites + Marketing Ecommerce customers:
Updates as of Dec. 9, 2022:
Updates as of Nov. 10, 2022:
Updates as of Oct. 13, 2022:
Updates as of Sept. 13, 2022:
Updates as of Aug. 11, 2022:
Updates as of July 11, 2022:
Updates as of June 10, 2022:

Updates as of May 25, 2022:
Updates as of April 11, 2022:
Updates as of March 10, 2022:
Updates as of Feb. 4, 2022:
Updates as of Jan. 18, 2022:

Updates as of Jan. 10, 2022:
Related resources:
Hide services from displaying on your site
Do you have services that are seasonal offerings only? Or maybe you want to prep your site for a future service launch? Hiding services makes this process easier.
Note: If a service was already shown on your website and it has upcoming bookings, changing the setting of this will not affect those already-created bookings. It will only prevent future bookings.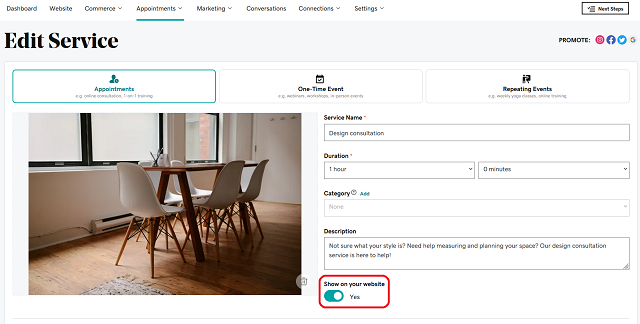 Advertise your business on social media
Looking to get your business noticed on social media? Advertising is the perfect way to do that. And now, you can create ads for social media through your Products list page.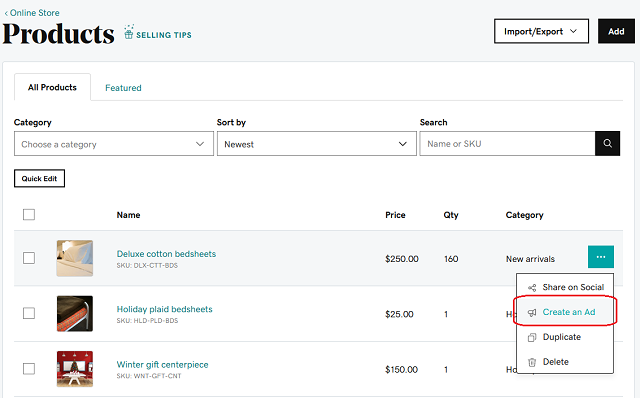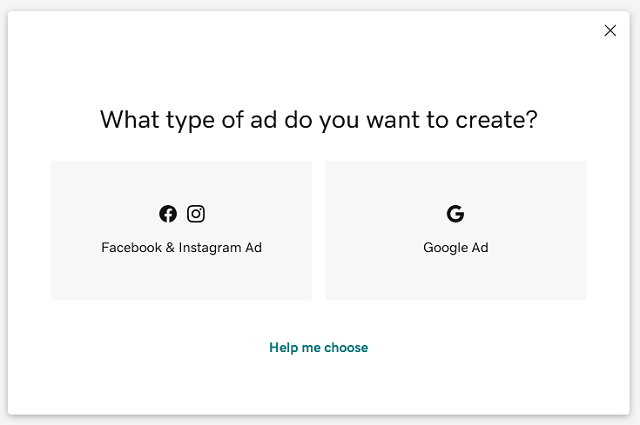 Related: Facebook/Instagram Ads versus Google Ads — Which is right for your business?
Schedule recurring blocks
If your business often has recurring events, such as staff meetings, you can now easily block off those events in your business calendar.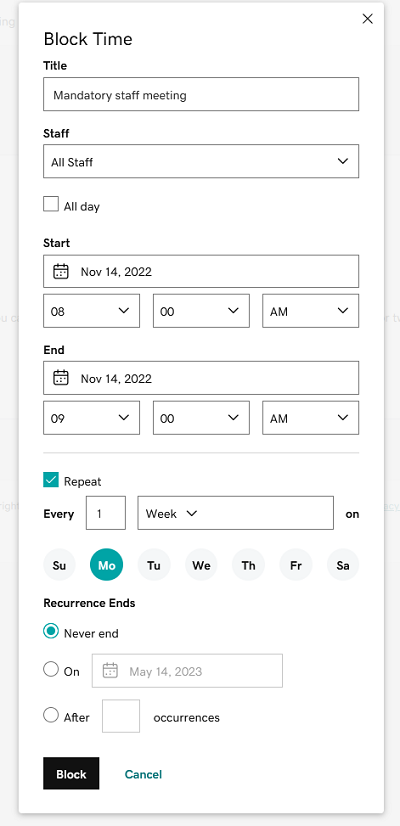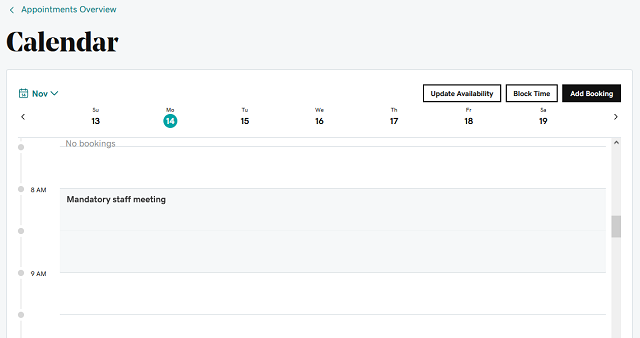 Online order notifications on Smart Terminal
New notifications have been enabled for Online Stores that are using Smart Terminal. When a customer makes a purchase online for pickup or delivery, a notification is sent to your Smart Terminal.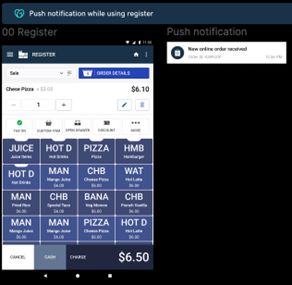 Store owners will be able to click on the notification to view the order details in the Orders app and they'll receive visual and sound notifications by default. This feature is useful for helping store owners and employees fully visualize the order queue.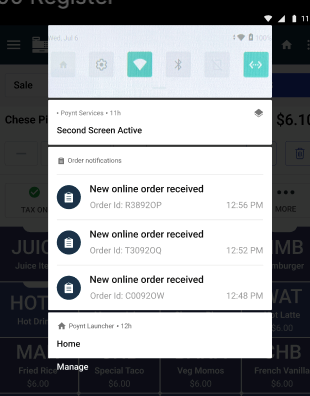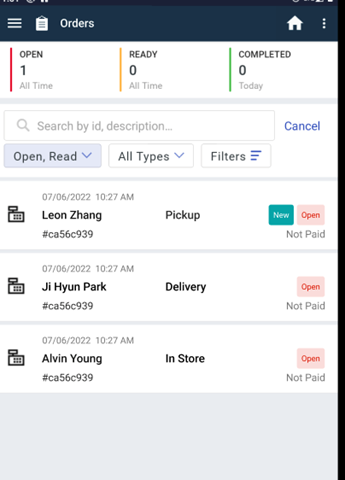 Add customer name to order on Smart Terminal via register app
Additionally, you can now update customer names on orders via Smart Terminal. To do so, you'll tap the Quick Actions option, then Add Name.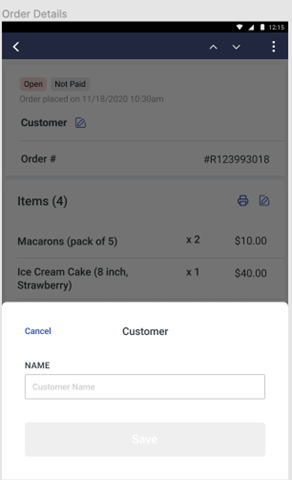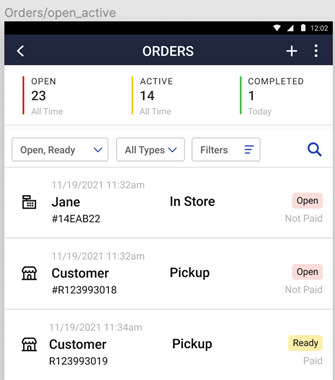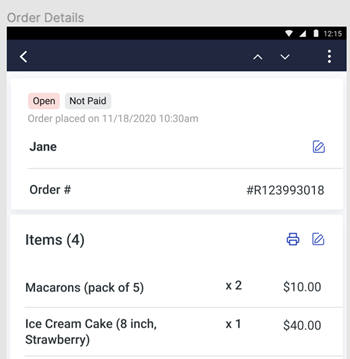 Add a Pay Button to your site
With Pay Buttons, Websites + Marketing website owners can now link any action buttons to GoDaddy Online Pay Links so they can get paid.
Note: Not sure where to find the action buttons? Action buttons can be added from within multiple section types in Websites + Marketing, such as the Header, Introduction, Content and About sections.
You do not need to have either Online Store or Online Appointments to be able to use Pay Buttons. You will, though, need to have a GoDaddy Payments account to create Pay Links. But don't worry, you can easily get a GoDaddy Payments account started from the Pay Buttons settings as well.
Here are a few examples of how Pay Buttons can help:
Online bill pay.
Accept donations.
Fundraising.
Sell a product and/or service.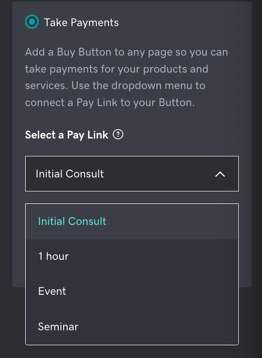 Customize order/shipping/booking confirmation
With this update, website owners can now customize their order/shipment/booking confirmation emails. Add your company's logo, match your brand, add a coupon code for the next order, etc. You can find this new option under "Automations".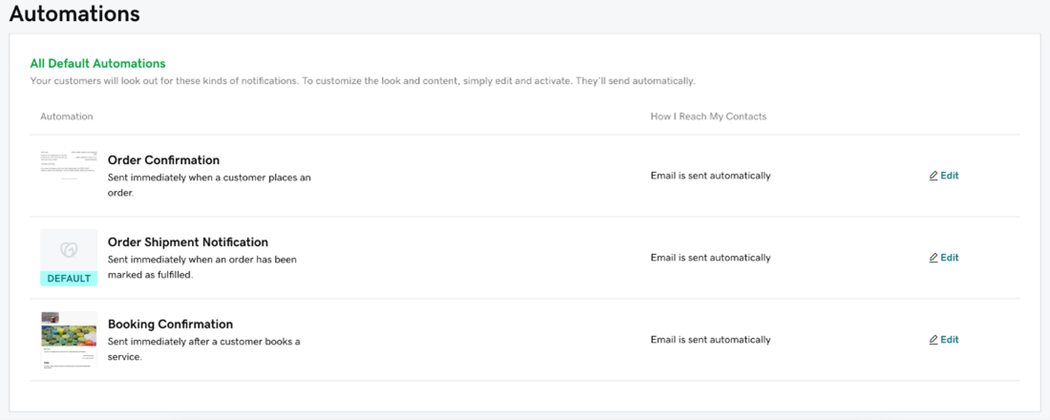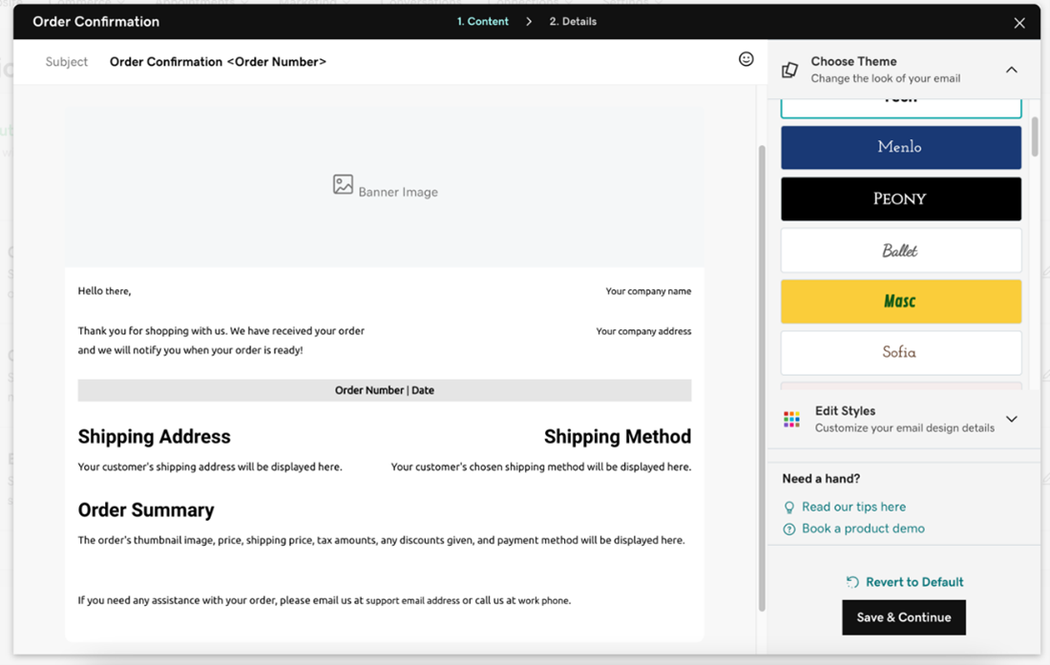 Improved checkout system
We've updated the functionality and layout of Online Appointments. The new system has a more modern, sleek design and it also lets your customers book more than one service at a time. Being on the improved booking system will make sure you are always up-to-date with system/payment updates.
Any Online Appointments users that are still on old checkout system would need to republish their site to start using the new, improved checkout system.
Tip: To see if you are utilizing the new system, go to your published site and check to see if you have the slide-out cart when you initiate a booking. If you see a slide-out cart, you are already using our new, improved system.
The old checkout view: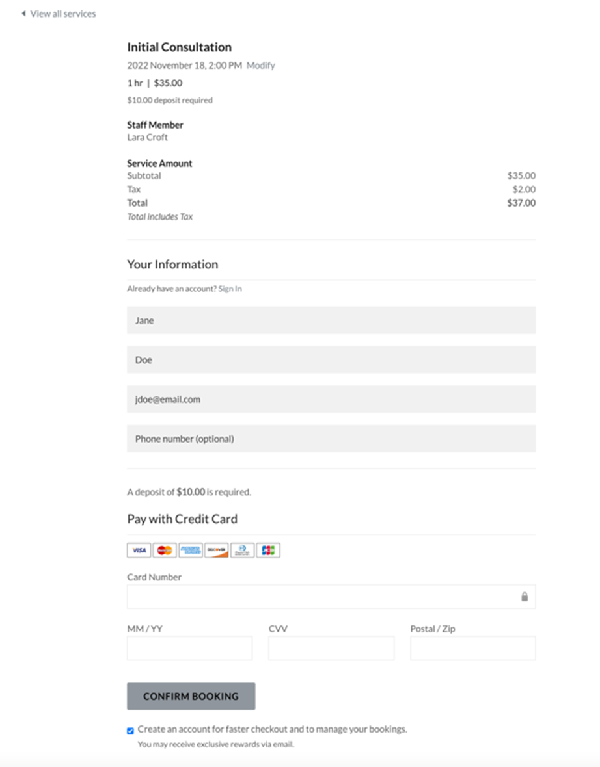 The new checkout view: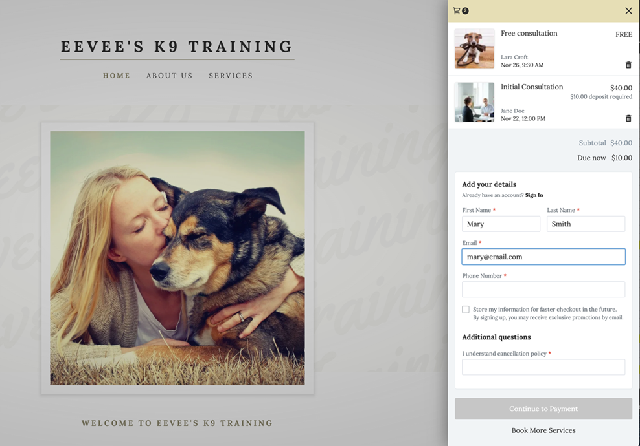 Carrier insurance now supported for shipping labels
Online Store owners can now choose to specify insurance for a shipping label (where carriers support it). This is a new field on the shipping label purchase experience and is completely optional.
Some carriers include free insurance up to a certain amount (e.g. $50 or $100), but this needs to be specified as part of the label purchase in order to make a claim later. More coverage can be purchased at an additional cost.
This feature gives sellers an additional layer of security, knowing they can recover their losses if packages are lost.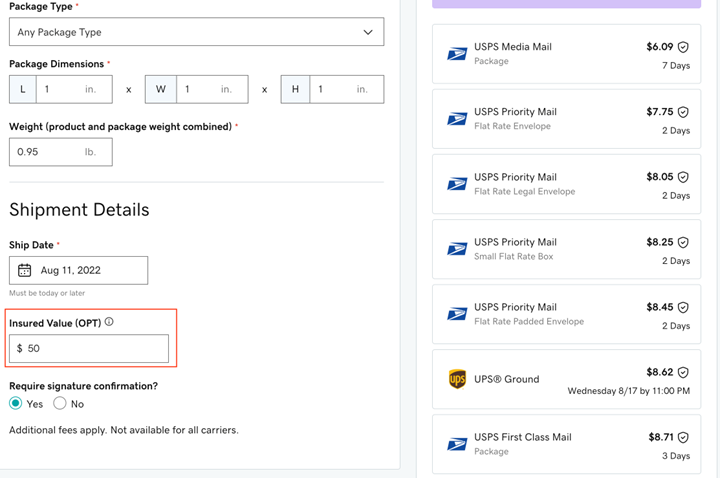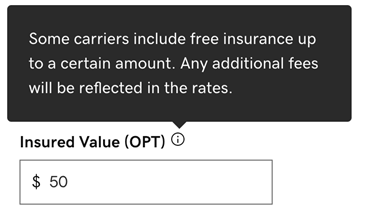 Zip code level sales tax calculation
We're making sales tax simple! Sellers can now configure sales tax for their online store via a simplified automated sales tax system.
To activate this function, sellers will need to visit their sales tax page and add the zip code level sales tax option. From there, sellers would add the states where they are required to collect tax, and tax rates will be automatically updated and calculated for their Online Store orders at checkout based on the shopper's zip code.
Tax changes happen regularly, and it gets difficult to keep track of it manually. With this solution, the tax rates will be automatically updated daily.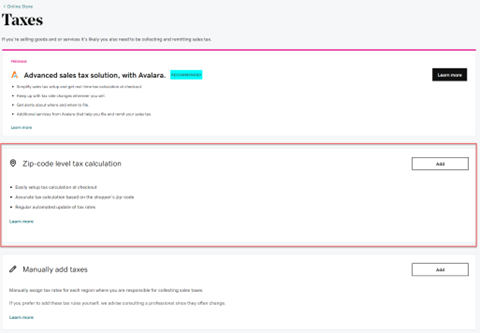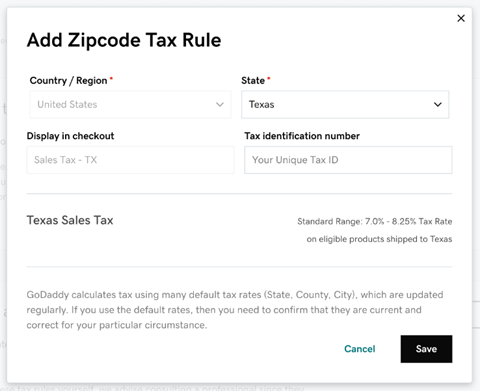 New video highlighting useful Online Store features
Need a handy refresher on helpful Online Store features? Sellers that have at least one product set up can watch a quick four-minute video, highlighting various Online Store features that can help them get the most out of their ecommerce store.
Online Store users can find this highlight video on their store overview (which can be found under Commerce > Ways to Sell > Online Store).
Note: For sellers to continue editing their storefront, they will need to access Editor through the "Website" navigation.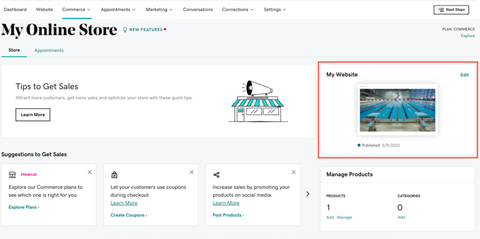 Tie time blocks to staff members with Online Appointments
With this new update, Online Appointments can now be tied to specific staff members within your company. In the past, scheduling appointments could only be tied to the business itself, rather than staff within the company.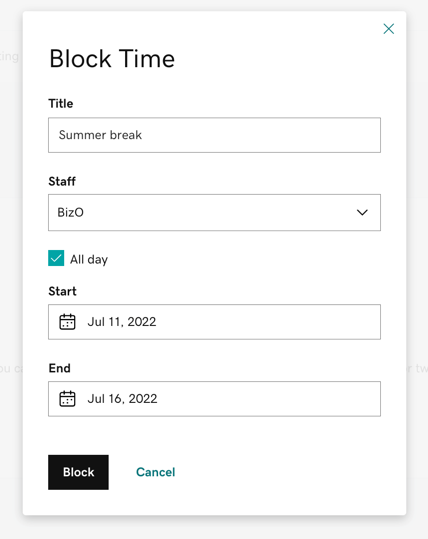 Generate omnicommerce sales reports
Also new this month, we've launched a new omnichannel commerce reports area. This area will include two new sales reports, as well as access to existing reports for GoDaddy Payments customers.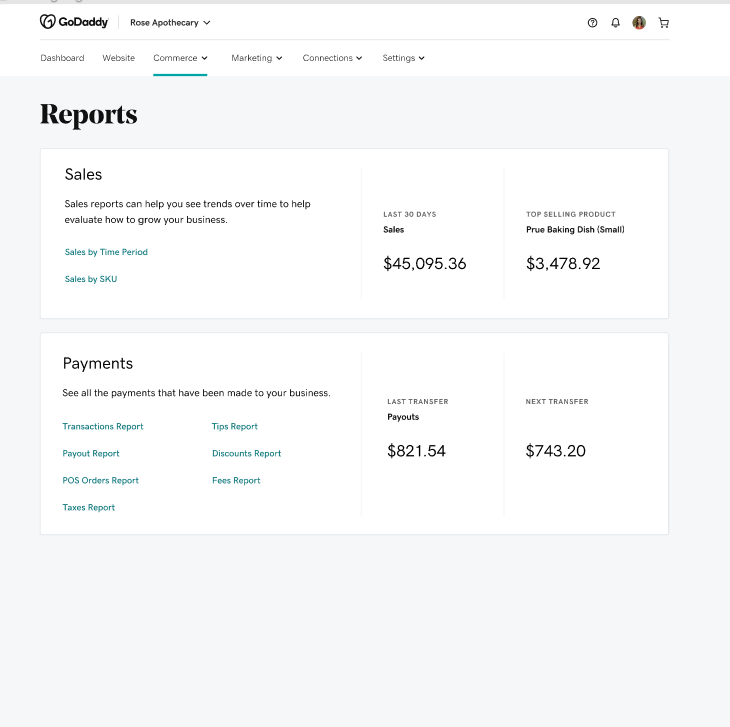 Additional reports are planned for the future — this is just the beginning of making robust reporting available to our commerce customers!
You can access the Reports page from Commerce > Reports & Settings > Reports.
All Commerce customers will have access to the sales reports and all GoDaddy Payments customers will have access to Payments reports.
New sales reports:
Default date range is the last 7 days.
Can select a custom date range: today, last 30 days, last 90 days.
Can choose to download the report you see on the screen into CSV format for importing into other systems.
Both horizontal and vertical scrolling of data is available.
Up to 1,000 rows will display in the browser, if the data returned is larger than 1,000 rows, it will need to be exported to CSV to view the full data set.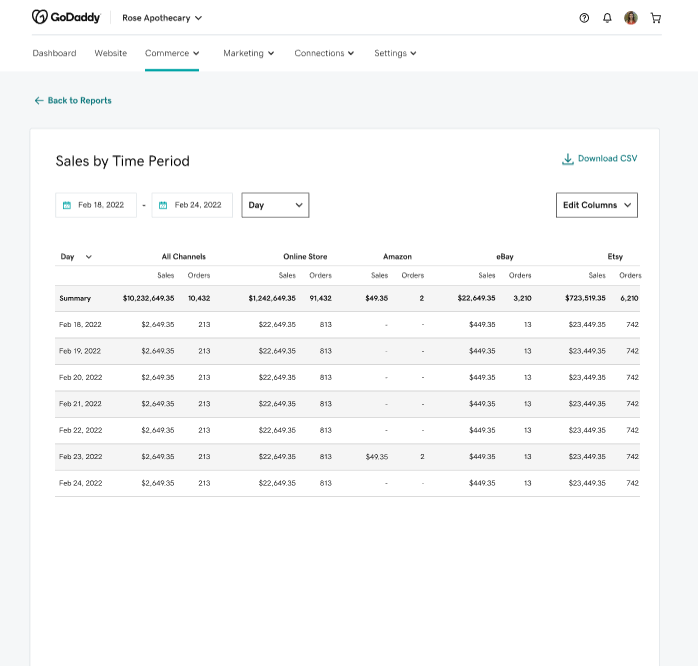 Available reports:
Sales by Time

View all sales and order quantity across all sales channels for the specified time period
Group the data by hour, day, week, or month
The first row gives a summary of for the time period
Customize the columns in your report

Sales by SKU

View all sales in the selected time period for products with SKUs
Data displays both sales revenue and unit quantity for each SKU

More flexibility to set up repeating schedules
Additionally, store owners now have increased flexibility when setting up repeating schedules in Online Appointments. We've added daily and yearly as options, as well as provide more flexibility in the weekly and monthly options. There are also now more options for an end rule as well.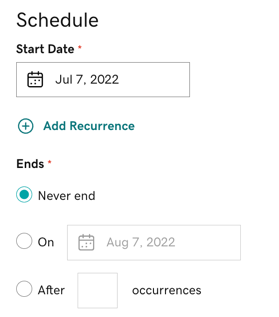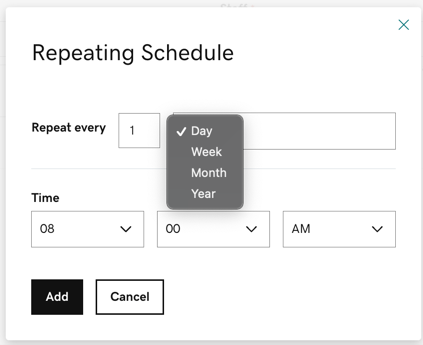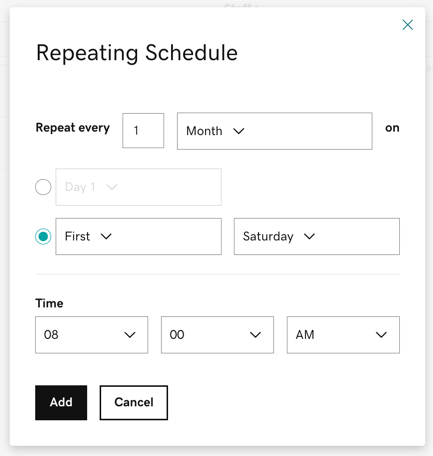 Improved time selectors for Online Appointments
The time selectors for Online Appointments are now broken down to 3 fields: hour, minutes and am/pm. Previously, it was a long drop down list of times, with a 5-minute interval only.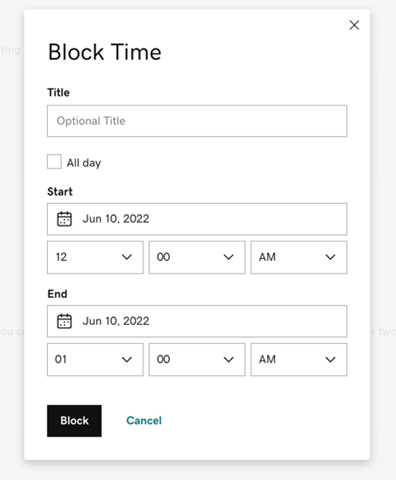 Get shipping rates and print labels via new ShipEngine integration
Tired of copying and pasting addresses into other tools to purchase shipping labels? Now you won't need to. Our new integration with ShipEngine allows you to quickly get rates and purchase labels from FedEx, UPS and USPS, all without leaving GoDaddy (please note that this feature is currently limited to US-based customers only).
To set up your shipping labels, simply click on "Buy Shipping Label" when viewing an order and ShipEngine onboarding will begin.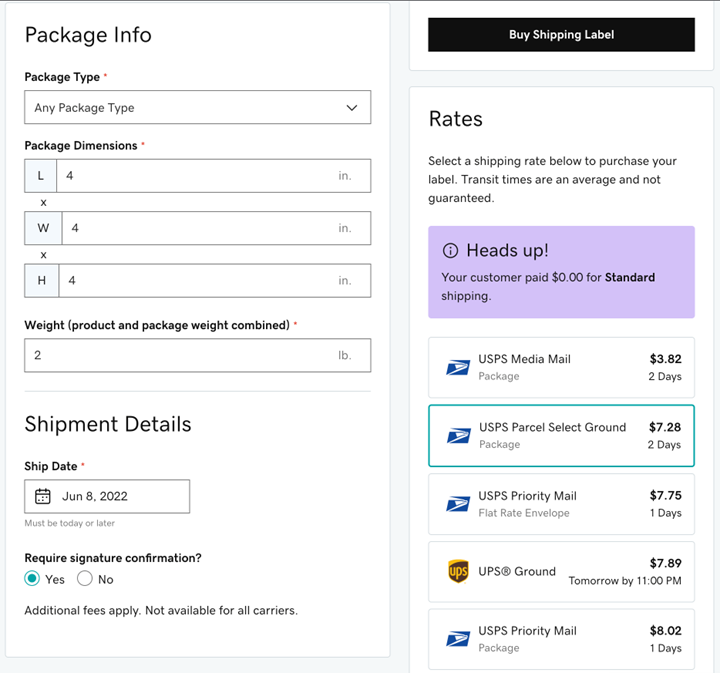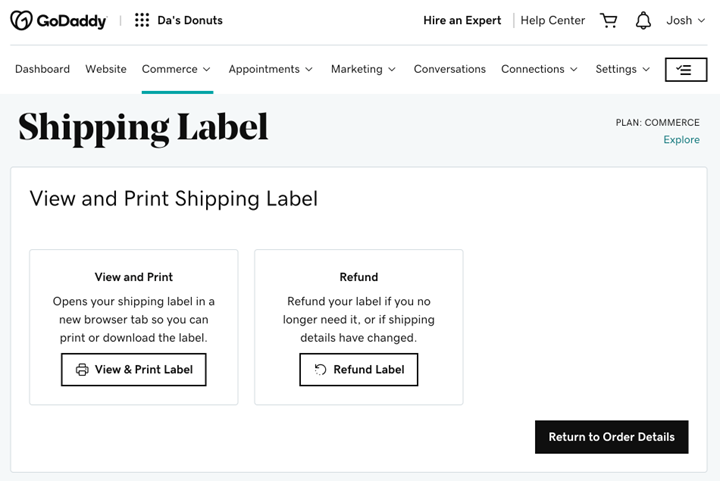 Note: If you have previously enabled the legacy Shippo integration, please contact our support team to have it removed from your account.
Share product details through Conversations
If you have the Conversations (chat) feature enabled on your ecommerce website, you can now easily access your product catalog and send links to product details.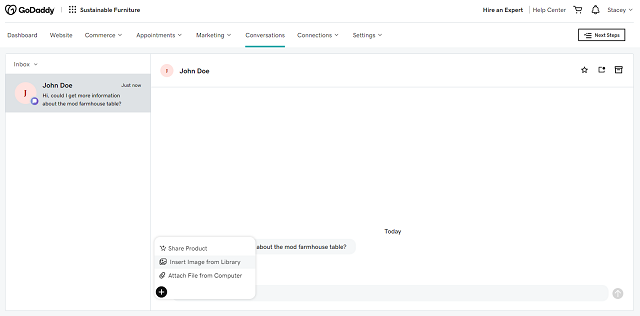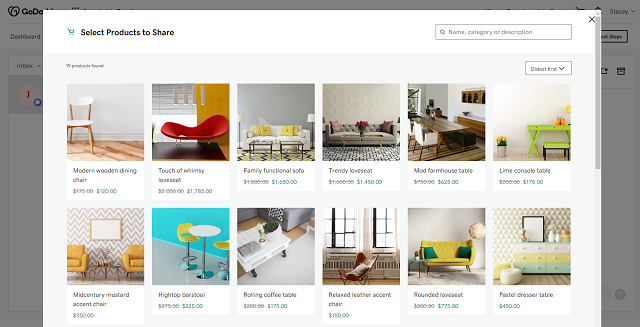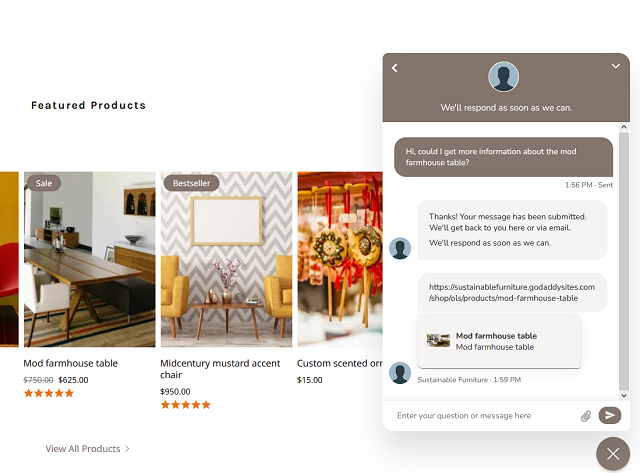 Quickly remove background from images
Worried that the background for your product image is too busy? Now you can easily access GoDaddy Studio to quickly remove unwanted backgrounds from your images. You can access this feature from the Add/Edit Product page.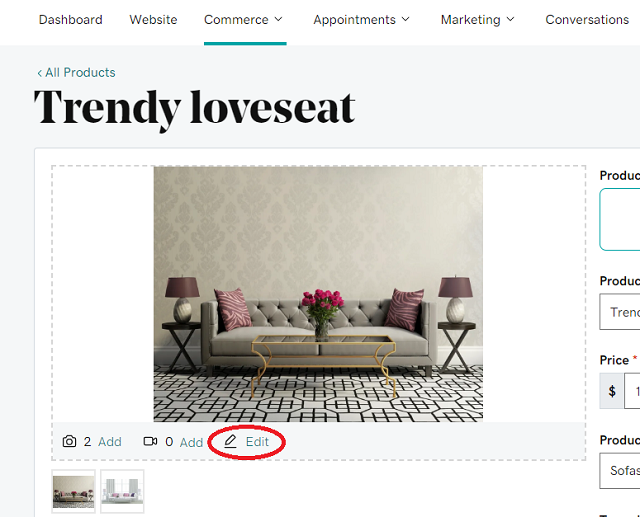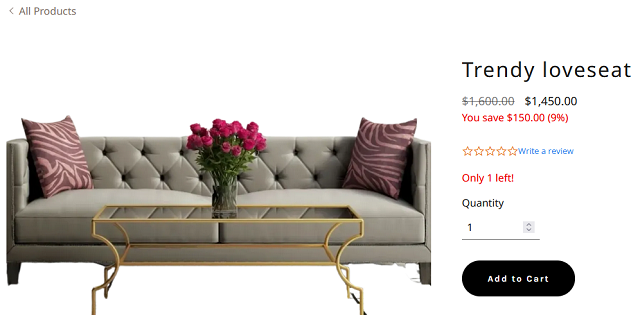 Block full days with Online Appointments
Now Websites + Marketing customers will be able to easily block off full days on their calendars for Online Appointments. This is handy for blocking out time for vacations, business closures, or any other event that you'd need to hold time for.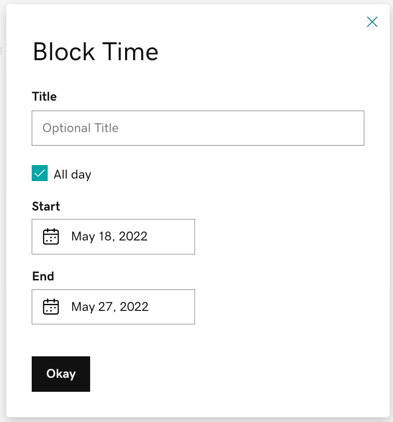 Additionally, the Block Time function will warn you if other events are planned for the blocked time.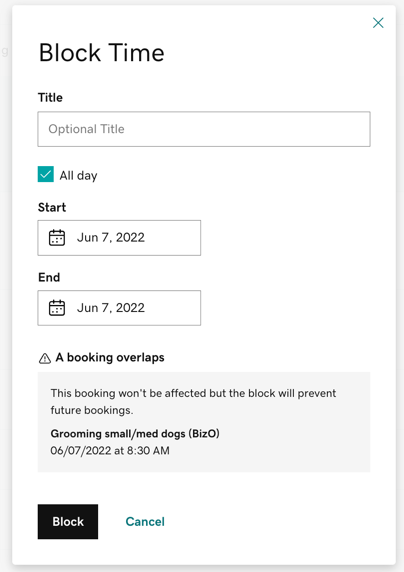 Blocking time is easier to find
In addition to being able to block off time on your calendar, the option to do so is now easier to find as well.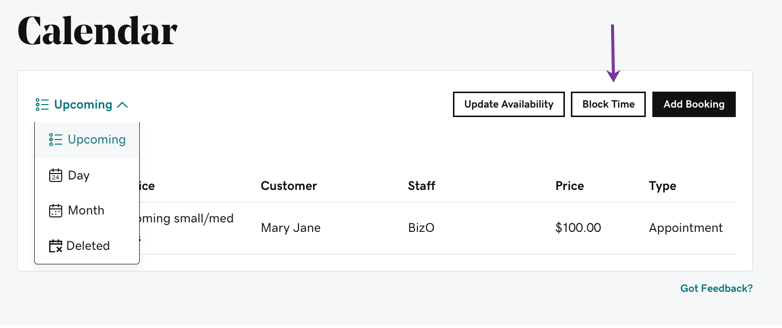 Concurrent bookings are now individually displayed on the calendar
Previously, concurrent bookings were displayed as a "bundled" block on the calendar for Online Appointments. Now, the calendar will display concurrent bookings (and blocks) as separate blocks for easier viewing.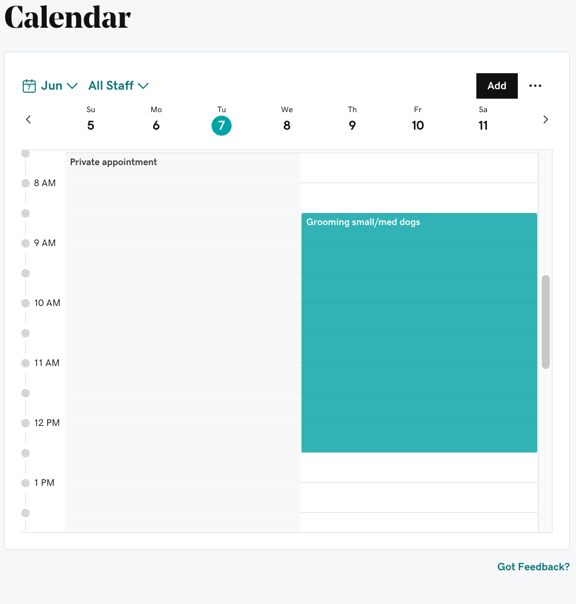 Return/refund policy reminder
There is now a reminder on the Online Store landing page to remind store owners to offer and/or review their return/refund policy. It's common for stores to have return/refund policy, and it is one of the requirements if a store owner wanted to list a store through Google.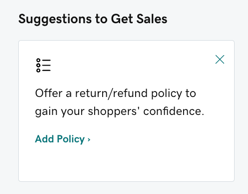 Breadcrumbs on storefront
Websites + Marketing Ecommerce now offers breadcrumbs on storefront to improve the customer's shopping experience. So, for example, if your Online Store has categories set up, your customer can now easily go back to parent/sub categories from the breadcrumbs.
You will need to republish your Websites + Marketing Ecommerce site to enable this feature on your storefront.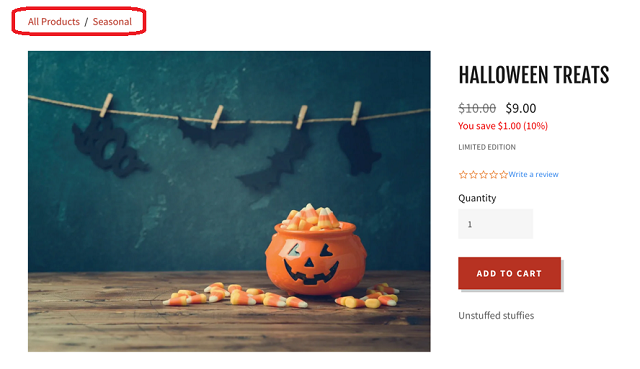 Pro tip: If you haven't organized your products into categories, we definitely recommend doing so! Additionally, once you've organized your products, it's a good idea to send out an email campaign to your customer to make them aware of your storefront upgrades.
Easy navigation to Online Store page
In addition to making navigation easier for your customers via breadcrumbs, we've also added navigation options that allow store owners to easily get back to the main Online Store landing page. This new navigation option is available on most of the administrative pages in Online Store.
Here's one example of the new navigation option: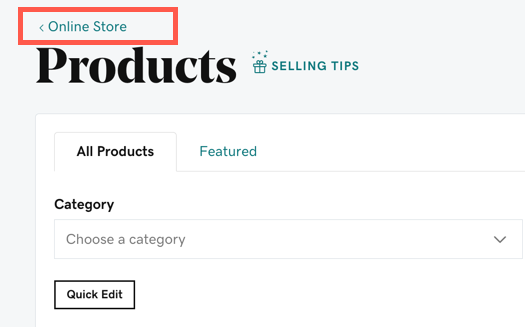 Ability to edit existing services recurrence rule
Until now, store owners that offered services through their Online Appointments were forced to delete and recreate recurring rules if changes needed to be made. Now, owners will be able to simply edit the rule instead.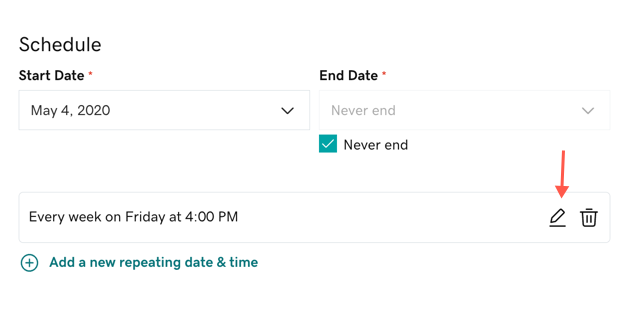 Members can easily rebook services
If you have clients that regularly book the same services from you, those clients can now easily rebook previous services. To do this, your client would simply need to go to their booking history and they can rebook from there.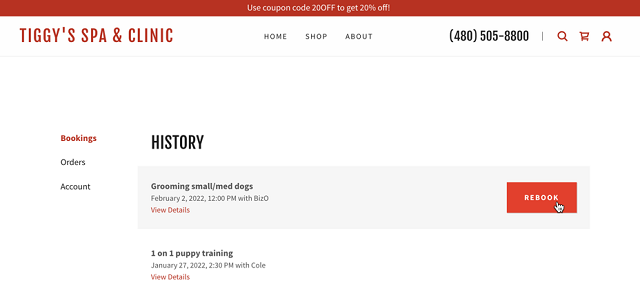 Pro tip: Let your loyal clients know about this upgrade by sending an email! You can quickly set up an email campaign from Marketing > Email Marketing inside your Websites + Marketing Ecommerce account.
Quick view/buy purchase options
Now you can enable a quick view option for your products, giving your customers a quick and easy option to purchase products quickly. To enable this feature, you'll need to toggle the option on in the shop settings of your site builder:

Here's how that feature will appear on your live site: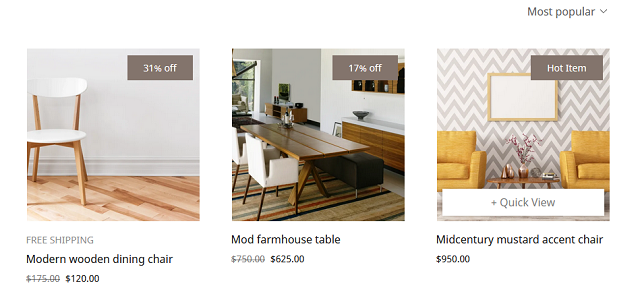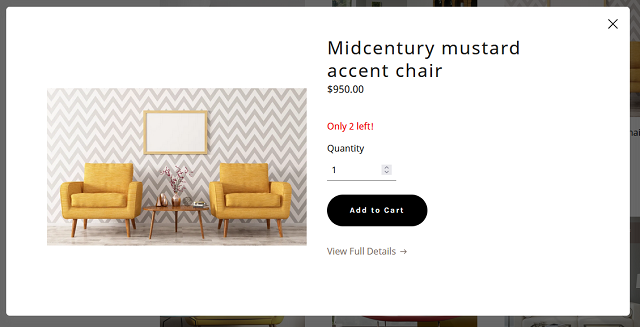 Auto-populate feature for booking customers
If your business books appointments, you will no longer need to refill their information when creating an appointment. Previously, all of the customer information had to be completely refilled each time. This feature is automatically enabled, so there's no additional steps required to utilize this feature.
Commerce Plus plan is now available
Our Commerce+ plan is a new, robust commerce plan to support your online business growth. The plan packs some important and powerful features like automated sales tax calculation, a larger product catalog to offer a wide selection to your customers and higher limits to enable you to scale your business on marketplaces and social networks.
Upgrading to Commerce+ can be done throughout various Commerce pages.


New Overview page for Online Appointments
The new Overview page provides variety of data to store owners, depending on what state they are currently on. If your store is still in the initial setup status, there's a quick video showing you how to set up your store. If you've completed the initial setup process, then you'll see some next step recommendations, as well as other links to quickly manage your store.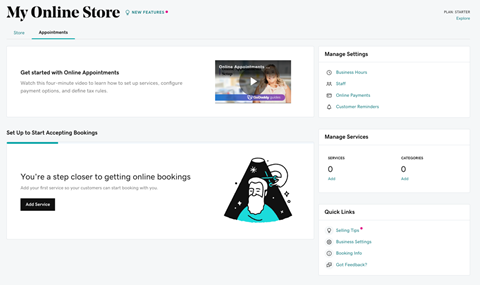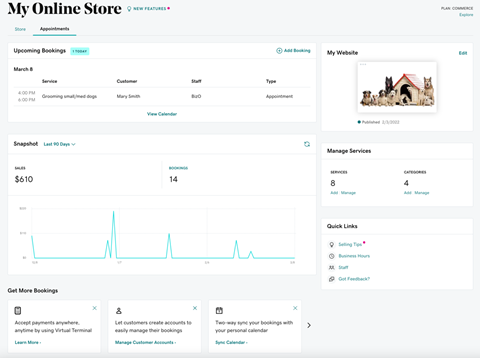 Highest and lowest product sales
The Commerce Hub now includes a way for sellers to view their highest and lowest selling products by sales or order volume, as well as by date range. This can help sellers better understand which products perform the best and worst in different channels so that they can make any necessary adjustments to their business.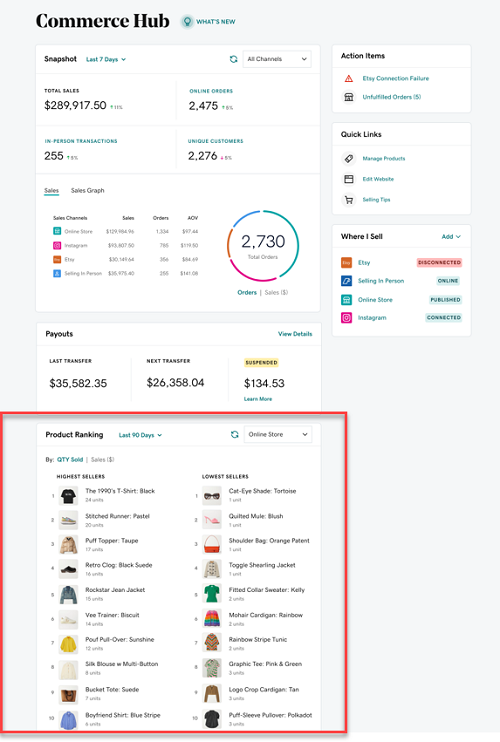 Updated Commerce and Appointments navigation
Both the Commerce and Appointments navigation menus have been updated to help users more efficiently manage their store and online appointments.
Here's a look at the updated Commerce menu:

And here is how the Appointments navigation appears: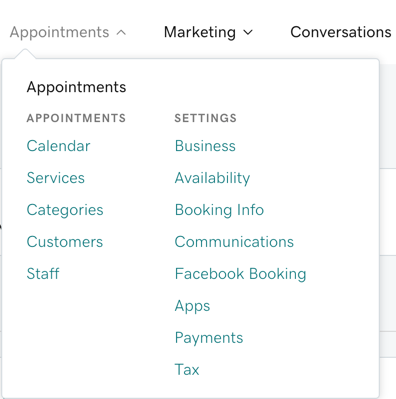 Updated single-column product photo gallery
We've updated the look of the single-column display options for mobile devices. This update better showcases products that have multiple product images to display.
Here is an example of the old single-column display: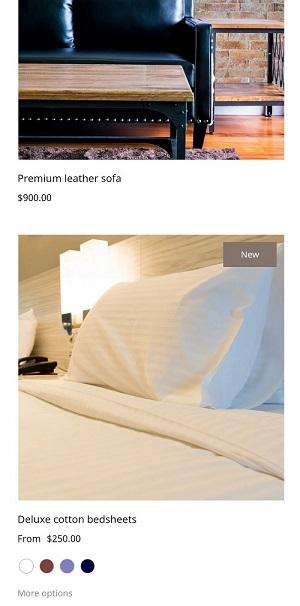 And here is how the new single-column mobile layout looks: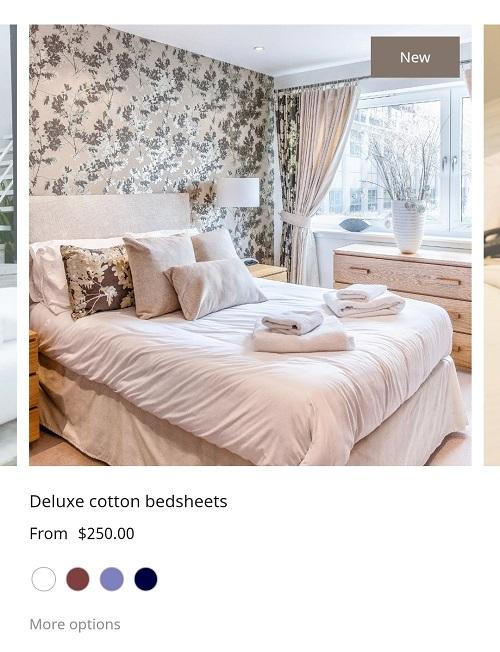 Color swatches and display buttons
Products will now visually display color options through swatches and buttons, rather than simply through dropdown menus. These options can be seen on the product gallery and the product detail pages.
This is how it will display in the product gallery: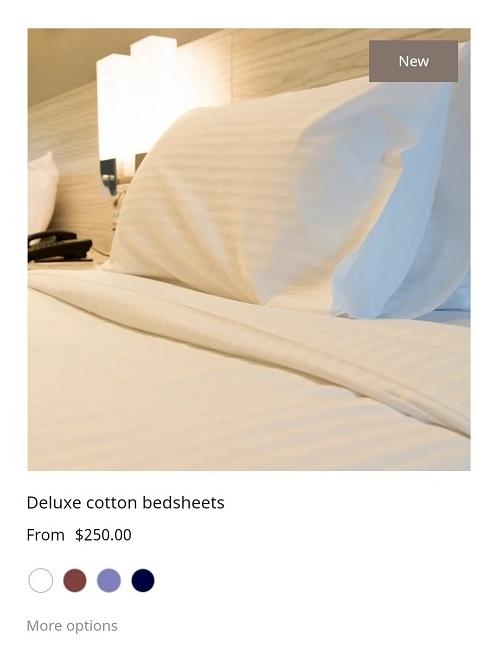 And this is what the button and swatches look like on the product details page: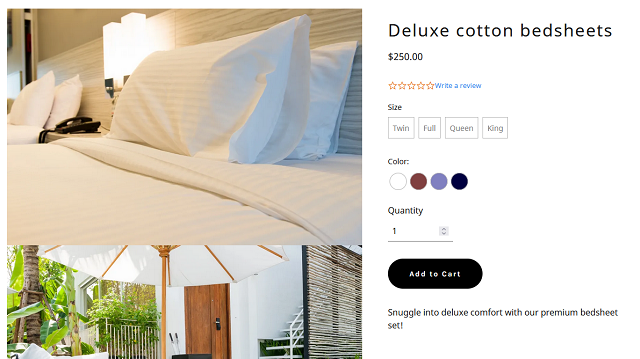 This function can be enabled in the Inventory & Options tab when adding or editing options: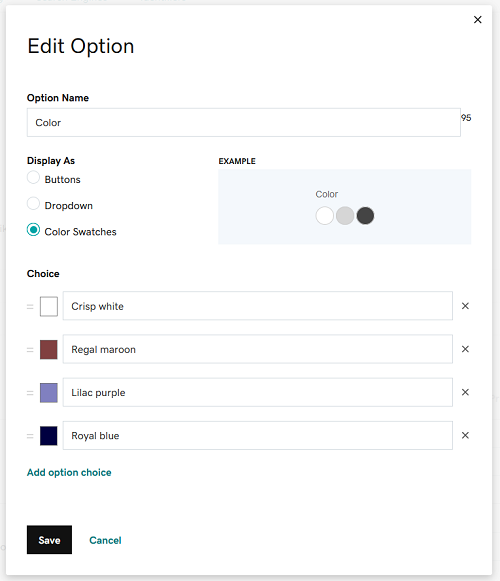 These updates are a fantastic way to help your customers better visualize the color options available and make your storefront look more modern.
Vertical product detail page layout
We have also recently added the option to have a vertical product detail page in Websites + Marketing Ecommerce. This is a great option for best showcasing tall and wide product images.
To enable this option: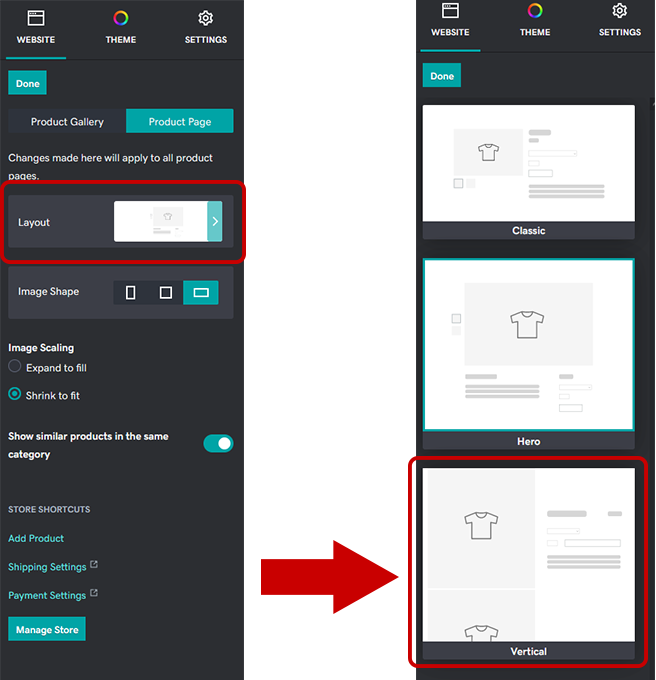 And here is how the vertical product page layout would appear on a live site: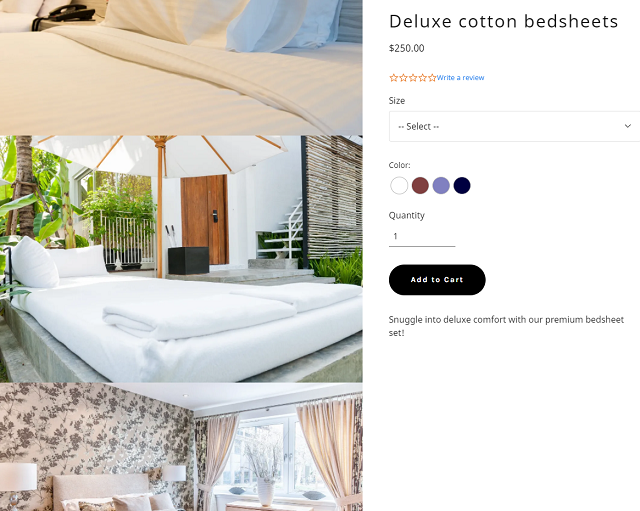 New content indicator for our "Tips to boost sales" guide
Our "Tips to boost sales" guide is regularly updated with tips and walk-through guidance on how our Online Store customers can use these new features to boost sales. Keep an eye out for the new content indicator to stay up-to-date on the latest information!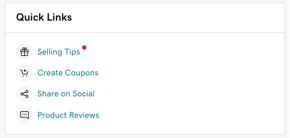 Interested in seeing a breakdown of the features added to Websites + Marketing Ecommerce in 2021? Check out those details here.