Human interaction. It's something that everyone should want to participate in, given that we are all humans. However, as a web professional, it's totally understandable that you'd be more comfortable whispering sweet nothings to a newly opened function (or class, if you're that way inclined). Unfortunately, we have news for you: A web professional who doesn't want to deal with the customer side of business is going to be a hobbyist before long. In this post, we'll talk about why looking after your customers is a good idea, then discuss some WordPress customer support plugins to help.
Let's get started!
You ? can't ? just ? code ? without ? speaking ? with ? clients
The classic stereotype of anyone working in tech is that they're geeky, awkward and uncommunicative. Making efforts to buck that trend, therefore, should be high on your list of priorities.
We've previously made no bones about the benefits of being an open and communicative web professional, and even talked about this in the context of dealing with clients one-to-one. As such, you've probably already realized that customer support is one area that can make or break your business and reputation.
Notice we're using the word "business" here — not surprisingly, you should be weighing up every action as either positive or negative based on your business. Thinking of your income-earning project as anything other than a business is making a rod for your own back.
Customer support is vital. It keeps your users moving through your funnel and gets them out the other side with a positive opinion of you and your work.
Customer support is a critical component of how you deal with clients. It keeps your users moving through your funnel and gets them out the other side with a positive opinion of you and your work.
However, implementing customer support on a WordPress website without help is tough. Of course, the platform provides a number of solutions, which we'll look at next.
Related: Web pro client relations 101
3 awesome WordPress customer support plugins
If there's something that makes clients happy, it's having a smooth support system in place. Here are three of our favorite solutions for implementing one in WordPress:
HeroThemes' Plugins.

Zendesk.

WP Support Plus Responsive Ticket System.
Let's take a closer look at each customer support plugin.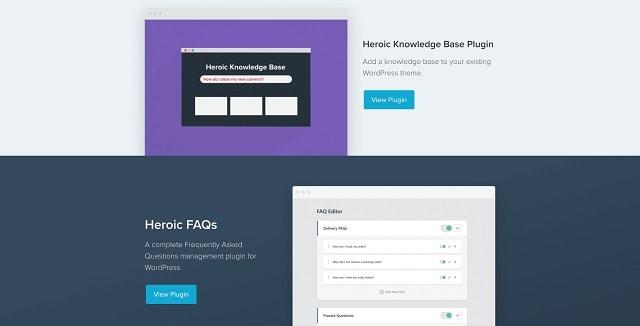 First, we have a couple of plugins from customer support experts HeroThemes. In fact, they offer two plugins that are dedicated to helping you deal with different facets of support.
Their Heroic Knowledge Base plugin does exactly what it says on the tin. It lets you offer customers an online knowledge base, complete with smooth functionality and usability. Searches are based on AJAX, which makes it incredibly responsive, and you can also drag-and-drop content into place.
In contrast, the Heroic WordPress FAQs plugin (unsurprisingly) lets you create Frequently Asked Questions sections with ease. Much like the previous plugin, content can be created within a visual editor similar to the WordPress classic editor.
While these customer support plugins are not inexpensive, we believe they're worth the money. For integrating support options into WordPress, they're hard to beat — especially given the comprehensive documentation available.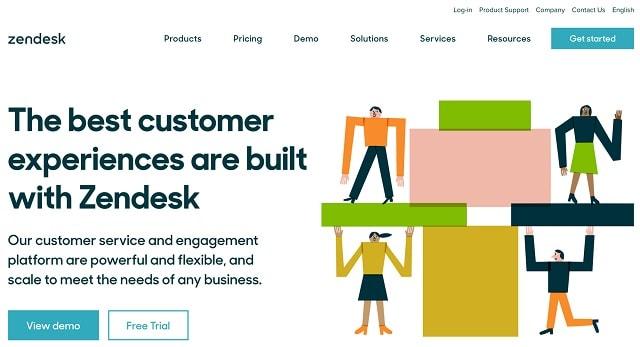 Next up is more of a "classic" option for customer support solutions. Zendesk is popular with all manner of niches and businesses, and can also scale with you as you grow. You have a number of flexible options for carrying out support — such as email, live chat and social media.
This is great for developers who are connected all over the web, and means you can funnel all queries into one location, while offering a seamless experience to clients.
What's more, if you need something extra, there's a suite of extensions found within Zendesk's Apps Marketplace.
Zendesk is priced per "seat," which is what you'd expect from such a comprehensive solution. However, there are a number of other plans to choose from based on the functionality that's most important to you — whether that's live chat, email, ticketing or even self-service solutions. Regardless of the plan you choose, the Zendesk documentation is thorough, and can guide you through some of the more well-rounded features within the software.
Related: The small business owner's guide to smart customer responses
Customer support solutions are often pricey. In a nutshell, this is because they're vital inclusions for any website. However, WP Support Plus Responsive Ticket System is unique in that it's completely free, and seeks to provide a complete helpdesk system for ticketing.
Of course, compared to the other plugins on this list, the feature set is more limited. However, that's not necessarily a bad thing, as it means you're getting a focused solution to solve one particular problem — administrating customer support tickets.
You can issue as many tickets as you need, and assign practically unlimited agents to them. Users can also submit tickets on behalf of others, which is going to be invaluable for projects built for teams.
Even though the plugin is completely free, there are also premium add-ons available to add email notifications, sticky tickets and much more.
However, we will say that we found the documentation somewhat lacking. For example, the installation Instructions on the WordPress.org plugin page simply states that "You will learn automatically"! We'll let you decide whether that's true. Regardless, the plugin is a great, cost-effective solution for providing support quickly.
Conclusion
In order to retain your client base (and protect your reputation), you need to ensure your customer support is top-notch. That's a serious take on things, but it's true. Without interacting with your customers when they have an issue — and at least seem as though you're enjoying it — you won't keep those customers for very long.
The good news is that WordPress has a number of customer support plugins available to help, including plugins for live chat, ticket lodging and more. Yes, customer support can be a difficult task, but it's necessary. However, with WordPress on your side, struggling through tickets can be a thing of the past!
Related: How to manage client expectations