This post was originally published on Aug. 8, 2018, and was updated on May 19, 2020.
With people stuck inside potentially throughout the summer this year, the demand on home air conditioners is bound to rise. And with increased use comes increased need for repairs. Your HVAC website is where potential customers go to get an idea of who you are.
It's important that you're not only making a good first impression but that your website includes all of the information needed to convert visitors into paying customers.
Whether you're just starting out in the HVAC industry or you've been in business for years, having these seven elements on your website can significantly improve your credibility and increase the number of appointments you have.
Related: How to train for your HVAC certifications online
7 things to include on an HVAC website
If you're just starting a website for your HVAC business, or are ready to make improvements to an existing site, be sure to include these seven elements:
About Us page.
Services page.
Warranties and service guarantees.
Testimonials page.
Appointment setting feature.
Contact page.
Emergency services page.
Let's look at each element in more detail.
1. About Us page
The About Us page on your HVAC website is where you want to tell people about yourself and your company, and how you got your start. This section can answer some common questions a potential customer might have, such as:
If your HVAC business consists of a team of professionals or if it's a one-person operation.
How many years of experience you and your staff have in the field.
How long you've been in business.
Take this opportunity to brag a bit about your company as well by including any certifications, awards and recognition you've received.
The goal of an About Us page is to demonstrate to new customers that you're qualified and trustworthy so that they feel comfortable hiring you for all of their HVAC needs.
2. Services page
The services page is where new customers will likely visit before they schedule an appointment to ensure you offer the service they need. So, you want this page or pages to be as detailed and clear as possible.
Many HVAC websites break down their service pages into separate heating and air conditioning sections, making it easier to navigate.
If you handle both residential and commercial HVAC, you might want to break down those options even further. Customers should be able to distinctly see sections describing the installation process, maintenance or repair and be able to read exactly what they can expect from each service.
3. Warranties and service guarantees
Something as simple as a three-year service guarantee can encourage potential customers to choose competitors over you, so it's important that this is one of the first things they see on your HVAC website.
Showcase warranties and service guarantees on both your HVAC website's homepage and all relevant services pages.
If the central AC units you sell come with a manufacturer warranty and you offer free maintenance for the first two years, highlight that on the service page that describes central air conditioning installation.
A separate page describing your company guarantee is also recommended to improve SEO and ensure potential customers won't miss this valuable information.
Related: A beginner's SEO guide — Search engine optimization for small business websites
4. Testimonials page
These days, having your HVAC business on Yelp, Facebook, Google and other websites that rely heavily on customer reviews is an essential part of marketing. Being listed on these websites helps new customers find you, and testimonials from other customers will encourage them to choose you over your competitors for their HVAC needs.
A testimonials page on your website allows you not only to show off all the great things your past clients have said about your work, but it gives you control over which testimonials your website visitors are seeing.
If you don't have many positive reviews on your company's Facebook page, you can direct your website visitors to testimonials on Yelp instead. Encourage your customers to leave you a review by entering them into a contest or providing them with a coupon when they post a testimonial.
Related: How to ask for testimonials and reviews from your clients
5. Appointment-setting feature
An appointment-setting feature on your HVAC website is convenient for your customers — and for you and your staff. Rather than having to hire someone to answer the phone all day, you can have calls forwarded to a cell phone, since phone traffic won't be as heavy after online scheduling is live.
Encourage customers to make their appointments online by making sure it's a quick and reliable process, one that confirms their appointment and gives them ease of mind that an HVAC specialist will show up on the appointed day and time.
The appointment scheduling feature in GoDaddy's Websites + Marketing makes it easy for your customers to schedule appointments and for you to manage them.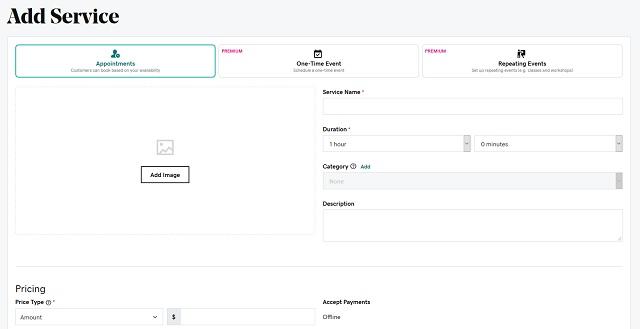 Have multiple staff members? The Appointment feature in GoDaddy's Websites + Marketing makes it easy to offer multiple services at the same time.
6. Contact page
In addition to an appointment-setting feature, you'll want to have a contact page that allows customers to contact you with any questions.
This can be as simple as adding a contact form or listing your business email address and phone numbers.
If your HVAC company also has a physical location, you'll want to include the address here as well. In addition to wanting to be open to interaction with potential customers, you also want this line of communication open so that other local businesses and members of the community have a way of reaching out to make you aware of any marketing or advertising opportunities.
7. Emergency services page
Offering emergency services on your HVAC website is a fantastic way to appeal to new customers, as they might not want to wait for their usual HVAC company to be able to fit them into their schedule.
When people are stuck with a broken heating or air conditioning system at the peak of the season in which they're needed, they'll pay just about anything for an HVAC professional to prioritize their appointment and get things up and running again.
Your HVAC website's emergency services page should include an emergency contact number as well as the days and hours these kinds of services are available — often 24/7. This is also where you should describe exactly what kinds of emergency services you offer, such as minor AC and heating repairs.
Other HVAC website ideas
Some other things you might want to consider for your HVAC website are links to all of your social media pages and an area where people can sign up for news, so you're always keeping in touch.
Having a blog is a great way to keep people informed on the benefits of HVAC maintenance and other industry tips.
A blog also can enhance your website's SEO, making it easier to find your company in Google searches. Plus, it gives you something interesting to share on your social media pages.
Your overall goal is to make your HVAC website easy to navigate, so visitors don't have to work to get any of the information they need to schedule an appointment.