When it comes to WordPress, the theme makes or breaks your site. Pick the wrong one and you end up with a poor user experience, or worse. There are a slew of themes out there on the interwebs, including the free themes you can get from the WordPress repository.
But, with all these themes, which one do you choose? Let's dig in and find out the best fit for your needs.
Free WordPress themes
First off, let's talk money. On a budget and can't afford a paid "premium" theme? I can dig that. Fortunately, WordPress offers a massive selection of themes that are available for download, for free. However, there is a caveat to "free."
"Hey, it's free? Let's do this!"
Free comes with a cost, in the long run. Free themes are generally very bare bones and need a lot of TLC to get them to look how you want — ultimately, costing you money in time spent fluffing up said free theme.
The good thing though is that they are all quality checked by WordPress and are initially free of malware.
And if you know how to develop sites, a free site might be a good starting point for you. But again, you'll end up eating billable time adding fluff to a free theme that you might not want to deal with.
In order to get a free theme, from WordPress, just log into your WordPress dashboard and select Appearance > Themes. Then, from the top, select Add New. This will open up the search parameters to go hunting for your prospective free theme.
From here, you can search based on Popular, Latest, Favorites, or even customize your search with the Feature Filter option.

Once you've found a theme you like, just install it, and activate it. Then roll up your sleeves and get to work.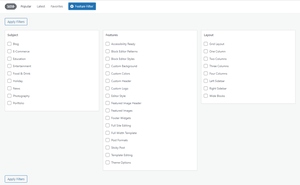 All-in-all, the free theme option isn't a bad one. It's just that it requires a bit of labor in order to dial in said free theme. If you don't have that kind of time, and you're looking for something with more pizazz, check out a premium theme.
Premium themes
If you need a theme that is already built out for you and has all kinds of groovy features, a paid or "premium" theme is for you. Be leery, though, of paid theme sites. There are many out there.
Choosing the right one can be a challenge.
One site I have personally used is Envato Market (previously known as Theme Forest). There are others, sure, but I have used EnvatoMarket for years now and have yet to be disappointed in the service and overall quality of themes offered.
These themes are not only quality checked, by Envato Market, for malware and/or malicious code, but they also have a massive library of themes to choose from.
When going this route, you simply spend some time looking for a theme that meets your particular needs.
To be honest, can take a good long time if you're picky, like me. This is because just as you think you've narrowed down your choice, you see another theme that looks even better. But spend the time, as it's worth it in the end. Plus, they offer 39,012 themes — so, there's that.
Themes start at around $25 and go up from there, based on how much you need from the theme. My site uses a theme that cost around $60, and it was worth every penny.
Custom-built themes
In case you were unaware, GoDaddy offers a paid site-building service, where a designer will custom build a WordPress site for you. There are limits to this option, but a custom-built site can get you started in the right direction, from the get-go.
The drawback to this is the initial cost. But, when weighed against all the money spent on time customizing a theme, this option is pretty sweet.
Closing thoughts on WordPress themes
Themes are your WordPress site's everything. It's the look, it's the feel, it's how your visitors see you on the web. Choose wisely. But the groovy thing about themes is that they are changeable.
Both via customizing the code and by simply downloading and installing a new theme.
But be warned... Changing your site's entire look and feel is fine, every few years, but do it too much and you risk confusing your visitors. That could definitely lead to lost hits and lost sales. And nobody's got time for that!