E-commerce is on the rise. In fact, according to the United States Commerce Department, national web sales surpassed $300 billion in 2014 — up more than 15 percent from the previous year. What started off as a way for folks to simply shop online sans personal interaction, has now seeped into multiple facets of the business we conduct over the Internet. So what does that mean for your business? You better belly up or you could miss out on your slice of the pie.
Personally, I'm sweet on WordPress with WooCommerce.
Read on for all the reasons why.
E-commerce evolution
Initially, people thought of e-commerce as a shopping solution that only allowed businesses to create an online store, provide an array of products, and generate sales. But today, there's more to e-commerce as online transactions made on desktop and mobile devices have evolved. An increasing number of organizations are embracing e-commerce where it historically never existed before. Examples include:
Many states now offer online driver's license and license plate renewal.
Many B2B companies invoice and accept payment online — everyone from freelance writers to large agencies.
Social media sites are beginning to integrate purchase methods directly within their platforms.
Service directory sites now enable consumers to hire and pay people online for services such as lawn care, home repair, and more.
Transportation network companies such as Uber and Lyft allow those in need of a ride to purchase straight from their online account (charged directly to a credit card).
Home entertainment systems such as Roku, AppleTV, and Amazon TV make it possible to rent or buy premium videos and music directly online.
Technology such as Amazon Echo combined with Amazon Prime allow consumers to just speak out and reorder supplies online.
The list goes on. Regardless of your business, is there a means to sell an introductory consultation, audit, or other product or service online? I'm confident there is!
Not only can an e-commerce speed up time to sale and ensure payment, an e-commerce site also will open your customer base up to the entire world.
Types of e-commerce solutions
There are four basic types of e-commerce solutions:
Software as a Service (SaaS) — Sites such as GoDaddy Online Store and others such as Shopify or BigCommerce provide incredible ease of use for users who don't need access to core code to fully customize the platform. There may be a per-transaction cost in these cases, but you don't have to worry about infrastructure issues that could arise.
Platform — Software such as Magento, osCommerce, OpenCart and others offer users the opportunity to host the platforms yourself as well as customize the platform to your liking with additional development. These platforms offer great flexibility, but also require infrastructure and development to increase performance and customization.
Classifieds and collectives — Sites such as Amazon, eBay, Craigslist and others offer you the opportunity to publish your goods and services alongside everyone else. The advantage is that they have enormous reach. The disadvantage is that you're going to have to have a compelling product or price because yours is just one of millions of offerings. You'll also have to figure out how to synchronize inventory and product information across the sites you sell on.
Integrated carts — Software such as WooCommerce easily integrates through WordPress to add e-commerce capabilities to your existing website built on WordPress.
Most popular e-commerce platforms
According to Alexa, the top trafficked e-commerce platforms online are:
If I'm running WordPress, I'd go with WooCommerce. It's a fantastic option for getting started down the e-commerce path with a ton of options.
Why WooCommerce?
There's not much you can't do with WooCommerce. Popular WooCommerce extensions are available for things such as:
Payment gateways
Coupons
Paid content
Memberships
Subscriptions
Product imports
Shipping
Dynamic pricing
Personalization
Just keep in mind that the more you need, you need a high-performing site. Buyers don't want to wait for slow page loads and internal searches. WooCommerce has a huge selection of themes and extensions through its site that make customizing your store and integrating it into your content that much easier.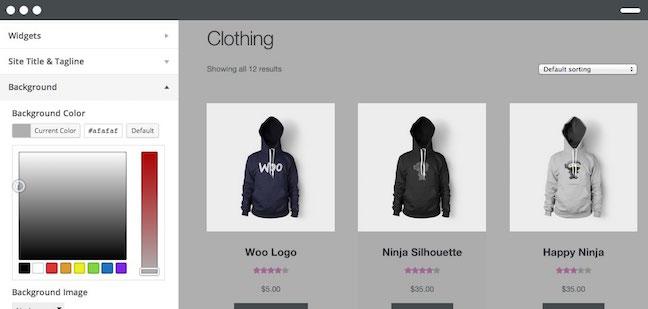 Other considerations
Aside from access to infrastructure experts and ease-of-use, there are three other factors that will help you decide which e-commerce platform to use: security, the number of products you wish to sell, and the type of transactions you seek.
E-commerce platform security
Security is advancing in e-commerce. Typical e-commerce transactions used to often require the consumer to enter the credit card information for payment. That information was saved (encrypted) in the e-commerce platforms of yore, making it a valuable resource to hackers. Newer technologies now incorporate checkout technologies. The first and largest providers were PayPal and Stripe, but now have expanded recently to Amazon and Visa Checkout.
The advantage of these systems to the e-commerce provider is that they don't actually access nor save the credit card information. The buyer clicks the pay button and is brought directly to the provider via a popup window or redirects to authorize payment.
Number of products
Software as a Service platforms typically scale infinitely with your business, although you might pay for the number of products you're scaling to — whether you actually sell anything or not. If you're hosting your own, you can also scale as high as you'd like.
Types of transactions
Of course, another factor is the kind of transactions you seek. There are some amazing sites with integrated solutions that are perfect for niche e-commerce strategies designed to drive revenue. These are built specifically for building out corporate directories, membership sites, video training sites, etc.
What are you waiting for? Start selling your products and services online today!