When you are busy running your own agency or web services company, time flies. From client demands and marketing, to social media and financial responsibilities, it seems there are just not enough hours in the day! Unfortunately, all too often our own agency or web services website pays the price in not being updated, reviewed or paid attention to as needed.
"They always say time changes things, but you actually have to change them yourself." ~ Andy Warhol
Let's get started.
Quick checklist: Audit your agency / web services website
Use this quick checklist to review and make necessary changes to your agency or web services website. It will walk you through these big-ticket items:
Website platform.

Mobile responsiveness.

Structure and navigation.

Visuals.

CTA and targeting.

Content.
Look over each item for necessary updates to get the most return on your website investment.
1. Website platform
Which of the items below need to be updated?
WordPress
Make sure themes, plugins and extensions are current. If an extension, module theme or plugin has not been updated to be compatible with the latest platform version, look for alternatives.
Here's how to update WordPress like a pro.
While WordPress solutions such as GoDaddy's Managed WordPress provide core software updates, it's a good practice to stay abreast of necessary security updates. Here's how to check for them.
Security
Do you have security products in place to keep website visitors safe and prevent viruses and hacking attempts?
Securing your site against vulnerabilities and hacking attempts is crucial. It helps to build visitor confidence and your trust factor.
A few tools you'll want to consider if you don't already have them for your website include:

Privacy
Is your privacy statement current and easy to find? Don't have a privacy statement? Create one. This is a necessary signal that shows you understand the importance of your site visitors' data security. And with the new EU General Data Protection Regulation (GDPR), ensuring your web services website visitors' privacy has never been more important.
Site speed
Have you tested your site speed recently? Are your web pages loading fast enough to keep visitors on-site and search engines happy? Speed is another ranking factor — and the faster the better. Google likes to see pages loading in 2 to 3 seconds! You don't want to have a slower site than your competitors. Use Google's Page Speed Insights tool or GTMetrix.com to see where you can make improvements.
Google Search Console
If you changed platforms, hosts or possibly even themes, re-submit your website to Google Search Console for verification. Here's how to integrate Google Search Console with a WordPress website.
2. Mobile responsiveness
If your agency / web services website doesn't look and perform as well on mobile devices as it does on desktop, you're likely losing business. So if your site is not mobile responsive, make this your No. 1 priority. Take these steps to ensure your website is mobile-responsive.
Check for mobile friendliness
Does your website perform well and look good across multiple devices? To find out, run your site through Google's Mobile-Friendly Test and get a plan in place.
Add support for Google's Accelerated Mobile Pages
Haven't yet jumped on the AMP bandwagon? Accelerated Mobile Pages is an open-source project by Google that aims to make mobile web pages super fast to load. Here's what you need to know about AMP for WordPress sites.
Taking both of these steps will help you prepare you web services website for Google's mobile-first index. In response to the growing number of searches performed on mobile devices, Google will being to crawl the web from a mobile point of view – cataloguing and ranking sites based on their mobile versions instead of their desktop versions.
Mobile publishing
If you haven't yet added support for Facebook's Instant Articles, there's no time like the present. Instant Articles leverages the same technology used to display photos and videos quickly in the Facebook app, so you can publish articles that load instantly in the News Feed.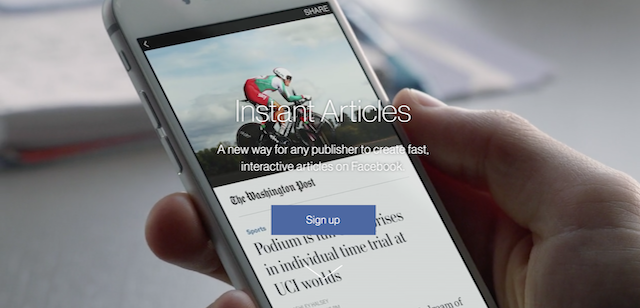 3. Structure and navigation
About once a year, it's a good idea to perform a thorough audit of your website's structure and navigation.
Navigation
Is your navigation clear and intuitive? How does it look on mobile? Do you use terminology your potential clients will understand? Use Google Analytics or a solid alternative to view your site's statistical data and see how visitors are navigating through your agency or web services website. Then use that data to prioritize your menu items. Visitors should be able to easily find what they are looking for.
Contact form
Make sure your primary contact form is just a click away from every page on your site. Test contact forms to ensure that they're properly formatted and operational. And remember: Less is more. The longer the form, the less likely it will be completed. Offer different forms for more complicated requests where it will be assumed more details are required.
When it comes to contact forms, less is more.
If you built your web services website using GoDaddy GoCentral, here's a step-by-step guide for creating a contact form.
Form submission email
If form submissions trigger an email, is the email content up-to-date, and are the emails going to the right people?
Social media widgets
Are social media buttons in the same place on every page and above the fold where folks can easily follow you?
Footer
Is the information in your agency or web services website's footer current? Nothing like an outdated copyright notice from last year to say "no one's home."
4. Visuals
Next, check your website for visual appeal and attribution compliance.
Cutting-edge design
Does your website's design show that you've got a pulse on industry trends? Trends change quickly in the web dev and services space, and you need to be on the cutting edge. Learn how website design can increase conversions and sales.
Image quality
Do the images on your agency or web services website match your company's branding? What about your About page photo? If it is years old, update it. Don't underestimate the power of current and quality images to back up your content.
Image size
Do images fit the spaces they are displaying in? Make sure they're not too small or too large to break the layout. And are images shared on social media from your website the proper size? Here's a cheat sheet for social media images sizes.
Image credits
Do you provide appropriate credit for images you did not purchase or otherwise have permission to use? Copyright infringement is a serious issue.
5. CTA and targeting
Pay close attention to these website elements for a site that converts.
Calls-to-action
Are your CTAs clear and highly visible? Do they direct visitors to exactly what they need to do? You know why potential clients contact you most — are those themes clear?
Do you differentiate yourself from your perceived competitors in look and personality?
Do you talk to or at your site visitors? Two entirely different approaches!
Do you make direct calls-to-action that speak to your clients' needs and direct them on exactly what they need to do?
It's worth taking the time to update the CTAs on your web services website, if you answered "no" to any of the above.
Google Analytics
Have you installed Google Analytics to monitor your website's user demographics? Here are the five Google Analytics reports your clients are most interested in. And here's a primer on setting up funnels in Google Analytics.
CTA metrics
Have you set up goals in Google Analytics to track CTA effectiveness? If so, are they tracking correctly?
Bonus: Learn how to use buyer personas to create targeted marketing messages.
6. Content
Both website visitors and search engines love fresh, relevant content.
Case studies
Update your case studies and testimonials. Reach out to your existing and previous clients and ask for a paragraph or two that you can share on your site. Get tips for prepping new case studies.
Links
Check for broken links, both internal and external. I use Xenu's Link Sleuth to run reports and get the full picture. Screaming Frog is a premium alternative that works across all platforms.
Downloads
Downloadable assets are a great way of attracting visitors and building confidence in what you do. But are they up to date? Do your downloads reflect your latest data or information?
Portfolio
Even evergreen content like portfolio entries need sprucing up every once in awhile. Adding additional details or recent developments gives the content even more staying power. Can you beef up your online portfolio with information that might help you attract new clients?
Dated content
Often you just need to remove dated information. If content is no longer valid, isn't current and requires a complete rewrite, do so. First check yours stats before you retire the URL. If an outdated article is still gathering sporadic traffic, keep the URL and replace with all new relevant content.
Editorial calendar
Develop and/or update your editorial calendar to help ensure that you publish strong content on a consistent basis to encourage return visits. Consistent content additions boost your credibility and can help to support rankings.
Meta data
Make sure you have custom title tags and meta descriptions for each and every page. This is what potential clients will see in the SERPs (search engine results pages). Be sure to include that specific page's targeted keyword phrase in both.
Social sharing
Check your web pages in Facebook's Sharing Debugger to see what they look like when shared on Facebook. Update your metadata and Open Graph tags accordingly if they're not displaying correctly.
XML sitemaps
Have you submitted XML sitemaps to search engines? If not, do it now.
Website maintenance is an ongoing process
Nothing about having a website is "set it and forget it." Run through this checklist to ensure that your agency and/or web services website lives up to your reputation as a top-notch web services provider — and shows potential clients that you're ready to take on any new opportunity that comes your way! And if you feel like having a bit of fun while evaluating your current website design, take this quiz.