Did you create a website at Weebly and now you want to use your GoDaddy domain with it? We get it — that's a great way to strengthen your brand recognition. As a small business owner, having a custom domain attached to your site helps to build your unique brand at a glance and ups your credibility factor.
You wouldn't have a store with someone else's name on it, would you?

Historically, pointing a GoDaddy domain to a Weebly site has been like baking a cake from scratch — measuring and sifting all the ingredients and then mixing them together in the right order. Making your way through a recipe with ingredients like nameservers, IP addresses, A and CNAME records and zone files can be confusing. Personally, I prefer to take the cake mix approach; add eggs and oil and bake. Before you know it, you've got a cake.
Well, I hope you're hungry. Because that's the approach we took with Weebly. No more lists of ingredients to measure and mix. No more cooking from scratch. You don't have to know a CNAME from an A record. Check it out:
Log in to your GoDaddy Account.
Click Launch next to Domains.
Click Use My Domain on the domain you want to connect to your Weebly site.
Click Connect to an Existing Site.
Select the Weebly option under the Websites section.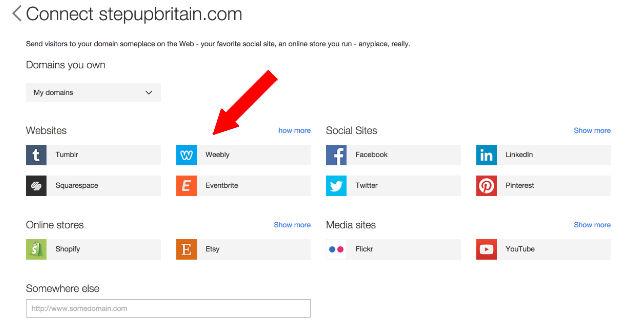 6. Click Connect Domain.
We'll make all those tricky changes to your DNS and show you a few simple things you'll need to do over at Weebly to complete the process.

Easy, right? Now there's no reason for those custom domains to sit in your GoDaddy account gathering dust. Put them to work for your business instead. We'd celebrate by baking you a cake, but we haven't figured out how to do that online … yet.
Note: Only Weebly premium accounts let you use your own domain.