Businesses have always been looking for ways to please their customers. In 1868, Watkins Liniment became the first company to offer a money-back guarantee. In 1887, Coca-Cola offered the first discount coupon. And more recently, in 1998, Jeremie Miller invented Jabber/XMPP, the open-source technology that most live chat platforms are built on. While money-back guarantees and discount coupons have become staples, live customer service chat is something companies are still experimenting with.
However, various studies show that online shoppers prefer to communicate through live chat more than any other means of communication. And of course, millennials, who've grown up on the internet, love it the most. So does that mean that you need to set up live customer service chat for your business? Not so fast. Here are a few things you need to know before getting started.
The challenges with live customer service chat for small businesses
As with everything, live chat can be challenging. This is especially true for small eCommerce retailers who have a large amount of traffic coming to their online store but a very small team. That's because live chat is a conversation happening in real time, so online shoppers with questions expect answers immediately. If you leave a customer waiting beyond two minutes, they're going to grow impatient, annoyed and bounce.
But let's say your online store doesn't have a lot of traffic at the moment, so you feel comfortable offering chat support. That's great — for now — but it's not likely sustainable. As your customer base grows, it's going to be a lot harder for you to scale.
Unlike email, where you have the luxury of time to respond — usually 24 hours or so — with chat, you don't.
So while your intentions might be good, they're a wasted effort without a team of professionals that can handle dozens of real-time requests — all day, every day.
That said, there are still ways you can implement customer service chat as a small eCommerce business, you just need to get strategic about it.
Implementing live chat the right way
When offering customer service chat support, it's better to provide an exceptional experience at peak times, rather than a mediocre (to downright bad) experience most of the time. So even if you can't be on all the time, you can still provide live chat. Here's how.
Consider self-service chat
If you have a small team, consider leading with a self-service option. But what does that mean? Well, your online store most likely has an FAQ section, right? Think of self-service in that regard. Before chatting in real-time, allow users to search your database of information first.
Le Tote, a ZenDesk customer, used a widget from ZenDesk which allows customers to first search Le Tote's knowledge database before starting a live chat session or submitting an email ticket. The result? Live chat requests went down 60 percent in only two weeks. This feature allowed Le Tote to focus on more burning questions rather than simple ones.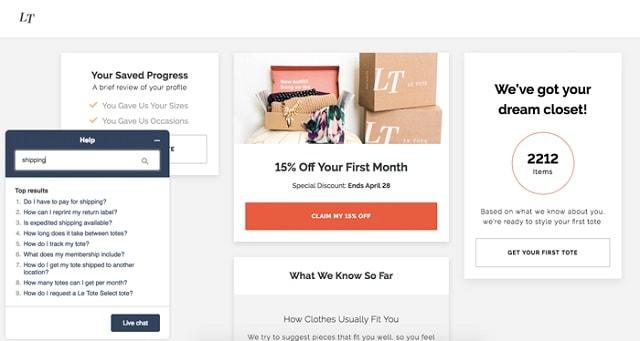 You can (and should) do the same. First, take a look at what customers are searching for on your website. Is there a pattern to their searches? Read the reviews on your site or find online shops that sell similar products. Are customers mentioning things you forgot to include in the product description? Also take a look at email support tickets. There is likely a gold mine of great questions being asked there.
By anticipating what customers might ask and providing the answers, you'll empower them to self-serve first, cutting down the amount of time needed for real-time discussions.
Offer targeted live chat
The ability to customize customer service chat is imperative to providing an exceptional user experience when you can't be available 24/7. For example, ideally you could choose which pages live chat appears on, control how many chats are happening at one time, and have the option of displaying live chat at peak hours only. This kind of customization will allow you to provide quality answers quickly, at the right time and in the most efficient way possible.
Olark, one of the most popular live chat softwares out there, has a feature called "targeted chat" which allows you to automate how and when users can access your live chat. When choosing a live chat platform, make sure it has similar targeting abilities attached to it.
With targeting, you'll be able to get strategic and do things like:
Show the chat option only at critical moments in the sales funnel, such as checkout, to drive sales.
Offer the live chat option on specific pages, like your FAQ page or for new products that don't have reviews.
Expand the chat window only after visitors add a certain amount of items to their cart.
Configure your live chat so that it is hidden once you've hit a certain number of conversations.
Live chat options
There are a lot of live chat options out there. But this list is specifically tailored to small- to medium-size businesses:
Editor's note: Check out GoDaddy's Partner Deals page for more live chat options for your business.
One other alternative that is having a major moment is Facebook messenger. Online stores like St. Agni are using the chat tool to interact with customers. If your ideal customers are heavy Facebook users, it might be worth testing.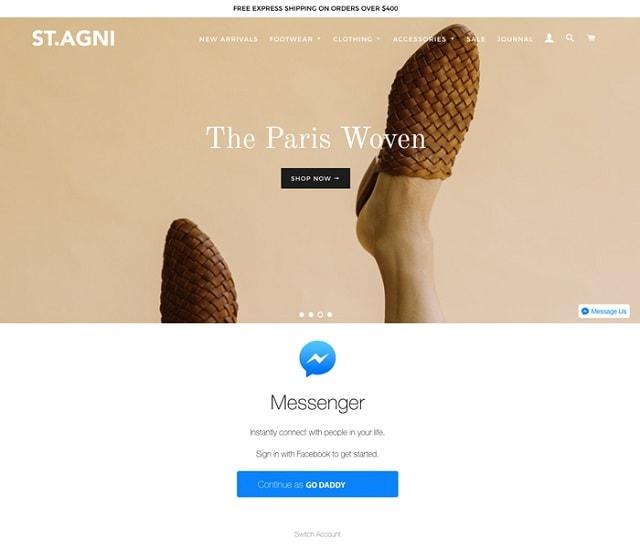 The bottom line
Live customer service chat is an excellent communication tool that online shoppers love, and it can be an effective way to maximize conversions. However, if you're a small eCommerce business, you'll need to be strategic about using it and consider the amount of resources you can realistically devote to it. And finally, don't forget to continue connecting with customers through a variety of communication methods, so all your customers are satisfied.