This article was originally published on May 17, 2016, and was updated on July 26, 2019.
Not sure how to find your next customer? Don't worry, you're not alone! There are plenty of online tools, like Google Trends, that can help with lead generation — and we'll show you how.
To tap into consumer trends, check out the strategies below. Then keep reading to learn how to use online listings, directories, maps and search engine optimization (SEO) to help customers find you.
Related: How to get your first customer (or 1,000)
How to use Google Trends to help you find your next customer
Here's what we're going to cover in this article:
Where to look for what's trending.
How to use the Google Trends tool.
Using trends for customer acquisition.
Keeping up with current trends.
Finding new customers is easier than it looks — they are literally all around you. Let's get started.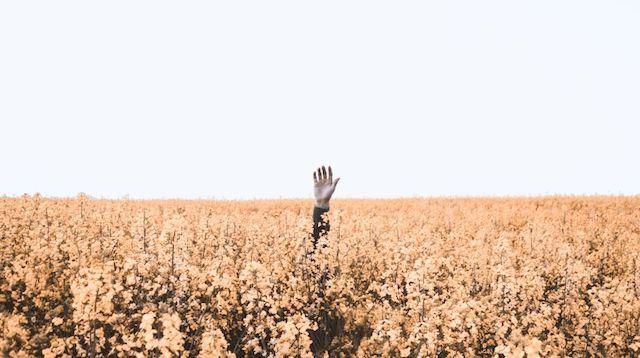 Where to look for what's trending
Internet news channels and social media are great resources for finding out what is trending.
No matter what kind of business you have, an online connection can be made to a trend if you look hard enough.
Studies show that today, nine out of 10 American adults use the internet, so that is where you can find 90% of your potential new customers.
But, how can worldwide trends have an impact on bringing new customers to your small local business? Believe it or not, you can pair popular trends with the unique services you offer if you use the right tools to do it.
Bad news can be good news for your small business
Say, for instance, you are a handyman. While browsing the online news channels you notice a lot of articles and posts trending about home delivery package theft.
The sources show that an estimated 23 million Americans have had a package stolen from their front porch. Many consumers who want the practicality of home delivery have resigned themselves to the fact they need to have some type of front door security to ward off porch pirates.
Due to this, there's an increase in DIY installation of remote home security cameras and video doorbell surveillance tools have increased. In fact, consumer familiarity with video doorbells has increased by 57% over the past year.
This is a trend you can use to grow your business.
Now that you know what people need, you can tailor your services to be the installation expert solution.
Keep an eye on social media
You can find other new customer opportunities through social media trends. As of 2018, 79% of all Americans use social media.
Say, for instance, you are a beauty technician wanting to add a new service to open the door for new customers. You visit Twitter and type in "#Beauty." Among the results, there are many tweets linking to eyelash extensions.
From there you can see the latest trending eyelash styles so you can offer the same. Even more, you can check out what other technicians are doing and create competitive packages and pricing — even create your own Facebook or Twitter ads.
Related: How to rock Facebook advertising — even on a tight budget
How to use the Google Trends tool
Now that you have an idea of what trends you want to cash in on, let's take it a step further with some deeper research. And where better to start than Google? Google now processes more than 40,000 search queries every second on average, which translates to over 3.5 billion searches per day and 1.2 trillion searches per year worldwide.
When it comes to absolute authority on how the world looks for info on the internet, Google is pretty much it.
First, go to Google Trends and in the search box, type in the words you think people looking for your services might use, like "video doorbells."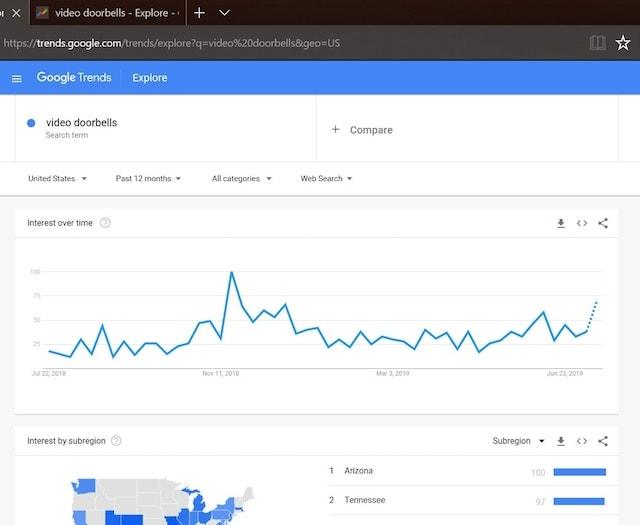 As you can see from this graphic, web searches for the term "video doorbells" show they are frequently used keywords. You can search several different keywords to find which have the best performance.
Pro tip: If you are unsure of which keywords to use during your search, try Google Keyword Planner to come up with a list of six to 10 words or phrases to use.
Now, let's apply a second search term, "video doorbell installation," for comparison. While it's not used as often as "video doorbells," it trends similarly. What this tells us is that people looking for video doorbells are also looking for installation — that's you!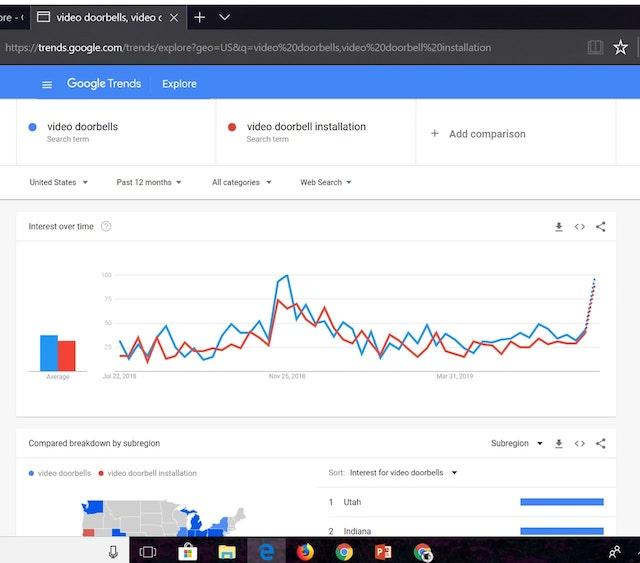 Looking even deeper you can see the times of year the searches peak — the holiday months — November and December, being the highest. This makes sense as most home deliveries tend to happen around the holidays, leading to an increase in porch theft.
You now have insight into the best time of year to invest in promotions for your installation services.
The Google Trends tool provides many other filtering options that allow you to hone in on other great info like locations, comparisons and timing. You can watch when a trend drops so you can make an educated decision on the best time to change up your keywords and phrases as well.
Related: How to promote my business online for the holiday season
Using trends for customer acquisition
Now that your service arsenal is full, it's time to aim and shoot. Determining where to use this valuable information depends on whether you have a website or not.
If you DO have a website
Google crawls the web 24/7, indexing web content using information from past crawls and sitemaps that website owners provide. With this data, Google can serve up the most relevant answers to individual search queries.
That means you want to make sure your website is optimized for the terms your target customers use to search for the types of products and services you offer.
Strategically place these keywords and phrases on your web pages so search engines, like Google, can pick up the information to display when someone types it in the search parameters.
To increase the chances that your website will appear near the top of the search results, your site has to contain the right words. This includes both the text that visitors see as well as the metadata that search engines see in the code of your website.
Looking at our earlier research, position the six most popular search words or phrases throughout your website and add them to the meta tags and meta description.
This is important because if Google doesn't index your website, or indexes it for the wrong words, new customers simply won't find it.
For new customers to find you on the web, Google needs to find you first.
The closer to the top of the search results page your site appears, the more clicks — and therefore, customers — you'll get.
The vast majority of web users research products and services on Google before they buy, so you need to hit that sweet spot.
Related: Keyword research and content optimization tips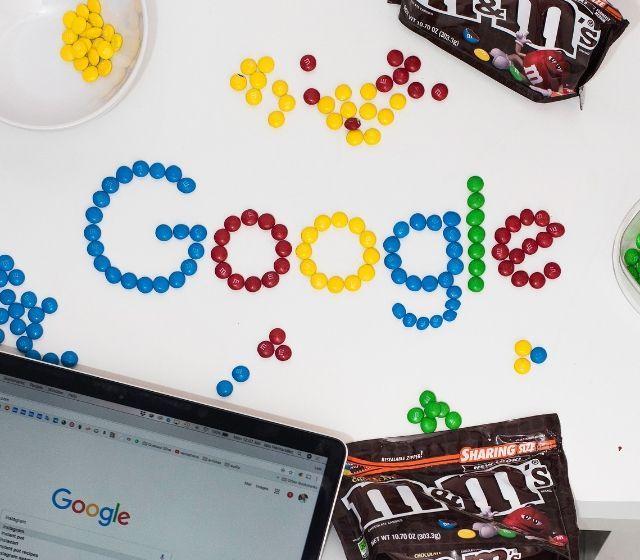 If you DON'T have a website
While having a website increases your chances of new customers finding you and providing you with credibility, there are still ways to use the web to get found through directories, maps and reviews if you don't have a dedicated site.
Create business listings with online directories
First and foremost, go to the most widely used search resource and set up a Google My Business listing. Here is where you can engage with customers for free. It will also integrate your business listing with a map to your business or service area.
Then ask your most loyal customers to submit reviews to your Google listing.
This will cost you exactly nothing but likely will pay off in more customers.
There are 50+ online directories where you can list your business.
Pro tip: Check out GoDaddy's Local Business Listings tool to showcase your business across top sites and manage your listings from one convenient dashboard.
Related: Standout tools — GoCentral Google My Business listing feature
Reviews
Like Google My Business, many other directory listings also have a way for your customers to post reviews. Not only are they free, they work.
The star rating is the single most influential factor in a consumer's decision to use a business or not. Having a solid set of online reviews is vital to gaining trust and starting new customers relationships.
Related: How to ask for testimonials and reviews from your clients
Try online advertising
Have money set aside for advertising? Here is a list of popular online advertising opportunities to choose from whether you have a website or not:
Google Ads (formerly known as Google AdWords) uses pay-per-click advertising. It can be costly but if you do it right, it pays off. This is another way to use Google Trends to pick keywords for your test ads.
Facebook Business Ads also offers paid advertising. Facebook ads allow you to really focus on your target audience by letting you choose the location, demographic and criteria to maximize your exposure. Each day there are 1.56 billion people on average that log onto Facebook and are considered daily active users. Now that's a pretty big group of potential customers.
YouTube paid advertising puts your business ads on third party, related videos that get a lot of traffic. However, if you have the time and ingenuity, you can start your own free channel. You can post your own videos with keyword placement in the descriptions.
Related: What's the difference between Amazon advertising and paid ads on Google and Facebook?
Keeping up with current trends
Don't get too comfortable though. Since a trend is something that is constantly changing, you have to stay on top of what is popular; search engine results evolve based on the activity of the users at any given week, day, hour or even minute.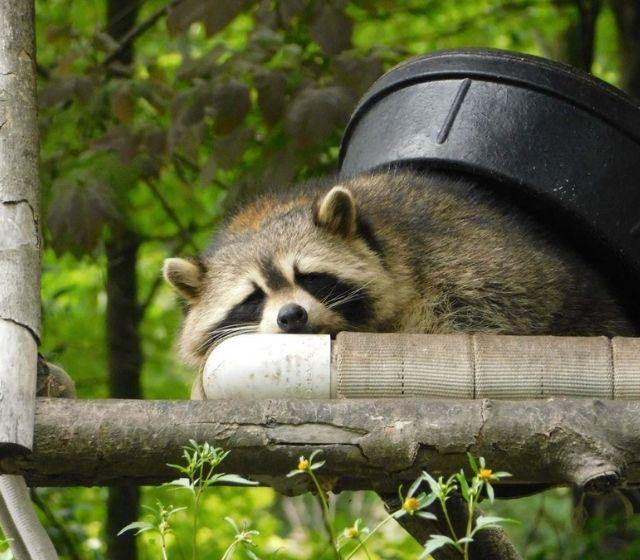 From a search engine optimization (SEO) point of view, it's important to make sure your website is being found through relevant keywords and phrases in place at all times.
Keep looking at news feeds for interesting trends that may go hand in hand with your services or open the door for a new service you can offer.
Stay active on the social media platforms where your customers spend their time to see real-time trending opportunities.
There are new customers everywhere — you just have to know where and how to find them. Using tools like Google Trends can help you get your piece of the trending pie and gain new customers!
This article includes content originally published on the GoDaddy blog by Cate Barker.